18 JUNE 1994: Four years after Toto Schillaci crushed the dreams of a nation, Ireland and Italy met again at the USA World Cup.
This time it was on neutral territory — Giants Stadium in East Rutherford, New Jersey.
It proved to be one of the most famous days in Irish football history.
On the 20th anniversary, we revisit the story with some of the people who made it happen.
© INPHO / Billy Stickland © INPHO / Billy Stickland / Billy Stickland
The Irish descended on New York from the four corners — but some had less distance to travel than others. Dubliner Paddy Archbold had been living in the city since 1985 and worked in a popular Irish haunt — the Stephen's Green in Queens. As the game grew closer, he found himself as an unlikely media star… well, nearly.
Paddy Archbold: "When the draw was made we were always told that Ireland would play in Boston, so when New York was given the Italy game instead the publicans thought they were after winning the lotto.
"The Daily News did an article on us around the 1990 World Cup so when '94 came along Fox News, I think, came to us again three days beforehand.
"I knew it was happening so I got my hair cut by a smashing Romanian fella in Queens. When I told him that I'd been at the World Cup in 1990, he said 'I wouldn't do it for anyone else' and that's why I've a picture of my head with a big shamrock. I had my face painted and the whole lot.
Paddy Archbold Paddy's haircut, courtesy of that smashing Romanian fella in Queens. Paddy Archbold
"The Fox crew were there for about four hours in the Stephen's Green pub. In the meantime Joe Duffy came in and he was doing a show with Gay Byrne. I was like a fuckin' celebrity at that stage – I had to do a half an hour with him on the radio.
"Coming up to the game the evening before, the New York Rangers were playing in the Stanley Cup final and then after that, this profile of me was going to be on the telly.
"We were waiting, the pub was packed. And what happened? Yer man OJ Simpson went AWOL.
"We were all geared up for this big 'It's me on the bleedin' telly' moment, but for three hours every TV station was following OJ on the motorway. That white Bronco ruined my media career.
AP / Press Association Images OJ Simpson and the famous white Bronco that captivated America the night before Ireland played Italy. AP / Press Association Images / Press Association Images
Along with Paddy and the New Yorkers, thousands more Irish fans packed their bags and flew out in pursuit of the American dream — a win, and revenge for 1990.
But back in Dublin, fans' plans to watch the match were thrown into disarray when the city's barmen, represented by the Mandate trade union, called a strike for the day of the game.
Christy Hynes was working in one of the capital's most famous watering holes, Mulligan's of Poolbeg Street, where he still is to this day.
Christy Hynes: "It was a big strike. All the pubs in Dublin were on strike. It was about conditions more so than wages. I used to start my shift at 10.30am and then I'd get an hour-and-a-half off for dinner or tea, and then come back and work until two o'clock in the morning!
"It was nerve-racking because a lot of fellas didn't know whether to go on strike or not go on strike. They had families and mortgages; they were afraid.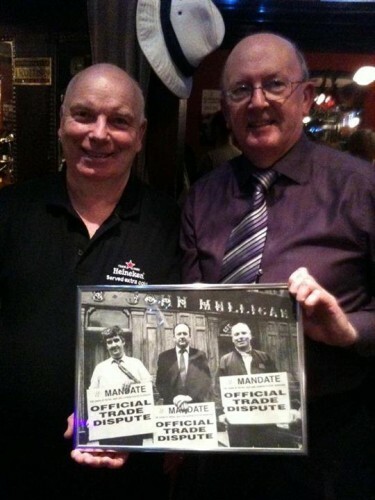 Mulligan's barmen Christy Hynes and Billy 'Swiss' Phelan holding a picture dating from 1994 taken during the barmen's strike. The picture also includes the late Mick McGovern.
"We would have big crowds in for the games and there was pressure [because Ireland were playing]. That's why we had the strike at that time, with that big game against Italy. That was a momentous occasion.
"Our boss agreed to pay whatever the outcome was but he still had to close because the strike went ahead. Even if we had agreed before the strike, we couldn't have opened because all the pubs were in it together.
"The strike got a lot of media attention at the time and we got a lot of photographs taken outside. Our photo was on the front of the Sunday Press on the first edition — but it changed on the second edition because we beat Italy!"
As the strike started to pick up international attention, reporter David McCullagh was sent out to file a report for RTÉ.
David McCullagh: "I joined RTÉ in 1993 having previously worked with The Evening Press. Italia '90 had captured the public's imagination so I was delighted to be let loose with a camera so early into my time there.
"We were out earlier in the day, putting a report on the pub strike together for the evening news. It was big news at the time and I remember it got a lot of international coverage – Dublin pubs not serving alcohol during the World Cup.
"We went into a particular establishment in town and I explained to the owner about our report and asked if he would like to be interviewed. He stood up and, using his belly, he pushed me back up the length of the bar and out of his pub."
Back in the Stephen's Green in New York, Paddy Archbold had a different kind of problem to deal with.
Paddy Archbold: "The night before, I was running down the stairs and I slipped. I busted myself and couldn't move. I was in hospital for five hours.
"I was in the ambulance thinking, 'Please God don't do this to me, let me go to this game. I'm waiting for this forever.'
"I was in the hospital until seven or eight that morning. My back was black and blue. I'm nearly sure Dublin played Kildare in the GAA, and Brendan O'Carroll and Liam Brady came into the pub – I think they were both working for the BBC at the time. O'Carroll had this big long ponytail and some of the boys cut it off him."
As the atmosphere and anticipation built ahead of the 4pm kick-off, Jack Charlton and the players left the team hotel to head for Giants Stadium.
Ray Houghton: "I remember going on the coach to the game and seeing the number of Irish fans en route. There was a real party atmosphere. There's nothing like it when you know people are shouting you on, that they've got your back and they're supporting you.
"The fans were buying the tickets from anyone and everyone. It was just an amazing feeling when you came out and saw all the tricolours, the scarves and banners and shirts. I think it surprised the Italian team. It was a real boost."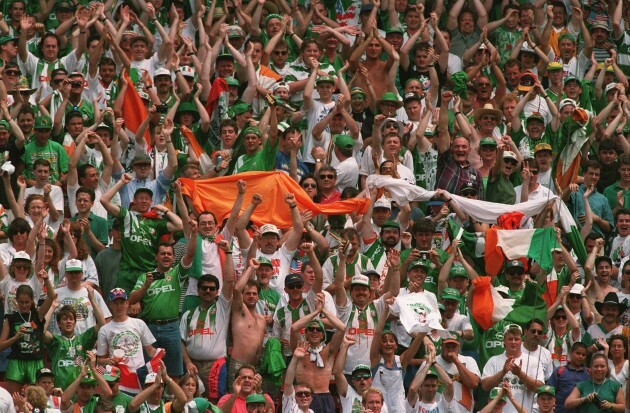 EMPICS Sport The Giants Stadium stands were packed with Irish fans. EMPICS Sport
Roy Keane: "As always with an Irish team, our spirits were high. On the coach on the way to Giants Stadium we played our rebel songs, which told stories about English oppression and how our Irish heroes fought gallantly. And were shot. Or hanged. The English-born members of the party sang as lustily as the rest of us. Even Setters had a go at the choruses."
Ken Doherty, who would later go on to become the 1997 World Snooker champion, was one of the thousands who got their hands on a golden ticket.
Ken Doherty: "Because it was in New York we thought it was going to be full of Italians but it was almost like it was in Croke Park or somewhere like. We outstripped the Italians by about three to one.
"There were flags, the atmosphere was electric, and it was so hot as well that day.
"We knew we had a good side but we were playing the Italians and they had the likes of Baggio and so many other great players. We had Paul McGrath and Keane and Houghton and some great players ourselves but I thought if we got a draw, it would have been a right result."
Paddy Archbold: "Before the game, everyone was struggling for tickets. They were like golddust. The Norway game wasn't as bad and the Mexico game in Orlando was no problem. The Italy game, when you went into the ground you just would not believe it. I wouldn't say there were 3,000 Italians."
For Houghton his place in the starting XI was very uncertain with many expecting a young Jason McAteer, who was celebrating his 23rd birthday that day, to start in his place.
Ray Houghton: "It wasn't Jack who first told me I was playing — it was Kevin Moran really. Kevin wasn't picking the team but in the days before the match before anything was said, he said 'I think Jack's going to play you.' I didn't think so but he said 'No, you've been playing really well, you've your old confidence back, you've done really well — he's got to play you.'
"Then Jack named the team and I was in. It was disappointing for Jason obviously but delight for me because all my hard work paid off."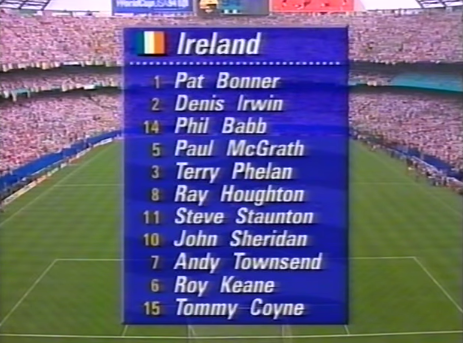 With the afternoon sun beating down on the 75,338 packed into the stadium, the honour of leading out the team fell to captain Andy Townsend — but the pre-match formalities weren't without their hitches.
Andy Townsend: "It was definitely the pinnacle of my career. To lead the team out at the Giants Stadium, especially against Italy in that first game, was a fantastic moment and one that I'll remember for an awful long time."
EastTerracer / YouTube
Ray Houghton: "We came out with the wrong colours on. We were supposed to be either the home team or the away team, I can't even remember which, but it didn't quite work out so it ended up that we had to run back in and change our shirts and shorts and come back out.
"The referee did us a favour because he relaxed us. We had no time to be nervous. There was no time to look down the line of the Italian players and think they've got a good team. It was just a case of us getting out there and doing what we had to do."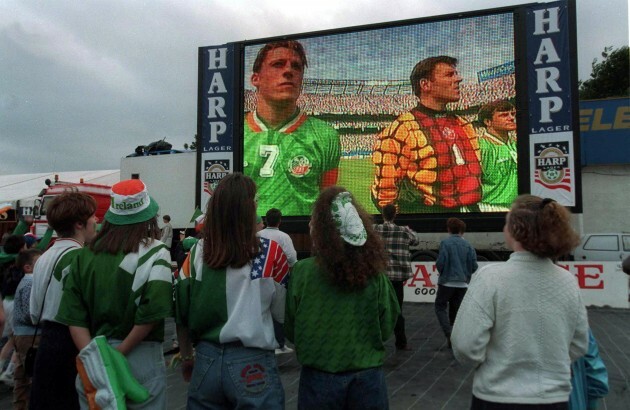 Lorraine O'Sullivan / INPHO Lorraine O'Sullivan / INPHO / INPHO
Back in the RTÉ studios in Montrose, any high hopes were kept in check by Bill O'Herlihy and his panel of pundits — John Giles, Frank Stapleton and Joe Kinnear.
Bill O'Herlihy: Your prediction then for this one?

John Giles: I would go for a draw.

Frank Stapleton: No score.

Bill O'Herlihy: No score. And Joe you're convinced, an Irish win?

Joe Kinnear: With total control in midfield, 1-0.
Eleven minutes in, Ray Houghton struck one of the most memorable goals in Irish history.
CuChoileain / YouTube
George Hamilton (on commentary): "Sheridan, it's Baresi, onto it comes Houghton, and Houghton with the shot AND IT'S THERE! RAY HOUGHTON!
"Bring me back and I'll do the job for you, Jack! And he's done just that after only 11 minutes. What splendid, sparkling opportunism."
Ray Houghton: "It was just a long ball played forward. Baresi went to head it and I just anticipated where he was heading it down to. I saw the ball, saw the flight of it, saw his header, came into position, chested it down…"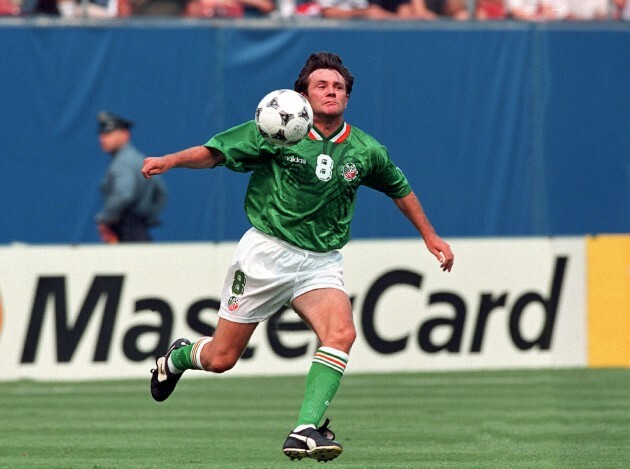 INPHO INPHO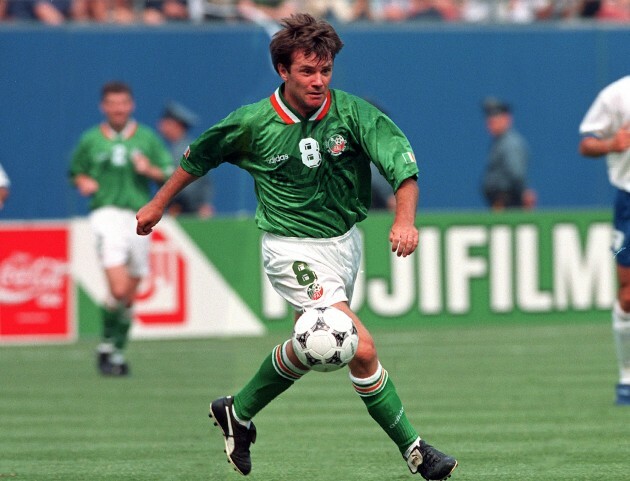 INPHO INPHO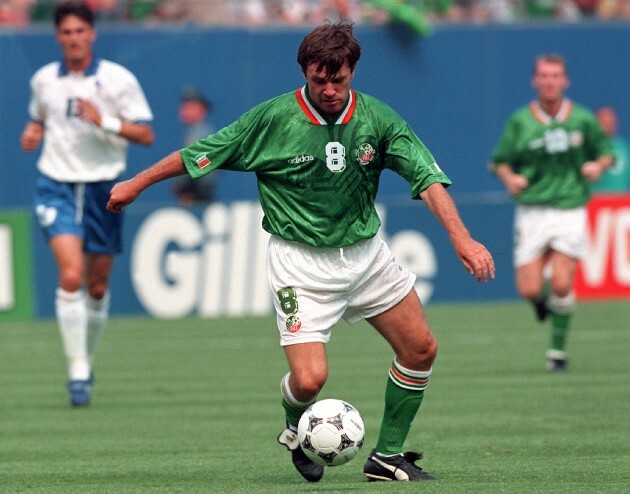 INPHO INPHO
INPHO INPHO
Steve Staunton: "When Ray got the goal I was on the outside of him out left, I expected it. Nine times out of ten, he would have played me in there. I'm glad he didn't."
Ray Houghton: "I actually looked over to my left to see where Steve Staunton was because I was actually going to lay it off to Steve but he was marked by the full back, so I was 30 yards from goal and I thought why not? It doesn't matter if it goes over the bar. It's early on in the game, it really doesn't matter where it goes. Just try your luck and see what happens.
"I hadn't even spotted where Pagliuca was standing. It was pure 'I'm going to hit it' and then as you hit you think it's going over the bar, then you think he's going to save it, and then finally you think it's going in… then it's pandemonium. Not just myself but everyone — Roy Keane running over, Terry Phelan's face was an absolute picture."
Irish photographer Billy Stickland was hunched behind the hoarding when Houghton's goal went in. 
Billy Stickland: "At that time, the Irish team were capable of extraordinary results but you would have never thought going into that game that they would beat Italy.
"When Ray Houghton got the ball outside the penalty area, it had the same sort of feel to it as the one he got against England in Stuttgart in 1988.
"Then he charged across towards us. I was on the edge of the penalty box behind the goal line. In those days we had film in our cameras whereas now they just go on shooting. My film ran out just as he got to that tumble. That shot was the last frame.
"When you see it on television he jumps up and puts his hands in the air but the camera had run out of film and you don't get a second chance."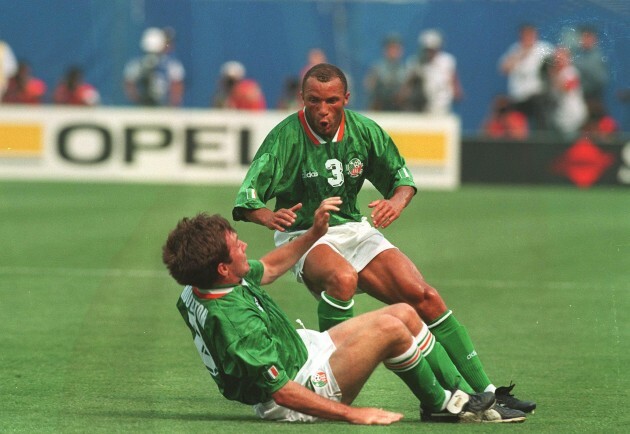 © Billy Stickland / INPHO © Billy Stickland / INPHO / INPHO
Roy Keane: "I've never quite figured out that goal. It didn't matter, though, they all count — this one big-time."
Paddy Archbold: "I can still remember the roar. I was sitting on the chair sideways, I was in bits. I had spent all day getting this ring cushion thing to sit on but that goal was a good dose of morphine. Once that went in I just did not care. You were just on a buzz; I was blown away by the rest of the fans. I don't remember being in pain."
Paddy Archbold Paddy Archbold with Stephen Rea (far right) at the match. Paddy Archbold
Ireland got to half-time with their lead still intact but as the second half wore on, the nerves became more and more frayed. The game is now remembered is one of the finest performances in Paul McGrath's career as he shackled Italian star Roberto Baggio with a towering display.
Paul McGrath: "Massaro played the ball short to his full-back and that was when it happened. That was the moment somebody turned down the sound and everything slowed. The moment I felt unbreakable. As the full-back prepared to cross, I knew it know longer mattered where I stood, the ball would find me. He was a fish in a barrel.
"It came to me as if radar-guided and I cleared, an Italian player lunging into my back., knocking me to the ground. I heard the whistle. An Irish free. Roy Keane grabbed me in a headlock. The stands trembled like a green bouncy castle. And I could feel the tingle of goosebumps."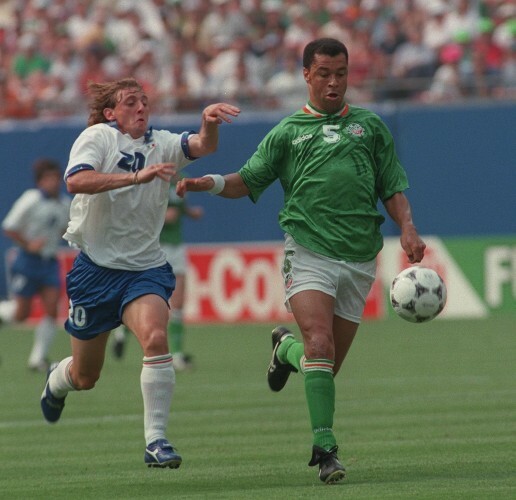 © INPHO © INPHO
Roy Keane: "Big Paul McGrath showed all the qualities demanded of us for a half an hour in Giants Stadium that day. For him the word big is appropriate. Known for his poise, his ability on the ball, his unique gift for reading the game, Paul displayed all those qualities on that day.
"One other huge asset was his courage. When the Italians did get sight of the goal, Paul presented a final, insurmountable obstacle. Paul inspired us as much as in the end he demoralised Roberto Baggio and the other Italian players."
Paddy Archbold: "For the rest of the game we were just shitting it. They were at us and at us and at us, but they didn't get that many chances. I remember Paul McGrath was just unbelievable against Roberto Baggio. At the time Baggio was the next thing to Maradona and McGrath absolutely kicked lumps out of him. It was great."
John Sheridan had the best chance to make the win safe but his shot cannoned back off the crossbar. Slowly, the clock ticked to 90 and into the four additional minutes of stoppage time.
George Hamilton (on commentary): "Is it ever going to end? So reminiscent of Windsor Park in November when they played four minutes in Seville before we knew for sure WHAT WE KNOW FOR SURE NOW!
"History has been made in the Giants Stadium in New Jersey. Another chapter in Jack Charlton's managerial career, the Republic of Ireland have beaten Italy for the very first time, and Jack Charlton's victory in his 79th international in charge is surely one of the biggest he has ever ever achieved."
Jack Charlton: "We got a result off the Italians, the first time we ever got a result off them. We beat them. Terrific."
EMPICS Sport EMPICS Sport
Ray Houghton: "The final whistle then was a bit flat. I was flat because I came off. It wasn't through anything else. It was just the fact that even though we'd won, I was disappointed that I was taken off. I didn't celebrate like you normally would, it wasn't pure euphoria, but because it was only the first game we still knew we had other games so there was no guarantees. We just made sure we had done what we needed to do."
Roy Keane: "Ireland's World Cup ended that day in Giants Stadium. Beating Italy gave us a great opportunity to top our group and probably meet easier opposition in the tournament's second phase. Although people in our camp talked about this prospect, I don't think many really believed that we were at the World Cup finals for anything other than to make up the numbers and avoid disgrace.
"Now that we weren't going to be disgraced, we could relax and party. And that was more or less the mood as we travelled back to Florida."
Ray Houghton: "It was the worst atmosphere ever after a game because Tommy Coyne had to give a sample and he couldn't. He just couldn't. It didn't matter what he had to drink. He's not a drinker but he had a couple of beers after having water, orange juice, tea, everything you can imagine to try to make him go to the loo and he couldn't. He was there for hours.
"In the end I think they gave up on him. Then on the plane Tommy felt unwell because he was so dehydrated so it was more a case that everyone was worrying about Tommy and would he be ok."
Not long after the final whistle, word began to filter through of shootings in the small village of Loughinisland, County Down. Six civilians were killed and five injured when UVF gunmen opened fired in the Heights Bar as fans watched the match.
Jim Gracey of the Belfast Telegraph was with the Irish team in New York.
Jim Gracey: "I'd gone down into the press centre and I rang the office to speak to the deputy editor and I said 'This is brilliant, it's got to be Page 1 tomorrow.' He said, 'It won't be Page 1 tomorrow', and I said, 'Why not?' He said, 'We've had an atrocity here in County Down, we don't know yet how many people have been killed. It's in a little village called Loughinisland.'"
Niall Quinn: "We had waited so long for Ireland to do something dominant in sport and we were as proud as punch that night, and then the failings of our country came back."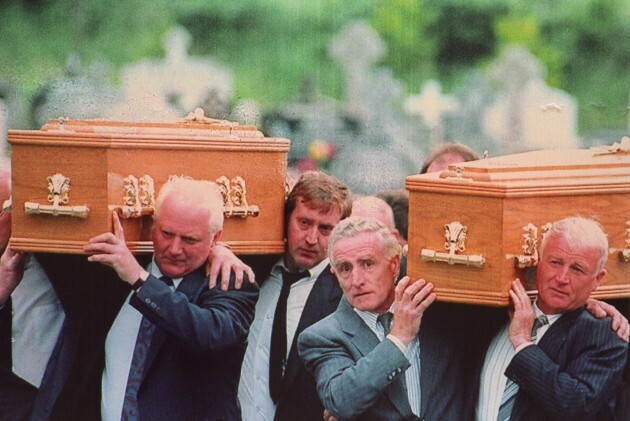 PA Archive / Press Association Images Hugh O'Toole, landlord of The Heights Bar (second left) helps carry the coffin of his friend Barney Green. PA Archive / Press Association Images / Press Association Images
mouldy mould / YouTube
While that tragedy unfolded thousands of miles away, the party was in full swing on the streets of New York.
Mike Murphy: "One of my standout memories was the way the American police didn't really know what to expect. They were out in full force with riot gear as if they were expecting a bunch of drunken soccer louts. They couldn't believe how good humoured and peaceful the whole thing was."
Paddy Archbold: "Second Avenue and Third Avenue, there were people everywhere. You'd think we were after winning the World Cup. People were hanging out of cars. There were yellow taxis who actually didn't have a clue what was going on.
"I'm not messing you, I had $500 put away to charter a plane to Dallas for the quarter-final against Brazil if we had beaten Holland. I had provisionally booked the plane and I was going to bring 200 people round-trip to Dallas. I thought I was going to make a killing on it."
Back in Ireland, there were similar scenes of jubilation across the country.
killianm2 / YouTube
David McCullagh: "I met the cameraman on Grafton Street. He had already been down O'Connell Street and had captured scenes of general mayhem, people dancing around and celebrating vociferously. My memory of the night is that people were relatively well behaved. There was no messing or trouble. Everybody was delighted and a bit surprised as well.
"The 'Táimid ag winning an World Cup' girl — how could you forget her? Her Irish teacher was probably at home the next day and surely thought 'What did I waste my time with that one for?' She was caught up in the excitement of it all.
"We found a Mexican lady on Grafton Street. I got excited by that as we were playing Mexico next. Of course, they went on to beat us 2-1 and the wheels came off the wagon quickly after that."
Ireland lost their next game against Mexico 2-1 in the searing Orlando heat but a 0-0 draw against Norway in the final Group E match was enough to secure second place and see them through to the last 16 against the Netherlands.
That was where the party stopped. Goals from Dennis Bergkamp and Wim Jonk handed the Dutch a 2-0 win and safe passage to the quarter-finals.
Ireland were going home.
***
Ray Houghton, Ken Doherty, David McCullough, Christy Hynes, Paddy Archbold, Billy Stickland and Mike Murphy were speaking in interview with members of TheScore.ie team.
Paul McGrath quotes reproduced from 'Back from the Brink' by Paul McGrath with Vincent Hogan; Roy Keane quotes reproduced from 'Keane: The Autobiography' by Roy Keane with Eamon Dunphy; Andy Townsend quotes reproduced from 'The Charlton Years'; Jack Charlton and Steve Staunton quotes reproduced from contemporaneous press reports; Jim Gracey and Niall Quinn quotes reproduced from 'Ceasefire Massacre', produced by ESPN.