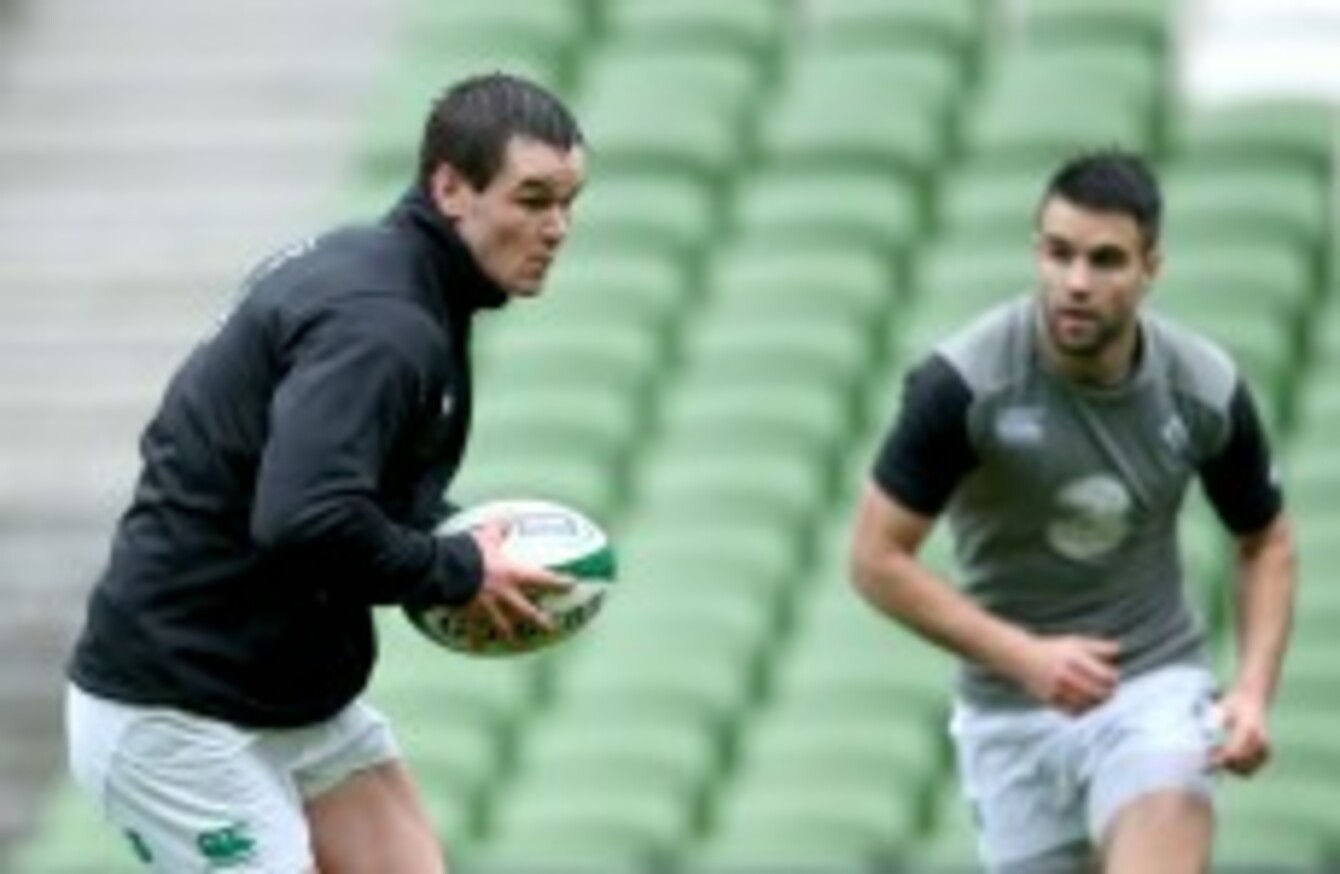 Sexton as this afternoon's captain's run at the Aviva Stadium.
Image: Dan Sheridan/INPHO
Sexton as this afternoon's captain's run at the Aviva Stadium.
Image: Dan Sheridan/INPHO
THE IRFU HAS released a statement this evening stressing that the Ireland management and medical team are satisfied Johnny Sexton is fit to play against France in the Six Nations tomorrow.
The Racing Métro man has been picked in the number 10 shirt by Joe Schmidt for tomorrow's clash with France in Dublin, having been given the all-clear by head injury experts in Paris.
There has been debate in recent days around Sexton's involvement after 12 weeks out of the game, with some commentators – including former France international Laurent Bénézech in this morning's Irish Times – voicing their concerns around the 29-year-old's return.
In that light, the IRFU has released the following statement:
Player Welfare is the primary concern of the Ireland Medical and Management Team.  All of the medical experts directly involved in the management of Johnny Sexton are satisfied that he is fit to return to the field of play.In light of some disappointing and inaccurate commentary in the media by individuals with no medical expertise, the IRFU would like to clarify some facts pertaining to the medical management of Ireland international Johnny Sexton.

Johnny has been symptom free for 2 months.
Johnny was cleared to return to play on Thursday 5th February, 2015 by:

1) Independent neurologists in France and Ireland
2) The FFR concussion review committee
3) The Racing Metro medical team
4) The Ireland Medical team
Earlier, speaking at this afternoon's post-captain's run press conference at the Aviva Stadium, assistant coach Greg Feek had declined to share Ireland's opinion on comments such as those from Benezech.
Not really, no," said Feek when asked if he would like to answer those who have suggested Sexton's health is being put at risk. "We don't really comment on those kind of things. He's selected, he's fit to play, he's fine."
What Feek did say was that Ireland's backroom team are entirely satisfied that Sexton and Rory Best, who suffered a concussion last weekend against Italy, are ready to play.
"We've got brilliant medical staff and brilliant strength and conditioning staff, and we're all working together on that process," said Feek. "There's indicators, the players themselves are involved in that, and we've got good systems.
"When is the right time? What is the right game? That's the big question mark, and we felt this was it. We did everything we needed to do, so it's a credit to the players to be able to be available at this point.
"They've worked hard and it's been a long time for some of them, they haven't played. They're itching at the bit and sometimes you've got to control that too, you've got to make sure you don't rein them in, but you let them go."
Ireland captain Paul O'Connell stated his pleasure at having Sexton back in the starting team, even if the out-half's absence meant Schmidt could improve his depth in the position by giving Ian Keatley a Six Nations debut last weekend.
"It is great to have a guy of his experience back in the side. Obviously he's a Lion, he's played for Ireland however many times, he's an incredible player. He's very aware of how Joe wants things done, he's worked with Joe for a very long time. 
Johnny's a really good professional, he enjoys training. While he wasn't able to train as hard in his earlier days of being out, I think he's treated the break as a bit of a mini pre-season as well.
"He's been able to look after his hamstring, get a bit of weights done, and relax the mind a bit. There's a few of those guys around the camp, obviously Sean O'Brien, Iain Henderson, Cian Healy.
"Normally you get young guys coming into the squad not having played for Ireland that are full of energy and excited for this first opportunity, and we have a group of guys that are similar to that except they have a lot of experience, a lot of size, a lot of intelligence."
Originally published at 13.34, updated at 18.30.