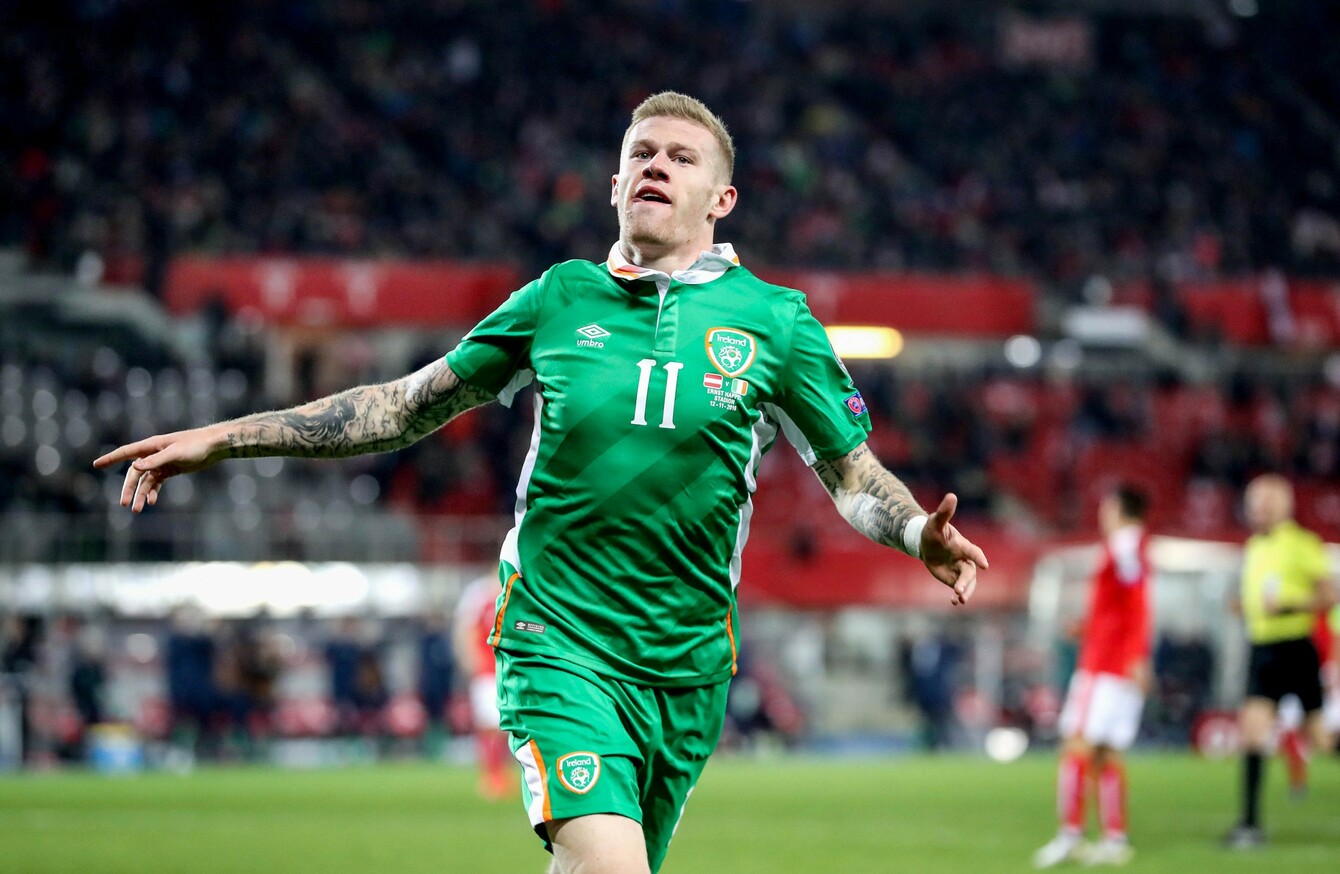 James McClean celebrates his goal the last time Ireland and Austria met in Vienna.
James McClean celebrates his goal the last time Ireland and Austria met in Vienna.
GENERALLY SPEAKING AND particularly in international football, counter-attacking is becoming an increasingly important aspect of the modern game.
Speaking to The42 last year, analyst for Northern Ireland and Cork City, Lisa Fallon, explained:
"When you do a complete analysis of the 2014 World Cup, it was probably the fastest World Cup ever in terms of transitions and counter-attacks. Counter-attacks and fast transitions were the most effective strategy for teams trying to score goals. There was a real shift in that tournament. In 2010, the trend was that teams used two holding midfielders. In 2014, that changed and most teams were using one holding midfielder with the additional midfielder higher up the pitch. When transitions happened, they were happening further up the pitch and closer to the opposition goal, and you had an extra player to create overloads.
If you look at the games in Brazil, 21 of the 64 games were won by a counter-attacking team that had less possession than the team they beat. 34 goals in that competition were scored directly from transitions to attack — that's a fifth of all the goals that were scored in the tournament, scored from a team winning the ball back, counter-attacking straight away and scoring. You can't ignore that — that's the way the game has gone. That's the way the game has evolved and where we really saw that first and foremost (was) the 2014 World Cup."
This trend has become increasingly conspicuous in the Premier League in recent seasons.
Leicester City won the title in 2015-16 largely playing counter-attacking football. The Foxes consistently had among the worst possession stats in the league, frequently allowing their opponents to dominate the ball before capitalising on their mistakes in clinical fashion.
Similarly, while reigning champions Chelsea have better players than Claudio Ranieri's side did, their approach with its heavy reliance on the counter-attack is quite similar — think of the number of goals the Blues managed that involved Eden Hazard dribbling up the pitch as the opposition tried in vain to belatedly get numbers behind the ball.
Arsenal boss Arsene Wenger is among those in football who are not overly fond of the tactics employed by Chelsea among others, questioning whether they are beneficial in the long-term.
I still think a sport has to encourage initiative and if it rewards teams who don't take initiative, then we have to rethink the whole process because people will not come to watch," the French coach said last month.
"I don't know if it is a long-term trend. We always analyse the Champions League and I must say, some seasons, the team who had low possession won the Champions League. Over a longer period, it is still the teams who have the most possession who win the Champions League.
Football is a balance — the right balance between possession and progressing. Sometimes we had some games this season when we had 70 per cent possession, like West Brom, and we lost 3-1, and like Crystal Palace where we had 70 per cent possession and we lost 3-0.
"So that means, on the day, our balance was not right."
I am convinced you still need to have the ball to create goal chances and I believe you cannot encourage youth teams to say, 'We do not want the ball.'
"You cannot buy big players and say, 'We do not want the ball.' Big players want the ball."
Notwithstanding Martin O'Neill's continual insistence that the Boys in Green must play this evening's game against Austria "on the front foot," Ireland have in recent times increasingly benefited from a counter-attacking approach.
Despite many people associating the Irish team's best performances with games where they have plenty of the ball and complete a high number of passes, this belief is not strictly true.
At Euro 2016, Ireland's best performance possession-wise was the 3-0 defeat by Belgium, where 278 passes out of an attempted 337 were completed.
By contrast, the 1-0 win over Italy was generally thought to be the Boys in Green's most impressive display in France. That day, they had 225 completed passes out of an attempted 277.
Leicester have probably been the most famous exponents of this style of play in recent years. It basically involves sitting back, being compact and allowing the opposition to have the ball in non-threatening areas.
Then, once the Foxes win it back with their rivals high up in their half of the field, they have the opportunity to counter, with moves usually instigated by Riyad Mahrez and finished off by the pacy Jamie Vardy.
Counter-attacking goals such as the superb effort below by Jamie Vardy in the 2015-16 season became a common sight.
The Boys in Green may be an inferior side to Leicester, but there are parallels. Martin O'Neill's men are based around being compact and hard-working. They tend to be well-organised and defensively sound, as the Foxes are at their best. However, just as the Premier League side have flair players like Riyad Mahrez and Jamie Vardy to finish off attacks, the Irish team can accommodate creative footballers such as Wes Hoolahan and Robbie Brady to counteract their steelier and more physical elements.
Look back on Ireland over the past 12 months or so and you will notice that a high number of the goals came from the Leicester template. Winning the ball back with a number of opposition players pressed high up the field, enabling the Boys in Green to counter-attack rapidly and exploit the space in behind.
Robbie Brady's winner against Italy, for instance, was a classic counter-attacking goal. Italy had been attacking, before Stephan El Shaarawy shot straight into Darren Randolph's arms. What proceeded was some lovely swift link-up play between Aiden McGeady, Wes Hoolahan and Robbie Brady, before the latter headed home famously.
Similarly, Ireland's World Cup qualifying campaign has featured more than one well-executed counter-attacking goal.
Shane Long's opener in Moldova, for instance, came with Ireland winning a 50:50 ball, before Wes Hoolahan's through pass caught more than one defender out of position, allowing the Saints striker to exploit the space and finish calmly.
Source: Montana Black/YouTube
It was a similar story in Vienna against Austria last November. The hosts conceded possession deep in Ireland's half, enabling David Meyler to set up Wes Hoolahan, who proceeded to play a wonderful through pass to James McClean, and the onrushing West Brom winger made no mistake with an emphatic finish.
Assuming they both start, the combo of Hoolahan and McClean will likely be key to Ireland's attack against Austria this evening.
With Shane Long injured, McClean is the only player in the Ireland side with the kind of electric pace to trouble opposition defences.
In addition, Hoolahan is undoubtedly the player in the Irish team most capable of producing the incisive, defence-splitting passes that are generally required to create these types of goals.
Ireland demonstrated their counter-attacking prowess at times during last week's 3-1 defeat of Uruguay.
The third goal was a perfect example, though it was Daryl Murphy rather than Hoolahan who turned provider for McClean, moments after a Uruguay attack broke down.
76: GOAL!!@FAIreland 3-1 Uruguay.
James McClean with a brilliant effort minutes after coming on! #COYBIG pic.twitter.com/S6bzrgmpVN

— eirSport (@eirSport) June 4, 2017
Hoolahan and McClean almost repeated the trick minutes later, but the West Brom man wasn't quite quick enough to get his shot away after latching on to the Norwich star's inch-perfect pass, allowing Jose Gimenez to kill the attack with a well-timed tackle.
However, Austria will be a different game entirely. Marcel Koller's side may well be more difficult to break down than they were during the reverse fixture.
As the away side, the Austrians will likely want to play on the counter-attack themselves, and probably won't throw bodies forward in the manner that they did in Vienna.
Moreover, the visitors will have a better understanding of Ireland's strengths and weaknesses now and be more wary of the threat posed by Hoolahan, McClean et al.
Bayern Munich's David Alaba recently said of Ireland that "sometimes they try to play it out," thereby acknowledging that the Boys in Green are not just a pure long ball side that so many of their opponents essentially portray them as being.
But while they will now be well aware of how strong Ireland can be on the counter-attack, stopping Martin O'Neill's side from doing any damage is another matter and whether or not they succeed in doing so will surely play a large part in determining the outcome of this evening's encounter at the Aviva Stadium.
The42 is on Instagram! Tap the button below on your phone to follow us!