SHORTLY AFTER 8PM tonight, Ireland will kick off against the USA in an international friendly in the Aviva Stadium.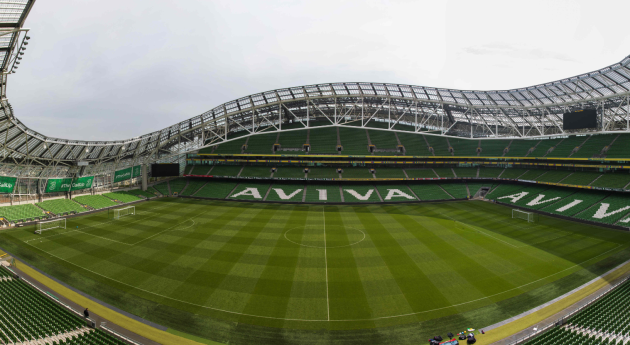 PA Images PA Images
And as part of Uefa's 'Equal Game' initiative, the FAI have announced they intend to demonstrate their support for the LGBT community by displaying the rainbow flag on the players' jerseys.
As opposed to sporting the standard white number on the back of the shirt, Martin O' Neill's side will be playing in a kit featuring rainbow-coloured numbers.
Taking to Twitter ahead of tonight's game, the FAI shared an image of the kit and elaborated on the decision.
The back of tomorrow's match kit. Not just a number, this is a statement. Ireland, supporting #LGBT rights. 🏳️‍🌈🇮🇪 #EqualGame #COYBIG #COYGIG #IRLUSA pic.twitter.com/Becg6ki0VW

— FAIreland ⚽️🇮🇪 (@FAIreland) June 1, 2018
The back of tomorrow's match kit. Not just a number, this is a statement. Ireland, supporting #LGBT rights.
The tweet has been met with a mixed response, with some questioning the motivation behind the move and other querying how necessary the decision is.
However, many social media users have criticised the skepticism, lauded the decision, and praised the FAI for supporting and promoting equality both on and off the pitch.
Well done @FAIreland! This is not only a wonderful show of solidarity for our LGBT fans but it will also mean so much to so many people in the stands, watching at home and maybe even on the pitch who for whatever reason feel they can't come out. 🇮🇪🏳️‍🌈🇮🇪 👏👍👏 #IRLUSA

— Miriam Kennedy (@Miriam_Kennedy) June 1, 2018
It may seem unnecessary because it isn't aimed at you but to the gay kid who's afraid to come out to his team because of the reaction it might cause this means an awful lot. Appreciate it's not for everyone but surely if reaching disaffected kids it should be encouraged?

— Qui-Gon Jinn & Tonic (@bispys) June 1, 2018
Some tweets are so sad. Think about people around us your family that have been so scared to come out or others in your community who felt they cannot live anymore. I left Ireland the country I love to set me free to be who I am. Be kind it's who we are really as Irish people.

— Mervin Nugent (@MERVINNUGENT) June 1, 2018
Great idea, hopefully it will encourage your sponsors and other businesses to show the same support.

— INC@ Networks (@inca_ie) June 1, 2018
I don't usually with the FAI on, well on just about much anything. But this is pretty cool.

— Brian Harrison (@BrianWHarrison) June 1, 2018
Kick-off is at 8.08pm.
Written by Niamh McClelland and posted on DailyEdge.ie
The42 is on Instagram! Tap the button below on your phone to follow us!