Updated at 14.32
IF FOOTBALL MATCHES were played 'on paper,' then Ireland would probably just about have the edge over Scotland.
In the last meeting between the sides, just three members of the Scottish team that started the match were Premier League players — Andy Robertson, Steven Naismith and Steven Fletcher. Ireland, by contrast, had seven Premier League representatives in their side at Celtic Park last November, yet still lost 1-0.
Moreover, during the most recent Euro 2016 qualifier with Poland, nine Premier League players featured in Ireland's starting lineup. However, as if to underline the point that club status is not necessarily the be all and end all when it comes to international football, arguably Ireland's two best players on the night, man-of-the-match Wes Hoolahan and substitute James McClean, were both playing their football in the Championship at the time.
Scotland, similarly, possess players who have proved they can step up to the plate at international level, in spite of the perceived lower standard they might be playing at domestically. Celtic midfielders Scott Brown and Charlie Mulgrew were both superb in combating the Irish attack when the teams met last November, while Watford's Ikechi Anya gave the German defence a torrid time with his lightning pace as the Scots were narrowly defeated by the reigning world champions in their opening group game
James Crombie / INPHO James Crombie / INPHO / INPHO
(Charlie Mulgrew was named man-of-the-match when the sides met last November)
Chief Football Writer for The Scottish Herald, Matthew Lindsay, consequently feels that the two teams are relatively evenly matched.
"Ireland have more Premier League players than Scotland do," he tells The42. "There's a few guys who will start for Scotland that are Championship players.
"But I don't think there's much between them at all. We've both got good players and players with a bit of ability, and that capacity to win a game with a moment of magic, like we saw at Celtic Park."
Yet while the sides are even enough in terms of ability, Scotland sit in the more favourable position in the group going into the game, as they find themselves two points ahead of the Boys in Green with five games apiece played.
"Scotland are in a pretty good place at the moment. There's not arrogance or complacency, but there's confidence going into every game.
"The players have been competitive in every game that they've played in so far, including the opening match against Germany, so this is a good time for Scotland, they've got a strong squad — the majority of their best players are playing.
"The only major player that's missing for them is Robert Snodgrass. He's a long-term injury — he hasn't been part of things for a while. They appreciate this will be an extremely difficult game. The game at Celtic Park was very close and they just edged it. So if it was like that at home, it will be every bit as demanding, if not more so, away from home."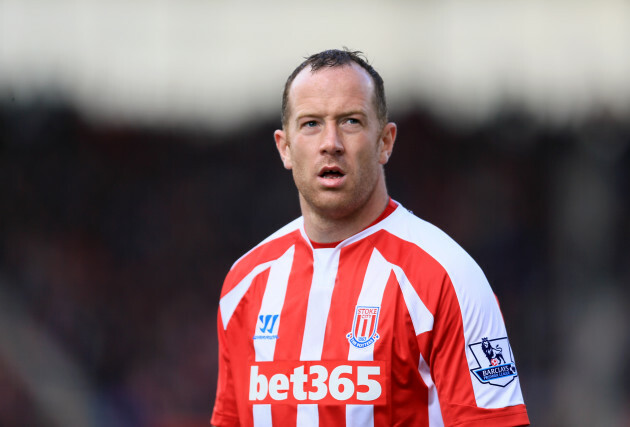 PA Archive / Press Association Images PA Archive / Press Association Images / Press Association Images
(Charlie Adam has been in good form for Stoke of late)
Another potentially important player for Scotland is Charlie Adam. The Stoke midfielder had a strong end to the Premier League season, and scored a wonder goal against Chelsea last April, however he has not been a prominent part of the Scotland side under Gordon Strachan.
"Charlie's a funny player," Lindsay explains. "He's got lots of ability. He's got that great delivery with his left foot to create chances, but I think his work-rate is not all it should be. I think Gordon Strachan likes guys who are going to track back and put in a shift.
"I think the feeling is, especially for this game, that you're going to need guys who are going to win the ball, close players down and put themselves about, and I don't think Charlie Adam is one of those. It's possible he may come on, depending on what happens in the game, but I'd be very surprised if he starts."
And what about Scotland's perspective? Are there any Irish players they would look upon with a certain degree of trepidation?
"We know Aiden McGeady very well. There's a fair bit of focus on him coming back to Celtic Park with Ireland, so he's a guy that Scotland will be looking at.
"Shaun Maloney was in the papers today talking about James McCarthy. McCarthy wasn't involved in November and Maloney was making the point that that will make a huge difference. He's had a very good season in the Premier League and he's another guy who will be very well known in Scotland, as he started off with Hamilton.
"And you've got Robbie Keane, who's a household name. I think those are probably the three main guys that Scotland supporters are wary of."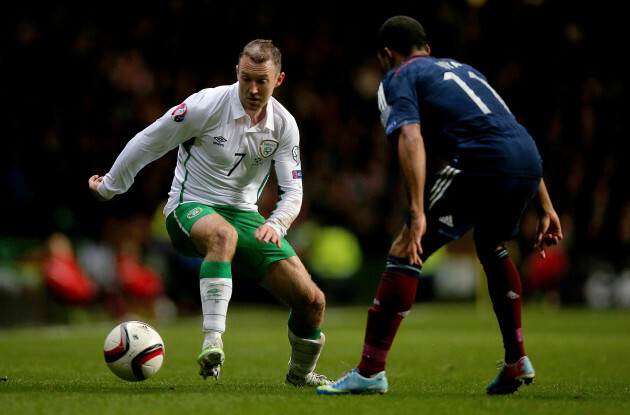 Donall Farmer / INPHO Donall Farmer / INPHO / INPHO
(Aiden McGeady will be hoping to make more of an impact than he did when the sides last met)
And speaking of McGeady, the player made reference to receiving boos upon his return to Celtic Park, however Lindsay believes the negative reception afforded to the Scottish-born player has been exaggerated.
"I don't think it was particularly bad in November. I think there might have been a little bit of booing. I don't think he had a very good game. Scotland were pretty effective at starving him of service and closing him down whenever he got the ball.
"So I was quite surprised to see McGeady's comments about that game, because I didn't think he was targeted too badly. And this is a guy who's played in quite a few Old Firm games, and the hatred in them is far greater than in an international match.
"I don't think Scotland fans are renowned in that way — they've won awards for their behaviour and their conduct. They like to have a party and there isn't really an unpleasant element to them as far as I'm concerned."
One player who won't be featuring at the Aviva Stadium is injured Blackburn centre-back Grant Hanley, with Mulgrew and Brighton's Gordon Greer both options to play in there instead.
"I don't think he'll be missed," Lindsay says, adding that Scotland are stronger collectively rather than in terms of individual players.
"I don't think there's any out-and out-superstar. Steven Fletcher is a Premier League striker, Scott Brown is captain — he'll be one of the holding midfielders in a 4-2-3-1. He's had a fantastic season and has been fantastic for Scotland — he's like a Duracell Bunny, he just never stops. He runs for 90 minutes, covers so much ground and wins so much ball. He's a massive player."
He also feels the somewhat skeptical reaction in Ireland to the recent controversy involving the FAI and Fifa is shared by their Scottish counterparts, while he believes the similarly disapproving remarks from the Scottish FA chief on the matter stemmed from a previous criticism by John Delaney regarding the controversial ticket allocation at Celtic Park last November.
"John Delaney made some derogatory comments about the SFA and their handling of the first game… There was a comment made about that, which was quite rich.
"I think Scottish football fans are probably the same as Irish football fans with regard to the FAI. They're pretty gobsmacked with the whole thing — but there's a bit of previous with the association."
And finally, does Lindsay have a prediction for the game?
"I don't think [Scotland] would be too disappointed with a draw. I don't think they'll play for a draw — they'll look to get forward and attack and nick something, and maybe invite Ireland on to them a bit more than they did in Glasgow, but it'll be a very difficult game for them. The feeling in these games is win your home games and try to get something away, and you obviously shouldn't be too far off.
"I don't know why, but I've just got a sneaky feeling for Ireland on this one. But it's hard to see with a game coming at this time. If it was middle of the season, it would be easier to determine who's going to win. But because it's coming six weeks after the Championship finished, it's hard to know how players are going to respond… But I'm sure there'll be nothing in it at all."