AFTER THE GAME, Jack Charlton strode onto the Anfield sod, cigar in hand, and gazed up at The Kop.
The crowd sang his name.
There was one last puff, one last shake of the head and then he was gone.
Afterwards, he was in reflective mood.
"They'll make you run and they'll make you chase", he said of the Dutch before predicting a difficult transitional period lay ahead for Irish football.
We're on a downward slide at the moment & we've got to stop it in some way. It's going to be difficult. The younger players, who have ability, don't understand what you want. You don't have them every week – you only get them once a month and it takes a long time to make them international players. We've got a bit of work to do yet."
It had been a weary Irish performance at Anfield that night – a culmination of just how jaded the Euro 1996 qualification campaign had become.
What started brightly quickly went off the rails during a depressing spring and summer in 1995. There was the infamous draw with Liechtenstein before devastating home and away defeats to Austria.
LusitanoGloriosoBlog / YouTube
On a sorry night in Lisbon, the rain lashed and the wind whipped and the Irish were torn to shreds by Figo, Paulo Sousa, Joao Pinto and the impudent Rui Costa, who curled a delicious opener to Alan Kelly's net via the underside of the bar. When Jorge Cadete conjured Portugal's third with a minute left of normal time, neatly sliding home from inside the area, the Ireland team were limp and lifeless – no fight, no energy, their spirit dismantled.
The truth was, Ireland had been drowning for a while. People had been high on the fun and frolics of the Charlton era for seven years but the comedown was slow and piercing.
Before the Irish faced Austria in Dublin, there was chaos in the camp. Joyous, drink-fuelled chaos but chaos nonetheless.
"We're not allowed tell what we did", Ronnie Whelan told me in 2013.
But there was a lot of alcohol involved somewhere along the way. It wasn't the greatest preparation for an international match coming up, that's for sure. It was absolutely atrocious. We were taken to Limerick for a few days and as pros, we should've known ourselves. Jack went off, either to look at a a game or go fishing and left us, really, unsupervised for three or four days.We took too much advantage of it and we weren't ready for the game."
Ray Houghton remembers it well.
"The day before the game, we went to Harry Ramsden's and had a big fish dinner and half an hour later, we went to train. So, it wasn't the best preparation."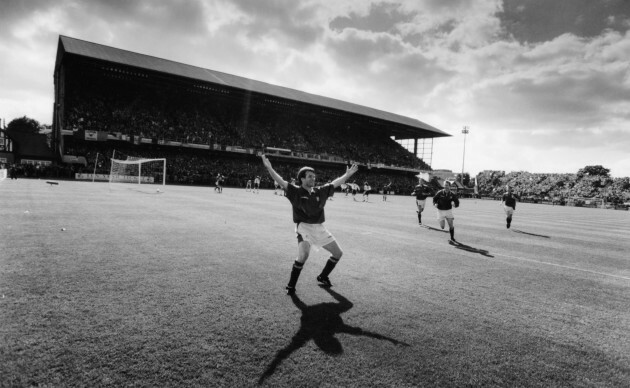 James Meehan / INPHO Ray Houghton celebrates after giving Ireland the lead against Austria in June 1995. The Irish would eventually lose 3-1 that day. James Meehan / INPHO / INPHO
In his autobiography, Roy Keane was a little less subtle with his account of the now-infamous incident.
Eat up, lads, urged Jack. Some of the lads tucked into Harry's Challenge. Then off to Lansdowne Road for the final training session. Yes, Austria won 3-1. Some of the lads reported that their legs 'went' twenty minutes from the end. F**ked. But they'd passed Harry's Challenge."
Later in Vienna, the Irish were pulled to pieces by the Austrians' counter-attack. It was effortless and Charlton's side, inevitably, weren't prepared. Recounting his torrid experience that night, as Peter Stoger scored a hat-trick in another 3-1 victory, Alan Kernaghan said the team were bemused by the Austrians' 'modern' approach.
"They were very good but we were a bit surprised by their approach. Outside of a game against Russia in Lansdowne, I can't remember seeing anything like it from an international side. They pushed the full-backs on so we were left with 2 v 1 situations. It was very modern-day, an early incarnation of 4-2-3-1. They got a lot of bodies forward very quickly and destroyed us on the counter".
Maybe we did feel that our time had come, that we'd find it difficult to recapture what we had".
As other European sides began to try different things and as a number of 'golden generations' began to step from the shadows, the Irish setup was rapidly being found out and left behind.
It was the era of Britpop, the Spice Boys, a revival of youthful enthusiasm. It was about freshness, new approaches but Ireland didn't get the memo. As others swaggered, the Irish huffed and puffed. The work ethic and high energy that defined the Charlton era at its peak had left many of the protagonists more than a little out of breath.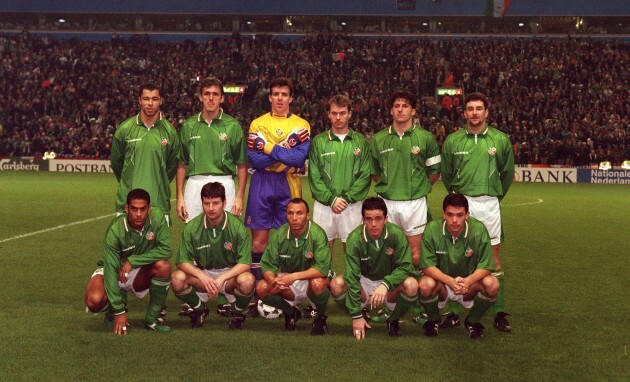 Matthew Ashton / EMPICS Sport Matthew Ashton / EMPICS Sport / EMPICS Sport
And at Anfield in mid-December 1995, there was nowhere to hide.
The Dutch were brilliant in the one-off play-off but the Irish paid, once more, for a distinct lack of tactical awareness and preparation.
Writing in his autobiography, Alan McLoughlin outlined the sitcom-like quality of the pre-game instructions.
"The Netherlands had a formidable side and so everyone was very serious as the VHS went in the slot and the picture, crackly at first, came on the television. To my surprise, as the camera scanned across the two teams standing for the anthems it showed 11 anonymous faces in orange shirts surrounded by an empty stadium.
I squinted at the Dutch team on screen, unable to make out Kluivert, Bergkamp or any of their other stars. After five minutes it became abundantly clear to everyone that this was a video of the Dutch under-21 team. Everyone, that is, apart from Jack and Maurice. The lads started nudging each other, laughter rippling, as we waited for Jack to realise."
Their starting XI featured nine of the Ajax team that had won the Champions League under Louis van Gaal just months before. And nothing typified a sweeping, revolutionary youth movement more than the Netherlands' performance.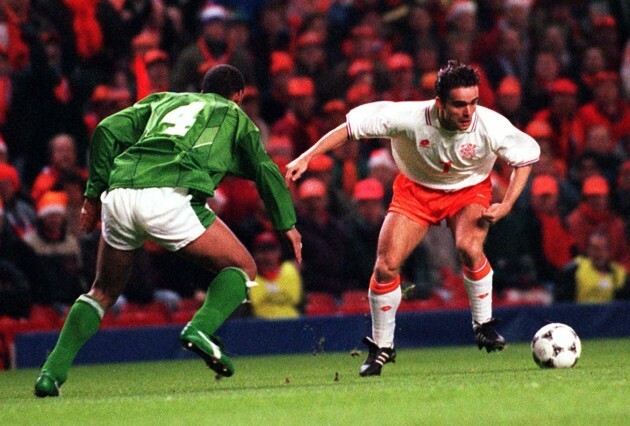 David Kendall / PA Archive/PA Images David Kendall / PA Archive/PA Images / PA Archive/PA Images
Where Charlton's side contained six players over the age of 30 (Paul McGrath had just turned 36 and John Aldridge was 37), the Dutch had one. They also had a pair of teenagers (Clarence Seedorf and Patrick Kluivert) and a trio of 22-year-olds (Michael Reiziger, Edgar Davids and Marc Overmars).
But what said more was that 17 months beforehand, the sides had met at Orlando's Citrus Bowl in a second-round World Cup game.
From the Dutch players that played that day, only Overmars and Dennis Bergkamp were involved for the Euro play-off. Eight of the Irish players that featured in Florida had key roles in Merseyside too. It would've been nine but for Roy Keane's injury problems.
It had all gone stale.
"It wasn't working anymore and we didn't have anywhere to go after that", said Whelan.
"There was no other way that Jack would've played international football."
After thirty minutes, the Irish were picked apart by the imagination of Seedorf, the awareness of Davids and the innate calm and composure of Kluivert, who rifled past Kelly from inside the area.
Bergkamp struck the upright, Kluivert smacked the crossbar with a second-half header. On RTE commentary that night, George Hamilton watched in awe.
"This passing game takes some beating, doesn't it?
David Kendall / PA Archive/PA Images David Kendall / PA Archive/PA Images / PA Archive/PA Images
The Dutch made sure late on as Kluivert raced onto a superb through-ball from Ronald de Boer and delicately lifted over the on-rushing Kelly to make it 2-0.
"It's the end of an era", said Hamilton.
"The old and the new. Jack Charlton's Ireland knocked out by the youngest man on the pitch."
Afterwards, Charlton had no qualms about losing but blamed his players rather than the system.
We invented the word 'press' – which is pressure – and I couldn't get anybody to shift. The back four standing at the back, the midfield standing in midfield, they're playing balls around us, and one guys goes and runs at the guy with the ball and everyone else stands where they are. We used to do things collectively. At the moment, it's all bits here and bits there."
I'm going to have a Christmas. I'm going to enjoy myself. We'll have a few drinks tonight with the lads and when we come into the New Year, I'm going to Spain for three weeks for a holiday and I'll make my mind up after that. There's no rush."
It was a strange time for Irish football. It didn't neatly fit into the mainstream though the fortunes of the team still carried massive public interest.
MCCULLOU MARTIN MCCULLOUGH / PA Archive/PA Images MCCULLOU MARTIN MCCULLOUGH / PA Archive/PA Images / PA Archive/PA Images
On the RTE news, it was the top story. After the main headlines, the late Colm Murray filed a three-minute report on the game itself and the post-game reaction. Moments later, Anne Cassin spoke to fans in Anfield. There was another report on the reactions of fans watching the game in Dublin. And then, there was a live hit from Tony O'Donoghue who was speaking with Jim Beglin. In total, it was a seven-minute package of material – a massive chunk of time, considering the entire news bulletin was twenty minutes long.
Following the news, there was a surreal special edition of Gerry Ryan Tonight and the entertainment show dedicated its first ten minutes to discussing the effects of the defeat to the Dutch.
With a faux-Eurotrash vibe, a bearded and waist-coated Ryan was joined in studio by Brendan O'Carroll (pre-Mrs Brown days and sporting an Irish jersey under his sweater) and Yvonne Judge. On a monitor in the background, Cathal Dervan waited for his bit from a Liverpool studio though he had to sit through Ryan and pals going through a tutorial of the latest blemish-removal device first ('You do actually feel a little prick there', says Ryan at one stage).
killianm2 / YouTube
After the conversation finally gets going, Ryan dramatically throws his hands out wide and says 'How is it going to change come Macedonia, Lithuania, Liechtenstein?'
Everyone pleads patience and investment in youth. Ryan is exasperated.
"Will we have to wait until 2019 before we've got a national squad that can actually push on?"
As the chat comes to a close, everything grows even more bizarre.
O'Carroll tells Dervan, 'Cathal, I love you' and draws on a long, skinny cigarette while Ryan looks down the barrel of the camera lens to introduce his next item:
"I think we're going to go surfing the internet", he proclaims as the next contributor talks about what's 'very, very hot at the moment on the net'.
It was an apt segue. The Irish side were out of step with what was coming. Things needed to change.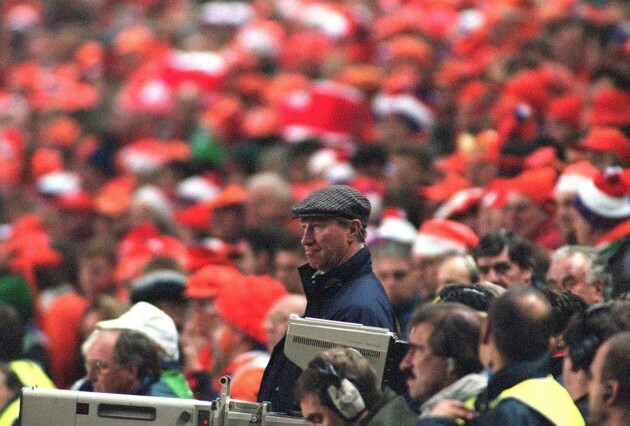 John Giles / PA Archive/PA Images John Giles / PA Archive/PA Images / PA Archive/PA Images
Charlton went against his comments in the direct aftermath of the Dutch game and resigned four days before Christmas, just over a week after the loss on Merseyside.
"I have felt for some time there was a need for change", he said.
"Nine years is a long time in the job. They have been brilliant years.  I have enjoyed every minute but everything must come to an end."
It wasn't just a brand of football that was ending though. It was much more than that. It was a culture, a feeling, a way of being.
And Ireland has never quite had it since.