Murray Kinsella reports from Chicago
THE ALL BLACKS' haka is partly about calling on their ancestors, filling themselves with the spirits of their extended family. The past, present and future.
On a recent visit to New Zealand, a Māori teacher asked why Ireland don't do something similar.
"Tiocfaidh ár lá," he asked, "why don't the Irish team shout 'Tiocfaidh ár lá' as they come onto the pitch?"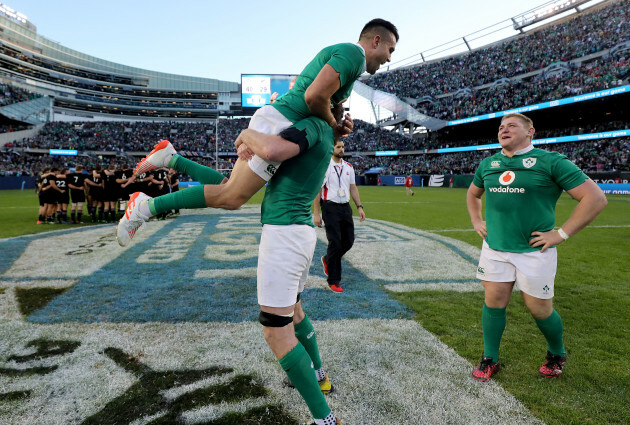 Dan Sheridan / INPHO Conor Murray and Donnacha Ryan celebrate. Dan Sheridan / INPHO / INPHO
It was a bizarre suggestion for the act, of course, but there was a point in there. What could Ireland do that would help them to draw some strength when they face the haka? We got an answer in Soldier Field yesterday.
Ireland drew on the energy of one of their family, a fallen brother.
Anthony Foley helped them to reach the perfect emotional pitch. That mental strength drove much of Ireland's performance in an historic 40-29 win over New Zealand, but Joe Schmidt's side also bettered the Kiwis in a more surprising area.
We have deservedly lauded the All Blacks' skills levels in recent years. Yesterday's Ireland win was built on a base of brilliant basic skills that the New Zealanders themselves would have been proud of.
Take the match-securing sequence. Jared Payne throws a beautifully-delayed long pass wide from right to left, Simon Zebo expertly finds the space with his probing kick ahead as the Kiwis pendulum up, then the pressure and tackle execution on Julian Savea from Conor Murray.
Ireland's scrum provides the platform with a subtle angle on Finlay Bealham's side, channel-one ball, Jamie Heaslip darts diagonally from the base and Robbie Henshaw runs an arcing switch line to give himself the perfect chance of going through Sam Cane and TJ Perenara.
This is one glimpse into Ireland's story of the superb execution of basic skills, over and over again.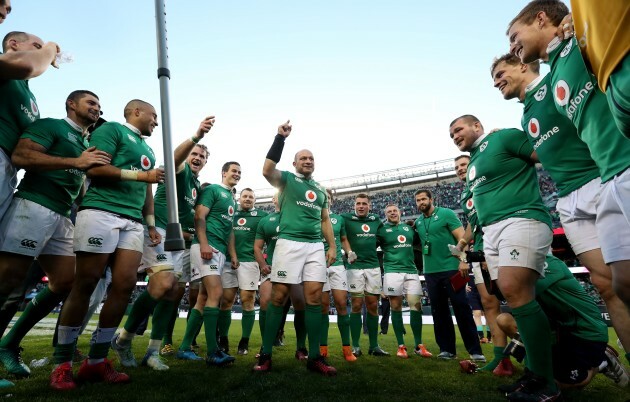 INPHO / Billy Stickland Rory Best speaks to his victorious team in Chicago. INPHO / Billy Stickland / Billy Stickland
We can pick out so many moments.
Simon Zebo's breathtaking aerial win down the left touchline in the second half, Murray's countless vital defensive contributions, CJ Stander and Henshaw's choke tackle, Jack McGrath's strip of Kiwi ball in the Ireland 22.
The list goes on and on.
Sharp tip-on passes, plough-like clearouts, accurate kicking, tight mauling, attractive decoy lines – Ireland performed all these core skills to a world-class standard.
Joe Schmidt consistently preaches the importance of maintaining focus on accurately carrying out these basic components of the game, and Ireland lived up to his wish yesterday.
The Ireland game plan was basic and clear – as it had to be with a shortened window of preparation this week. Penalties went to the corner, even when kickable, from where the Ireland maul dominated.
But further out the field, we saw some delightful attacking intent from Ireland as they enjoyed almost 70% of the first-half possession. Forwards like Heaslip and Stander occasionally occupied the 15-metre channels as Ireland looked to width.
Off the pitch, the Irish delivered too. Walking past the thousands and thousands of green jerseys outside the stadium before the game, it was hard not to smile at how the nation does itself proud on occasions like this one.
There were tailgate-esque scenes as groups of Ireland fans gathered on the grassy areas around the stadium to get through a few pre-match pints, the sunshine only adding to a sizzling atmosphere.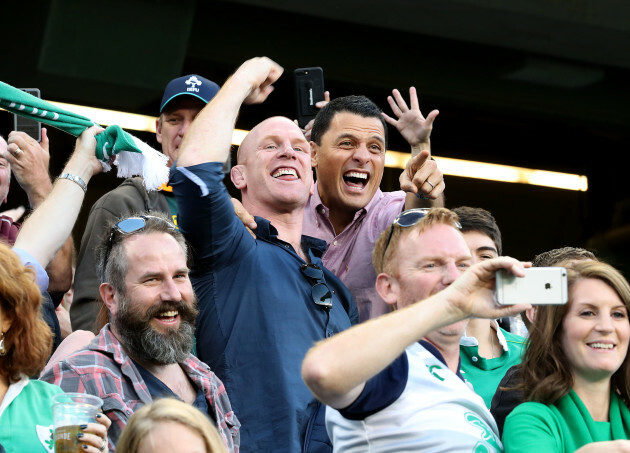 Dan Sheridan / INPHO Paul O'Connell and Doug Howlett celebrate Ireland's win. Dan Sheridan / INPHO / INPHO
Even through the thick glass of the press box, the pulsating noise coming from the 62,300 people in Soldier Field during this clash was impressive. The absorbing nature of the contest drove heart-rates up in the NFL stadium, on what was an uplifting occasion for US rugby too.
The presence of enthusiastic American rugby journalists at the post-match press conference brought a few smiles, Schmidt appearing to enjoy the opportunity to answer a couple of left-field questions.
The Kiwi, victor over his native land – along with Joey Carbery and Jared Payne – allowed himself to crack a few smiles as the scale of what his team had achieved sunk in.
It has been a truly unforgettable week in Chicago, the kind of week that makes one utterly grateful for how fortunate they are to have these opportunities in life.
The Cubs set the agenda with their World Series win, ending 108 years of heartbreak, and sparking celebrations that were truly wild. Ireland, huge underdogs, performed their own version of the miracle by ending 111 years of pain against the Kiwis yesterday.
While the sheer numbers who took to the Chicago bars and restaurants to celebrate were nowhere close to the millions who paid tribute to the Cubs, Ireland's travelling and US-based support simply shook their heads, smiled in a haze of disbelief, and started on the next pint.
Finally, Ireland's day to beat the All Blacks had come.