5 AUGUST, 2014.
The date will go down in Irish rugby history. On that day, Ireland beat New Zealand at the Women's Rugby World Cup, the Black Ferns' first defeat in the global tournament since 1991.
Dan Sheridan / INPHO Ireland's Nora Stapleton, Ashleigh Baxter and Niamh Briggs celebrate. Dan Sheridan / INPHO / INPHO
Marcoussis, in the southern suburbs of Paris, was the setting for the remarkable result, one which shook the sport and blew the competition wide open. New Zealand, having won the previous four World Cups, were stunned.
As 2014 draws to a close, TheScore.ie spoke to Ireland captain Fiona Coghlan and outside centre Lynne Cantwell about their memories of the famous encounter.
Both players retired following the World Cup, having left their mark as two of Ireland's greatest sportspeople.
Here's how Coghlan and Cantwell recall one of the all-time highlights of Irish rugby.
Mentality
Given New Zealand's sensational record in the World Cup, many teams were already beaten even before kicking-off against the Black Ferns. Ireland, however, had belief in their ability to shock the world champions.
Having dispatched USA in their first game of the tournament, Philip Doyle's side came into the New Zealand fixture with some confidence.
Dan Sheridan / INPHO Coghlan prepares for the fixture at Marcoussis. Dan Sheridan / INPHO / INPHO
Lynne Cantwell: We had never played New Zealand before, and I think in a way the fact that we hadn't played them meant we had no memories. So our approach to it was very much our approach.
Commonly, people can psyche themselves out because of those memories they have or those pre-conceived notions of what it should be. I think that was one thing that had us in good stead.
Fiona Coghlan: I think it was just a calmness, in that we were all on the same page. There was no panic at all, throughout the whole game.
There wasn't huge pressure on us; we were the underdogs and it's a tag that suited us and probably always has suited is.
Cantwell: Also, the fact that it was our second game and we didn't really look beyond USA. We put a lot of emphasis on that game and literally it wasn't until after that that we thought about New Zealand. That's three days before New Zealand.
That's not to say the coaches didn't analyse it before then. For a player, there's so much preparation you do for one game, if you blur that with two games it's not going to work. The boys had the analysis done, but we didn't think about it until after our recovery day after the USA.
Coghlan: When we were going into the game, all we spoke about was beating New Zealand and how we were going to beat New Zealand. The lads put a game plan in place and we knew that if we got to the 60-minute mark that our fitness would win out.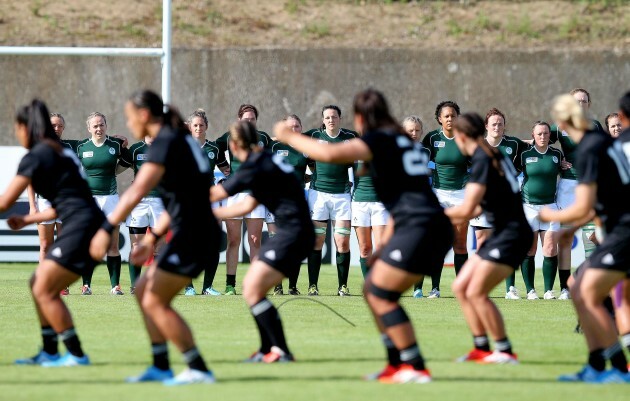 Dan Sheridan / INPHO Ireland face down the Black Ferns' haka. Dan Sheridan / INPHO / INPHO
Coghlan: We didn't get worked up about the haka. We just said, 'Okay, they're going to do their little dance and we're going to respect it, because obviously it's brilliant.' It's brilliant to actually be part of that, we kind of embraced the whole thing rather than getting caught up in it.
With Ireland, we sing two national anthems, so it was kind of like the same thing.
Defence
Ireland's defensive effort was stunning on the day, with their excellent conditioning allowing them to work tirelessly. Time and again, Irish defenders shut down the Kiwi attack, whether with one-on-one hits or through intelligent teamwork.
Cantwell ran head coach Doyle's defence superbly in phase play and from set-pieces, while Coghlan and her fellow forwards worked hard to chop down the Black Ferns' ball carriers.
Dan Sheridan / INPHO Ireland's defensive effort was relentless. Dan Sheridan / INPHO / INPHO
Cantwell: From a backline point of view, we knew they had a lot of steppers so I suppose I just went through all of them and kind of knew which step they had, what their strengths were.
We'd analysed a good few of their moves and obviously you have options with every move, and we knew what their moves were going to be. They did a lot of that stuff quite far away from the gainline, so it wasn't actually that hard to defend.
We obviously just wanted to rush up and close down that space.
Coghlan: Even when there were linebreaks – I think there were three big linebreaks in the second half – but again there wasn't panic stations. People did their jobs with good scramble defence.
Even when those linebreaks came, Briggsy [fullback Niamh Briggs] or someone would put in a tackle and it was like, 'Grand, that's sorted, next phase.' It wasn't like we were thinking we had an issue in our line. It was really good.
Cantwell: One of the things that really stood to us defensively was the work Les Kiss had done with us coming up to the World Cup. League defence is very much that you've got an inside hustler, and a player outside you possibly stepping in.
Against New Zealand, we had three players on each ball carrier until the ball was moved. We always had an inside hustler covering for that step, that was a huge thing for us. The inside hustler was really, really aware all the time.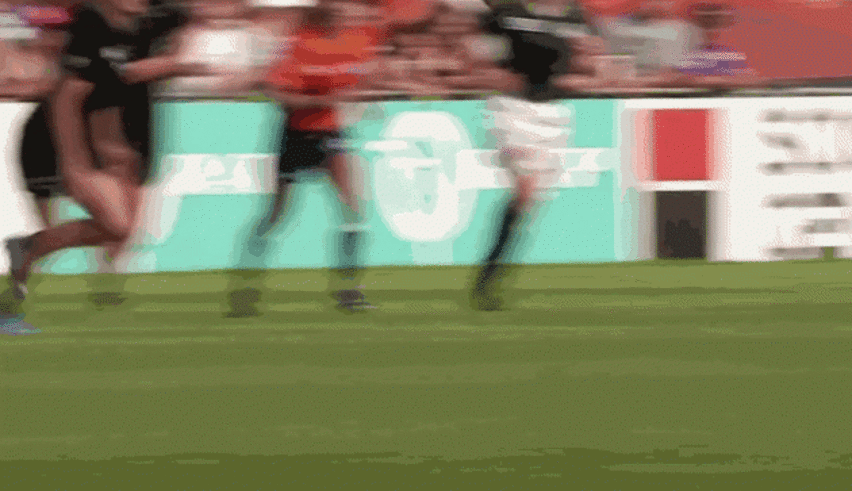 Jenny Murphy makes a thumping hit in the second half.
Coghlan: Defence would have been one of our strengths for a while. We knew in the first half that they'd try and take it up the middle, then in the second half they'd try and spin it more. They did that exactly.
There was great support from the forwards to allow the backs to push out, make sure New Zealand weren't getting around the outside. Then the girls did a great job out there marshalling them.
Scrum
Ireland had a brilliant day at the scrum against the Kiwis, putting on huge pressure in the first-half particularly.
Indeed, it appeared the Irish scrum should have been awarded a penalty try in the 14th minute when New Zealand broke their bind to prevent a pushover score. Overall, it was an afternoon of dominance for the Irish scrum, overseen by coach Peter Bracken.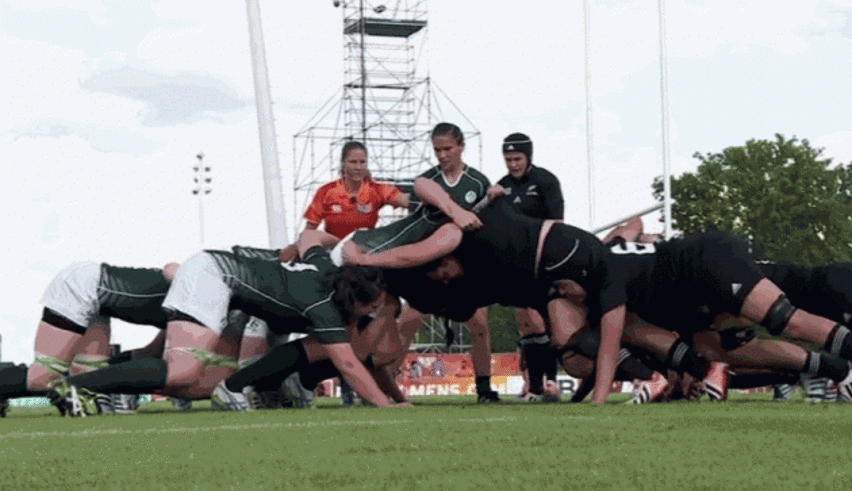 Ireland were unfortunate not to be awarded a penalty try for this effort.
Cantwell: The scrum was really important, really good. I'll let the forward talk about that though!
Coghlan: It was a case of accepting that they were bigger than us. The prop I was against was 104kg, so we knew they were going to be bigger than us and higher than us. It was a case of being lower than them and being technically better.
We'd had a bit more time than them to improve our scrummaging and it paid off. I don't think they were technically that good, I think they were relying on their weight. We were just technically better and that was our thing.
We thought we'd be under pressure because of that size, but even when they brought on a shorter prop, we had our flow already. By the time they made changes we were fine.
O'Brien try
Ireland scored a crucial try through number eight Heather O'Brien in the closing stages of the first half, with the Highfield back row getting on the end of a series of powerful pick and jams inside the New Zealand 22.
The try came after a remarkable 25-phase attack that lasted two minutes and 25 seconds, and would have greatly pleased attack coach Greg McWilliams.
Coghlan: Tania [Rosser, Ireland's scrum-half] marshalled it really well, picking people up off the ground.
Cantwell: It was weird how that actually unfolded. That was something that we'd never really practiced or one of our tactics. I know in the USA game, one of the things we were very, very good was our rucking and how tight we were in our rucking.
Against USA we scored on a pick and go, maybe a little bit randomly, but we brought that into the New Zealand game.
Coghlan: I would have killed them if they'd spun it out the backs!
Cantwell: I remember it happening and seeing that everyone was just bailing in there, then we had a try. It wasn't a tactic as such [to pick and go], but it worked. That close to the line, we had got to the stage as a team of realising how precious things were in that zone.
Before, people would have tried to take the ball out and spin things wide, but we didn't necessarily do that as much, risk things as much. Tania being at nine as well is so helpful too, because she's such an experienced head.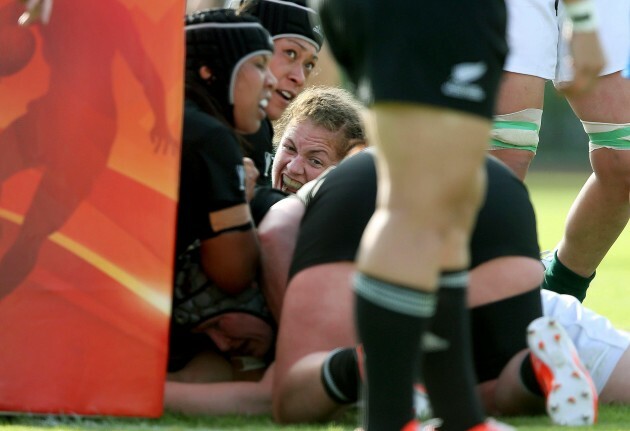 Dan Sheridan / INPHO Coghlan celebrates as O'Brien squeezes over next to the posts. Dan Sheridan / INPHO / INPHO
Coghlan: We knew that we weren't going away from there without a score. I think it was great awareness to hit it off the base of the post by Heather and that was Tania's direction. The forwards were just getting up, hitting a ruck, picking and going.
It was consistent pressure that they had no answer to in the end.
Half time
O'Brien's try, converted by the ever-reliable Briggs, ensured Ireland went into the half-time break trailing by a single point at 8-7.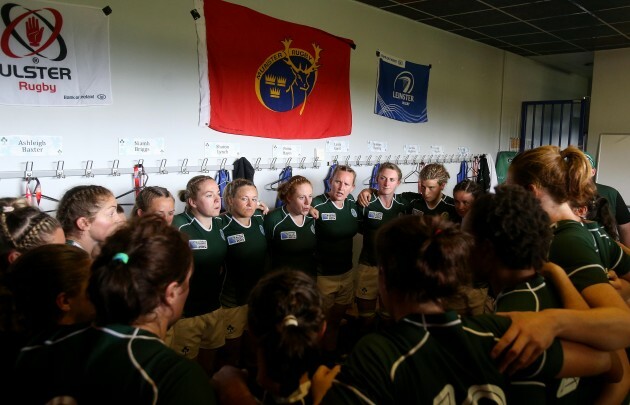 Dan Sheridan / INPHO Dan Sheridan / INPHO / INPHO
Coghlan: People were ready to get straight back out. Coming back onto the pitch the focus was again on that 60-minute mark and our fitness pulling us through. That's all we kept saying.
We knew that getting to that mark would let us come into our own. We didn't change anything at half time, it was 'go at them, go at them.' We didn't want to let them play, it was about us going back at them.
Cantwell: We always have a cool-off period for a minute or two where nobody speaks and we just get our breath back. After that, from the coaches, it's tactical stuff at half time. I don't remember exactly what we discussed in the backs.
Coghlan: You got a sense that New Zealand were feeling the pressure we had put on. Just simple things like they had an overlap at one stage and the wing threw the ball behind their fullback.
Uncharacteristic mistakes, that's when you know you have them. They never started bitching, that's not what they're like. But when they're having to sort out problems, you know you're doing well.
Miller try
The second major telling blow was Alison Miller's sublime counter-attacking try, as the Connacht wing linked up with influential fullback Briggs to punish some loose chasing from the Black Ferns.
Coghlan: We had looked at them and seen that they kicked a lot. Any time in their own half, they kicked out and tried to make you play in your own half. That had surprised us a little bit about them.
Cantwell: Again, another thing that we identified was that they are loose in their kick chase, that side of the defence. They do have a lot of lazy forwards and there were gaps there. That was really, really effective for us.
Coghlan: Briggsy saw the kick coming and she reacted really well. Even for that break, I don't know where they [New Zealand] were, but Briggsy did really well and then gave a strong pass for Ali to finish.
There's no stopping Ali from any distance if she's got a bit of space. It was excellent and it was great support from Ali to know Briggsy was going, to get with her. It was made to look really simple but Briggsy had to break through some defence there.
 Closing it out
Ireland moved into their 17-14 lead with ten minutes of the game still remaining thanks to a Briggs penalty, but there was no last-gasp panic from Doyle's charges. Indeed, the Irish composure in those closing stages was hugely impressive.
That confidence in their fitness, which had been built by S&C coach Marian Earls, told a tale as Coghlan and co. saw out a memorable win.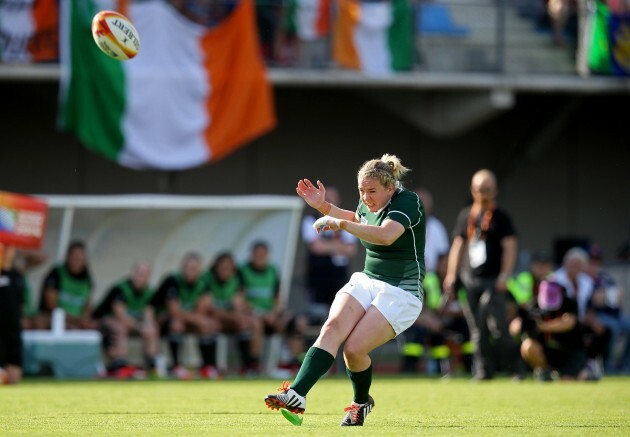 Dan Sheridan / INPHO Briggs' place-kicking was crucial. Dan Sheridan / INPHO / INPHO
Cantwell: That sort of Zen stuff that people have talked about, it was there. I think it comes from going into it with a weird kind of mindset. There was no fear going into that game. If you've no fear of what's going to happen, you've no fear of losing it.
Coghlan: I think in the USA game, we weren't composed at all and it was a messier game. But this time, it was far better.
Cantwell: I suppose getting to 20 minutes to go, 10 minutes to go, we had that fearless mentality. It was just really dogged. We said, 'Let's keep on going, keep on going, keep on going.
We knew at that stage it was just going to be a really, really mature, experienced closing out of the game. I genuinely think that's the most mature performance from that team that I've ever experienced. Even the younger girls played a very mature game too.
Coghlan: Things were going our way, the momentum was on our side and that confidence was there. Even with a sub coming on, you knew they'd play their part. That's where we were at – everyone knew their role and did their job.
Reaction
Congratulations for Ireland spread like wildfire at home on social media networks, as women's rugby became a major sporting talking point. On the field in Marcoussis, there was elation.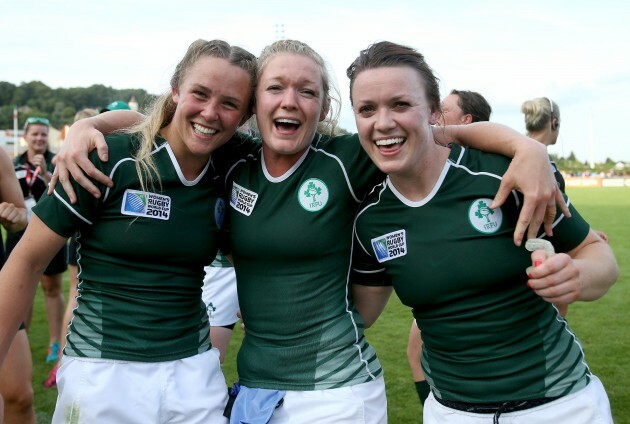 Dan Sheridan / INPHO Ashleigh Baxter, Vikki McGinn and Cantwell celebrate the victory. Dan Sheridan / INPHO / INPHO
Cantwell: It's numb feeling of 'Did this actually happen?' The child-like side of your head is like 'Holy sh*t, what just happened?' but then the other side is going, 'This really did happen.'
It was just crazy, you go crazy for a few minutes and then you tell yourself that you have to re-focus. This is just a pool game, it's nothing at all. It was huge mixed emotions.
Coghlan: I suppose immediately when the whistle went, it was euphoric. When you see the fans and how happy they were, it was great.
I was running off to do an interview and I said to Lynne, 'Get them in a circle and move on to the next step.' We had such a short turnaround to the next game against Kazakhstan and we still hadn't got out of our pool yet.
Cantwell: Because of the mindset we had, we probably didn't realise the extent of it at home. That evening, though, we started getting loads of messages through from other teams at the World Cup.
That was quite interesting, because you are in your little bubble sometimes. England, Spain and Canada, teams like that sent us messages which was kind of surreal. You knew the impact it had on the tournament.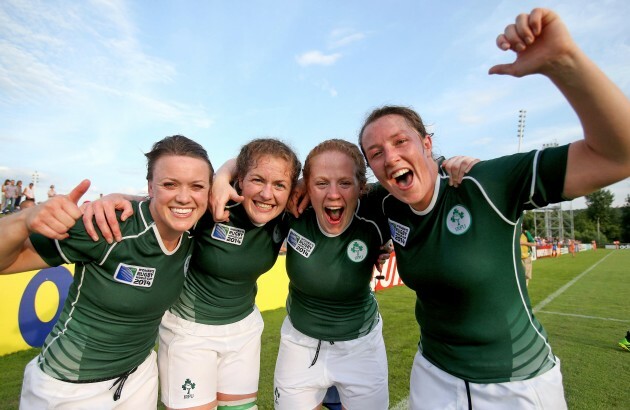 Dan Sheridan / INPHO Cantwell, Coghlan, Fiona Hayes and Gillian Bourke. Dan Sheridan / INPHO / INPHO
Coghlan: While embracing the fact that it was probably the biggest talking point of the World Cup and that we'd knocked New Zealand out, you have to keep your wits about too.
You can lose the run of yourself, so it was very much about regrouping and recovering.
Legacy
Ireland's exploits in the 2014 World Cup have had lasting effects as interest continues to grow in women's rugby. The IRFU this month made three full-time appointments to oversee the programme.
Anthony Eddy is the new director of rugby for women's rugby, Tom Tierney takes over from the retired Philip Doyle as head coach of the XVs side, while Marian Earls comes on board as strength and conditionining coach.
Ireland's wins in France played a major role in sparking those changes in the IRFU.
Dan Sheridan / INPHO Ireland's win sent shockwaves around the World Cup. Dan Sheridan / INPHO / INPHO
Coghlan: The impact was huge and I think the impact it still going to be huge, in the sense that people will talk about that game.
Cantwell: I do think it has had a legacy. Since then, people are talking about the structure of the World Cup and it's quite die-hard to have pool stages going straight into semis.
Maybe a World Cup shouldn't involve one game changing the whole face of it. What happened with England and Canada meant New Zealand weren't even in the semi-finals, which was huge.
Coghlan: I think it will be one of those historical games, it's bigger than one result. It's had an impact on women's rugby and people have seen that Ireland are capable of beating the four-time world champions.
It showed that the teams are improving and the games are getting better.
Cantwell: It was the big one that nobody accounted for.
©INPHO / Dan Sheridan ©INPHO / Dan Sheridan / Dan Sheridan
IRELAND (v New Zealand): Niamh Briggs; Ashleigh Baxter, Lynne Cantwell, Grace Davitt, Alison Miller; Nora Stapleton, Tania Rosser; Fiona Coghlan (capt.), Gillian Bourke, Ailis Egan; Sophie Spence, Marie Louise Reilly; Paula Fitzpatrick, Claire Molloy, Heather O'Brien.

Replacements: Sharon Lynch, Fiona Hayes, Laura Guest, Siobhan Fleming, Larissa Muldoon, Jenny Murphy, Vikki McGinn.