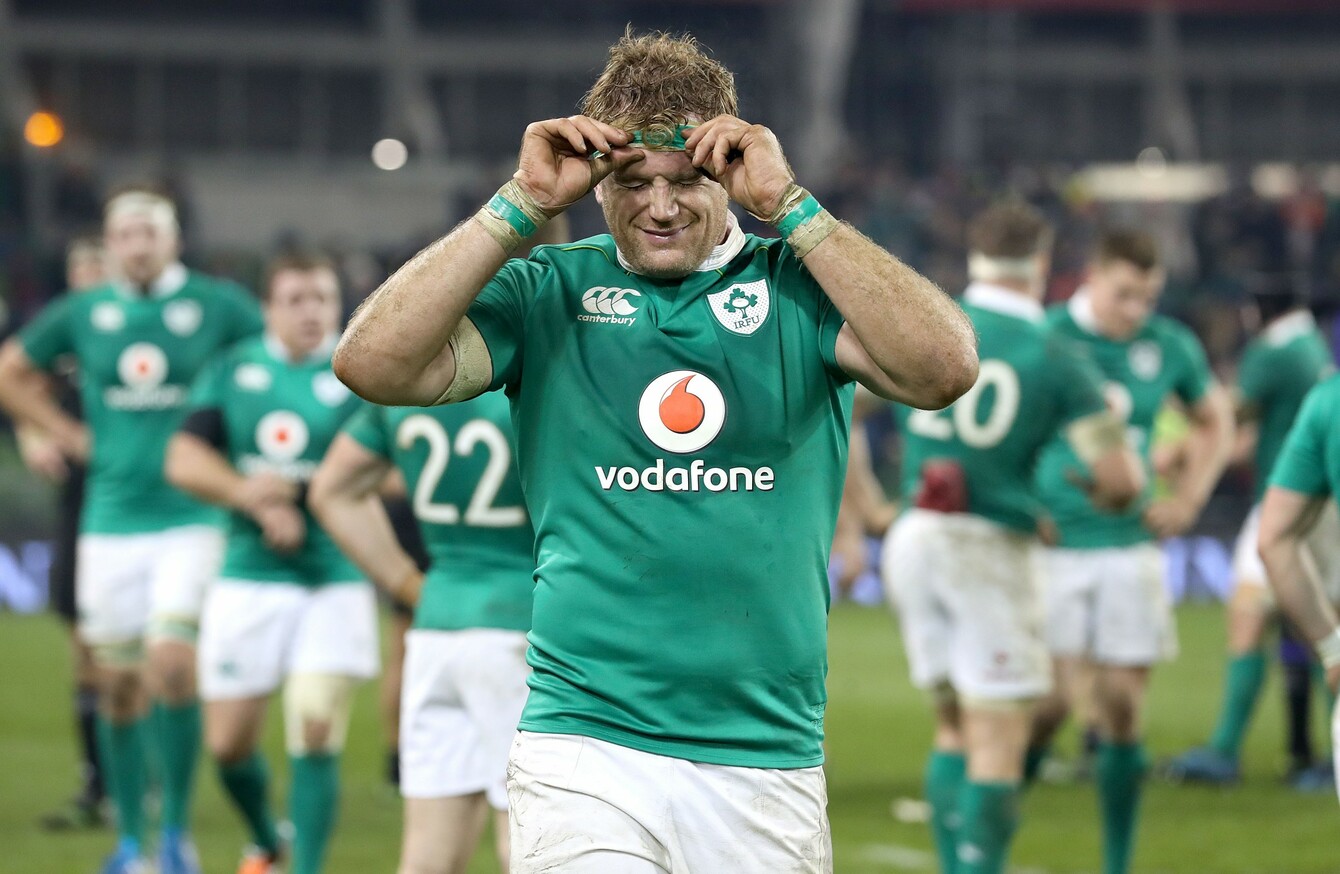 Image: Dan Sheridan/INPHO
Image: Dan Sheridan/INPHO
IN THE END, there is only one score that matters, of course.
But at the end of Ireland's 21 – 9 defeat at home to New Zealand on Saturday night there was still a number to take pride in and as it gave a reminder that Joe Schmidt's side are doing an awful lot of things right.
The penalty count.
Under Schmidt, Ireland have made a habit of keeping the number of penalties conceded in single digits. The two clashes with New Zealand this month have been particularly impressive as the world's number one side have managed to force just four penalties from Ireland during each Test.
"We've had eight penalties in total against New Zealand. That is an unbelievable stat to have," says Jamie Heaslip, who has struck a particularly rich vein of form opposite the All Black back row.
The penalty counts of  12 – 4 and 14 – 4 in the two clashes could not stop the world champions from scoring tries, but it certainly stopped them from building a cushion with kickable penalties.
As Heaslip points out, discipline is not something that is simply switched on and off come game day.
"It means you don't give easy access points or easy points. That's why we put such an emphasis on it. It's about detail and it could be as simple as not being late for a meeting. It could be the discipline to do that. Those small things have a knock-on effect that you see in a game."
With wholesale changes to the line-up against Canada, the number swelled to nine. More than twice the offences spotted against the All Blacks on either side of the Atlantic, but still an impressive single figure in an open, fractured contest.
"It's pretty simple. You don't give penalties away. They are easy three points or it releases pressure on the opposition by giving penalties away. That's the whole goal, to keep it down."
The flip-side to all this level-headedness is the argument that perhaps Ireland's chances on Saturday would have been better served if they still had a bit of divil about them, someone to bite back and push the boundaries of physicality. A reminder delivered to the All Blacks that they were not the dominant physical force on the field.
That's an intangible though, and an argument that's difficult to resolve without replaying the fixture. Lower discipline, higher physicality and higher sanctions would almost certainly have led to Ireland having fewer players on the field at some point.
"I think we were bloody physical ourselves to be quite honest with you," says team manager Mick Kearney, happy that a balance has been found.
"I certainly wouldn't let a couple of incidents spoil that for us. I thought we were really competitive throughout.
"So learning from New Zealand on how they approach the game? No, absolutely not. We have always tried to play the game from within the Laws, if you notice over the last few years and in particular since Joe took over, we have been very disciplined and it is one thing he drives home to the squad on a very regular basis."
Stringent discipline can't stop players getting injured, unfortunately. Ireland have been left hoping that Simon Zebo can shake off cramp and train fully before Thursday to ease the transition to the month's final Test against Australia. Jonathan Sexton and Robbie Henshaw have been ruled out of the Wallabies clash, while CJ Stander and Rob Kearney are following concussion return to play protocols.
Head injuries and concussion in a prime time match such as Saturday's inevitably lead to concerns of the game's safety. Indeed, Rory Best was among the first to express a worry 'as a father' after seeing Henshaw depart the field on a stretcher. However, his vice captain has no concern about the safety of the game he plays and conveyed his confidence that World Rugby and their referees will protect the disciplined from the ill disciplined on the field.
"You enter the game knowing there is a risk. It's a physical game, you know," says Heaslip with a familiar shrug.
What are they
really like?
Rare insights on sport's biggest names from the writers who know them best. Listen to Behind the Lines podcast.
Become a Member
"You hope everyone who's involved in the game are putting things in place to make sure they're looking after you."
"We're given the guidance from our coaches who get it from World Rugby or the referees. We play to the best of our ability within those rules.
It's a physical game, a dynamic game. It's ever-moving, ever-evolving. People make mistakes. Sometimes someone gets a shot in the head. A lad falls on you, you get a knee in the head. All sorts of things can happen, you know what I mean?
"You just hope that you have the medical team around you to look after you.
"I've been playing professional rugby now for 11 years and the approach to injury and whatever it is with the body, has drastically changed in that time and has gotten drastically better year on year.
"As a player that's what you hope for. As a player you enter the game knowing there is a bit of risk to it. If it was easy everyone would be playing it but it's not. It's a tough bloody game."
All the more reason to be impressed by Ireland's ability to reach such high and sustained levels of intensity within a given referee's view of legality.
The42 is on Instagram! Tap the button below on your phone to follow us!