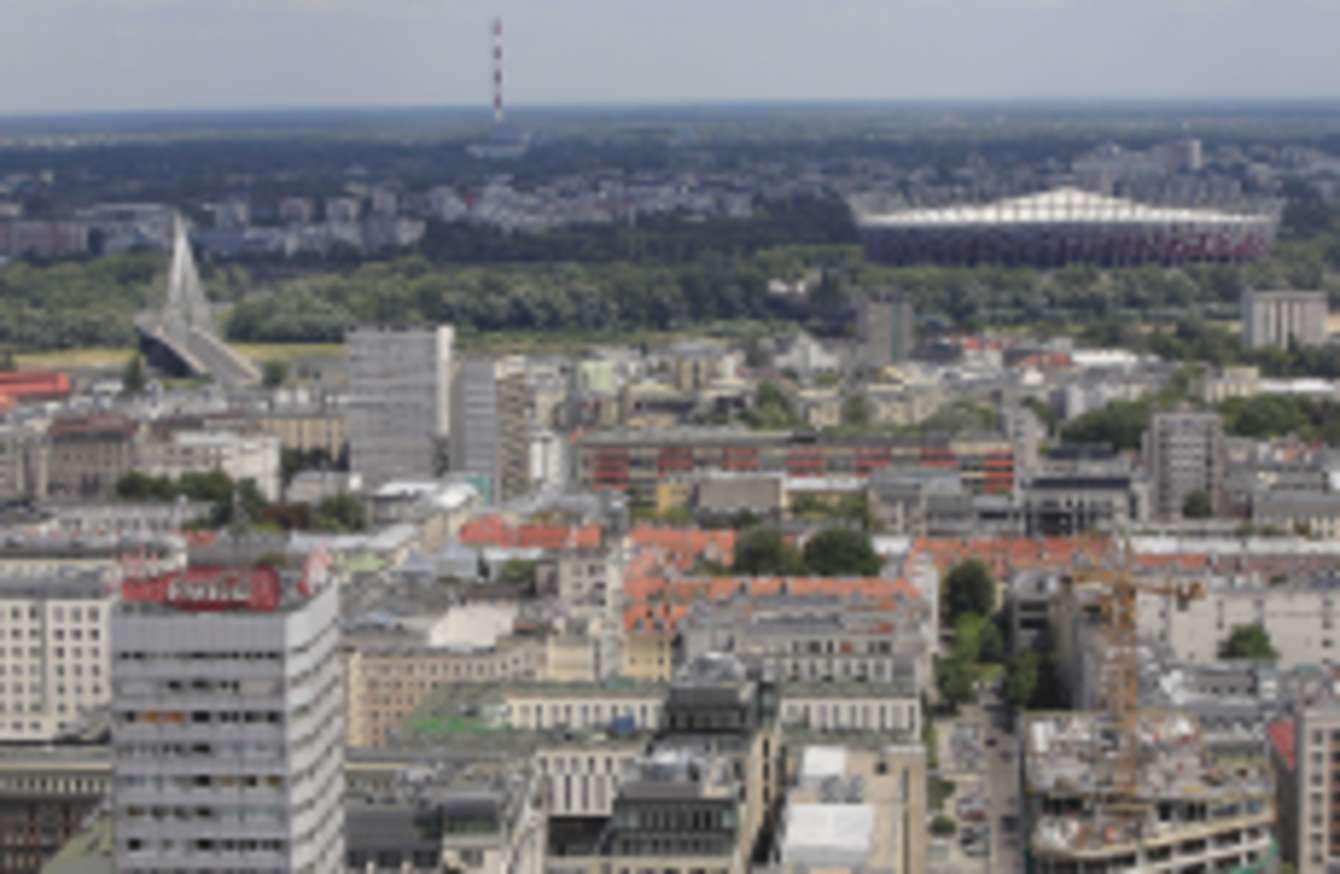 In the distance, the National Stadium, which hosts Sunday's game.
Image: Czarek Sokolowski/AP/Press Association Images
In the distance, the National Stadium, which hosts Sunday's game.
Image: Czarek Sokolowski/AP/Press Association Images
Niall Kelly reports from Warsaw
WARM AND WELCOMING as the Polish people are, there's nothing like the sight of a brawny ultra, topped with a buzz cut and a t-shirt that screams EXTREME HOBBY: FOOTBALL HOOLIGAN to remind you that Ireland are still behind enemy lines this weekend.
(Hooliganism always seemed more of a vocation than a hobby, really, but that's beside the point.)
Before Thursday night, Poland had automatic qualification firmly within their own grasp.
While Adam Nawalka's side are still masters of their own destiny, as are Ireland, the penultimate round of Group D fixtures has introduced a nervy edge that the hosts would have happily done without.
"What time are we heading to the Pope's house at?" one travelling Irish fan chirped as the bus wound its way in from an airport in the outer suburbs of god knows where, a location which makes it the perfect stopping point for a Ryanair flight.
"We should probably go early enough to beat the queues."
They might as well have. Tourists and travelling football fans aside, Warsaw's Stare Miasto (Old Town) is sleepy on a Saturday morning. Sleepy, but beautiful, nonetheless.
It's still early so the most obvious of the Irish pubs, Molly Malone's, is quiet for now — the calm before the storm, a fact which is not lost on the staff as they busy themselves outside in preparation.
Around 5,000 Irish fans are expected to make the trip, and by the time evening comes, the peaceful murmur will surely have grown into full-throated exuberance.
This is the home of Chopin, one of Warsaw's many cultural boasts, but the travelling fans come in hope that for one night only, Wes Hoolahan can seize the mantel of the iconic composer and help pen the most unlikely coda to a rollercoaster campaign.
The city's revolutionary past is writ large into its fabric too.
The early risers gather in front of the Tomb of the Unknown Soldier, commemorating those who lost their lives in service as far back as the 10th century when the Polish forces repelled the Saxons at the Battle of Cedynia.
Further down the road, a military guard stands in ceremony in front of the statue of the Polish general, Josef Poniatowski.
Tomorrow, the Bialo-czerwoni will look to another for inspiration. Poland are no one-man team, John O'Shea warned this week, but when one man is as dangerous as Robert Lewandowski currently is, it's easy to see how the mistake could be made.
It was his stoppage-time equaliser in Hampden Park that tilted the dynamic of the group ever so slightly back in Poland's favour. In little more than two weeks, the Bayern Munich striker has scored 14 goals in five games.
Nobody comes close to the 12 goals he has already scored in qualification; one local publication is already making his case as a contender for the Ballon d'Or.
If that's not enough to give Martin O'Neill and the Boys in Green cause for concern, nothing will be.
Later this evening they will make their way for training in the 57,000-seater National Stadium which was purpose-built for Euro 2012.
As per usual, O'Neill is unlikely to give anything away as regards his team selection, although the expectation is that German giantkiller Shane Long, the returning Glenn Whelan, and Seamus Coleman — if truly fit — will all start.
"Two-zero, two-zero," nudged one local as a pair of Irish fans passed him in the morning sun.
"Two-zero to us?" one responded. "That'll do alright."
With their playoff place secure, Ireland have nothing to lose and everything to gain.
It's time to be brave.