WE'VE HEARD PLENTY about Argentina's breakdown threats this week, but the Pumas are justifiably concerned about the speed and quality of Ireland's rucking ahead of tomorrow's contest in Cardiff.
Under Joe Schmidt, the ruck has been the foundation for everything good Ireland have done. There have been intermittent criticisms of Ireland's attacking play in the last two season, but when their ruck speed peaks few teams can live with them.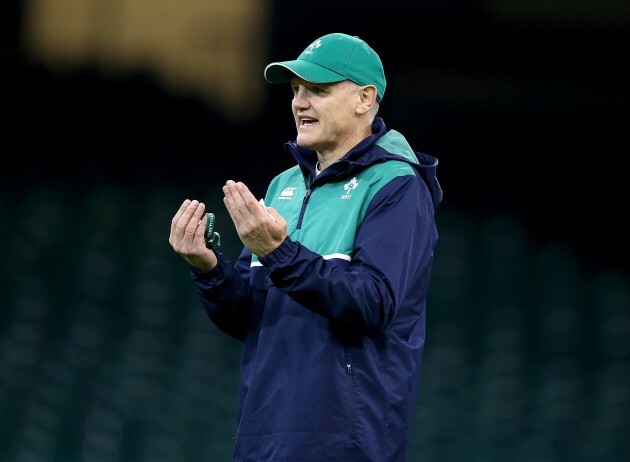 Dan Sheridan / INPHO Dan Sheridan / INPHO / INPHO
The fact that Ireland hit 97% success rate on their own rucks in the pool stages of this World Cup is merely a continuation of what has come before, Schmidt's men having achieved the same figure over the course of the 2014 and 2015 Six Nations.
The Kiwi head coach will want 98% from his side tomorrow.
Along with the high success rate, Ireland's ruck speed has been exceptional under Schmidt. Anything under 3 seconds per ruck generally signifies quick ball, and Ireland at their best are always in that golden zone.
In 2014, Ireland had the fastest rucks in the world at an average of 2.83 seconds per ruck, faster than New Zealand and Australia. Not much has changed this year, and Schmidt's men were under the magic 3-second mark last weekend against France.
Argentina have spent a considerable amount of time working on their defensive breakdown strategy and technique this week out at the Vale Resort and they feel that they simply must slow and steal Ireland's possession to stand a chance.
In Agustín Creevy, the Pumas have one of the finest poachers in the competition, so expect him to take on the role of pilferer in chief that Eddy Ben Arous played for France last weekend.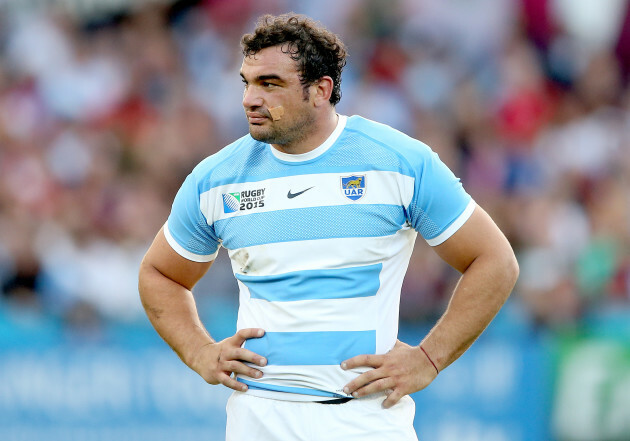 James Crombie / INPHO Creevy is a phenomenal breakdown operator. James Crombie / INPHO / INPHO
Around captain Creevy, the likes of Juan Martín Fernández Lobbe and Tomás Lavanini combine agility around the post-tackle zone with ferocious counter-rucking, but there are a number of Pumas who can challenge Ireland's excellence in this area.
Encouragingly for Joe Schmidt, last weekend's win over France saw Ireland deliver one of their best rucking displays for some time. Crucial leaders in this department are now missing, but several of the men who delivered last weekend are back for more.
Schmidt's players have set a standard for themselves at the ruck and if they can match it against the Pumas tomorrow, it will go a long, long way to helping them secure a first-ever semi-final.
*This analysis of the Ireland v France match was undertaken through one set of eyes and over the course of a stop-start-rewind-pause-fast forward-pause viewing of the game. If there are any minor inaccuracies, for that we apologise.
For anyone new to this type of analysis, check out our marking system here.
Heaslip the leader
With Paul O'Connell and Peter O'Mahony injured, Ireland have been shorn of two leaders, but number eight Jamie Heaslip is a man who captains his province and is perhaps slightly underrated as an influential figure in the Irish group.
He has assumed the full-time captaincy this week for Ireland and his work rate can be inspirational against the Pumas if he matches what he delivered last weekend.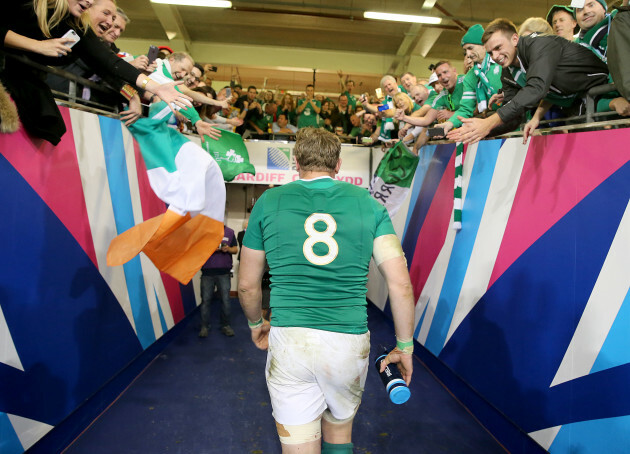 Dan Sheridan / INPHO Heaslip got through a mountain of ruck work last time out. Dan Sheridan / INPHO / INPHO
Heaslip was involved in 49 rucks in total for Ireland in attack and defence against France. The fact that Schmidt's men enjoyed so much possession in the game means the figures were always going to be high, but the sheer effectiveness of Heaslip was remarkable.
He didn't record a single ineffective or miss mark across the 80 minutes, instead offering up 19 effective hits in total and one dominant effort as second arrival. Add in a turnover and a turnover assist in defence and it was an astonishing ruck performance.
Heaslip was first man in on 15 occasions as Ireland attacked, while getting to the scene second no less than 14 times and adding 15 third man arrivals, when he generally acted as a guard.
While Ireland might not enjoy as much possession in tomorrow's game, and Heaslip will probably have to carry more with Sean O'Brien missing, this work rate bodes well for Schmidt's hopes of a semi-final. The captain must set the tone.
Brilliant Best
Rory Best – another provincial captain – had his finest Ireland performance in some time last weekend against the French, coming very close to matching Heaslip with his 46 ruck contributions.
The fact that Best was replaced with nine minutes of the game remaining underlines just how heavy a shift he put in at the breakdown coalface. Again, the key here is effectiveness and aggression. Best offered up both.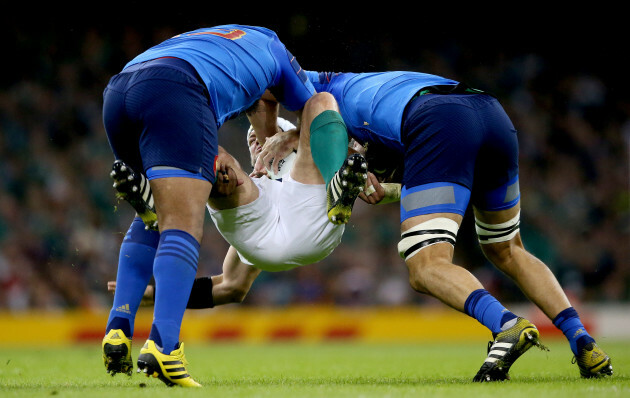 James Crombie / INPHO Best on the receiving end of a thumping hit. James Crombie / INPHO / INPHO
Arriving as first man 13 times, Best delivered one dominant clearout and eight effective hits. There was a further dominant effort as second man into the ruck and the hooker's defensive efforts were team-leading.
One turnover, one turnover assist, one slowing contribution and a handful of present markings underlined how much of a threat Best was.
Interestingly, Ireland's defensive tactics around the breakdown in the France game were often to stand off and not compete for the ball. Schmidt's men instead focused on filling the defensive line with bodies to slow the powerful French carriers.
What made the strategy so effective was the good decision-making as to when to actually look for poaches. Allowing any team guaranteed ball is asking for trouble, but Ireland were swift to pounce when genuine openings presented themselves.
Filling SOB's boots
With a total of 41 ruck contributions, as well as his huge ball-carrying effort, Sean O'Brien was one of the major reasons Ireland powered to victory last weekend.
We know that much, and despite a handful of ineffective markings as first man in for Ireland, he was a huge part of why Ireland dominated the rucks against the French. Now he must be replaced. Up steps Chris Henry with form on his side.
Dan Sheridan / INPHO Henry may be the key for Ireland. Dan Sheridan / INPHO / INPHO
The Ulsterman had 18 ruck involvements off the bench, that's 0.72 ruck involvements per minute on the pitch, and not a single one of them was negative. Henry managed to get a dominant shot in as second arrival at one stage, while adding five effective hits.
He was dogged at defensive rucks too, not earning any turnovers (O'Brien had two), but five present markings underline that thirst to look for the steal. O'Brien will be missed of course, but the experienced Henry offers huge amounts for Ireland at ruck time.
Tomorrow is his time to dominate.
Toner adds the venom
Let's talk about O'Connell. The Ireland captain went out with a typically hectic 40-minute display at the ruck, contributing 23 times before succumbing to injury. In the oddest way, the fact that he was injured while attempting to poach French ball was fitting.
O'Connell has always been top of the list or very near it when we have compiled these figures, and more importantly his effectiveness has regularly been team-leading. There's another big hole to fill for Ireland this weekend.
Iain Henderson had 18 involvements in the rucks off the bench, using his power in a technically proficient manner for seven effective clearouts. However, his strength as a ball carrier will mean he's often the man Ireland look to clear over.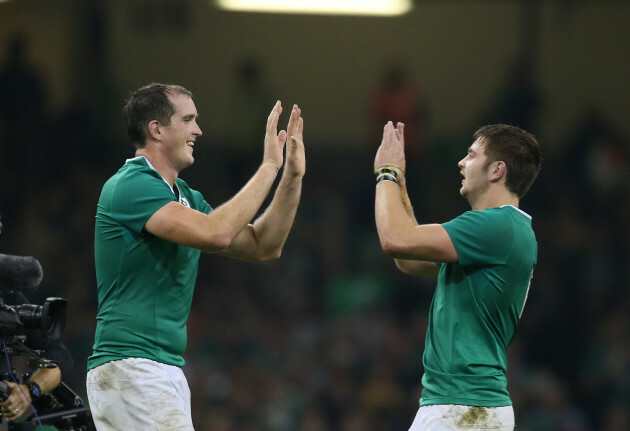 Billy Stickland / INPHO Toner and Henderson have a huge task ahead. Billy Stickland / INPHO / INPHO
Fortunately, Devin Toner is coming back into his best form at just the right time. With a total of 43 ruck involvements over the course of a superb 80-minute display, Toner took up O'Connell's rucking mantle.
The Leinster man has sometimes looked passive at ruck time in the past, but has morphed into a high-quality international lock under Schmidt.
Toner was first man in for Ireland on a chart-topping 20 occasions, delivering a superb three dominant hits as he brought huge aggression and decisiveness to the breakdown.
Across nine second arrivals and 11 as third man, there were a further three effective clearouts by Toner to add to a superb 12 as first man to the breakdown. Toner still looks awkward when shifting bodies, and sometimes the first impression is of a sloppy clearout, but aesthetics don't really matter at ruck time.
There was a lovely bite to many of Toner's hits at the ruck, as he slammed compact shoulders into potential poachers and tin-opened a few French defenders. This is the standard Toner must hit every single time he plays for Ireland, continuing with tomorrow's game.
If Toner can do so, the loss of O'Connell will be felt less severely around the rucks.
Murphy has pedigree
Lineout specialist Peter O'Mahony got through 27 rucking contributions before going down with a knee injury and being replaced by Henry, although only four were as first arrival (one dominant and one effective continued the Irish theme).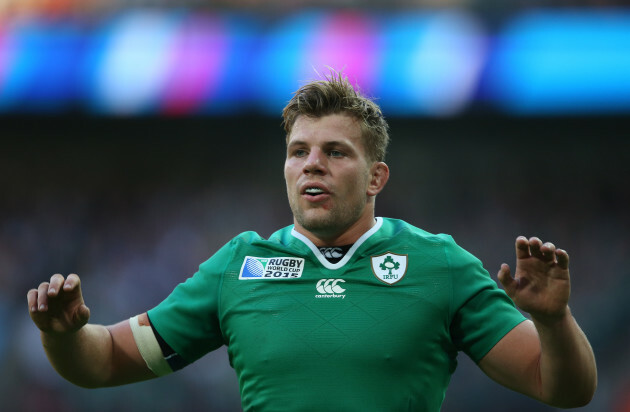 Billy Stickland / INPHO Murphy has done it before for Ireland. Billy Stickland / INPHO / INPHO
The highly mobile Jordi Murphy steps in at blindside flanker for Ireland and brings with him a strong pedigree at ruck time. While Heaslip's total of 49 ruck contributions in this France game is remarkable, Murphy actually hit the 50 mark against England in this year's Six Nations.
With Schmidt demanding once again that Ireland hit rucks ferociously and repeatedly, that performance will loom large in Murphy's mind. He has done it before for Ireland at ruck time and can certainly deliver an effective work rate once again.
Team effort
It's always worth repeating that Ireland's rucking success doesn't just depend on their back row and locks. It's a shared responsibility among the team.
Mike Ross was as busy as ever with 38 total involvements before being replaced by Nathan White, while Cian Healy hit 23 before Jack McGrath took over for his latest effective rucking display.
Among the backs, Dave Kearney was highly involved with 17 contributions, as Keith Earls continued to look like a flanker at ruck time with a total of 19 actions, most of them positive.
Ian Madigan had three effective hits off the bench, while Tommy Bowe was also very efficient after giving up an early penalty for entering a ruck from the side. Schmidt will demand more of the same from his entire squad tomorrow.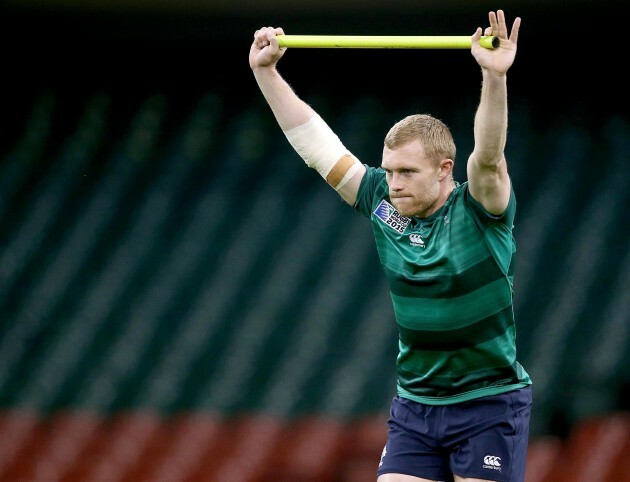 Dan Sheridan / INPHO Earls has been in superb rucking form. Dan Sheridan / INPHO / INPHO
Rapid ruck ball is integral to how Ireland challenge defences, and the Pumas have understandably focused on this area intently in the build-up. The Argentinians believe the rucks will be the winning and losing of this game and Schmidt won't be arguing.
The signs are positive for Ireland, but Schmidt's player simply must match and even better the levels they hit last weekend to emerge victorious in this quarter-final.
Top of the Pops
Below, we've listed the rucking involvements for each Irish player in the starting team and those who came off the replacements bench in last weekend's clash with France.
First arrivals
Billy Stickland / INPHO Billy Stickland / INPHO / INPHO
20 Devin Toner – 3 dominant, 12 effective, 3 guard, 1 present, 1 ineffective
15 Jamie Heaslip – 9 effective, 5 guard, 1 present
15 Sean O'Brien – 11 effective, 4 ineffective
13 Rory Best – 1 dominant, 8 effective, 2 guard, 1 present, 1 ineffective
11 Keith Earls – 8 effective, 2 guard, 1 present
8 Tommy Bowe – 5 effective, 2 guard, 1 ineffective
8 Iain Henderson – 5 effective, 1 guard, 1 present, 1 ineffective
8 Cian Healy – 3 effective, 4 guard, 1 ineffective
8 Dave Kearney – 3 effective, 4 guard, 1 ineffective
7 Paul O'Connell – 5 effective, 2 guard
6 Mike Ross – 5 effective, 1 guard
6 Chris Henry – 4 effective, 2 guard
6 Robbie Henshaw – 3 effective, 2 guard, 1 ineffective
4 Peter O'Mahony – 1 dominant, 1 effective, 2 guard
3 Rob Kearney – 3 effective
3 Nathan White – 2 effective, 1 guard
3 Jack McGrath – 2 effective, 1 present
2 Conor Murray – 2 effective
2 Richardt Strauss – 1 effective, 1 guard
1 Johnny Sexton – 1 effective
Second arrivals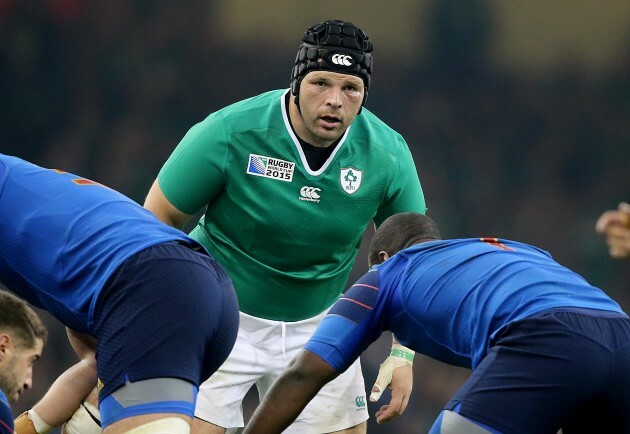 Dan Sheridan / INPHO Dan Sheridan / INPHO / INPHO
20 Mike Ross – 1 dominant, 11 effective, 6 guard, 2 present
16 Rory Best – 1 dominant, 5 effective, 8 guard, 1 present, 1 ineffective
14 Jamie Heaslip – 1 dominant, 7 effective, 6 guard
13 Sean O'Brien – 3 effective, 10 guard
10 Paul O'Connell – 1 dominant, 3 effective, 6 guard
9 Devin Toner – 2 effective, 6 guard, 1 ineffective
6 Cian Healy – 3 effective, 2 guard, 1 present
6 Jack McGrath – 2 effective, 4 guard
6 Peter O'Mahony – 1 effective, 5 guard
6 Robbie Henshaw – 1 effective, 5 guard
5 Chris Henry – 1 dominant, 1 effective, 3 guard
5 Nathan White – 5 guard
4 Rob Kearney – 4 effective
4 Ian Madigan – 3 effective, 1 guard
4 Keith Earls – 2 effective, 2 guard
4 Iain Henderson – 2 effective, 2 guard
3 Dave Kearney – 1 effective, 2 guard
2 Richardt Strauss – 1 dominant, 1 effective
2 Tommy Bowe – 1 effective, 1 guard
2 Luke Fitzgerald – 1 effective, 1 guard
1 Conor Murray – 1 effective
Third arrivals
Dan Sheridan / INPHO Dan Sheridan / INPHO / INPHO
15 Jamie Heaslip – 2 effective, 12 guard, 1 present
12 Peter O'Mahony – 9 guard, 3 present
11 Devin Toner – 1 effective, 6 guard, 4 present
9 Rory Best – 6 guard, 3 present
8 Mike Ross – 1 effective, 3 guard, 3 present, 1 ineffective
7 Sean O'Brien – 1 effective, 6 guard
5 Iain Henderson – 3 guard, 2 present
4 Jack McGrath – 4 guard
3 Keith Earls – 2 effective, 1 guard
3 Nathan White – 1 effective, 1 guard, 1 present
3 Paul O'Connell – 2 guard, 1 present
3 Dave Kearney – 3 guard
2 Chris Henry – 2 guard
2 Cian Healy – 2 guard
2 Tommy Bowe – 2 guard
2 Robbie Henshaw – 2 present
1 Richardt Strauss – 1 guard
1 Conor Murray – 1 guard
Defensive efforts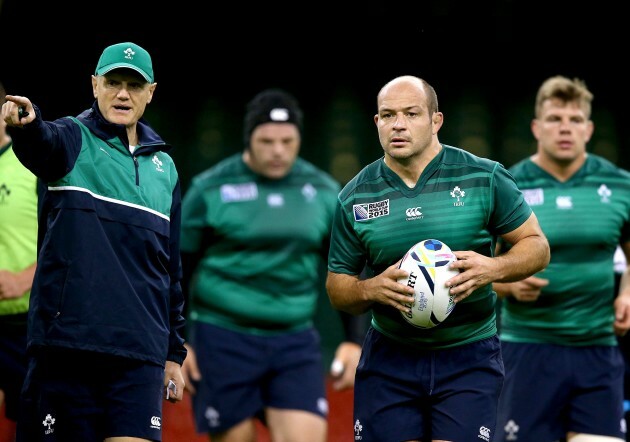 Dan Sheridan / INPHO Dan Sheridan / INPHO / INPHO
6 Rory Best – 1 turnover, 1 turnover assist, 1 slowing, 3 present
6 Sean O'Brien – 2 turnovers, 1 slowing, 2 present, 1 miss
5 Cian Healy – 1 turnover assist, 4 present
5 Chris Henry – 5 present
3 Peter O'Mahony – 1 turnover assist, 1 slowing, 1 present
2 Jamie Heaslip – 1 turnover, 1 turnover assist
2 Paul O'Connell – 2 present
2 Dave Kearney – 2 present
1 Robbie Henshaw – 1 turnover
1 Iain Henderson – 1 present
1 Devin Toner – 1 present
1 Mike Ross – 1 present
1 Jack McGrath – 1 present
 Ruck involvements per minute of game time
James Crombie / INPHO James Crombie / INPHO / INPHO
0.75 Richardt Strauss
0.72 Chris Henry
0.64 Nathan White
0.63 Rory Best
0.61 Jamie Heaslip
0.61 Jack McGrath
0.58 Mike Ross
0.57 Paul O'Connell
0.54 Devin Toner
0.51 Sean O'Brien
0.49 Peter O'Mahony
0.45 Iain Henderson
0.40 Cian Healy
0.31 Keith Earls
0.21 Dave Kearney
0.19 Robbie Henshaw
0.15 Tommy Bowe
0.11 Luke Fitzgerald
o.10 Rob Kearney
0.07 Ian Madigan
0.05 Conor Murray
0.04 Johnny Sexton