Breakdown
In Ryan Wilson, Kelly Brown and David Denton, Scotland have a back row that will compete aggressively at the breakdown when they are defending. The likes of Tim Swinson and Ross Ford are also capable of chipping in with steals, meaning it will be a concentrated effort from the Scots in this area.
When Ireland attack, Chris Henry and Jamie Heaslip will be tasked with being first on the scene after the tackle, swiftly clearing away any threats and allowing Joe Schmidt's side to play at the high tempo the Kiwi feels is essential. Forwards coach John Plumtree recognises that Ireland face a tough afternoon in that regard.
We know at the breakdown we have to be really accurate in what we want to achieve. We know we have to have instant support, because they've got good poachers there. That has to be taken care of, the boys know all of that."
Defensively, Henry looks like leading the turnover charge. The Ulsterman's strength over the ball makes him difficult to shift, but his physical attributes are allied to a swift mind that recognises when to go for the steal and when to fan out in defence.
Blindside flanker Peter O'Mahony says he understands just how annoying Henry is to play against.
"He'd wreck your head and he'd take that as a huge compliment I'm sure. He's an out-and-out openside. He's dogged, he's at the coal face as we like to call it; in first at the breakdown and causing havoc. He's a class footballer, so I don't think there's going to be an worries as to what Chris will bring to it.
"He's a great fella to play alongside, a good voice there. He has a lot of experience as well, so he's a good fella to play with."
Line-out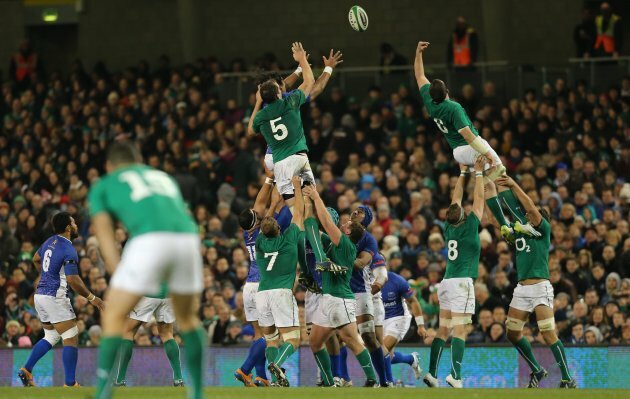 Devin Toner and Peter O'Mahony can compete defensively in the air. ©INPHO/Colm O'Neill.
With Devin Toner continuing alongside Paul O'Connell in the second row, Ireland look suitably armed for this particular set-piece. The Leinster lock has been in excellent form this season, showing clear progress in his ball carrying, tackling and work rate. Toner's rucking technique still has a way to go, but he deserves his place in the starting XV.
At 6ft 11ins, he is the obvious target but Ireland will need to vary their line-out options intelligently. O'Mahony is a wonderful jumper with a natural spring, and his relative lack of mass makes him ideal to lift. Throwing to the Munster captain is an excellent variation on simply hitting Toner or O'Connell, while Jamie Heaslip is also a viable target.
Tim Swinson and Jim Hamilton can both be disruptive when defending line-outs, meaning that Ireland will need to be accurate on their own throw. Plumtree highlights that success out of touch is down to more than a good jump or the right call.
Obviously if it's wet, the line-outs can become a bit of a lottery, tough because of the ball being so wet. If it's windy, it can be the same as well. But I'm impressed with our hookers; they've thrown in some really average conditions this week and they're throwing quite nicely. We've been working quite hard in that area.
"There's obviously more to it than just the line-out throwers, there are plenty of other roles to it that have to be performed accurately in the line-out. The onus is on all of the boys to do their jobs properly."
Scrum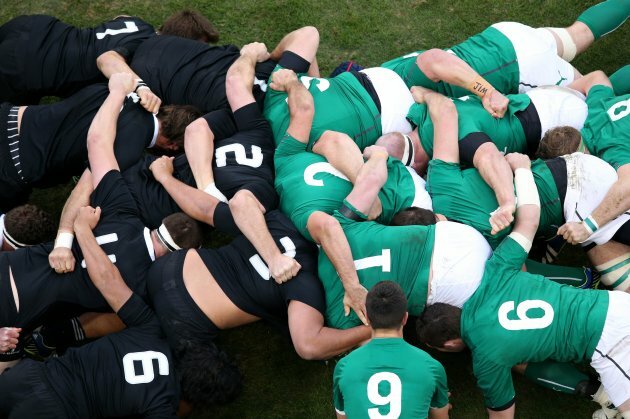 ©INPHO/Billy Stickland
Ryan Grant and Moray Low may not be household names but they are confident scrummagers, with the former having been part of the 2013 Lions tour to Australia. In between them, hooker Ford is also powerful in the tight.
Still, Ireland will be hopeful of dominating in this area, with Cian Healy having looked so sharp after returning from an ankle injury for Leinster and Mike Ross now playing for his starting spot for both province and country as Marty Moore continues to breath down his neck.
Plumtree says Moore and fellow substitute Jack McGrath have been hugely impressive during training for this set-piece.
The scrummaging efforts during the week were just excellent. We've got two pretty competitive groups of guys when it comes to the set-piece work out there.
"It started with a bit of contest against the Wolfhounds last week and amped up a fair bit this week with guys pushing for places and wanting to impress at training. So the scrummaging sessions were pretty intense."
Bench options
Tommy O'Donnell is likely to have an impact as a replacement. ©INPHO/Dan Sheridan.
Both sides look well set in this regard, with Scotland having Richie Gray and Johnnie Beattie to spring in the second half. Both players will offer increased ball carrying power, while sub hooker Pat MacArthur is highly rated in Scotland too.
However, Plumtree has great confidence that his five forward replacements have the ability to play an even more essential role at Lansdowne Road this afternoon, if called upon.
Sean Cronin's had a really good season, he provides a real positive impact. Obviously Jack McGrath is improving all the time, we're pretty confident in him if he's going to replace Cian at any stage. It's Marty's first game and he's grown a  lot this season.
"He's been pretty consistent in all of his performances with Leinster and he's a good scrummager so we'll be pretty confident he'll do a good job if Rossy comes off. Obviously Tommy O'Donnell is not new to rugby at this level and he can cover most positions in the back row.
"Dan Tuohy has earned his right for selection with consistent performances, which was what we put a little bit of pressure on him to come up with for Ulster. He's done that so he deserves his selection and if he gets some time, hopefully he'll provide a real positive impact."