HEAD COACH JOE Schmidt says the 'wear and tear' Simon Zebo has built up during nine consecutive games for Ireland partly explains the decision to include Luke Fitzgerald on the left wing for Saturday's clash with Scotland.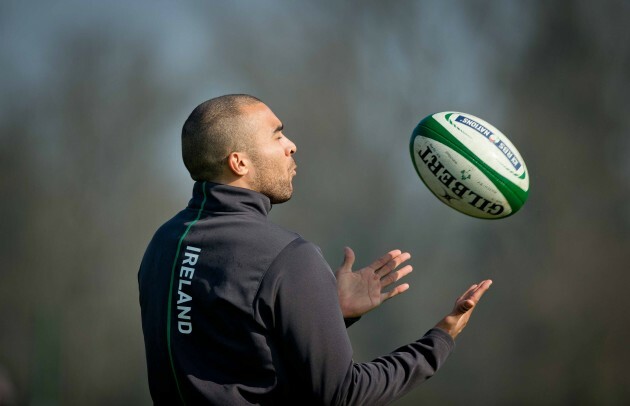 Morgan Treacy / INPHO Schmidt has been pleased with Zebo's reaction in training. Morgan Treacy / INPHO / INPHO
The Munster man drops out of the match day altogether, although he will travel with Ireland to Edinburgh this evening and provide back-up to Schmidt's 23.
Schmidt unsurprisingly admitted that both Zebo and Jack McGrath – who has been replaced by Cian Healy in the starting XV for this Six Nations clash – were disappointed to learn of their fate earlier this week.
"Probably with Simon, he started the last nine Test matches for us and he's played throughout the Six Nations for us and he's just showing signs of wear and tear, he's got a few niggles," said Schmidt this afternoon in Carton House when asked to outline his thinking in making the two changes.
"We just wanted to have somebody that's at 100% [Fitzgerald], as opposed to someone who has fitted in really well, has worked incredibly hard on their game, but is just starting to show those signs of wear and tear.
It's a little bit the same with Jack. I think Jack has been superb for us, but it's an opportunity for Cian probably as much as anything to have a little more training time with the team.
"I think if you're forever coming off the bench, you don't get as much time in the team and for Cian to get comfortable in the week. They've shared a bit of time in the last two matches anyway."
When asked how Zebo and McGrath had handled the news of their dropping, Schmidt pointed to the positive attitude of both players. Having started Ireland's first four games of the championship, Zebo unsurprisingly did not agree that his body needed a break.
"I don't think a player ever feels that they need a rest, to be honest," said Schmidt of Zebo. "Players always want to keep going and when it's Test matches that are competitive in the championship, they want to be there.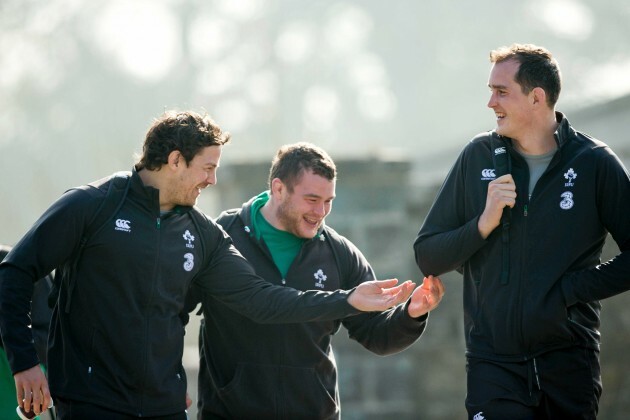 Morgan Treacy / INPHO McGrath was in good spirits at training in Carton House today. Morgan Treacy / INPHO / INPHO
"So there's a bit of disappointment and at the same time, there's probably a little sense of relief because he has been showing those signs of wear and tear.
"Simon's rebounded and trained well; I thought he trained particularly well today and he'll certainly be coming with us [to Scotland] as part of the group."
As for McGrath, Schmidt pointed out that he and Leinster teammate Healy have been playing something of a double act in the last three games.
Again, Jack was really disappointed. I think that he feels he's contributed really well and I can't fault that or argue with it. I think he has contributed really well. It's a role reversal, but they have been sharing a bit of time with Cian coming off the bench.
"This way, we thought we'd rotate that around a little bit. We're really happy to have two really good, effective loosehead props. They both scrum very strongly, they're both very consistent with their set-piece as far as lineout is concerned, both very effective lifters, and they offer real value and consistency around the pitch.
"Cian has a little more experience, but Jack has continuity with the group that might be really important if we're trying to close the game out or chase the game. I don't think there'll be a massive distance between the sides at the end of the day."