WE CERTAINLY DIDN'T witness the most thrilling of Six Nations encounters at Stadio Olimpico on Saturday, but there was a sense that Ireland didn't show their full hand.
Joe Schmidt's men recorded a 26-3 win to begin their title defence successfully and a +23 points difference isn't to be sneered at early in the competition, even if the Kiwi head coach might have hoped for more in that regard.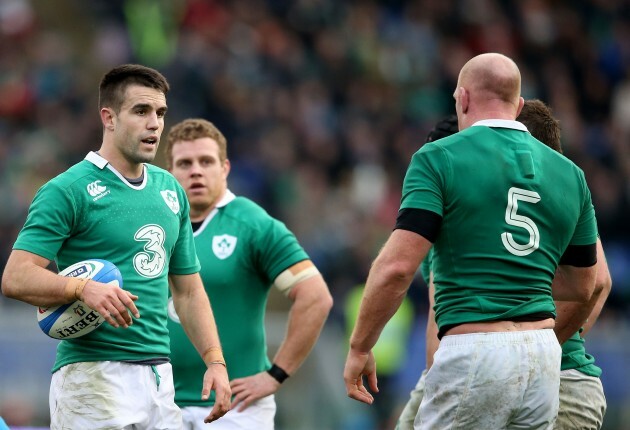 Dan Sheridan / INPHO As always, Conor Murray was a key man in Ireland's tactics. Dan Sheridan / INPHO / INPHO
Ireland came into this fixture with a very focused game plan, and despite a high number of errors in the second half particularly, Schmidt's players carried out their duties well.
With two key men missing from the team's spine, namely Jamie Heaslip and Johnny Sexton, Schmidt sent his side out with relatively simple tactics. The first half was constrained, although Ireland were notably more adventurous in the second.
In this piece, we examine what it was that Ireland did on the pitch against Italy, as well as looking at what they were attempting to do on other occasions.
Kicking game
Much has been made of Ireland's fondness for kicking under Schmidt, and they did kick the most from hand over the course of last year's championship. The best rugby teams in the world kick the ball more often than those who aren't as good.
The Guardian has done a pair of excellent articles with Saracens' performance analyst Bill Gerrard in recent days, a man The42 has also spoken to about the finer points of analysing the game.
One of Gerrard's key assertions is that successful teams tend to kick the ball quite often, something he says the data backs up. We put that point to the test by looking at last year's Six Nations and tallying up how often each team had kicked the ball from hand.
Ireland: 137     England: 134     Wales: 125

France: 117     Scotland: 108     Italy: 87

Data: Accenture
Ireland were indeed top of the table in terms of kicking the ball, but they were also top of the actual table as champions. Many of you will have noticed already that the kicking stats above also tell us exactly the finishing position of each team in the 2014 standings.

RBS Six Nations The final standings in the 2014 Six Nations. RBS Six Nations
Italy kicked the least and finished bottom, Scotland kicked the second least and were second from bottom, France kicked the third least and were third from bottom, and so on.
It is worth pointing out that if you delve back even as recently as the 2013 championship – as we did – it's possible to disprove Gerrard's point. France kicked the most of anyone in that Six Nations [145 times] and finished bottom of the real table.
2013 Six Nations kicking figures:

France: 145     England: 139     Scotland: 139

Ireland: 137     Wales: 133     Italy: 127

Data: Accenture
That said, there generally wasn't much difference between the teams in terms of kicking numbers in 2013, and France's failures perhaps indicate to us that they simply kicked poorly and chased just as badly.
It also points to the fact that rugby union is a rapidly evolving game. Watching a match from 10 years ago, say, is almost like viewing a different sport, while there have been great shifts even within the last 18 months or so.
The real problem with crude data like those above, and any statistics used to suggest kicking or anything else as an indicator of success, is that they simply aren't qualitative in any way. What do these numbers actually look like on the pitch?
Just because successful teams in the modern game, such as the All Blacks, kick the ball regularly does't mean every team should go out and begin to kick the ball whenever possible. It's about kicking intelligently and chasing the kick expertly.
Ireland kick at Italy
On Saturday, Ireland kicked their possession on 29 occasions, less than England [32], Wales [32] and France [29] in the first round of the Six Nations. Scotland were not far behind with 25, although the Italians kicked by far the least with 15.
Naturally, Ian Keatley did the bulk of Ireland's kicking [12], but scrum-half Conor Murray was once again key in this area of the game with 10 kicks. From Ireland's very first possession, we got a real sense of how important kicking was going to be for them.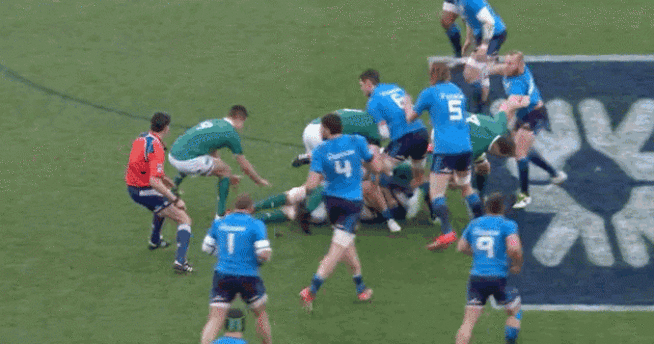 It's Keatley who launches the bomb down the middle of the field above, and our impression live at the game was that the kick had gone too deep. However, some hugely aggressive chasing from Robbie Henshaw and Simon Zebo means Andrea Masi is under pressure as soon as he gathers.
The Italy fullback throws a panicked pass, Josh Furno knocks the ball on and from the subsequent scrum-launched attack, Ireland win a penalty as Italy come offside to the left of a ruck.
Referee Pascal Gaüzère awards that penalty almost three minutes after Keatley's kick, but it's entirely related. Ireland kicked the ball out of their own half, chased aggressively and forced an opposition error that led to them going 3-0 ahead.
That's a major success for the kicking strategy and a clear sign of what teams hope to do when they kick.
Similarly, the box kick below in the 20th minute of play led to Ireland going 6-0 up, and there was an even more direct correlation between the kicking act and Schmidt's side accumulating points.
Murray launches a typically well-weighted box kick from a ruck inside the Ireland half, allowing the chasing Tommy Bowe to run into the contest at a comfortable speed. The Ulster wing is not forced to sprint flat out to get to the ball, nor does he have to chop his feet to slow himself.
Ireland were fully aware of Masi's weakness under the high ball coming into this game, and looked to kick into zones the fullback was covering on a number of occasions, as above.
Bowe chases superbly and forces the Wasps man to spill possession, whereafter Luke McLean gathers and concedes the penalty for being offside. Another well-chased kick, another three points.
Even when Ireland weren't scoring points as a result of their kicking game, they competed ferociously to win the ball back, as illustrated above.
This could and perhaps should have been a penalty to Italy for a tackle in the air, but it demonstrates Ireland's mindset post-kick. They're physical, aggressive and totally tuned into the possibility of winning the ball back.
An instance like that above, where Ireland regather one of their own kicks, allows them to attack what is an unstructured defence, broken-up and scrambling to get its shape back.
As well as having that intention of winning the ball back, Ireland weren't interested in having the ball inside their own half for long periods of the first half. Despite the suggestions of Italian progress in attack under Brunel in recent years, they are only ever going to rack up points against good teams if allowed time in the opposition half.
Italy don't run in tries from deep, instead thriving on opposition errors or forcing kickable penalties as a means to affecting the scoreboard. In that regard, it made utter sense for Ireland to kick out of their defensive zone early in the game, denying the Italians any momentum or confidence-boosting penalties.
That said, Ireland will never just smash a kick out of their half with no thought behind it. Below, we get an example of Schmidt's men earning some excellent territorial gain with a single kick.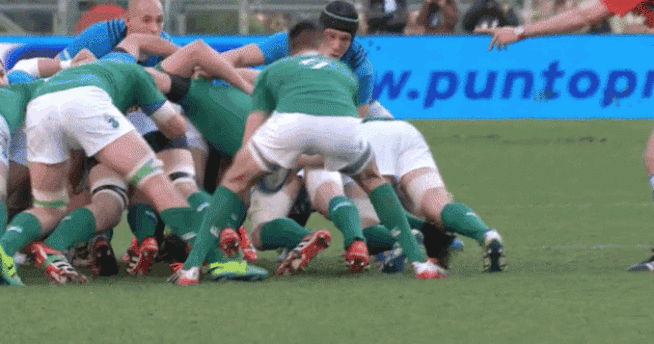 Keatley makes a superb long kick deep to Italy's left, 'back against the grain' and into a space the defenders wouldn't have expected it. That means Masi has to sprint flat out back to his right to cover the space, and he spills the ball as he arrives.
With Ireland presenting a strong wall of chasing defenders in front of him, the Italian fullback is forced to kick and he finds touch around 12 metres inside his own half. With one kick, Ireland have gained well over 20 metres of territory and will now be able to attack from their excellent lineout platform.
It's easy to overlook the huge scrummaging effort and the energy expended chasing the ball here, but even still it's a comparatively untaxing way to make those metres for Ireland, as opposed to trying to run through or around the Italian defence.
Finally in relation to Ireland's kicking, it is worth noting that they didn't kick absolutely everything out of their own half in the opening 40 minutes.
Rob Kearney at fullback remained alive to the possibilities of running kicks back at the Italians, and that's a major positive. Schmidt is big on his men playing what they see, and whatever the agreed kicking strategy is, it's encouraging to see individuals keeping their heads up and picking out space to run into.
You would never want Ireland to lose that autonomy in decision making, even if there is real value in everybody sticking to the plan and doing exactly what their job description entails.
Narrow first half
Ireland's use of possession when they kept the ball in hand during the first half was dominated by narrow ball carriers, mainly running off scrum-half Murray. Unfortunately, Ireland didn't have great success in terms of breaking down the Italian defence with these tactics, but the ultimate goal of fatiguing them was achieved.
The example below, which came in the 16th minute, was fairly typical of much of what Ireland did in that opening half.
Murray passes to 'one-off' forward runners close to the preceding ruck, and those Irish forwards run into Italian defensive bodies around the fringes.
With a fairly inexperienced team on the field, it's understandable that Ireland intended to keep their phase play quite simple, but they struggled to break Italy down in this manner.
The defensive effort and appetite of Jacques Brunel's men was a major factor in that, but it may also point to a slight lack of ball-carrying power in the Irish pack. Without Cian Healy, Sean O'Brien or Iain Henderson, there were few carriers who could win the collisions and make big gain line progress at Stadio Olimpico.
However, one man who did manage to do that in Rome was inside centre Henshaw, who made 14 strong carries as part of a busy afternoon's work.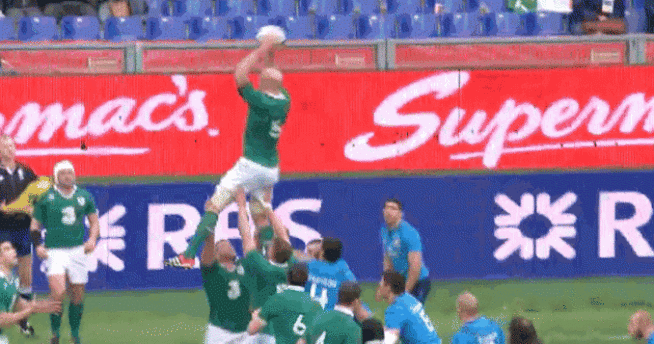 Ireland used Henshaw as their primary ball carrier from set-pieces, sending the Connacht man crashing forward on direct, Jamie Roberts-esque lines in the middle of the pitch.
Sometimes he received the ball from Keatley, but more often Henshaw took the pass directly from Murray, powering into contact early. There's nothing new in this; every team in the world sets midfield targets from their lineout, but it did underline what Ireland looked to do with their direct and narrow attack in the first half.
Below is the very next phase of the same attack, and Ireland use their outside centre, Jared Payne to run another similar line at the heart of Italy's defence.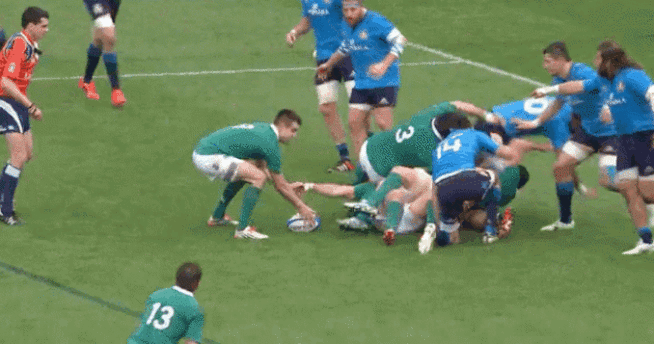 This attacking passage comes in the 31st minute of the game and would have been a brilliant time for Ireland to score. They had subdued the initial Italian flurry of energy, grabbed a 6-0 lead and now found themselves inside the Italy 22.
After the two phases above, Ireland went through another 10 phases of hitting those runners short off Murray's passes. There was no intent to pass pre- or post-contact, the ball carrier simply tucked the ball into their arms and smashed into Italian bodies.
On phase 12 below, and having been driven backwards by Italy's defence, Ireland finally run some sort of variation with Simon Zebo and Ian Keatley switching. Italy force the turnover penalty and the attack is ended.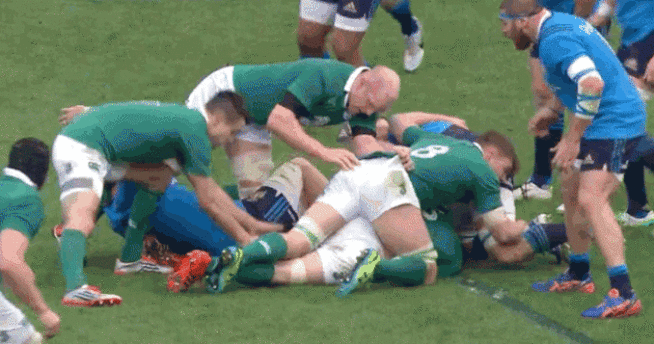 This was not the only time in the first half that Ireland's narrow tactics failed against the Italian defence, but it's worth questioning why they attacked in this manner, particularly given that so many of the players on the pitch are comfortable with a wider approach.
The most important factor in this multi-phase attack was that Ireland's directness was a sort of 'softening up' of the Italians, forcing them to tire through repeated contact.
Furthermore, there was a genuine feeling that Schmidt's men were holding back aspects of their attacking armoury with bigger tests ahead. Ireland would never underestimate any opponent, but given the amount of analysis teams do on one another these days, unleashing every ploy they have against Italy would have been unwise.
We shouldn't accept that Ireland's first-half attack was all about narrow runners though, and we'll soon see that their approach changed greatly in the second half.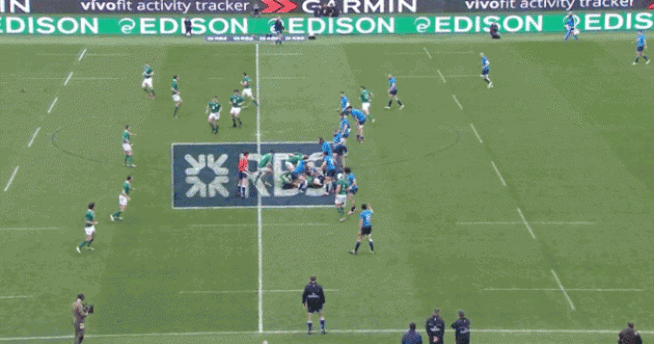 Ireland did look to take 'risks' on a handful of occasions in the first half, as above, but their accuracy let them down and errors held them back.
Above, Keatley decides to attack the space he's identified on the outside left edge of the Italian defence, firing a long pass to Tommy O'Donnell. The openside flanker transfers the ball on to Henshaw impressively, but the centre spills.
Earlier in the game, we also saw Ireland attempt to execute what appeared to be one of Schmidt's famous power plays, whereby a highly-detailed and minutely-planned wave of attack targets an opposition weakness and results in a try.
If that is indeed what we see above, the Italians were wise to the play and stopped it effectively, eventually blocking down a Keatley kick several phases later after Ireland had looked unsure of where to attack next.
Second-half expansion
Within the opening minute of the second half, it was clear that Ireland had altered their approach in attack, Paul O'Connell throwing this lovely tip-on pass to Jordi Murphy rather than simply putting the head down and running into a defender.
Two minutes later, we see Peter O'Mahony send a pass out the back door to Simon Zebo, who moves the ball on into the wide right channel for Ireland to make positive yardage.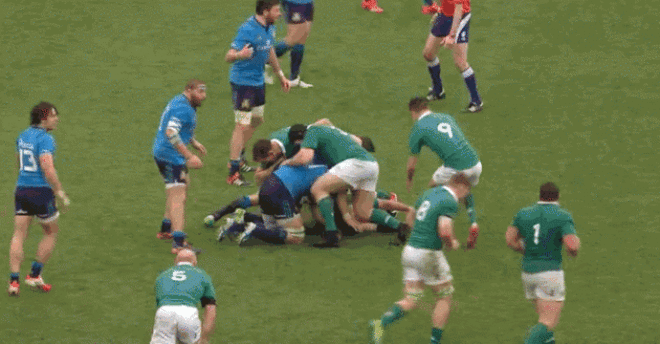 It's a swift demonstration that Ireland's forward can indeed pass the ball competently, as we have long known they could. In contrast to the first half, when there was just one tip-on pass that sticks in the memory, Ireland's forwards were suddenly under licence to move the ball.
There were certainly still strong elements of directness to Ireland's play, particularly from the set-piece, but this third quarter saw them dominate territory and possession, using the latter with far more creative intent and width.
Even simple screen plays like the one below had been rare in the first half.
Keatley fires the ball out behind the decoy-running O'Connell, allowing his backs time on to use their pace and footwork, bursting into the Italian half and forcing the home side's defence to work hard around the pitch.
This immediate transformation after the half-time break strongly suggests that Ireland's game plan had been to hammer at Italy physically in the first half, as well as limiting any scoring chances inside the Irish half, then drag them around of shape and test their fitness with width and passing in the second.
In that sense, the plan worked effectively although the scores that might have been anticipated after the interval did not materialise.
Frustrating errors
Ireland created a number of genuine try-scoring chances in the third quarter of the game at Stadio Olimpico, but denied themselves with errors and inaccuracies.
Jumping back to the example of O'Mahony's screen pass above, the next phase saw Ireland penalised for holding onto the ball on the ground as the rucking players failed to arrive early enough to remove the jackal.
Elsewhere, handling errors were at fault.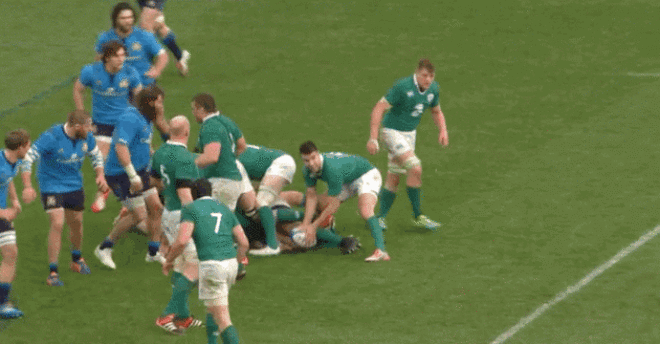 One such mistake came after an excellent contribution from Simon Zebo, who increasingly came in off his wing in the second half, looking to get his hands on the ball and work openings in the Italian defence.
The Munster wing does so above, accepting Keatley's pass and then using his footwork and pace to burn outside Furno and force Francesco Minto to bite in on him. By sucking in two defenders, Zebo opens the space for Payne and Henshaw closer to the touchline.
Henshaw stride to within four metres of the tryline before being hauled down, but on the very next phase and with the tryline begging, Ireland knock the ball on.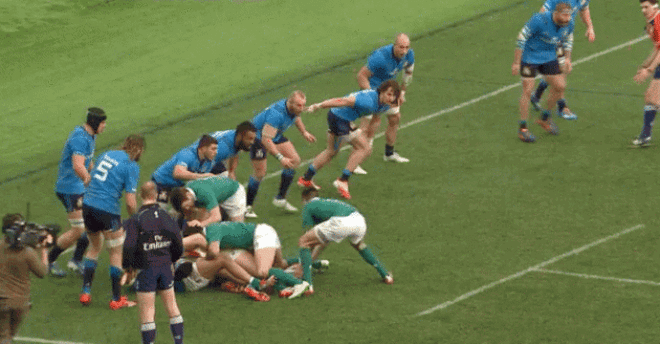 O'Donnell spills the short pass from Murray, dropping the pill just as O'Connell looks to latch onto him from behind. There are no guarantees in rugby, but this looked like a definite try after Henshaw's burst up the left and it was a frustrating one to leave behind.
Within a minute, Ireland were back in the same area after a similar attack.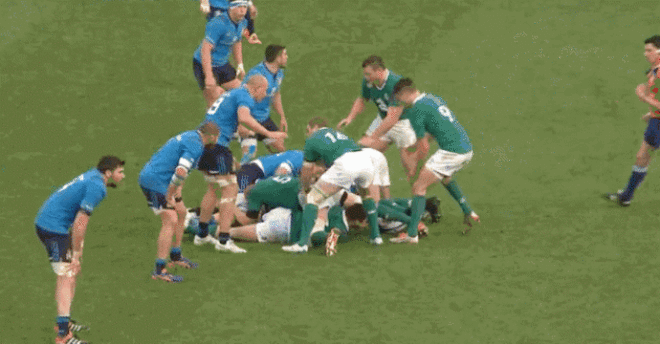 Again Zebo is the playmaker, this time showing his passing ability with a floated right hander out to Payne in space on the left touchline. The Ireland outside centre strides beyond Leonardo Ghiraldini before being stopped by Leonardo Sarto.
Still, Ireland are now only eight metres out from the tryline and have splintered the Italian defensive line. Quick movement of the ball and again the try seems a strong possibility.
Henshaw opts for the pick and go, but spills in contact. Again, it's a frustrating error from Ireland in an extremely promising situation and after some enterprising and adventurous attacking play.
We don't need to tell you that tries change games, but a five pointer in either of the instances above, or the other opportunities Ireland created in the opening 52 minutes, would have utterly altered the complexion of this encounter.
That's a moot point now, however, and the fact is that Ireland didn't turn their chances into tries until Murray and then O'Donnell finally crossed the whitewash inside the closing 15 minutes of the game.
Still, the clear signs that Ireland still have the ability and willingness to attack in wider channels and through the use of passing is promising moving forward.
By the final 10 minutes of the game, Ireland were even running the ball from deep inside their own half, where they would have been extremely keen to exit from in the opening 40.
There's some nice handling from James Cronin, Ian Madigan and Zebo in this thrust up the pitch, but on the very next phase an Isaac Boss knock on halts the progress, a case in point of Ireland's need to sharpen up after they make big gains in attack.
Elsewhere, Schmidt's side will look to improve on restart receptions, but their lineout and scrum were superb in Rome. They did what was required against Italy, while demonstrating that they remain a rounded side by altering their approach in the second half.
The expectation is that there will be a far greater demonstration of their best attacking ideas against France, while the kicking game will once again be core to their chances of success.