THREE DAYS INTO the job as Ireland captain and Jamie Heaslip is already eager for a little less conversation and a little more action… please.
Questions on personal form and direct opponents are buried with queries about the handling of high balls by the fullback, player recruitment policy and insights into the secret world of 'the front row union'.
With Ronan O'Gara in the matchday 23 and Paul O'Connell, Leo Cullen and Brian O'Driscoll a quick phone-call or tweet away, Heaslip can call on a sizeable captaincy brain trust.
However, the Leinster forward is not quite preparing a dossier on the South Africans.
"I asked the guys for a bit of a heads up, on what's extra I suppose," he told TheScore.ie. "Talking after the meal and stuff like this.
"All before the game, nothing changes. Nothing changes at all.
"We're all pretty professional now when we're out there – making sure we know the details and our plays. The intensity, and all that comes with it, will come when we put on the jersey. It's all about our game knowledge and taking ownership of what we have to do."
Wishful thinking
Today's match will be the third time that Heaslip has faced the Springboks. He was immense in the Croke Park victory in 2009 and part of an outgunned pack at the Aviva 12 months later.
"They got one over us the last time," he said. "We don't like losing in our back garden and this weekend it's going to be a full house, the place is going to be absolutely rocking and we want to be able to go out there, play our game, execute, and give something to the Irish people."
The Aviva will be very close to full come kick-off but it has rarely rocked, be it football or rugby, since it reopened with a swooping roof and extra room beneath the stands to swing a beer and ketchup a hot-dog.
To make the stadium rock, Heaslip wants the team's newcomers and international foals to find their feet amid the Springbok stampede. He commented:
There is an opportunity for guys to step up and take it with both hands and not play with any fear. It's your jersey for the day and you make sure you hang it up and you're proud of what you've done afterwards."
Heaslip has a reputation for backing his pack, and himself, when penalties are offered in range of the posts but insists he can be trusted to make the right call if the match comes down to a late shot at the posts.
"Be it Jonny [Sexton] or ROG [Ronan O'Gara], those guys can kick pretty well so I've absolutely no problem pointing them in the direction of the sticks."
Fronting up and maintaining a record
With Sean O'Brien and Stephen Ferris both missing from the Irish backline, Heaslip may be asked to reprise the ball-carrying role that defined his first two seasons in the Ireland jersey.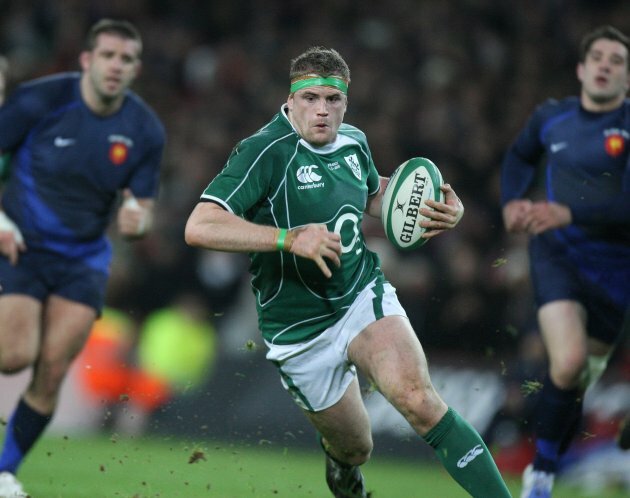 Heaslip scores a fantastic breakaway try against France in the 2009 Six Nations. (©INPHO/Billy Stickland)
On the contrary, argues the captain, as he named six of the front-eight that would be better suited to take the ball and run [hard luck Mike Ross].
Heaslip said, "Carrying the ball is not my main concern but if we can carry nice, square and strong and we provide some nice, good quality ball for our backs, I think we can upset them."
As for their opponents, Heaslip feels they 'are like every South African team'. He expanded on the thought:
They're big, they're strong and they want to run over you. Make no bones about it, they want to run over you, they want to run through you and then get their backs to run around you on the edge.

We've got to front-up. Win the collisions, win the gain-line when we can and try and then get the ball back and put some pressure on them.
"There's going to be a lot of kicking. They like to play the territory game and we're prepared for that."
Thoughts of post-match speeches, handshakes, and prize-draws may have occupied Heaslip during the week but his provincial colleagues were quick to remind him of his unbeaten streak when leading sides.
"I've got [a text] off Mick Dawson and a couple of the Leinster fraternity," revealed Heaslip, "telling me to not let my Leinster record down as captain."