LAST UPDATE | Oct 21st 2021, 6:51 PM
Evening all, welcome to our live coverage of Ireland's World Cup qualifier with Sweden at Tallaght Stadium.
This is Ireland's opening game – Covid regulations saw last month's game away to Georgia postponed – and they couldn't have been handed a tougher task. Sweden are ranked second in the world, are the highest-rated side in Europe, have players across the Champions League and missed out on an Olympic gold medal earlier this year on spot kicks alone.
In reality Ireland are battling to take second spot behind Sweden in this group, with next week's game away to second seeds Finland the crucial game of the week.
Anything but defeat tonight would be an almost unthinkable bonus.
Emma Duffy is at the ground for us, and Gavin Cooney is here at base to take you through every minute of the game.
Get in touch with me – leave a comment below the line, email gavincooney@the42.ie, or tweet @gcooney93.
Kick off at Tallaght is at 7pm, the game is live on RTE Two television, and team news follows.
Team News
Republic of Ireland
There's only one chance from the side that beat Australia last month, with the experiment of playing Amber Barrett ended in favour of a more natural fit in Megan Connolly.
If that means the system will be retained, it looks like Katie McCabe will start at left wing-back, with Connolly joining Denise O'Sullivan and Jamie Finn in midfield.
Lucy Quinn makes her first competitive start, with she and Heather Payne in for a hell of a lot of running up front.
Louise Quinn, Savannah McCarthy and Niamh Fahey will be the back three, with Aine O'Gorman at right wing-back.
Vera Pauw has made a big call at goalkeeper: she has kept faith with Courtney Brosnan in spite of several high-profile errors of late. Grace Moloney – playing regularly at club level, unlike Brosnan – is on the bench.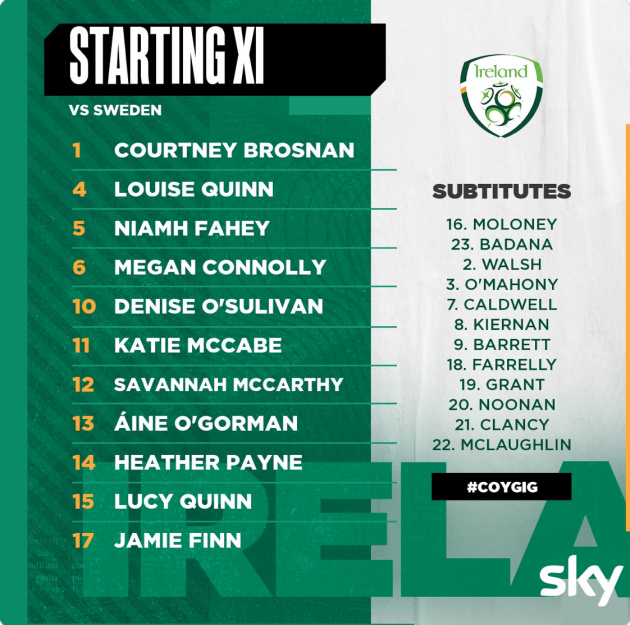 Sweden
Sweden are without one of their galaxy of stars: captain Caroline Seger is out with injury.
They aren't exactly lacking in the firmament, mind: keep an eye out for Barcelona's brilliant attacker Fridolina Rolfö and captain Magdalena Eriksson of Chelsea.
Uefa are suggesting a 4-3-3 but they have been playing a back three of late.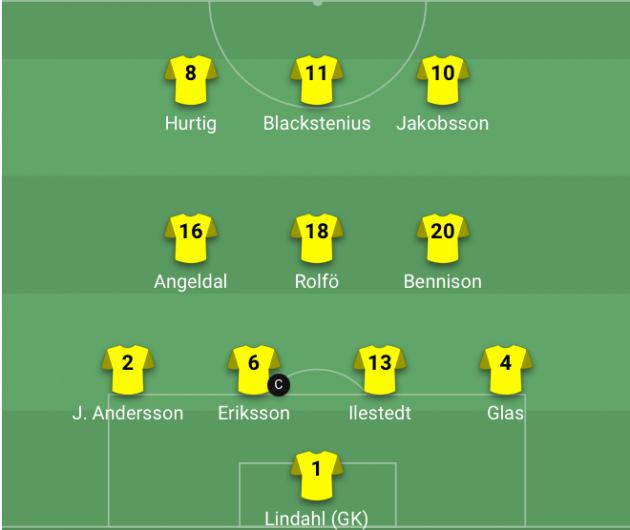 The game is a sell-out, albeit under Covid restrictions: there will be 4,000 fans at Tallaght Stadium tonight, and the FAI have not been allow to sell any more tickets…in spite of the fact the restrictions are ending in a few hours time.
The top side in the group qualify automatically for the World Cup in Australia and New Zealand, with second spot going into a byzantine play-off system.
Sweden will almost certainly top the group, and Ireland are third seeds, meaning the most realistic ambition for this campaign is to unseat second seeds Finland and pilfer the play-off spot.
Both sides have set the early pace in the group: Sweden beat Slovakia 1-0 – having beaten them 6-0 in the campaign previous – and then beat Georgia 4-0 in a farcically one-sided game in which they had 45 (!) shots.
Finland, meanwhile, have beaten Slovakia by just a single goal too, and have just won 3-0 against Georgia earlier this evening.
Ireland come into this game off a badly-needed high: a 3-2 friendly win against Australia.
It was badly needed in the sense Ireland had lost their seven previous games.
The teams are coming out of the tunnel…kick-off is moments away!
Michael D.Higgins is among the crowd, standing by FAI president Gerry McAnaney.
Kick-off!
We're underway at a bitterly cold Tallaght Stadium.
Can Ireland pull off a seismic upset?
1′ – Ireland 0-0 Sweden
Katie McCabe is playing further forward than expected: she is to the left of Ireland's midfield three with Aine O'Gorman switching across to left wing-back. Jamie Finn is at right wing-back for Ireland.
2′ – Ireland 0-0 Sweden
Courtney Brosnan does well to sprint off her line and volley clear a ball over the top that had caught the Irish back three flat-footed.
Sweden are hogging the ball – as expected.
4′ – Ireland 0-0 Sweden
Ireland have 10 players within 20 yards of their own goal, and so Sweden dink a neat pass over them for Blackstenhuis. Brosnan again came off her line quickly, and was helped this time by an offside flag.
5′ – Ireland 0-0 Sweden
Heather Payne may be wrecked already: Ireland's primary tactic is to hook balls for her into the channels. (Shane Long may be getting PTSD if he's watching.)
The latest from McCabe is way overcooked, and Sweden get the ball back too easily.
7′ – Ireland 0-0 Sweden
Blackstenuis pounces on a ball into the channel of Sweden's own: she beats Niamh Fahey by the endline, jinks inside and shoots right at Brosnan, which the Irish goalkeeper does well to hold.
8′ – Ireland 0-0 Sweden
Better from Ireland: they intercept the ball but keep possession, with Denise O'Sullivan and Payne linking neatly to set O'Sullivan into space just over the halfway line. She tries a cross-field pass for McCabe, but it's intercepted.
9′ – Ireland 0-0 Sweden
McCabe gets her first sight of goal from range, but sends it skidding wide of the right-hand post from 30 yards.
10′ - Ireland 0-0 Sweden
Brosnan called into action again. Glas gambols down the right wing and sees her cross bounce off Fahey toward the Irish goal, but Brosnan does well to fall to her left and cling onto the ball.
12′ – Ireland 0-0 Sweden
Sweden turn the screw and there's the first hint of desperation in the Irish defence. Jakobsson fizzes a low cross across the penalty area for Hurtig arriving at the front post, but Fahey reads the danger terrifically well to block the effort on goal.
Ireland fail to clear their lines and Sweden send another attack down the right, but it comes to nothing as Jakobsson sends a paid right out of play.
15′ – Ireland 0-0 Sweden
Terrific pace to this game. Payne almost pounces on the ball on the edge of the box but Eriksson slides in and clears her line, and the ball breaks kindly for Blackstenhuis, who beats one…two…three Irish players before she's forced back and feeds Jakobsson on the right, who sees her cross blocked behind by O'Gorman for the game's first corner.
Ireland clear their line, and have survived the opening quarter of an hour at least.
18′ – Ireland 0-0 Sweden
Blackstenuis goes down in the penalty area under what looked a clean challenge from Jamie Finn, and the referee is unmoved.
20′ – Ireland 0-0 Sweden
On replay…Finn got away with that. She got a lot more of Blackstenuis than she did the ball.
21′ – Ireland 0-0 Sweden
Now Lina Hurtig goes down on the edge of the box as she's barged over by Fahey, but again the Swiss referee doesn't whistle. Jakobsson then tries her luck from range but flights her shot over the crossbar.
22′ – Ireland 0-0 Sweden
Fahey does well to cut out Andersson's pass into the penalty area, after Eriksson picked out the left-backs with a stunning cross-field pass.
24′ – Ireland 0-0 Sweden
Megan Connolly drops a lovely pass behind Swedish centre-back Illedst, but while Heather Payne has the pace to outstrip her, Illedst cannily leans into Payne and draws a foul.
26′ - Ireland 0-0 Sweden
Ireland pounce on a second ball in the Swedish half, and Jamie Finn's speculative shot from range is blocked by Angeldahl. Ireland send the ball down the line, and Payne wins Ireland's first corner.
Here's a chance…
27′ – Ireland 0-0 Sweden
Eriksson heads clear, as McCabe targeted the corner for Louise Quinn.
29′ – Ireland 0-0 Sweden
McCabe battles her way through tackles from Jakobsson and Glas along the endline, and her pull-back for Payne is thwacked away for a throw-in.
She takes the throw-in for Quinn, who falls to the ground with Illestedt bundling into her back.
The referee is again unmoved, but that's a good spell of pressure from Ireland. Led almost single-handedly by McCabe.
31′ – Ireland 0-0 Sweden
More disciplined defence from Ireland. Dropping off into their 5-4-1, Sweden are forced across the pitch and, making little progress, eventually try another ball into the narrow patch of grass between Irish defence and goalkeeper for Blackstenuis.
Again she's flagged offside.
33′ – Sweden 0-0 Ireland
McCabe wins a free-kick over the halfway line, raises her hand to signal the plan on delivery…and then raises her hand in apology as she blasts the set-piece miles too high and over the end line. Opportunity wasted.
33′ – Sweden 0-0 Ireland
Sweden force a corner, as O'Gorman blocks Jakobsson's cross. She had been picked out by another audacious Eriksson cross-field pass. Eriksson, however, can only head over the corner, under extreme pressure from Louise Quinn.
More good defence from Ireland.
34′ – Ireland 0-0 Sweden
Rolfo doesn't react in the box to a great chance: Blackstenuis beats Louise Quinn too easily on the edge of the box, and her pull-backs to Rolfo is totally miscontrolled and Ireland escape.
36′ – Ireland 0-0 Sweden
Brosnan again forced into action: Ireland stand off Angeldahl, who lets rip from 30 yards. It whips and moves in the air and Brosnan does well to to push the ball over the crossbar.
37′ – Ireland 0-0 Sweden
Ireland again deal with a succession of corners perfectly well.
Half-time is now hovering into view…
38′ – GOAL Ireland 0-1 Sweden (Louise Quinn OG)
Oh no.
Ireland push forward but are caught on the counter, and with Niamh Fahey out of position, Angeldahl slides a pass into space behind the Irish defence for Blackstenuis. She cuts into the box on her right foot, and Ireland's chain of misfortune begins: Denise O'Sullivan slips and can't block a tame shot that hits the inside of Quinn's left leg and rolls agonisingly beyond Brosnan.
44′ – Ireland 0-1 Sweden
Well that's a galling way to concede.
Ireland's structure without the ball had been totally solid to that point, but a ball bounced invitingly in the Swedish half which Fahey couldn't but attack. Sadly she didn't win it, and left space for Sweden to counter.
Not much Quinn could have done to prevent the deflection.
45′ – Ireland 0-1 Sweden
Good play by Ireland: a switch of play for O'Sullivan on the right, who slides the ball forward for Payne, which Illestedt cuts out abruptly.
HT – Ireland 0-1 Sweden
Sweden lead at the break. They have dominated the game and while Brosnan has had to keep busy, Ireland's structure was such they were never really scrambling under true pressure.
All was going to plan…until the jammy deflection off Louise Quinn put them a goal down.
We're back in 15.
Omens?
The last time Stina Blackstenius opened the scoring against Ireland, the Girls in Green came back and won 2-1 (2014 European U19 Championships). Ireland's scorers that day - Savannah McCarthy & Megan Connolly - are both on the pitch tonight.

— Mark McCadden (@markmccadden) October 21, 2021
See, Michael D Higgins couldn't have gone to the Northern Ireland Centenary ceremony today: he had other matters to attend to.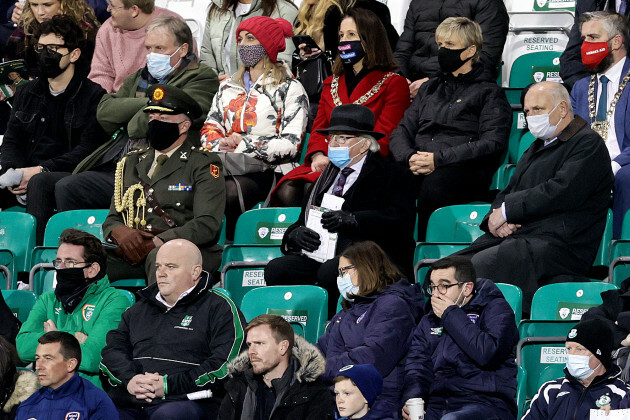 Laszlo Geczo / INPHO Laszlo Geczo / INPHO / INPHO
Peeeeeeep!
Second half is underway!
45′ – Ireland 0-1 Sweden
No changes for either side at the break.
48′ – Ireland 0-1 Sweden
Fantastic from McCabe – she strides across the halfway line with possession and turns Jakobsson inside out twice, who reacts by clattering her and picking ups the game's first yellow card.
49′ – Ireland 0-1 Sweden
Megan Connolly hoists the free-kick into the box and Sweden don't deal at all well with it. The ball bounces right across the defensive line to Lucy Quinn, who side-foots a tame effort wide from outside the box.
52′ – Ireland 0-1 Sweden
Another yellow card for Sweden – Hurtig goes in the book as she lunges into a tackle on Payne, who picks herself up straight away. Ireland have a free-kick, central and 40 yards from goal. They have started the second half very well.
52′ – Ireland 0-1 Sweden
Aarrgh. Connolly"s delivery is poor and easy for Swedish keeper Lindahl.
53′ – Ireland 0-1 Sweden
Clumsy touch by Finn, and she lunges on Hurtig to avert her mistake. She lunges too late, and is booked.
54′ – Ireland 0-1 Sweden
Eriksson heads way Finn's cross: Ireland have been a lot more assertive on the ball in the early stages of the second half.
And now Finn forces a corner off Hurtig.
55′ – Ireland 0-1 Sweden
McCabe's delivery is brilliant, but Eriksson heads clear from the six-yard box.
57′ – Ireland 0-1 Sweden
More good build-up play from Ireland. Whereas they were too quick to thwack the ball away in the first-half, they are keeping possession better now. Finn, McCabe, Connolly and Payne all linked up neatly down the right wing, but Payne misjudges a pass to the left for Lucy Quinn.
Meanwhile, Lina Hurtig is, eh, hurt.
59′ – Ireland 0-1 Sweden
Hurtig can't continue, and 90-cap veteran Olivia Schough is ready to take her place.
60′ – Ireland 0-1 Sweden
Excellent by Fahey – she steps across Rolfo, pilfers possession and wins a free-kick.
62′ – Ireland 0-1 Sweden
Rolfo cuts inside and skies a terrible effort from range miles wide. She then jogs to the touchline for treatment on a cut to her mouth.
63′ – Ireland 0-1 Sweden
Jakobsson flies down the right wing and crosses deep into the box, which Fahey puts behind for a corner under little pressure. Rolfo jogs back on to take up her place for Sweden's first corner of the second half.
65′ – Ireland 0-1 Sweden
Ireland are furious: they cleared their lines initially, and then O'Gorman blocks a Bennison shot. Brosnan gathers the rebound, but it's adjudged she didn't collect the ball before it went over the endline.
It's a shocking call, but mercifully Ireland deal with a short corner and there is no further sense of grievance.
After Ireland's bright start to this half, the Swedes have reasserted their dominance in the last few minutes.
66′ – Ireland 0-1 Sweden
Brosnan saves again! Blackstenuis finds space in the box, dummies onto her left foot to take Quinn out of the way, but her shot is parried away by the Irish goalkeeper.
There were question marks over Brosnan's selection ahead of this game, but she has been excellent so far.
70′ – Ireland 0-1 Sweden
Ireland under pressure: Quinn dangles a stretched leg to cut-out a pull-back in the box, but they struggle to get the ball clear, until an offside flag rescues them, as Jakobsson springs behind the Irish defence much too early.
71′ – Ireland 0-1 Sweden
Issue here for Ireland: Courtney Brosnan needs treatment on her right knee in the box after taking a goal kick. and the substitute goalkeepers are off to warm up.
Leanne Kiernan meanwhile, is about to come on…though she won't be coming on in goal. Brosnan seems okay to continue.
73′ – Ireland 0-1 Sweden
Rolfo glides into the box and brings another sharp save from Brosnan. She has been terrific and showing no lingering injury effects.
73′ – Ireland 0-1 Sweden
A double change for Ireland: Leanne Kiernan and Amber Barrett are on for Heather Payne and Jamie Finn.
74′ – Ireland 0-1 Sweden
Finn had been booked, and so Aine O'Gorman reverts to right wing-back and McCabe drops back to left wing-back. Barrett is effectively in midfield, where she started the friendly with Australia.
75′ – Ireland 0-1 Sweden
Lucy Quinn thieves possession down the right-wing, sprints down the touchline but terribly overcooks her cross, with only Barrett in the penalty area.
77′ – Ireland 0-1 Sweden
Jakobsson stands McCabe up and forces a corner.
78′ – Ireland 0-1 Sweden
Brosnan fists the corner away, she read that perfectly.
79′ – Ireland 0-1 Sweden
Barrett presses a Swedish defender and forces her back to the goalkeeper, but it's a one-player press and Sweden easily bypass it using their goalkeeper. That leaves lots of space for Rolfo to drop into it, but Ireland escape as she overhits her pass for Jakobsson on the right wing.
80′ – Ireland 0-1 Sweden
Kiernan chases an O'Gorman pass into the corner and does brilliantly to force a corner.
Fantastic endeavour, will it be rewarded?
82′ – Ireland 0-1 Sweden
McCabe's corner is hoisted to the near post and the keeper pushes it clear, but Ireland keep the pressure on. Connolly flights a great ball into the penalty area, and Denise O'Sullivan seems to be pushed as she challenges for a second ball.
She goes to the ground, but the referee is, once again, not interested.
83′ – Ireland 0-1 Sweden
Now Sweden want a penalty: Blackhuis falls to the ground under a challenge from McCarthy. The referee, remaining consistent, does nothing.
85′ – Ireland 0-1 Sweden
Fahey loses possession in midfield but Quinn throws herself in front of an Angeldahl shot.
The game is getting frantic, and Ireland are hanging on in there. And for as long as it's only 1-0…
86′ – Ireland 0-1 Sweden
McCabe's defensive work is excellent: she wins another one-on-one duel with Jakobsson.
89′ – Ireland 0-1 Sweden
A sign of Sweden's intent for the closing minutes: they replace an attacker, Jakobsson, with a defender, Nilla Fischer.
Ireland, meanwhile, have pushed Louise Quinn up front!
90′ - Ireland 0-1 Sweden
Ireland being their siege. Kiernan goes down the right and crosses, which Eriksson heads only to Barrett in front of her, but she recovers to block the first-time shot.
91′ – Ireland 0-1 Sweden
Sweden have brought on Fischer to mark Quinn – it's a move Pauw has used before and Sweden reacted instantly. So far they've held firm, as Ireland launch the ball forward.
92′ – Ireland 0-1 Sweden
Quinn isn't winning many headers but Ireland are pouncing on all the second balls, and the noise ratchets up around the stadium. Megan Connolly takes one such rebound and shoots wide from range.
Pauw makes another change: Saoirse Noonan is on for her debut in place of Lucy Quinn.
94′ – Ireland 0-1 Sweden
McCabe takes a knock and is limping heavily, but Connolly sprints back on the cover and throws herself at a Blackstenuis cross.
Sweden take an age over the corner, eliciting boos from the Irish fans.
96′ – Ireland 0-1 Sweden
Sweden take it short and wind the clock down, but eventually concede a throw-in by the endline. Barrett larrups it up the line and Sweden half clear.
O'Gorman then picks the ball up on the right, she flights the ball for Quinn, who flicks it on Niall Quinn-style but Noonan and O'Sullivan can't reach it: Eriksson intercepts superbly.
O'Sullivan seems to have hurt her elbow in the challenge, so that may have come at a price.
FT: Ireland 0-1 Sweden
And thus it ends: Ireland's doughty performance ends in a narrow loss, because of a deeply unfortunate own-goal.
That's a fine performance from Ireland: they created little but nor did Sweden. The game with Finland is more important, but given the play-offs involve being pitted against all the second-placed sides across the competition, a narrow defeat could yet count for something.
Denise O'Sullivan left cradling her arm at the end, which is a big concern ahead of the trip to Helsinki.
Thanks for following – Emma Duffy's report from Tallaght Stadium is imminent, and well have lots of reaction to come.
Bye!