Did it bring the best out of the players?
IT SEEMED A pretty attack-minded selection from Martin O'Neill: two strikers and Wes Hoolahan tucked in behind them.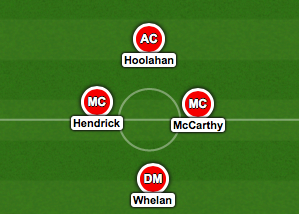 But in reality, the diamond is a conservative formation because of its narrowness. The centre of defence is protected by the midfield player at the base while two 'shuttlers' cover more ground.
It's a way of including two strikers who can also make space for the midfield creator at the tip of the diamond to exploit.
There are similarities with a 3-5-2 and, when the side playing the diamond is deep and bringing the ball out of defence, it almost looks much the same.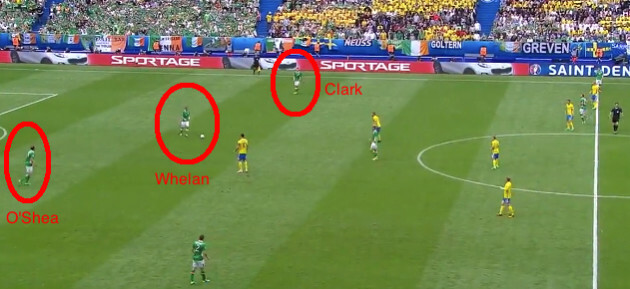 The centre-backs split, the base midfielder drops into the pocket and the full-backs try and push high to create the width.
But without the ball, it can cause problems in wide areas, especially for those not used to playing in the system.
One key positive for Ireland is Jon Walters' defensive contributions and he can funnel back on the right side, even when selected in a conventional striker's role, giving some additional protection.
But with his fitness issues, it meant that there were still moments against Sweden when Ireland were caught out and more responsibility fell the way of the midfield.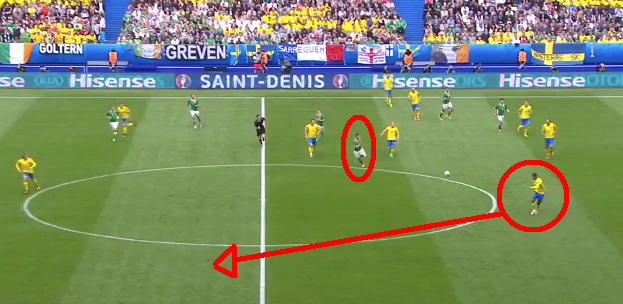 Luckily for O'Neill, Sweden don't play with explosive full-backs – probably another reason why he went with the diamond to begin with – but if they did, we could have been in big trouble.
Martin Olsson is the most offensive of the Swedish back four and because of a lack of concentration from James McCarthy – who's not used to having cover in wide areas – he was left all alone early on.
He had time to measure his cross but it came to nothing, though it was a sign of things to come.
After Ireland took the lead early in the second-half, there was a loss of control and everything became very stretched.
As a result, the diamond started to morph into something resembling more of a flat four across the middle and James McCarthy was in that ill-suited role as a wide midfielder, trying to chase down a marauding Olsson on a number of occasions.
After the game, Swedish manager Erik Hamren said:
After their goal we got things together more the way I wanted us to. We passed quicker, we made better use of moving the ball from one side of the pitch to the other, we made better use of our left-back Martin Olsson. It was also from that side that we created many of our chances in the second half.
There was a flurry of Swedish chances with Olsson the main instigator and as their dominance continued, Ireland seemed to lack an understanding of what to do in terms of their system.
McCarthy seemed unsure whether to try and sit narrow and force the midfield to keep its shape or start drifting and follow Sweden around the park as they controlled possession.
Ultimately, he was caught somewhere in the middle and the indecision almost cost Ireland dearly.
A perfect example came on the hour mark when Olsson was afforded an eternity to take a touch, size up options in the middle and send in the cross.
At a crucial juncture of the game, just look at the distance between him and McCarthy – the closest Irish player.
That's not about tiredness or a drop in energy but a lack of understanding for where he should be.
When Walters was withdrawn after the hour mark, it seemed like O'Neill would formally revert to a traditional three of McCarthy, Whelan and Hoolahan in central midfield, try and wrestle control back in the area of the pitch and switch Hendrick to the right side to provide better cover for Coleman.
But O'Neill went with a 4-4-1-1, with Hoolahan on Long's shoulder instead. He probably didn't want to disrupt Hendrick's excellent game in the middle but Ireland badly needed to stem the bleeding on their right flank.
It was no surprise that when the equaliser came, it was down that side.
The other element is the contributions of Hoolahan and the two strikers in terms of the system.
As the tip of the diamond, Hoolahan is the creator and architect and with Long making the runs, it was expected that the pair could combine well.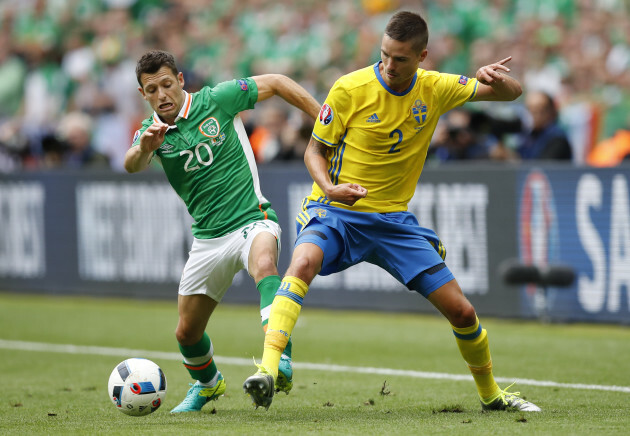 Christophe Ena Christophe Ena
But, as much as Hoolahan took his goal superbly and contributed some neat touches, he struggled to impose himself throughout the opening period and didn't influence things the way he would've liked.
Ireland didn't play through the narrow midfield enough for Hoolahan to pick the ball up on the half-turn, run at the Swedish defence and slip in Long behind.
So, despite being the tip of the diamond in theory, Hoolahan didn't get enough of a chance to dominate because of Ireland not embracing the benefits of the diamond fully.
With two quick full-backs, a gifted game-breaker and a pacy, in-form attacker all included in the starting lineup, Ireland still chose to go direct many times.
Hendrick suits the diamond perfectly
Jeff Hendrick's selection may have raised a few eyebrows owing to the lack of playing time he's had at Derby but O'Neill clearly feels he has the awareness and intelligence that perhaps other, more offensive, Irish players lack.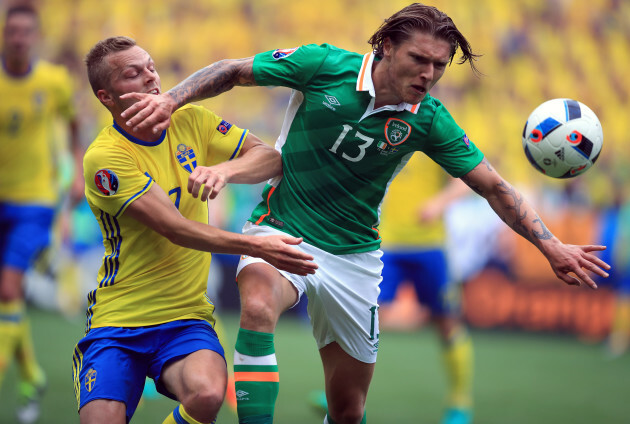 Mike Egerton Mike Egerton
He's ideal for the diamond, perfectly embodying the role of the 'shuttler', well able to contribute in the final third though not shirking his defensive responsibilities either.
He was helped against the Swedes by Robbie Brady getting up the pitch so often and the pair – who know each other so well having been underage team-mates from the age of six – retained an excellent dynamic.
Hendrick's intelligence with the role led to his first solid attempt on goal – pushing up to combine with the attack and making a fine arcing run in front of Brady – almost a sign for where the full-back should send the throw-in – before expertly racing onto Walters cushioned header.
Minutes later, he was back on the edge of his own area, on his toes and anticipating the danger. When Zlatan Ibrahimovic picked the ball up in a dangerous zone and looked to turn, it was Hendrick who timed the challenge to perfection to nick it away.
Just after the half-hour mark, Hendrick combined with Brady again in that inside channel and was full of purpose as he raced towards goal.
There was a nice interchange with Long before a superb strike that crashed back off the crossbar.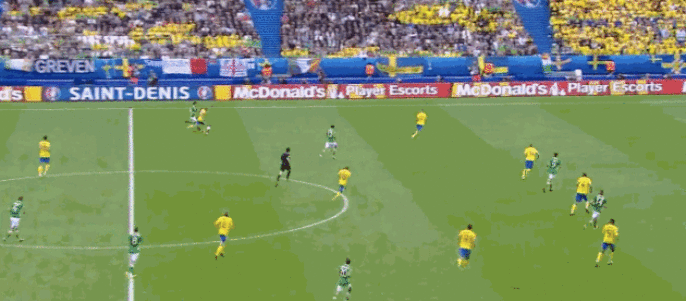 Later, after the equaliser, he showed his willingness to get forward again, making the most of an awful defensive error by Granqvist to test Isaksson at his near post.
What Hendrick also showed was a substantial contrast between his performance and McCarthy's.
The Everton man is used to having support around him and is normally part of a three-man midfield at Goodison Park.
Even with Ireland, he's usually alongside Whelan in a central partnership but against Sweden, he was more isolated and faced with more defensive responsibility in a different area of the pitch.
McCarthy is a facilitator. He doesn't contribute goals and assists and keeps things ticking over in midfield, preferring to sit back.
In many ways, you would've thought a role in a diamond was tailor-made for him – being able to drive forward and then getting stuck in when on the back-foot.
But maybe he's got a little too used to the tried and tested methods. He struggled to impose himself against Sweden and he's certain to not be a fan of this formation.
He was found wanting defensively, making one tackle in 85 minutes, unable to conjure a single interception or clearance and gave away four fouls resulting in a yellow card.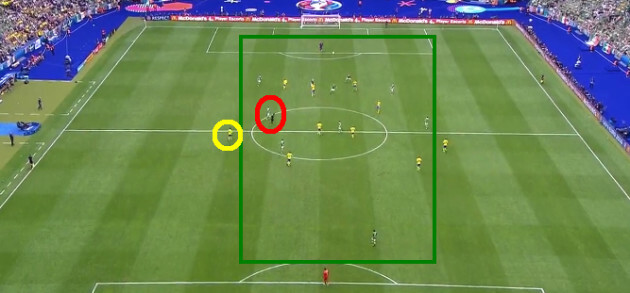 The diamond formation meant Ireland were incredibly narrow with no natural width and James McCarthy was pulled into something of an unfamiliar role at times.
He found Olsson a handful and one incident stood out in particular.
After Hendrick had tested Isaksson with a low drive and Hoolahan had netted the opening goal, Sweden responded.
They upped gears and tested Ireland. At one stage, Olsson picked up the ball 35 yards from his own goal and started to run. McCarthy went to close him down but wasn't strong or quick enough and ended up cheaply and lazily conceding a foul 35 yards from the Irish goal.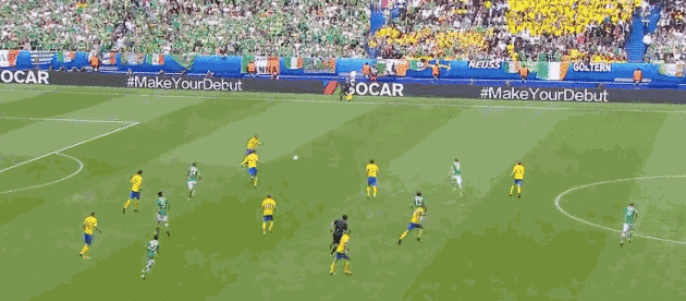 Importance of full-backs pushing on
As much as Brady got forward quite frequently on the left side, there seemed a reluctance for Seamus Coleman to do likewise on the opposite flank.
And Sweden and Olsson picked up on that quite early, acknowledging the Norwich City defender could continue to push high as there was little preventing him from doing so.
Perhaps Walters' injury concerns factored into this too. Normally, he plays as an auxiliary wide-man and is dependable when tracking back and covering a full-back's attacking forays. But he was closer to Long in the diamond system and had more ground to make up when trying to put in some defensive work. Admitting to playing through the pain barrier after the game, Walters' was certainly not as sharp as he'd hoped and could only offer so much when asked to help monitor Olsson.
When Coleman did make his presence felt for the first time in the Swedish half, it wasn't really due to a concerted effort to play through the diamond system.
There was no patient build-up in midfield before an astute pass played in the overlapping full-back.
Instead, there was a direct ball from Darren Randolph and Shane Long's spirit ensured it broke for McCarthy. Having made a run moments earlier but wasn't played in, Coleman tried again – this time, he was found on the overlap.
His cross was recovered by Hendrick who fed Brady – the full-back doing his part and pushing high when possible.
It ended with Brady flashing in a right-footed strike that just blazed over.
The instructions were clear from O'Neill at the break: start quickly and stretch Sweden out wide.
When the goal came, it began with a quick throw on the left before Hoolahan swung in a cross towards the back post.
Coleman, under instructions to get further forward in the second half, picked it up and did something Ireland hadn't done enough: he took on Forsberg and beat him before delivering the cross that Hoolahan delightfully curled to the corner.
But without much protection in front of him, Coleman found it extremely tough to push on after that.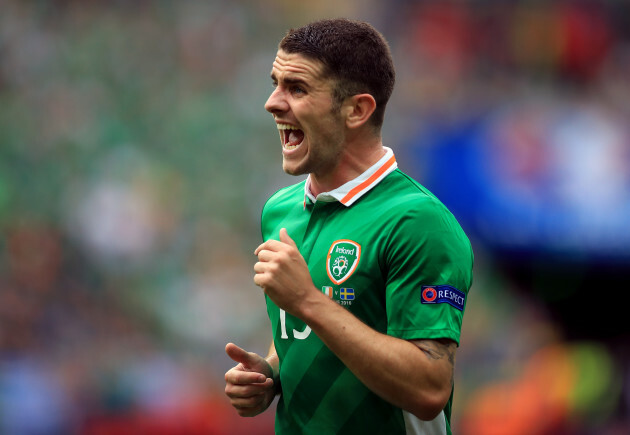 Mike Egerton Mike Egerton
Defensively, he had far too much to worry about – as did Brady on the left side.
As a result, and as is the perils of playing with the diamond system, Ireland failed to create much in the second period without the full-backs getting into decent areas.
After scoring and Sweden reacted so positively, Ireland reverted to type.
Long chased, others harried and they simply dug in.
By that stage, the system had become null and void and confirmation came when Walters was forced off and O'Neill went with a flat four in midfield.
Will the diamond still be there for Belgium?
Probably not.
O'Neill will take encouragement from Italy's win last night and the way they accomplished it. Antonio Conte plays with wing-backs and, as mentioned, the diamond isn't too far from a 3-5-2, essentially.
But, Ireland didn't utilise the diamond to its full extent.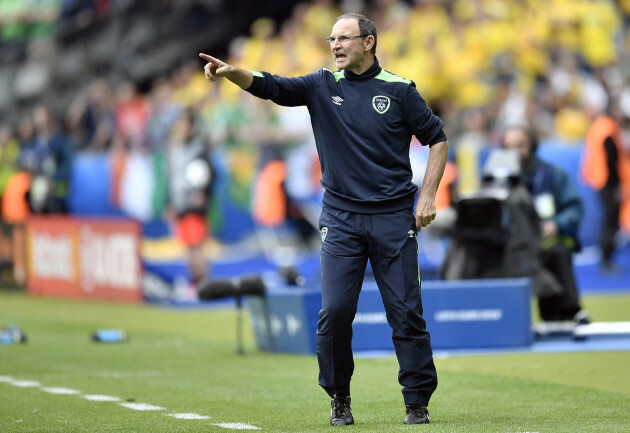 Martin Meissner Martin Meissner
Only occasionally did the full-backs become offensive weapons against Sweden. That can't be the case against Belgium.
When Ireland allowed Sweden dictate and didn't have the composure to get Brady or Coleman involved high up the pitch, it was one-way traffic.
Candreva and Darmian were irritants for Marc Wilmots' side on Monday night and gave Belgium's wide attackers something to worry about too.
Ireland need to offer something similar.
But the biggest issue is Walters' injury.
He's a flexible striker who can drift wide and provide extra defensive support when necessary. He was far from fully fit against Sweden and it was obvious and Ireland don't have another player like him up top.
If he's unfit, it's not only the personnel that's likely to change.
Hendrick is undroppable after starring against Sweden but he may be tasked with a wide right role in a more familiar 4-5-1.
With Vertonghten and Hazard on the Belgian left, Ireland can't afford to struggle as much as they did out wide.
After all, it won't be Martin Olsson they'll face in every game.
So, O'Neill is likely to revert to what the team does best.
He'll look to Hoolahan to play behind a mobile Long while McClean could pose some problems for Laurent Ciman out wide.
Ultimately, the diamond  didn't exactly sparkle for Ireland and it wasn't to everyone's taste.
The42 is on Snapchat! Tap the button below on your phone to add!