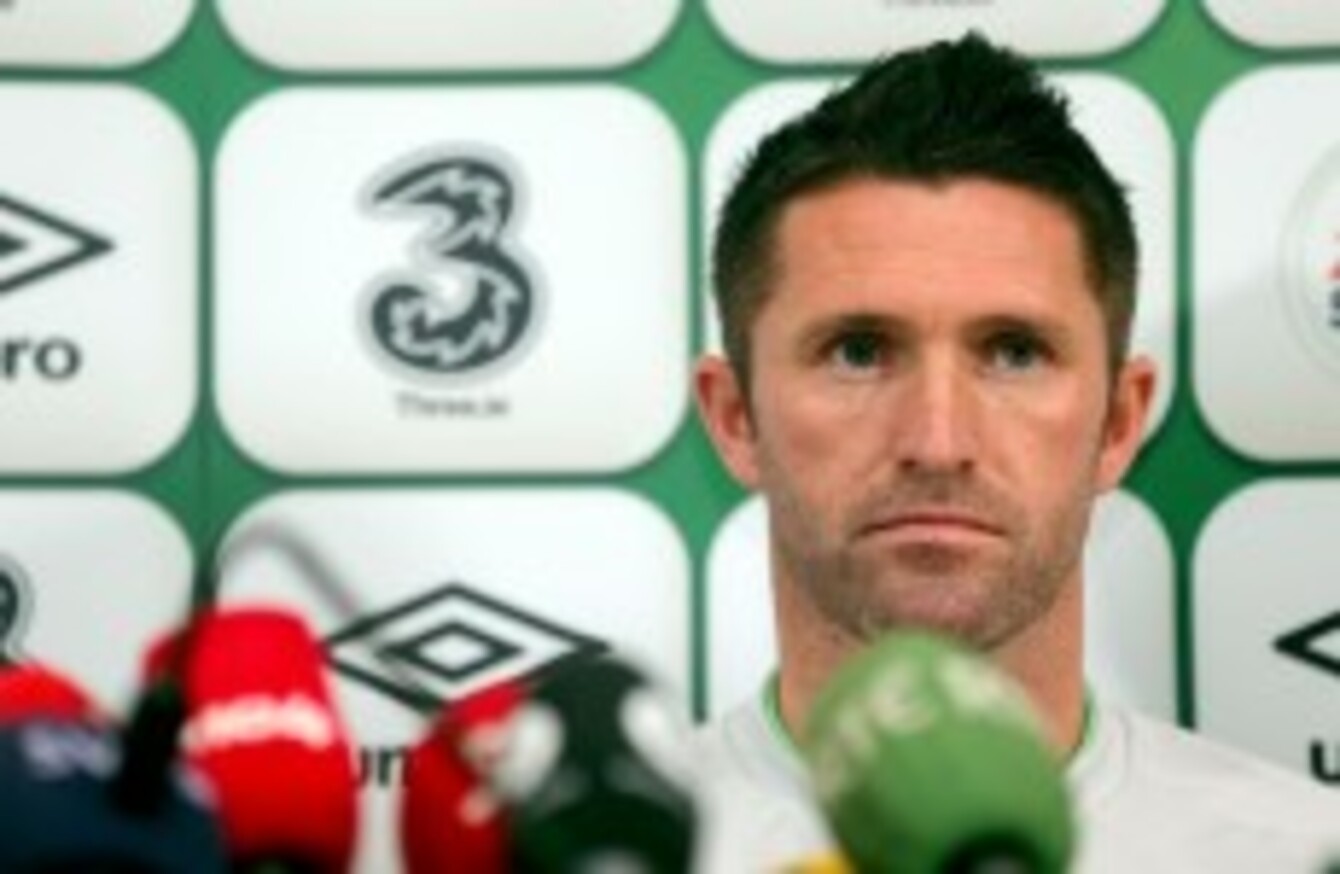 Keane: in search of goal number 60 tonight.
Image: ©INPHO/Lorraine O'Sullivan
Keane: in search of goal number 60 tonight.
Image: ©INPHO/Lorraine O'Sullivan
AS FAR AS World Cups go, Robbie Keane knows that tonight could be his last-chance saloon.
Lose at home to Sweden and Ireland will be hanging on by a fingernail as the battle for Group C's runner-up spot enters its deciding phase. Even a win in Vienna four days from now might not be enough to salvage the situation.
"It's certainly a game that we're going into to get three points," Keane said as he set the tone yesterday. "These two games are make-or-break.
"This is it now. These are the games that the players have been looking forward to playing. We kind of knew that it was going to come down to this between ourselves, Sweden and Austria. It's a game that we certainly can't afford to lose."
For Keane these crunch games have come at just the right time. He has scored seven in his last four games for the LA Galaxy and, as he prepares to lead the line with Shane Long, he's keeping a cool head.
I can't wait to play to be honest. The day of the game when you wake up in the morning, you've got that matchday feel and butterflies in your stomach. You certainly don't get nervous.

I think when you're experienced, you've been through this many times before in your career. I'm sure a lot of other people will be nervous because of the importance of the game but for players when you're out on the field and that whistle blows, if you do have nerves they certainly go out the window.
If he is to add to his record 59 international goals tonight, Ireland's wide men will have an important part to play. James McClean and Jon Walters got the nod over Robbie Brady, Anthony Pilkington and Simon Cox but the contribution of Seamus Coleman and Marc Wilson, two full-backs who like to press forward, will also be key.
Coleman in particular reminds Keane of some of his predecessors in green.
Hot streak: Keane has seven in his last four for LA Galaxy (Chris Carlson/AP/Press Association Images)
"It goes back to the Jack Charlton days of Terry Phelan, Chris Hughton, players like that who used to be bombing forward all the time, Gary Kelly, Jason McAteer.
He's one of those players who loves to get forward but he can defend also. He's very, very quick. He's got great energy.

As a striker you always see him. If the ball comes in to me in that hole, you always see him on the overlap. He's one of those players who likes to get to the touchline and get his crosses in.
At the back the return of Richard Dunne, who makes his first competitive international start since Euro 2012 alongside John O'Shea, is a major psychological boost.
"He's a massive presence," Keane said. "Obviously he's my mate and I know how frustrating it has been for him to be out for such a long time, since the Euros basically, and I know how excited he is now to be back in the fold.
Trying some unorthodox training methods with Wes Hoolahan yesterday (INPHO/Lorraine O'Sullivan)
"He's desperate to play in a competitive game. He's had a good start with his new team in QPR so he feels fit and he feels sharp.
He's a massive, massive player for us and he has a massive presence. Any player that comes up against Richie Dunne knows that he's in for a tough match.
Dunne's first task will be to take care of the man who has once again dominated the build-up to this fixture: Zlatan Ibrahimovic.
Ireland's defence ensured that the Paris Saint-Germain striker was kept uncharacteristically quiet in the scoreless draw in Stockholm last March and Keane is hopeful of a repeat.
"Everybody is always watching him to see what he's going to do and thinking that he's going to do something special all the time but sometimes it doesn't work like that.
The way we played in Stockholm certainly frustrated the Swedish team. They didn't get much service to Zlatan. In that respect it was probably a difficult game for him, but you can't play well all the time.

Hopefully we can keep him quiet as well because we know how important he is and at any given time he can produce something out of nowhere. We'll have to be very, very wary of him.