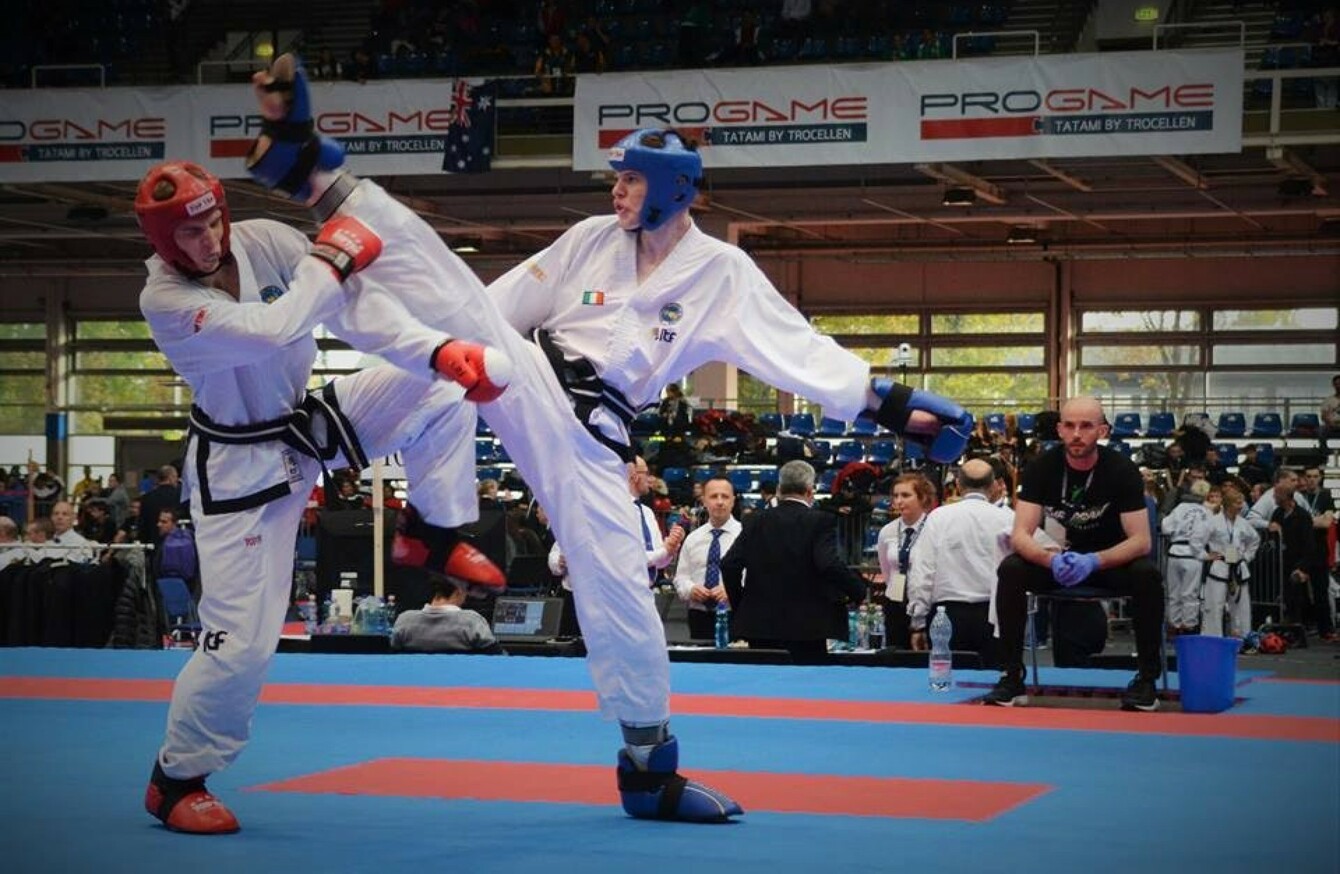 The Irish team have enjoyed plenty of success in Taekwon-do in recent years.
The Irish team have enjoyed plenty of success in Taekwon-do in recent years.
"BEING INVOLVED IN a high level can be difficult at times, because you're away from your family," Stephen Ryan tells The42.
"I've a young son who's 10 months old and a very understanding wife, who allows me to spend time on what I'm passionate about.
"She's involved in it as well. If she wasn't, I'm sure I'd be single a long time ago.
"It can be tough at times when your away from family but then you just reflect on how positive the whole thing is, and what a positive effect you're having on so many people at a national team level and within your community."
Taekwon-do may not register on the consciousness of many sports fans in this country, but for a select few, such as Ryan, it is not just a hobby to practice in their spare time but almost a way of life.
From the age of seven onwards, aspiring athletes devote themselves to the sport. They are taught not just skills, but values. "The tenets of courtesy and integrity" are just as important in the sport as athleticism and a winning mentality, according to Ryan.
When the experienced coach speaks of a Taekwon-do 'community,' he means it. Personal development, he explains, invariably tends to go hand in hand with athletic prowess, particularly in relation to the younger members of the clubs around the country.
"To become a top-class athlete is achievable for an awful lot of people if they're willing to put in the hard work," he says.
Often, I've seen kids that are very introverted and shy coming into a Taekwon-do class at the age of seven and eight, but by the time they're 14 or 15, are totally different characters and full of self confidence. That's a huge part of it — the positive effects it can have on their personality. And once you see those changes, you can work with an awful lot of people if they're willing to put in the physical effort."
Much to the disappointment of those who love it, despite the Irish team's consistent success of late, the sport receives minimal government funding and is hindered by a lack of coverage in mainstream media. Moreover, while it cannot compete in terms of numbers with the big three — rugby, GAA and soccer — it has still become increasingly popular in recent years and the Irish national team are reaping the benefits.
"We had our national championships at the University of Limerick a week ago and there were 800 competitors taking part in that. I was only looking back on the stats of that from five years ago, we've actually doubled in size in terms of how many people are turning up to compete in our national championships.
Looking at the level of the competitors coming through right from the young kids aged seven and eight, it's quite exciting for us as coaches, because we can see the level of talent coming through getting better and better."
Ryan cites 2006 at the World Cup when the situation began to change significantly for Irish Taekwon-do. Before then, the country had been somewhat peripheral on the international stage, but suddenly, the medal tallies at various competitions began to increase substantially.
This success has continued quite steadily over the past decade with the most recent ITF World Cup in Budapest being a prime example of how far the team has come.
Ireland returned home with over 40 medals, placing second overall out of 58 countries and 1,852 competitors — an outcome that bodes well for the forthcoming World Championships, which take place in Dublin (Citywest Business Campus to be exact) next October.
Of particular encouragement at the World Cup was the performance of Ireland's female participants, indicating how a once male-dominated sport is becoming increasingly popular for women and young girls to pursue.
We had a senior women's team that won the team sparring event and the six of them won all their matches in every round, they didn't lose one bout," Ryan adds. "It was the first time we had a senior ladies team win a sparring event."
He continues: "The reason it's so big — a World Cup is an open event. It's an opportunity for those not selected yet for the national team to get high-level development.
They've already been competing for a number of years at national level. They have been competing at smaller international opens and this would be the next level to step out on a world stage."
Ryan, who is Secretary General of the Irish Taekwon-do Association, explains that this sudden high degree of success was no accident.
"They have to be properly conditioned athletes now with the level the competition you're at. It's bout after bout the same day, you're only getting a short rest between fights.
If you go back 10 years, we wouldn't have dreamed of having the level of success we're having now. It's down to systems we would have put in place over the last number of years, we've gotten far more clued in on coach education and how we're training our athletes.
"It's about looking at other Irish sports like rugby as well and how successful they've been. It's much the same thing. We're educating ourselves all the time and saying 'how can we build on it from one campaign to the next'.
It's not just about the training, it's about nutrition plans and trying to get everything in balance, strength programmes and all that sort of stuff. You can see with the results that we're getting that it is working.
"It wasn't an overnight thing. We started a plan about 10 years ago and now, we're coming into a period of Irish Taekwon-do where we're starting to see the fruits of that."
Ryan estimates that there are somewhere between 7,000 and 8,000 athletes participating in the ITF version of the sport nationwide — not to be confused with the WTF version of the sport, which is less popular in Ireland and which he was not overly impressed by at the 2016 Olympics.
I watched a little bit of it. It's not doing us any favours. When I compare it to WTF taekwondo a couple of years ago, it has lost an awful lot of its flair and its style.
"I was watching the matches in the Olympic cycle. Every match seemed to be a stalemate, with people nearly afraid to take a chance to get a score and it kills off the excitement. I know it's something they're trying to tackle at WTF level. They're having a lot of meetings at a high level to try to reinvigorate the sport and make it more exciting because it's not a spectacle any more."
What are they
really like?
Rare insights on sport's biggest names from the writers who know them best. Listen to Behind the Lines podcast.
Become a Member
WTF is a South Korean innovation of the sport while ITF is popular in North Korea, with the former breaking away from the latter in 1972. There has often been talk of the organisations coming together since then, largely in a bid to boost the sport's popularity, but Ryan feels there is little hope of the issue being resolved anytime soon owing to "politics and propaganda".
The 34-year-old Clare native, who competes in the sport as well as coaching it, says that while most athletes enjoy what they do rather than looking on it as a "chore," also emphasises the "significant sacrifice" required to rise to the top level.
While it is recognised through Sport Ireland and the Irish Martial Arts Commission, Taekwon-do receives no significant government funding. Competitors are self-funding through club initiatives and personal means.
Therefore, simply being able to persevere in the sport is no mean feat. Going abroad for various competitions alone can cost "a couple of thousand," and that's without accounting for the cost of training, buying specific food for nutrition and physio sessions, among other expenses.
Luckily, a lot of the top-level athletes are given extra training by their instructors at no extra cost, because they do it for the love of the sport," Ryan adds.
To succeed in Taekwon-do, great discipline is also required. While many in clubs around the country just compete in it casually, serious competitors are expected to train five-to-six days a week, sometimes twice a day, while early-morning starts are commonplace.
It'a a tough ask, especially when you consider how athletes invariably work or go to school or college while simultaneously trying to reach the pinnacle of the sport.
You have to be willing to sacrifice you're social life to a certain extent," Ryan admits. "When you're training and when you're in competitive season, that has to be put aside. For younger people who see friends that are not involved at a high level in sports heading out, it can be difficult to make those kind of sacrifices.
"It's not something you can do on your own. It very much has to be the family, the athlete and the club all working together. But we have a lot of people at the moment willing to put that effort in."
The42 is on Instagram! Tap the button below on your phone to follow us!