THERE SHOULD BE no doubt that Ireland's run to today's World Rugby U20 Championship semi-final (17.30, TG4, Sky Sports 3) has been a sensational achievement.
However, today's opposition are on the crest of a wave of their very own. And it carries almost as much weight as our own.
While Ireland were beating the reigning Six Nations and then U20 World Cup champions to top Pool A, Los Pumitas have been celebrating their own historical feats in Pool C, recording impressive wins over France and then South Africa – who themselves scrambled into the final four as best runners-up.
They've done it with a style not far removed from the senior side, stretching teams with searing pace out wide, skillful playmakers and then employing powerful carriers to plunge through gainlines in the middle of the park.
World Rugby / YouTube
Out-half Domingo Miotti is an impressive and imposing figure who has looked utterly assured in this tournament. Through a languid kicking style he can channel that size to effortlessly send penalty kicks on a high arc towards the posts and, during last year's narrow loss to Ireland, he proved he brings a drop-goal threat too.
It sounds horribly cliched, but a solid start really is imperative for Ireland in the semi-final. Nobody needs any more reminders of he senior side's opening quarter in Cardiff against the Pumas.
The Wolfpups have shown an impressive knack of reeling terrific teams in from what looked like winning positions. Wales were 17 – 0 in front before Nigel Carolan's men settled in to tournament rhythm in game one. They trailed New Zealand 14 – 6 midway through the first half and even had to hit back against Georgia before they were harshly shorn of a man for most of the game.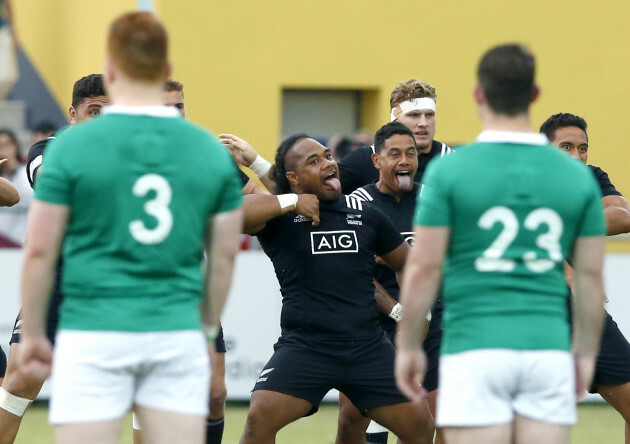 Matteo Ciambelli / INPHO Ireland face the Haka before their win over the Baby Blacks. Matteo Ciambelli / INPHO / INPHO
It's a handy habit to have, but it's just not sustainable to battle back over and over again. Argentina have shown their ability as a front-runner too, mounting a 19 – 6 lead against South Africa before the Baby Boks before they flexed their maul muscled to narrow the gap.
Yet while that try did not stop Argentina topping their pool, it has no doubt informed a good portion of Ireland's forward briefings over the weekends. Carolan's maul, even when the parts were changed, has been an extremely effective weapon through this tournament, offering Ireland their route back into games and then a winning momentum at the precise moments they've needed the lifeline.
The fearless offloads and scything lines make the back-line an exciting and potent force too. Thanks in part to scrum-half Stephen Kerins, Johnny McPhillips has settled seamlessly back into the side after starting the tournament as second choice out-half, and the magic touches of Jacob Stockdale combined with the consistent excellence of Conor O'Brien at 12 have given the Wolfpups a serious bite this summer.
The second semi-final sees South Africa take on hosts England. With three titles in the last four years between them, history says the winner will come from tonight's 19.45 kick-off.
But tearing up history books has become something of a habit for Irish rugby teams lately.
Ireland
15. Jacob Stockdale (Belfast Harlequins / Ulster)
14. Matthew Byrne (Terenure / Leinster)
13. Shane Daly (Cork Con / Munster)
12. Conor O'Brien (Clontarf / Leinster)
11. Hugo Keenan (UCD / Leinster)
10. Johnny McPhillips (Queen's University / Ulster)
9. Stephen Kerins (Sligo / Connacht)
1. Andrew Porter (UCD / Leinster)
2. Adam McBurney (Ballymena / Ulster)
3. Ben Betts (Young Munster / Munster)
4. Sean O'Connor (Cashel / Munster)
5. James Ryan (Lansdowne / Leinster) (Capt)
6. Greg Jones (UCD / Leinster)
7. David Aspil (St.Mary's RFC / Leinster)
8. Max Deegan (Lansdowne / Leinster)
Replacements
16. Vincent O'Brien (Cork Con / Munster)
17. James Bollard (Dublin University / Leinster)
18. Adam Coyle (Naas / Leinster)
19. Evan Mintern (Cork Con / Munster)
20. Kelvin Brown (Shannon / Munster)
21. Niall Saunders (Harlequins)
22. Brett Connon (Newcastle Falcons)
23. Jimmy O'Brien (UCD / Leinster)
Argentina
15. Bautista Delguy
14. Tomás Malanos
13. Juan Cruz Mallía (Capt)
12. Santiago Mare
11. Julián Domínguez
10. Domingo Miotti
9. Patricio Baronio
1. Rubén Ricco
2. Gaspar Baldunciel
3. Santiago Medrano
4. Franco Molina
5. Ignacio Calas
6. Marcos Kremer
7. Mariano Romanini
8. Vicente Boronat
Replacements:
16. Román Pretz,
17. Santiago Pulella
18. Gonzalo Del Pazo
19. Conrado Roura
20. Bautista Stávile
21. Lautaro Bazán
22. Martín Elías
23. Nicolás Osadczuk.
The42 is on Snapchat! Tap the button below on your phone to add!