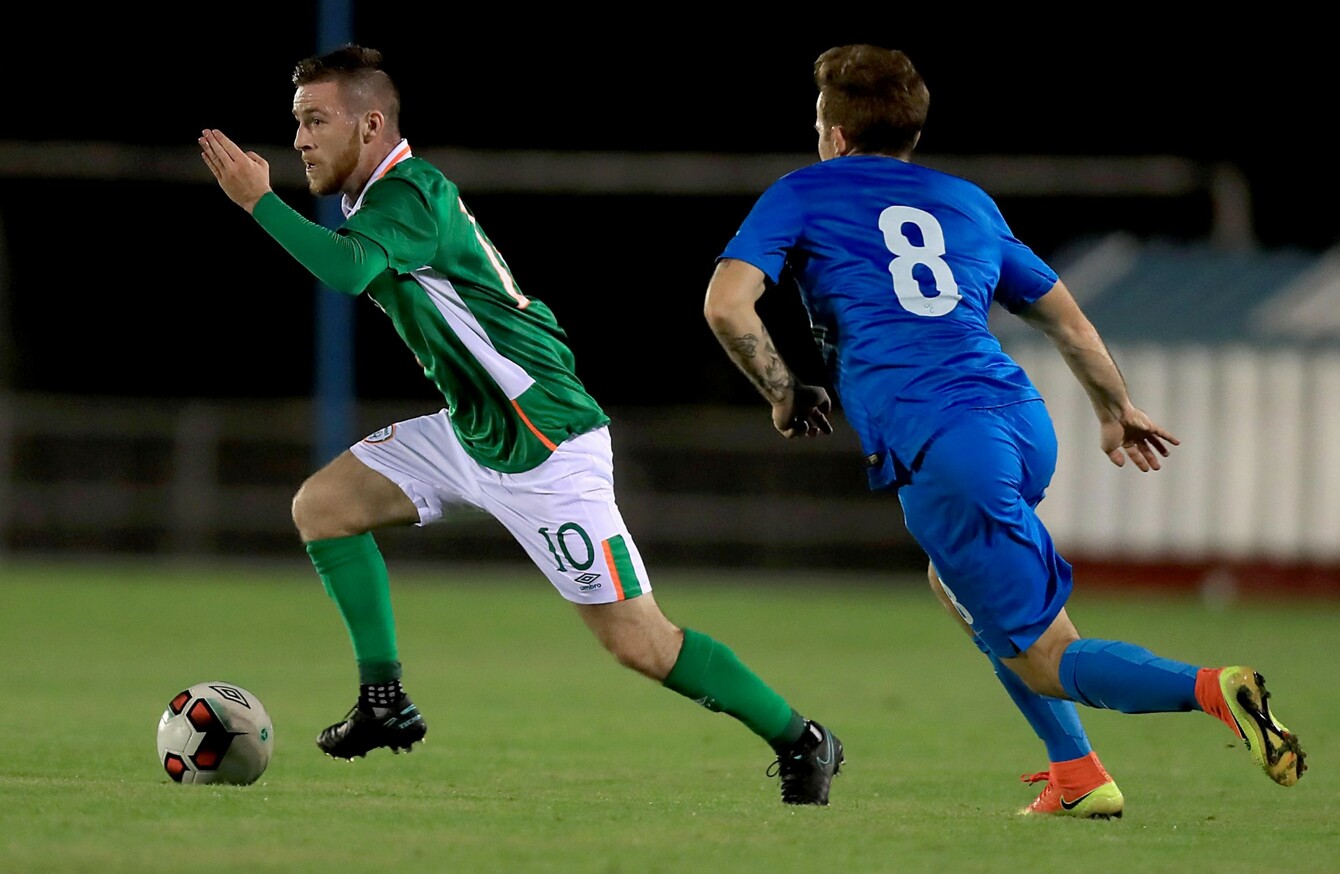 Jack Byrne in action for the U21s against Slovenia.
Jack Byrne in action for the U21s against Slovenia.
IRELAND WON'T BE playing at the Uefa U21 Championship finals next year after a dismal qualifying campaign.
Nevertheless, some of the squad are expected to push on and force themselves into Martin O'Neill's plans with the senior team.
Noel King's men have won four and lost five in Group Two, and their points haul of 12 sees them a colossal 11 points behind group leaders Italy with one game to go.
Defeats to Lithuania, Slovenia and Italy were followed by a narrow 3-2 loss against Serbia on Tuesday, meaning that hopes of sneaking a place in the play-off are officially extinguished.
On the face of it, such a poor qualifying campaign — finishing fourth in a group of six — would indicate that the future of Irish football is bleak.
But, while they haven't necessarily functioned as a unit in this campaign, there have been some encouraging individual performances throughout.
Roy Keane spoke in the lead up to Ireland's opening World Cup qualifier against Serbia about the need for young players to step up and earn their place in the senior team. In no uncertain terms, he issued a challenge to the next generation.
"We're still waiting on one or two of the players from that group to kick on," Keane said.
"Despite players building reputations before they've kicked a ball, these players have got to go out and earn it. We're not going to be picking young players for the Irish senior team because they've built a reputation, yet haven't kicked a ball."
Keane's comment is designed to rankle those young players who might feel they should be two or three steps ahead of where they currently are, but, is also uttered with the aim of spurring those same players on.
Callum O'Dowda dropped down from the senior squad to take part in the game against Serbia in Novi Sad and contributed a fine headed goal in the loss.
The 21-year-old, who made the leap from League Two to the Championship in the summer, has been identified by Martin O'Neill as one for the future since being included in the squad ahead of Euro 2016.
He made his senior debut against Belarus in Cork and was introduced as a second-half substitute in Robbie Keane's farewell game against Oman at the end of August.
If he can continue performing well at club level for Bristol City, established players such as James McClean and Aiden McGeady will have to seriously up their game if they are to hold onto their places.
And that is exactly the type of competition the Irish management want and need.
The much-vaunted Jack Byrne is arguably one of the main targets of Keane's challenge. It is telling that O'Neill has opted against including Byrne in any of his squads since having a closer look at him in March, when he invited him to join the senior squad for training ahead of friendlies against Switzerland and Slovakia.
Byrne was unphased by the promotion back in March. "I felt in training that I could handle the level," the midfielder said at the time.
But the subsequent snub for the post-Euro 2016 friendly against Oman, where there was scope for integration, is evidence that he remains firmly behind Glenn Whelan, James McCarthy and Stephen Quinn, as well as the likes of David Meyler, Wes Hoolahan and Harry Arter in the pecking order.
It is no secret that Byrne has a high opinion of his own ability, but he has endured a mixed start to life in the Championship with Blackburn Rovers since joining on loan from Manchester City and that has undoubtedly worked against him.
Flying the flag for the League of Ireland, Cork City duo Kevin O'Connor and Sean Maguire have also acquitted themselves exquisitely in the U21 team, with the latter bagging a goal against both Slovenia and Serbia.
Maguire has 11 goals in 20 league appearances this season and the 22-year-old also struck three goals in the Leesiders' Europa League run, showing tremendous composure from 12 yards.
Both he and O'Connor have consistently shown that they can cut it at international level and if they can continue in the same vein until the end of the season, there is no reason why they should not be considered as options in future.
Ireland's opening qualifier for the 2018 World Cup against Serbia suggested that it would be more of the same over the next few years as O'Neill's tried and tested stuttered to a 2-2 draw in Belgrade.
However, there is reason for optimism, with Noel King identifying the likes of Olamide Shodipo, Josh Cullen, Courtney Duffus and Harry Charsley as players with the potential to kick on.
Everton midfielder Charsley is one of a number of 1996-born players who have come to the fore in the latter stages of the U21s' qualifying campaign and he even scored with a cool finish against Slovenia.
The attacking midfielder, who also bagged a sublime and decisive goal for the Toffees against Celtic in the final of this summer's Super Cup NI, is perhaps too raw and inexperienced to play a role in the World Cup qualifying campaign, but he, like the others, should be knocking on the door in the coming years.
"There are some very good lads in the squad. Olamide (Shodipo) was very good on the left wing, Courtney (Duffus) was excellent up front — he holds it up and moves it well. If these guys keep developing it bodes well for the future," King told Goal after his side's 2-0 win over Slovenia.
"Josh Cullen, Jack Byrne and Harry Charsley have played with us for quite a number of games and they're all eligible for the next three years, so there's a lot to look forward to."