United States 1
Ireland 0
Joe Callaghan reports from CityPark, St Louis
WEARING ALEX MORGAN'S No 13 jersey, defender Diane Caldwell stepped out of the Ireland dressing room in St Louis on Tuesday night and reflected on how far Vera Pauw's side have come. But there was still some looking back to do after the star-studded Americans got away with one here, narrowly winning 1-0.
The defeat came courtesy of Alana Cook's 43rd-minute goal which was more down to a careless Courtney Brosnan error than anything the American defender did. Cook celebrated a little sheepishly perhaps because of Brosnan's part in the goal but maybe because the hosts were very lucky to be in front too.
By the time the full-time whistle arrived, they were still fortunate to be in the position. Pauw's side were so impressive in so many facets of the game. Caldwell and co were left to reflect on what might have been but what may come next too. That kinda night.
"Obviously we're disappointed to lose the game," said Reading defender Caldwell. "We pushed them at the end and got some chances. We were unlucky to concede the goal that we did, we were disappointed with that. But again this was a better result on paper than Saturday's result. There's a lot of positives to take.
"We have really increased the level of this team in the standards. It been a massive jump in terms of the bravery in the way we want to play. Not only being defensively strong, but having our threats and being able to do that against the number one team in the world, I think nobody expected that."
Alamy Stock Photo Andi Sullivan and Ireland's Denise O'Sullivan compete. Alamy Stock Photo
The numbers backed up Caldwell's opinions. Ireland had almost an equal share of possession against the game's No.1 side, 52%-48%. They had just one less shot, equal shots on target and had more corners.
Away from the statistics, the plain old eye test told you this was another night when Pauw's side had proven their pedigree too. There were key improvements even from Saturday's impressive showing in the first meeting in Texas. Ireland were positive in possession, showing so much purpose and control. Kyra Carusa had another stellar showing leading the line with wing backs Heather Payne and Katie McCabe coursing forward in support and finding joy. Marissa Sheva emptied herself in a very strong display and Denise O'Sullivan was a joy, especially in a second half that was largely tepid. In truth, every Ireland player stepped up.
"If you see how we played and how in times of the game they couldn't handle us, how we used the spaces, we have made a huge jump in this camp," Pauw said afterwards. "I had said before you need to play the highest opposition to do that. You don't know ahead of time if you'll manage but we played with guts which was one of the key things that we came here for.
You only improve if you have the guts to fail. That's a huge compliment to the players."
With the World Cup trophy in attendance at CityPark and two of Ireland's three group opponents Down Under having recorded impressive wins of their own before kickoff here — Australia beating England and Nigeria hammering New Zealand — the tournament hung heavily over proceedings.
But Ireland didn't show it. With Ruesha Littlejohn and Lucy Quinn coming into the team, the visitors started weaving pretty patterns from the off, Quinn firing over before we'd hit the minute mark. Becky Sauerbrunn's 13-year wait for a first international goal came close to a spectacular end in her home town when she crashed an early header off Brosnan's crossbar.
Ireland were soon back to being busy at the other end though. Carusa was holding and linking so well and McCabe, Payne and Lucy Quinn all had fresh looks at Casey Murphy's goal. There were of course moments to worry, Sophia Smith firing over on 16 minutes, but Ireland managed the half with a maturity and calm. All of which made the opener two minutes before the break more agonising.
A US corner had been cleared by Denise O'Sullivan and the danger looked to have eased as defender Alana Cook picked up the ball from 45 yards out. Her punt caught Brosnan on the front foot initially and while the goalkeeper peddled back, it was too late and the damage was done.
"Everyone said how fantastically Courtney has played," insisted Pauw. "Yes, of course, we're all gutted about the goal and Courtney in the first place but let's see all the fantastic saves and how she played throughout this week."
With lots of US changes at the interval and the demands of two games in four days catching up with many, the second half was low on drama and quality. But O'Sullivan was a beacon, finding and making spaces for herself. Pauw eventually made changes of her own but Ireland struggled to find concerted pressure. O'Sullivan played in a nice ball for Carusa on 84 minutes but the striker found the side netting. Louise Quinn and substitute Amber Barrett had half chances but that was about it.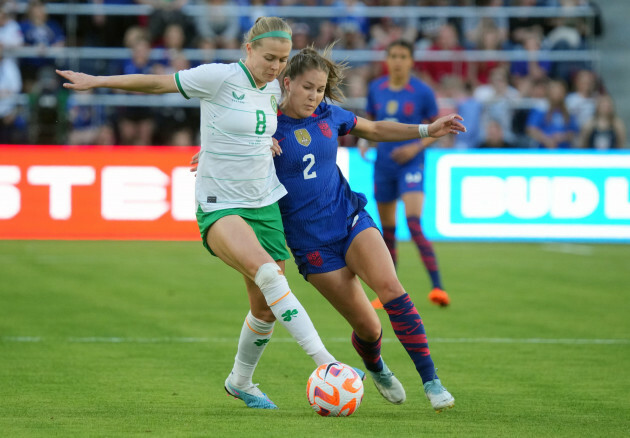 Alamy Stock Photo Ashley Sanchez of the USA jostles with Ruesha Littlejohn. Alamy Stock Photo
As the Americans did a lap of honour to celebrate a maiden victory in the Gateway City, the visitors began to ponder the trip home. Back-to-back defeats hurt for a team that had got used to winning but the big picture is clear to Pauw.
"This one hurts because we have done so well," the manager said. "It's a friendly so winning and losing is not really the major thing. But if you lose in this way after doing so well against the world champions then of course it hurts.
"[But] there are so many positives coming out of this camp. The jump we have made now I have never perceived in any team that I have coached."
United States (4-3-3): Murphy; Huerta, Cook, Sauerbrunn (Davidson 28), O'Hara (Krueger HT); Sanchez, Horan (Mewis 59), Sullivan (Ertz HT); Thompson, Morgan (Hatch HT), Smith (Rodman HT).
Goal: Cook (43)
Ireland (5-4-1): Brosnan; Payne (O'Hanlon 84), Connolly, Quinn, Caldwell (Nolan 58), McCabe; Quinn (McLaughlin 69), O'Sullivan, Littlejohn (Grant 58), Sheva (O'Gorman 69); Carusa (Barrett 84).
Booked: Littlejohn, Connolly
Ref: Crystal Sobers (TRI)
Attendance: 22,294