Evening, all!
Right, let's get after that Slam, will we?
Welcome to The42′s live updates of Ireland versus England at the Aviva Stadium.
Gavan Casey here and I'll be giving you a blow-by-blow account of the game, or something close to it, as Andy Farrell's men chase the country's fourth ever Grand Slam.
Dublin is buzzing, fans are beginning to trickle into the Aviva, and Teenage Kicks by The Undertones is pumping out of the PA system.
It could be a special day. It could be positively dreadful, too. It's sport, who knows? But let's hope for the first one.
Dan Sheridan / INPHO Dan Sheridan / INPHO / INPHO
England captain Owen Farrell takes a selfie with two Ireland fans — not his own children, as I understand it.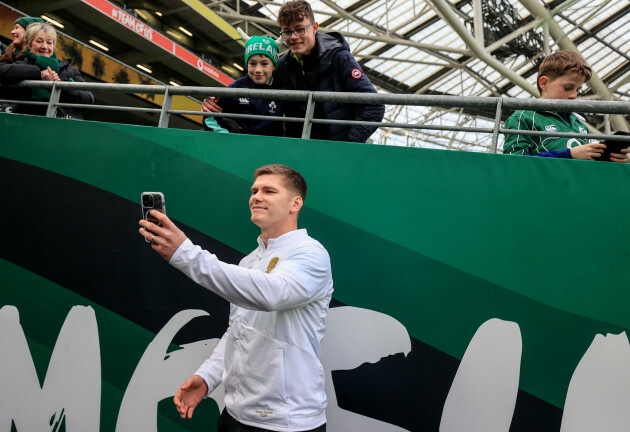 Dan Sheridan / INPHO Dan Sheridan / INPHO / INPHO
Team News
Both sides line out as named, with World Player of the Year Josh van der Flier set to earn his 50th cap for Ireland.
It will be Johnny Sexton's final Six Nations appearance for Ireland and he's one point shy of Ronan O'Gara's championship points-scoring record. In many ways, today could be a fitting end to Sexton's Six Nations career — even if he has a bit of road left to run in him yet!
Ireland:
15. Hugo Keenan
14. Mack Hansen
13. Robbie Henshaw
12. Bundee Aki
11. James Lowe
10. Johnny Sexton (captain)
9. Jamison Gibson-Park
1. Andrew Porter
2. Dan Sheehan
3. Tadhg Furlong
4. Ryan Baird
5. James Ryan
6. Peter O'Mahony
7. Josh van der Flier
8. Caelan Doris
Replacements:
16. Rob Herring
17. Cian Healy
18. Tom O'Toole
19. Kieran Treadwell
20. Jack Conan
21. Conor Murray
22. Ross Byrne
23. Jimmy O'Brien
England:
15. Freddie Steward
14. Anthony Watson
13. Henry Slade
12. Manu Tuilagi
11. Henry Arundell
10. Owen Farrell (Captain)
9. Jack van Poortvliet
1. Ellis Genge (Vice-Captain)
2. Jamie George
3. Kyle Sinckler
4. Maro Itoje
5. David Ribbans
6. Lewis Ludlam (Vice-Captain)
7. Jack Willis
8. Alex Dombrandt
Replacements:
16. Jack Walker
17. Mako Vunipola
18. Dan Cole
19. Nick Isiekwe
20. Ben Curry
21. Alex Mitchell
22. Marcus Smith
23. Joe Marchant
We're just under a quarter of an hour out from kick-off here at Lansdowne Road. WiFi is shocking but sure we'll see how we get on.
How're the nerves?

Poll Results:
Been on the pints since 12, can't feel a thing
(60)
Kick-off
1′ – Ireland 0-0 England: Owen Farrell gets us underway at the Aviva. Ellis Genge necked a can of Red Bull before kick-off and Maro Itoje danced his way through Ireland's Call.
Here we go.
2′ – Ireland 0-0 England: Jamison Gibson-Park gets taken out in the air and Sexton moves Ireland into English territory.
James Ryan makes a good carry into the visiting 10′ and Ireland create a nice overlap for Mack Hansen on the right wing but he doesn't back his pace, cuts infield, and England eventually turn it over on the ground.
Good start by them defensively.
5′ – Ireland 0-0 England: Sloppy enough start by Ireland — they've botched a lineout and England have turned them over on the ground twice.
England now attacking in Ireland's 22′ after a huge carry by Manu Tuilagi.
Ireland 0-3 England
7′ – Ireland 0-3 England: England win a pen in front of the posts and Farrell chips it over. They asked serious questions of Ireland's defence, there, and Ireland stood up to it but England get the scoreboard moving first.
10′ – Ireland 0-3 England: Brilliant turnover on the ground by Andrew Porter who wins a penalty on halfway, and Sexton brings Ireland to the English 22′.
12′ – Ireland 0-3 England: A brilliant Irish attack — including a nice break by Van der Flier — breaks down near the English 5′ when James Lowe pass is deflected backwards by and English hand.
Ireland win a pen on the five and Sexton takes the quick tap!
Jaco Peyper says he's held up over the line and, after a check upstairs, confirms as much.
England get a goal-line drop-out. Better by Ireland.
Ireland 0-6 England
13′ – Ireland 0-6 England: Freddie Stewart looks for a 50-22′ but doesn't get the bounce. Mack Hansen's clearance isn't great, however, and England get a platform on the Irish 22′.
They win a penalty — for an Andrew Porter infringement in the lineout maul, I think — and Farrell points towards the sticks again. Slots it.
Ireland 3-6 England
17′ – Ireland 3-6 England: Ireland go close again after a wonferful break by Hugo Keenan but, as they go wide, Lowe's pass to Hansen is intercepted by a falling England defender.
England clear but Ireland win a penalty on the English 10′ for hands in the ruck. Sexton takes the settler — and becomes the Six Nations' leading points-scorer in the process.
We'll hear about that afterwards, I'm sure, and the crowd are going berserk as it's announced over the PA, but Sexton has bigger things on his mind for the moment.
21′ – Ireland 3-6 England: An uncharacteristic mistake from Keenan as he has to scramble back to cover a fly-hacked ball and, under some pressure, he skews his clearance into touch deep enough inside his own 22′.
England bang it up through the middle through Tuilagi but get driven back off the Irish five with a big hit by Sexton.
Lowe is making big hits, too — but he misses one and England go wide! And then he recovers to bounce Tuilagi into touch on the 5′.
Good defensive set by Ireland, and they win a penalty at the lineout to boot. Bit of afters between some of the forwards and 50,000 fans shout 'GO ON' in unison.
Sexton takes Ireland up to the 10′.
26′ – Ireland 3-6 England: A brilliant break by Hansen who gathers a kick and brings Ireland up to halfway.
They go wide and Sexton puts Henshaw through a gap down the right before he's eventually halted.
Ireland win a penalty on halfway and Sexton drives them into the English 22′.
28′ – Ireland 3-6 England: Ireland's attack breaks down when Doris' pass is dropped by Ryan about 15 yards from the English line. Good defence by England on this occasion, especially at maul time where they've halted any Irish progress now twice.
32′ – Ireland 3-6 England: Hugo Keenan goes TO THE SKIES to take down a Sexton contestable, bringing the Aviva to its feet. Ireland attack down the left and win a penalty on the 10′. Sexton prods them back into the English 22′.
TRY FOR IRELAND! Ireland 10-6 England
33′ – TRRRRRRYYYYYYYYYYYY! Ireland 10-6 England: WHAT A SCORE! Van der Flier peels off the maul and plays a perfect reverse pass inside to Dan Sheehan who shows his pace and power as he barges over the English line. A well-worked, clearly pre-planned move which bore a hole in the English defence.
Sexton nails the afters and Ireland lead for the first time today.
Now we're sucking diesel!
38′ – Ireland 10-6 England: England get a scrum as Gibson-Park spills the ball at the base of a ruck on his own 10′. Looked like it should have been an Ireland penalty and Peyper got it wrong.
The visitors go wide left and Gibson-Park combines with Van der Flier and Doris to form a maul with Henry Arundell in possession. Scrum Ireland on their own 22′. Good work.
Red card: Freddie Steward (England)
40′ – Ireland 10-6 England: England fullback Freddie Steward gets marched for a stupid body check to the head of Hugo Keenan.
Owen Farrell is fuming. Such a silly challenge, though.
Ireland get a chance on the English 5′, or close enough.
Half-time: Ireland 10-6 England
41′ – Ireland 10-6 England: Ireland's attack breaks down with sloppy hands by Ryan Baird on the English 5′.
They take a deserved lead into the dressing room despite being well below their best.
The complexion of this game has been changed by the red card. I thought it was a dumb challenge by Steward but my colleague Murray Kinsella is wondering if it should even have been a penalty.
Second half
41′ – Ireland 10-6 England: Sexton gets us back underway at Lansdowne Road. Ireland are 40 minutes from a fourth ever Grand Slam. England are down to 14.
Jimmy O'Brien is on for Hugo Keenan who didn't pass his HIA after the collision with Steward.
43′ – Ireland 10-6 England: Gibson-Park makes an electrifying break down the left wing. He chips over Anthony Watson and the ball bounces into touch inside the English 5′.
Peter O'Mahony gets up and almost steals the English lineout but he can deflect it only back as far as Jamie George and England clear.
48′ – Ireland 10-6 England: Most of the second half so far played in midfield where both sides are halting each other on the gainline.
Ireland's handling — and their offloads especially — has been really sloppy by their standards. Sheehan, this time, with a loose one into an English bread basket.
O'Brien then loses a contest in the air and England win a scum between Ireland's 22′ and the 10′.
Ireland 10-9 England
50′ – Ireland 10-9 England: Porter gets pinged in the scrum and Farrell chips one over from 35 yards. England back to within one and seemingly only galvanised by the injustice — as they see it — of Steward's red card.
53′ – Ireland 10-9 England: Scrappy second half so far. Ireland go to the back of the lineout and Peter O'Mahony spills the ball forward as Jack Willis makes his 24th tackle of the day, or something close to it.
56′ – Ireland 10-9 England: Hansen slips on a retreat and gets caught in possession deep in his own territory. Ireland eventually clear through Sexton but he shanks it only as far as the 22′. Decent entry point for England, here.
Jack Conan on for Peter O'Mahony.
57′ – Ireland 10-9 England: Visitors spill the ball in the maul and Gibson-Park comes away with it, booting downfield. The ball bounces into the hands of Lowe but not for the first time today, he can't quite get his hands sorted.
A bit of handbags as Andrew Porters gets involved with maybe four English players over the touchline.
It gets sorted and even though Ireland get the shove on in the scrum, England win a penalty. The Aviva is not happy at that call by Jaco Peyper.
58′ – Ireland 10-9 England: Unbelievable steal on the ground by Ryan Baird. Penalty Ireland. Sexton takes them back up to the English 10′.
Tom O'Toole on for Tadhg Furlong.
60′ – Ireland 10-9 England: Sexton with a beauty of a cross-kick in the direction of Hansen. Two English players cover it but the bounce is so awkward that one of them — Watson, I think — gets driven over his own line.
Five-metre scrum for Ireland. Potentially big moment, this.
TRY FOR IRELAND! Ireland 17-9 England
62′ – TRRRYYYYYYYYYYYYYYYYYY! ROBBIE HENSHAW! Ireland 17-9 England: IRELAND SCORE THEIR SECOND! Off the five-metre scrum, they crash it up through Aki and move one further phase left. Gibson-Park then switches direction right and Aki puts Henshaw through a hole from close range. The outside centre crashes over.
And Sexton is on the money once more with the conversion!
65′ – Ireland 17-9 England: Another big moment for Ireland as Sexton and Aki, with some help from Van der Flier, hold England up in a maul on the Irish 22′. Scrum, Irish ball. Aviva goes nuts again.
About a quarter of an hour to go and Ireland, far from their best, have began to get to grips with this one. They lead by eight as 'The Fields of Athenry' rings around the Aviva.
67′ – Ireland 17-9 England: A nice, sweeping move by Ireland from that scrum on their 22′ and Aki brings them up to halfway with a surging carry.
England are pinged for an infringement on the ground and when Ireland's advantage goes nowhere, Peyper brings it back for a penalty.
Sexton brings Ireland to just outside the English 22′.
TRY FOR IRELAND! Ireland 24-9 England
69′ – TRRRRRRRYYYYYYYYYYYYYYYYYYYYYYY! IT'S PARTY TIME AT THE AVIVA! IT'S DAN SHEEHAN AGAIN! Ireland 24-9 England: That's a sublime try. With English spirits broken, Dan Sheehan makes not one, not two, but three carries up the right — eventually collecting a wonderful offload by Jack Conan to crash over in the right-hand corner.
Sexton, again, flawless from the tee.
Rob Herring replaces Dan Sheehan before the restart. What a performance by the Irish hooker again.
Try for England! Ireland 24-16 England
73′ – TRY, ENGLAND! Ireland 24-16 England: It's Jamie George who dots down after a brilliant rolling maul by England. It must have travelled 12 or 13 yards.
Farrell converts. Hold your horses, says you.
74′ – Ireland 24-16 England: Sexton leaves the field to an unbelievable reception. Looks disgusted as he seems to be carrying a knock. Ross Byrne on in his place. Ireland still with a bit of work to do, here, before the celebrations can begin.
76′ – Ireland 24-16 England: Jack Willis is penalised for tipping Byrne over in a clear-out. Stupid by Willis — this game wasn't over, but it could be now.
He gets a yellow and England will finish the game with 13. Byrne goes to the corner, even though it was a pretty straightforward kick in front of the posts.
TRY FOR IRELAND! Ireland 29-16 England
77′ – TRRRRRYYYYYYYYYYYYYYY! ROB HERRING! Ireland 29-16 England: And that's all she wrote! Herring peels off the back of a five-metre maul and crashes over with a finish not dissimilar to the one he had against New Zealand.
Ireland are about to be crowned Grand Slam champions, folks.
Byrne's conversion from the right-hand touchline creeps wide right. Nobody cares!
81′ – Ireland 29-16 England: England have a five-metre lineout after a high tackle by Ireland.
The Fields has been ringing out for about three minutes.
Full-time: Ireland 29-16 England. Ireland are Grand Slam champions!