Afternoon, folks!
You're very welcome to our live updates from today's massive Six Nations clash between Ireland and France at the Aviva Stadium.
Gavan Casey with you here, and if you can't get near a telly or radio, I'll do my best to keep you up to speed from this end.
The Aviva is buzzing already. The French are here in huge numbers and they're making themselves known. This should be a cracker.
Teams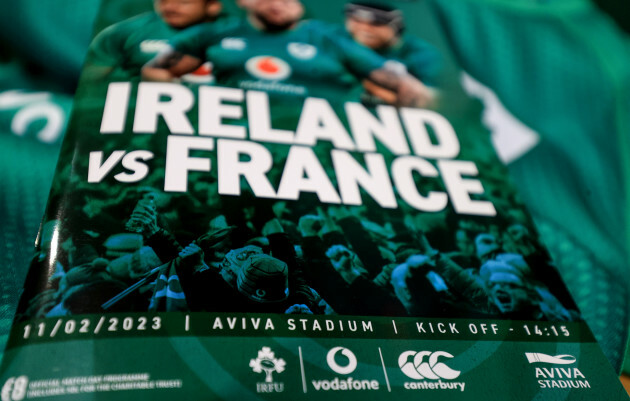 Dan Sheridan / INPHO Dan Sheridan / INPHO / INPHO
50th caps today for James Ryan, Andrew Porter and Dave Kilcoyne.
There was a rumour that Garry Ringrose was a doubt prior to kick-off but Ireland start as named.
Ireland XV v France
15. Hugo Keenan (Leinster/UCD) 26 caps
14. Mack Hansen (Connacht/Corinthians) 10 caps
13. Garry Ringrose (Leinster/UCD) 48 caps
12. Stuart McCloskey (Ulster/Bangor) 10 caps
11. James Lowe (Leinster) 16 caps
10. Johnny Sexton (Leinster/St Mary's College) 110 caps (c)
9. Conor Murray (Munster/Garryowen) 101 caps
1. Andrew Porter (Leinster/UCD) 49 caps
2. Rob Herring (Ulster/Ballynahinch) 32 caps
3. Finlay Bealham (Connacht/Buccaneers) 28 caps
4. Tadhg Beirne (Munster/Lansdowne) 37 caps
5. James Ryan (Leinster/UCD) 49 caps
6. Peter O'Mahony (Munster/Cork Constitution) 90 caps
7. Josh van der Flier (Leinster/UCD) 46 caps
8. Caelan Doris (Leinster/St Mary's College) 24 caps
Replacements:
16. Ronan Kelleher (Leinster/Lansdowne) 18 caps
17. Dave Kilcoyne (Munster/UL Bohemians) 49 caps
18. Tom O'Toole (Ulster/Ballynahinch) 5 caps
19. Iain Henderson (Ulster/Academy) 69 caps
20. Jack Conan (Leinster/Old Belvedere) 34 caps
21. Craig Casey (Munster/Shannon) 8 caps
22. Ross Byrne (Leinster/UCD) 15 caps
23. Bundee Aki (Connacht/Galwegians) 42 caps
France, too, line out as named.
France XV v Ireland
15. Thomas Ramos (Toulouse)
14. Damian Penaud (Clermont)
13. Gael Fickou (Racing 92)
12. Yoram Moefana (Bordeaux)
11. Ethan Dumortier (Lyon)
10. Romain Ntamack (Toulouse)
9. Antonie Dupont (Toulouse – captain)
1. Cyril Baille (Toulouse)
2. Julien Marchand (Toulouse)
3. Uini Atonio (La Rochelle)
4. Thibaud Flament (Toulouse)
5. Paul Willemse (Montpellier)
6. Anthony Jelonch (Toulouse)
7. Charles Ollivon (Toulon)
8. Gregory Aldritt (La Rochelle)
Replacements:
16. Gaetan Barlot (Castres)
17. Reda Wardi (La Rochelle)
18. Sipili Falatea (Bordeaux)
19. Romain Taofifenua (Lyon)
20. Francois Cros (Toulouse)
21. Sekou Macalou (Stade Francais)
22. Baptiste Couilloud (Lyon)
23. Matheiu Jalibert (Bordeaux)
Huge chorus of 'Allez Les Bleus' rings out around the Aviva about 10 minutes from kick-off. It's the French who are making all the noise so far. The Irish fans continue to filter in.
Having some connection issues here, so apologies!
But the game has kicked off, it's 0-0, and James Lowe has just hit the overhead camera with a clearance kick.
That resulted in a first scrum of the game for Ireland, in which they held up well.
4′ – Ireland 0-3 France: France open the scoring through the boot of Thomas Ramos after Tadhg Beirne was pinged for not rolling away.
A nice settler for the visitors, who have started brightly.
7′ – Ireland 0-3 France: Ireland batter at the French line but after a patient build-up, Andrew Porter is held up!
Really strong attack by Ireland, but they'll be frustrated that they were unable to provide the finish.
Try for Ireland!
10′ – Ireland 7-3 France: TRYYYYYYYYYY!!! Hugo Keenan!
What a score by Ireland. Having been denied on their first real attack, they come back and open their account with a wonderfully crafted score.
Finlay Bealham feeds Keenan with a disguised pass, and the fullback bolts through the French defence to score.
Johnny Sexton adds the extras, and Ireland lead 7-3!
14′ – Ireland 7-6 France: France and Dupont explode into life and they win a penalty on the ground, about 35 yards from goal and dead central.
Ramos brings things back to a single point.
Try for France!
17′ – Ireland 7-13 France: TRY FOR FRANCE! It's an outrageous score for the visitors.
Damian Penaud takes it to the house after a wonderful French transition from deep inside their own territory.
Some soft defence in there by Ireland.
Try for Ireland!
21′ – Ireland 12-13 France: TRYYYYYYYY! WHAT A GAME! IT'S JAMES LOWE!
Lowe with a crazy finish in the left-hand corner after a wonderful, sweeping move by Ireland.
Suspicion of a foot in touch but nothing conclusive from any angle. Wayne Barnes awards the try and the Aviva goes nuts.
25′ – Ireland 12-13 France:This is an unbelievable game of ball.
Ireland go so close after a wonderful break by Johnny Sexton, with Stuart McCloskey kept just short.
Barnes is checking a high-looking hit by Atonio on Rob Herring. Aaand Atonio is sin-binned. France down to 14 for the next 10 minutes. Ireland have a penalty five metres from the French line. They go for the scrum.
Try for Ireland!
26′ – Ireland 19-13 France: TRRYYYYYYYYY! ANDREW PORTER ON HIS 50TH CAP!
He burrows over after a couple of assaults on the French line. Ireland have three tries, and they lead by six in a sensational game at Lansdowne Road.
31′ – Ireland 19-13 France: A brilliant, pitch-length Ireland attack falls short as France win a penalty on the ground, metres from their own line.
What an absorbing game this is.
38′ – Ireland 19-16 France: Folks, I'm having a nightmare with internet but it's nearly half-time, Ireland lead by three, and it's an insane game.
Half-time: Ireland 22-16 France
41′ – Ireland 22-16 France: Johnny Sexton opts to take an easy three on the stroke of half-time after a spell of Irish pressure.
After an incredible half of rugby at Lansdowne Road, Ireland lead — and they'll probably feel like they should be leading by more.
Second Half
41′ – Ireland 22-16 France: We're back in action at the Aviva. A huge second half ahead for both of these sides.
Let's see if it can live up to the first!
45′ – Ireland 22-16 France: An enthralling, frantic start to this second half.
An Irish attack is thwarted and the French wind up winning a penalty on halfway. Monstrous stuff by their forwards.
Meanhwile, Tadhg Beirne has limped off for Ireland — looks to be in a lot of pain. Iain Henderson on to replace him.
Ronan Kelleher has stayed on for Rob Herring since the Atonio high tackle on the Ulster hooker, too.
46′ – Ireland 22-16 France: Ramos' attempt drops short, the first blemish on his record today. A let-off for Ireland. Still six points in it.
48′ – Ireland 22-16 France: A breathless French attack down the left — in which about 12 players can't take down Ethan Dumortier — takes the visitors to the line.
Unbelievable turnover on the ground by Stuart McCloskey. A try-saver.
49′ – Ireland 22-16 France: Sexton is withdrawn for Ross Byrne. A huge 31 minutes for the 27-year-old. Sexton seems to be struggling although with what, I'm not sure. He's been in the wars, for certain.
France's tails are up here. They're coming at Ireland in waves.
52′ – Ireland 22-16 France: The Irish scrum has held up really well so far.
France beginning to grow, though, and it doesn't feel nice from an Irish perspective.
57′ – Ireland 22-16 France: It's kick-tennis, but France are in the ascendancy a little bit. Or at least they were until James Lowe found a lovely touch down the left-hand side.
Craig Casey is on for Conor Murray, while Jack Conan replaces Peter O'Mahony.
57′ – Ireland 22-16 France: Hugo Keenan takes the roof off the place with a brilliant 50-22.
59′ – Ireland 25-16 France:Ireland knock on the door again but France's goal-line defence is excellent. The hosts win a penalty, though, and Byrne — who nearly got over himself — makes this a two-score game with 21 minutes to go.
62′ – Ireland 25-19 France: After a sustained spell of pressure in the Irish half, Thomas Ramos drops a goal to take us back to within a score. He's been excellent. Aaand he's just been replaced by Mathieu Jalibert.
63′ – Ireland 25-19 France:Brilliant, relieving box-kick by Casey and Ireland steal the lineout in French territory!
Kelleher has a go but is held up, and it's a goal-line drop-out for France. Ireland have missed too many of those chances today.
66′ – Ireland 25-19 France: France win a turnover on the ground. The French journalists around me are getting lively…
68′ – Ireland 25-19 France: Huge carries by Doris and Van der Flier as Ireland begin to motor again. A chip through by Byrne results in a French goal-line drop-out, and Ireland come again near the French 22′.
70′ – Ireland 25-19 France: Brilliant kick by Byrne who finds touch on the French 5′. Ireland beginning to move France around a bit as legs tire. This has been a titanic game.
The French get their lineout spot-on and Dupont clears his lines.
Try for Ireland!
72′ – Ireland 32-19 France: OHHHHH WHAT A TRRRRYYYYYYYYYYYYYY! GARRY RINGROSE!!!!
After about 100 Irish phases, the outside centre finds himself on the left wing and he bounces a couple of French defenders to get in for the score! Byrne nails his conversion from the touchline and Ireland lead by 13!
77′ – Ireland 32-19 France:French fans are heading for the exits. You can nearly stick a fork in this one. What a performance by Ireland. What a test match. And what a win this is going to be.
Full-time: Ireland 32-19 France
Ireland's Grand Slam dream is still alive after one of the great days at Lansdowne Road.
I'm hopping off to join Murray Kinsella on a reaction podcast for The42 members, so keep an ear out for that shortly.
Thanks for joining us for live updates. Hope the rest of your weekend is as exciting as this game was!