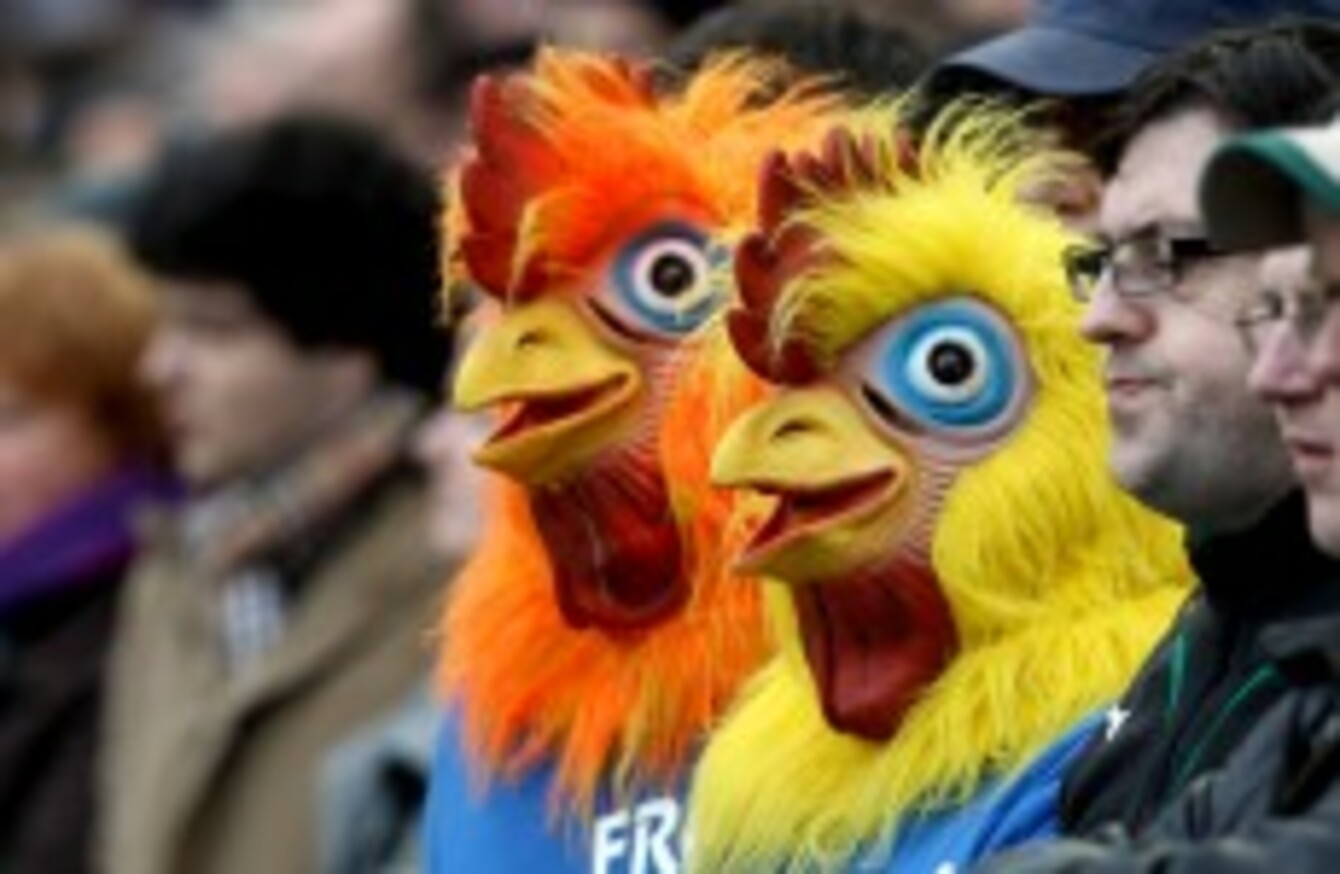 6.04pm Okay, that's all she wrote. The feeling that an error-prone Ireland left it after them today will nag for a while yet. It's a rest week in the Six Nations championship next weekend but we'll be back with two liveblogs in midweek for the Champions League fixtures.
Here's the Twitter reaction to the game; thanks for all your emails and comments on Twitter. Be careful out there.
5.38pm The Guardian have filed their match report already.
"And then there were two. The second round of the Six Nations finished in Dublin with only France and England left to dream of a grand slam after a pulsating 80 minutes at the Aviva Stadium in which the French just squeeze past Ireland."
5.29pm What an afternoon. It's almost time to go lie in a darkened room for a bit. In the meantime here's Ireland v France: in pictures.

5.08pm Both Declan Kidney and Brian O'Driscoll are pretty frank in their thoughts with Tracey Piggott. BOD says:
"We are disappointed. We gave ourselves a chance to win the game and we did not take it. We are going in the right direction but we are hurting ourselves in certain situations with individual errors and careless turnovers."
Kidney admits he could've freshened things up a bit sooner but the players on the pitch were going well.
4.53pm Keith Wood is gutted on the BBC. "I'm wholly disappointed, Ireland tried an awful lot and were positive but there were too many unforced errors, too many knock-ons. Ireland played pretty well but there were no stand-out players, and that's a problem. France were arrogant today."

4.46pm The scrum collapses. France are awarded a scrum and the ball is belted over the sideline. Drama.
Boos ring out as the Irish fans are left deflated by the narrow defeat.
4.45pm The French are singing loudest in D4. Time is up and it's a French scrum.

4.42pm Ireland turn the ball over around their own 22 and really go for it. Keaith Earls kicks it on and almost gets in but the French recover. That's probably the last throw of the dice.

4.35pm The injured Tommy Bowe seems to be enjoying the game at home. He just tweeted:
4.32pm Forgot to note that Reddan is on for O'Leary. Ten minutes left on the clock.

4.28pm TRY Ireland 22 France 25 Phew! After a sustained period of pressure from the home side – 25 phases! – Heaslip gets in, in the corner.
We go to the TMO but, like earlier, it's awarded. 12 minutes left on the clock. ROG converts off the post. Wow.
4.22pm Ireland 15 France 25 This is ominous. Yachvili makes it a  10-point game with another penalty. Ronan O'Gara to replace Sexton.
He pulled it out of the bag for Declan Kidney in Rome last week but this is a 'different ask' against a quality French side according to Ralph Keyes.
4.19pm Ireland – and the crowd – seem to get a much-needed lift when Yachvili misses a penalty. Tom Court had given it away. The next score is crucial, if I might trot out a cliche.
4.14pm TRY Ireland 15 France 22 The French get in behind for a try and Yachvili converts. Obviously.
Sebastien Chabal and Dimitri Yachvili are on, Julien Bonnaire and Morgan Parra off. Chabal goes to number eight, Harinordoquy moves to the open-side.
4.05pm Ireland 15 France 15 Oh-oh. Ireland cough up another penalty to Parra as O'Connell fails to release after a tackle.
The out half drops it over the bar from well out. It's all tied up now.

4.02pm It's been a bit scrappy so far but Ireland have possession after Parra tried to feed the ball into the scrum one-handed off his No 8. Irish scrum is looking good though, right?

3.55pm Traille gets us underway again. Strap yourselves in…

HALF-TIME The lights are gone off in the BBC studio at the Aviva. Hookie may or may not be messing with their heads outside.

3.44pm Get the kettle on, it's half-time. What a great game so far. Send us your thoughts and/or money.

3.42pm Sexton absolutely shanks the conversion attempt. He doesn't look comfortable and we might see ROG after the break which is seconds away now.

3.41pm TRY! Ireland 15 France 12 'You may award the try' – music to Irish ears.

3.39pm Tomas O'Leary sees a gap and darts through. After some sustained pressure right at the base of the post, they go wide – but not wide enough. Eventually O'Leary himself drives for the line and he seems to get the ball on the chalk but we've gone to the TMO.

3.29pm Ireland 10 France 12 The crowd don't like it but Donncha O'Callaghan is penalised for not rolling away from a tackle. Parra puts France ahead for the first time. Big Mo is certainly with the French now.
Parra is kicking beautifully now after a shaky start.

3.24pm Ireland 10 France 9 Morgan Parra makes it a one-point game with another kick, this time swinging it in from the left. "The momentum has changed with France looking to their back moe and more," says Ralph Keyes.
3.20pm Ireland 10 France 6 France peg it back again with another kick. This could be a classic.
3.17pm Ireland 10 France 3 With 15 minutes on the clock, Sexton squeezes over a penalty to re-establish Ireland's seven-point cushion.
3.15pm Ireland 7 France 3 Parra gets the visitors on the scoreboard with a penalty that seems to curl inside the post at the final moment.
More importantly Kevin O'Leary sends us this pic of his newest cap answering Ireland's call during the anthems.
3.07pm TRY! Fergus McFadden pick and goes and gets over for a try. Well deserved.
Sexton converts well to make it 7-0 after six minutes.
What are they
really like?
Rare insights on sport's biggest names from the writers who know them best. Listen to Behind the Lines podcast.
Become a Member
3.04pm Really agreesive start from Ireland. Fitzgerald eventually goes over in the corner but it's called back for a forward pass. The place is rocking.
"This is the first truly bubbling atmosphere we've had," says Ryle Nugent.

3pm Boom! Rousing Irish anthem (by two) completed. Sexton kicks off, aiming for the touchline.  'Citing.

2.56pm La Marseillaise follows an impecably-observed minute's silence for the victims of the Cork plane crash. Emotional stuff.
2.48pm Hookie and Conor O'Shea go for France while New Zealand-native Brent Pope says Ireland will nick it. That possibly says a lot about the Irish psyche.  The teams are in the tunnel.
2.41pm Our own Niall Kelly wrote a piece during the week on the lessons the Irish should take from past encounters with Les Bleus. My favourite?
If speeches like the one which Paul O'Connell famously delivered before the French visit to Croke Park in 2007 aren't enough to spur a team on to victory, then what is?
2.26pm TV pictures show both sides arriving and then relaxing in the new changing rooms. Most players are under head-phones, Jamie Heaslip indicated as much earlier.
2.30pm The BBC kick off their coverage with John Inverdale sitting on Drumcondra bridge in front of Croker. Wrong side, dude.

2.19pm Hookie says we need to start a row and forget about the 'thermo-nuclear' tactics that some are advocating. The lads don't disagree.
How is everyone feeling, by the way? Send any thoughts/comments/abuse to adrianrussell@thescore.ie, tweet us or Facebook.
Here's the teams:
Ireland: L Fitzgerald (Leinster); F McFadden (Leinster), B O'Driscoll (Leinster, capt), G D'Arcy (Leinster), K Earls (Munster); J Sexton (Leinster), T O'Leary (Munster); C Healy (Leinster), R Best (Ulster), M Ross (Leinster), D O'Callaghan (Munster), P O'Connell (Munster), S O'Brien (Leinster), D Wallace (Munster), J Heaslip (Leinster)
Replacements: S Cronin (Connacht), T Court (Ulster), L Cullen (Leinster), D Leamy (Munster), E Reddan (Leinster), R O'Gara (Munster), P Wallace (Ulster)
France: C Poitrenaud (Toulouse); Y Huget (Bayonne), A Rougerie (Clermont Auvergne), D Traille (Biarritz), M Medard (Toulouse); F Trinh-Duc (Montpellier), M Parra (Clermont Auvergne); T Domingo (Clermont Auvergne), W Servat (Toulouse), N Mas (Perpignan), J Pierre (Clermont Auvergne), L Nallet (Racing Metro), T Dusautoir (Toulouse), J Bonnaire (Clermont Auvergne), I Harinordoquy (Biarritz)
Replacements: G Guirado (Perpignan), S Marconnet (Biarritz), J Thion (Biarritz), S Chabal (Racing Metro), D Yachvili (Biarritz), Y Jauzion (Toulouse), V Clerc (Toulouse)
Referee: Dave Pearson (Eng)
2.17pm Christ, did anybody get a picture of McGurk's train-driver hat? Choo-choo!

Pre-match ritual: Please, please… come in. I'll take your coat, take a seat, make yourself comfortable. Welcome to TheScore's first Six Nations liveblog.
We ran two similar efforts for the mid-week fooball and there was no casualities. So whether you're at the Aviva, on the mobile in the pub or at home with the laptop cracked open. stay with us for the next couple of hours.