Hello and welcome to tonight's liveblog. Of course, this is no ordinary game.
The nerves are shot here at 42 HQ, how are they elsewhere?
Can we do it? Of course we can…
The lads are in Lille scoping things out…
And they are going to be greeted by this ugly-looking yoke.
Team news to follow shortly, we're expecting plenty of changes from the Italians and a few from Martin O'Neill too.
It's currently 3-3 between Hungary and Portugal in Group F with five minutes to play. Austria and Iceland are also level.
Shane Costello is covering those games and the permutations for the next stages over here.
The Irish team has landed and it's full of surprises….reaction here isn't exactly positive.
No O'Shea, Clark, Whelan, Hoolahan and in come a new centre-back pairing of Duffy and Keogh, McClean gets his first start of the tournament, as does Murphy.
Seamie Coleman captains the side from right full-back.
Thoughts?
A late goal for Iceland, what a story. They win 2-1 against Austria to knock out the supposed 'dark horses' for many, including, ahem, yours truly.
Iceland, "a great bunch of lads", according to Johnny Giles.
So all that means:
England will play Iceland in the round of 16 on Monday

Albania are officially eliminated, Austria are out

Hungary will play the runner-up from Ireland's group
And Portugal qualify with three draws as one of the best third-placed teams
Italy team is in and the big news is that Bonucci IS included:
That's eight changes from Antonio Conte — only Roma midfielder Alessandro Florenzi and Juventus defenders Andrea Barzagli and Leonardo Bonucci are retained from their 1-0 win against Sweden.
Right, it's T minus one hour 'till kick-off — get the predictions in. And I'm not just talking about scorelines here.
Picture this, you're the casting director…
Who is going to channel their inner Ray Houghton and score the winner?
And who will put in a heroic performance reminiscent of Paul McGrath 22 years ago?
It's a tough day for this stalwart, the first time John O'Shea has been dropped by the national side in 13 years.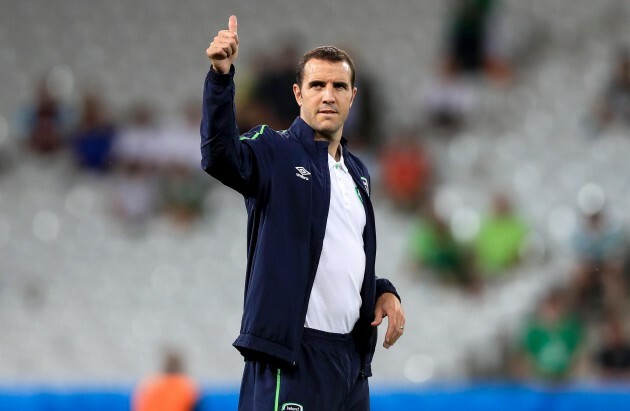 Donall Farmer / INPHO Donall Farmer / INPHO / INPHO
Very much looking forward to seeing how Dunphy reacts to McCarthy's name being on the team-sheet.
I feel a rant coming on.
It's pretty simple tonight, only a win will do.
Here is some pre-match reading for you to calm the nerves:
You would assume the Ireland team will line out like this:
Randolph
Coleman (c) Keogh Duffy Ward
McClean McCarthy Hendrick Brady
Murphy Long
In tonight's other Group E game — Sweden must get a win against Belgium , otherwise they will be eliminated.
Remember if Sweden win and Ireland win by two more goals than the Swedes, Ireland can still finish second. But in all likelihood, a win would only qualify us one of the best third-placed teams and set us up with a tie against the hosts in Lyon on Sunday.
Martin O'Neill says his squad are well prepared:
"I'm feeling pretty good. I'm feeling nervous as I've always done throughout my career both as a player and a manager and I think the players are feeling exactly the same, ready for the challenge.
"It's a great night for Shane Duffy, I think he's ready for it. I think he's done well in the matches he has played and this is a challenge for him tonight but I think he's up for it."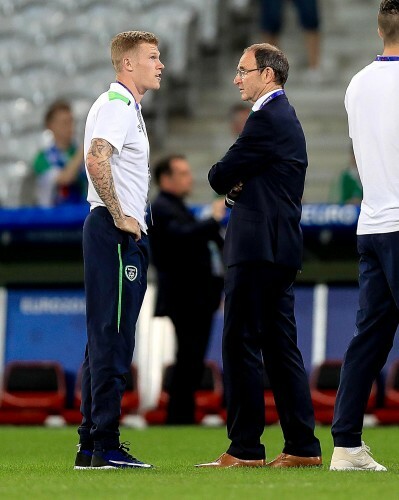 Donall Farmer / INPHO Donall Farmer / INPHO / INPHO
They may have made eight changes but Italy still look strong on paper; they have four players from Juventus, two from PSG and one each from AC Milan, Fiorentina, West Ham, Roma and Torino.
Salvatore Sirigu (Paris Saint Germain), Mattia De Sciglio (Milan), Angelo Ogbonna (West Ham), Leonardo Bonucci (Juventus), Andrea Barzagli (Juventus), Alessandro Florenzi (Roma), Stefano Sturaro (Juventus), Thiago Motta (Paris Saint Germain), Federico Bernardeschi (Fiorentina) Ciro Immobile (Torino), Simone Zaza (Juventus)
Just 10 minutes until kick-off….Jesus me nerves.
In the stadium tonight are The42′s Paul Fennessy and Ben Blake and Paul tells me things are building up nicely in Lille.
"The atmosphere is really building and the stadium is close to full capacity as kick-off approaches in the Stade Pierre-Mauroy in Lille.
"As I type, the Irish and Italians fans are in fine voice as the White Stripes' Seven Nation Army plays on the loudspeaker.

"There's been a lot of talk pre-match about where Shane Long will play — will it be up front alongside Daryl Murphy or wide as part of a three-man attack with the Ipswich star and James McClean?

"Either way, it's a bold, experimental line-up from Martin O'Neill."
Northern Ireland are there, Wales are there and England are there — let's go and join them to set up a last-16 clash with France.
COYBIG.
The teams are walking out on to the bumpy surface, led by Donegal's Seamus Coleman.
Time for Amhrán na bhFiann
It's been a long day in France by the looks of some of our fans, hopefully they'll have a long night of partying a famous victory ahead of them yet.
Very humid in Lille, it's hitting 70% at the moment.
The Italians belt out the anthem with gusto, as you'd expect.
We're under way in Lille. Best of luck boys.
The ball is bobbling as over the place already — this is going to be an issue.
Seamie Coleman with a mistimed challenge already, lucky to avoid a booking.
Shane Duffy channeling his inner ROG and kicking to the corners for Long to chase early on.
Positive start from Ireland, we look very fired up, as you'd hope.
We've lined up inititally in a 4-2 (Brady, McCarthy)-3 (McClean, Hendrick, Long)-1 (Murphy)
Italy don't look at the races early doors. We're dominating but look a little bit hesitant.
So that's Brady and McCarthy holding. Duffy has started on the right side of central defence.
Ireland putting in some tasty tackles. Hendrick and Brady with a couple of crunchers in the last passage of play but Hendrick is penalised for tackling from behind, even though he seemed to win the ball.
Jun 22nd 2016, 8:10 PM
9'0
CHANCE — Hendrick fires from range off his left, just wide of the post, only inches away.
Great stuff from Ireland.
Jun 22nd 2016, 8:12 PM
11'0
This was Hendrick's rasper — agoinisingly close: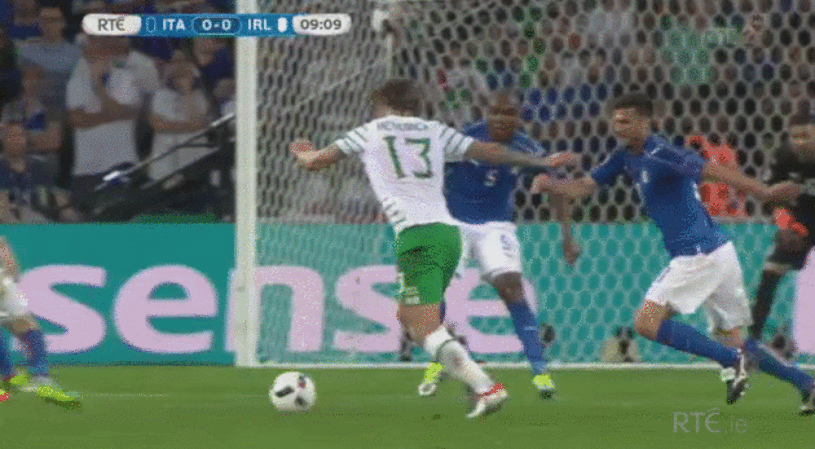 Jun 22nd 2016, 8:14 PM
13'0
Ireland have been the better side but are yet to create anything concrete, barring Hendrick's drive from distance.
Jun 22nd 2016, 8:15 PM
14'0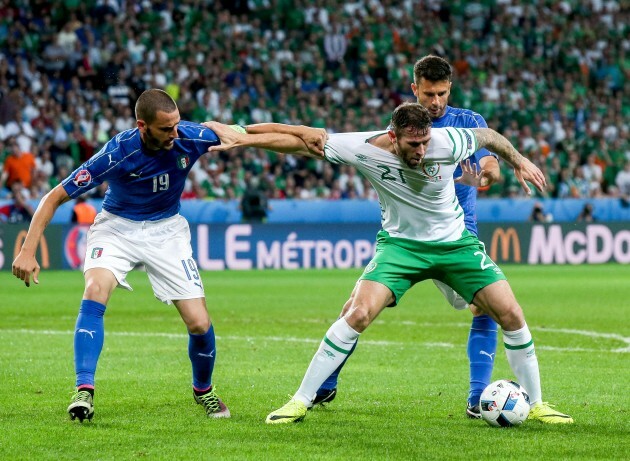 James Crombie / INPHO James Crombie / INPHO / INPHO
Jun 22nd 2016, 8:17 PM
16'0
Ward is down receiving treatment after a heavy challenge with Bernardeschi, looks like a dead leg.
Jun 22nd 2016, 8:18 PM
17'0
James McCarthy has made a good start to this game, breaking up play well.
Jun 22nd 2016, 8:21 PM
20'0
Murphy is really struggling to get into this, struggling to be any way effective as a target man.
Jun 22nd 2016, 8:21 PM
20'0
Corner for Ireland after good work from Ward.
Jun 22nd 2016, 8:22 PM
21'0
CHANCE — Murphy wins the header and forces a great save Sirigu, and wins another corner for Ireland.
Italy win a free from the second one after an Ireland handball and they clear the danger.
Jun 22nd 2016, 8:23 PM
23'0
Good football from Ireland, McCarthy and McClean both impressing.
Jun 22nd 2016, 8:25 PM
24'0
"It's not bad from the Irish so far," says Ronnie Whelan through gritted teeth.
Jun 22nd 2016, 8:26 PM
25'0
Stephen Ward wins a free kick on the left flank, Brady to swing it in.
Jun 22nd 2016, 8:28 PM
27'0
Sloppy back-pass from Duffy gives Italy a corner.
Jun 22nd 2016, 8:29 PM
27'0
You'd be nervous about too many back passes on this surface too. McCarthy wins the header and a free-kick for a high foot. Nowhere near as high as the foot on Shane Long against Belgium but how and ever.
Jun 22nd 2016, 8:29 PM
28'0
Jun 22nd 2016, 8:30 PM
29'0
McClean doing well down the left, earns another corner for Ireland.
BELIEVE………..
Jun 22nd 2016, 8:30 PM
29'0
Jun 22nd 2016, 8:30 PM
29'0
Chaos around the Italy goal, and Italy steer it out for another Irish corner.
Jun 22nd 2016, 8:32 PM
31'0
Brady swings it in after taking it short but it's a bit high for Duffy at the far post and he can only send it high and wide.
Jun 22nd 2016, 8:33 PM
31'0
Donall Farmer / INPHO Donall Farmer / INPHO / INPHO
Jun 22nd 2016, 8:34 PM
32'0
OH MY DAYS — Randolph pulls off a Cruyff turn in the box….me nerves Darren, don't be doing that.
Jun 22nd 2016, 8:34 PM
33'0
Possession stats: Ireland 61% Italy 39%
Remarkable.
Jun 22nd 2016, 8:35 PM
34'0
This is there for Ireland, Italy don't look up for this at all.
Jun 22nd 2016, 8:38 PM
37'0
I wish I was back home in Derry, says McClean. A mesmerising run from the winger earns Ireland another free out wide on the left.
Jun 22nd 2016, 8:39 PM
39'0
Too close to Sirigu and Duffy is penalised for a foul on the Italian goalkeeper.
Shane Long and Sirigu are both booked for a bit of afters.
Jun 22nd 2016, 8:41 PM
40'0
Robbie Brady has been excellent too.
Penalty shout for Ireland, Ogbonna had Murphy in a headlock but the referee isn't interested.
Jun 22nd 2016, 8:42 PM
42'0
An outrageous call by the ref, McCarthy wins the ball cleanly and concedes another free-kick. The mind boggles
Jun 22nd 2016, 8:43 PM
42'0
FIRST CHANCE for Italy, Immobile fires wide from just outside the box. Good hit and it had Randolph worried.
Jun 22nd 2016, 8:44 PM
43'0
Roy Keane is looking VERY angry, even by his standards.
Jun 22nd 2016, 8:45 PM
43'0
PENALTY SHOUT for Ireland, Bernardsechi bundles McClean over in the box but nothing from the ref. Looks a penalty to me, honest.
Jun 22nd 2016, 8:46 PM
44'0
One minute of added time to be played in the first half.
Jun 22nd 2016, 8:59 PM
46'5
Apologies, we were having a few technical difficulties.
Still, Ireland 0 Italy 0
And we're under way in the second half.
Jun 22nd 2016, 9:03 PM
47'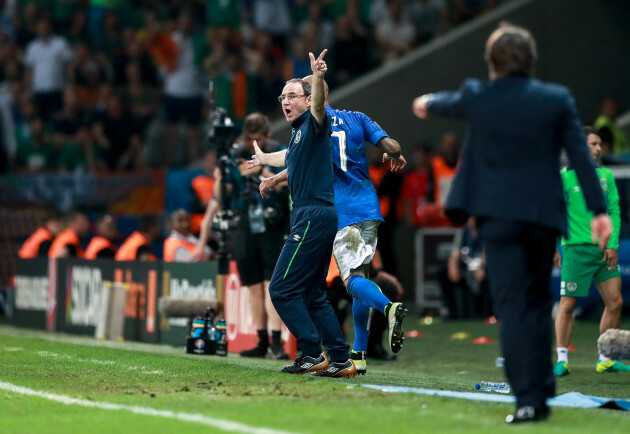 James Crombie / INPHO James Crombie / INPHO / INPHO
Jun 22nd 2016, 9:05 PM
45'1
No changes to either side.
Jun 22nd 2016, 9:07 PM
50'0
Still Belgium 0 Sweden 0 too.
Jun 22nd 2016, 9:10 PM
52'0
CHANCE for Italy — Zaza fires connects well with a volley but it goes just over Randolph's bar. Italy have started this half a bit better.
But McClean does brilliantly to win a free-kick at the other end in a dangerous area.
Jun 22nd 2016, 9:11 PM
53'0
But Hendrick overcooks his cross and nothing comes of it, that's a number of times now that we've overhit crosses.
Jun 22nd 2016, 9:12 PM
54'0
Nice football from Ireland, McClean and Brady again leading the way.
Jun 22nd 2016, 9:14 PM
57'0
Good passage of play for Ireland, Murphy fires across goal and Sirgiu parries it out towards Coleman whose shot is well blocked.
Time for Weso to get warm???
Jun 22nd 2016, 9:21 PM
60'0
Some very sloppy touches from Ireland, we're panicking in the final third. Duffy fires a tame effort well wide from distance.
Jun 22nd 2016, 9:22 PM
64'0
Darmian has been introduced for Bernardeschi.
Jun 22nd 2016, 9:22 PM
64'0
We know how you feel Martin.
James Crombie / INPHO James Crombie / INPHO / INPHO
Jun 22nd 2016, 9:23 PM
66'0
Twenty-five minutes left, can we do it?
Time for a change? Who would you bring on?
Jun 22nd 2016, 9:24 PM
67'0
"Heavy breathing going on," says Ronnie
Jun 22nd 2016, 9:25 PM
68'0
Well played Richard Keogh, wins another excellent ball in defence and a free-kick for his troubles.
Jun 22nd 2016, 9:26 PM
69'0
Aiden McGeady is coming on for Ireland…is he the man to make the difference?
Jun 22nd 2016, 9:26 PM
69'0
Jun 22nd 2016, 9:26 PM
70'0
Jun 22nd 2016, 9:27 PM
70'0
Jun 22nd 2016, 9:28 PM
71'0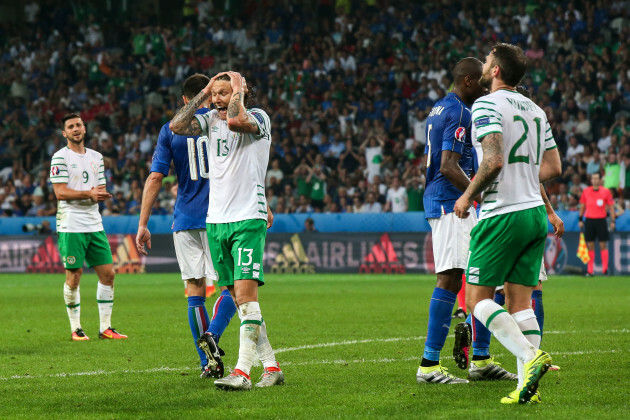 James Crombie / INPHO James Crombie / INPHO / INPHO
Jun 22nd 2016, 9:29 PM
72'0
Good work from Ward and McClean down the left. The Derryman whips in a dangerous cross but Long can't get on the end of it.
Jun 22nd 2016, 9:31 PM
75'0
Some nice touches from McGeady, one of the few who seems well able to control the ball comfortably on this surface. He creates a bit of space for himself but fires well over with his left from just outside the area.
Insigne on for Immobile, 15 to go.
Jun 22nd 2016, 9:33 PM
77'0
Fields of Athenry being belted around the stadium…
Weso is coming on… I have a feeling he is the man to do this.
He's on for McCarthy, who has been excellent. Ireland going all out now.
Jun 22nd 2016, 9:34 PM
77'0
OFF THE POST by Italy. Great run by Insigne and a shot from the edge of the area hit Randolph's post with the Ireland keeper well beaten.
We won't die wondering.
Jun 22nd 2016, 9:36 PM
78'0
Still 0-0 between Belgium and Sweden too.
Jun 22nd 2016, 9:38 PM
80'0
Italy are having their best spell of possession and it results in a great ball into the box but Duffy does well to head away the danger for a corner.
El Shaarawy is on for De Sciglio.
Jun 22nd 2016, 9:38 PM
81'0
Jun 22nd 2016, 9:39 PM
82'0
Jun 22nd 2016, 9:41 PM
84'0
OH MY DAYS…. that was the chance, Bonucci makes a mess of things and Weso has a one on one but takes too much time and just dribbles it at the keeper.
Jun 22nd 2016, 9:41 PM
83'0
Ireland 1 Italy 0 (Brady '84)
Jun 22nd 2016, 9:42 PM
85'0
OH WESO I FORGIVE YOU!!!!!!!!!!!!!!
What a ball in to the box, Brady gets to it first thanks to some woeful goalkeeping. Oh yes please
Jun 22nd 2016, 9:44 PM
86'0
Belgium have scored too, Nainggolan on target for them.
Jun 22nd 2016, 9:47 PM
88'0
Three minutes of injury time…
The42 is on Snapchat! Tap the button below on your phone to add!