IRELAND PULLED OFF a hugely dominant victory over the Welsh to make it two wins from two in the Six Nations so far.

Here's how we rated Joe Schmidt's men in their magnificent 26-3 success.
Rob Kearney – 8
Competed in the air eagerly but couldn't quite win the ball cleanly until a magnificent take against Halfpenny in the 31st minute. Fielded whatever ball came his way effectively and got in a clever block on the Welsh fullback after 57 minutes. Didn't feature too often in attack, but his chat from the back was persistent.
Andrew Trimble – 9

Excellent one-on-one tackle on North early and carried re-starts back willingly, as well as dealing with Wales' aerial game well. Searing break in the 27th minute put Wales under pressure and the only blot on his first half was a poor pass to Kearney in the 38th minute. Less to do in the second half before being subbed off on 60 minutes, but showed that he is an international-class wing.
Brian O'Driscoll – 8
Had one clever grubber down the left on 11 minutes, but threw an intercept to North immediately after. Carried directly on first phase similarly to last weekend, straight up the middle, and then classier touches were added in the second half. Slipped off a tackle on Roberts in the 47th minute as well as conceding a breakdown penalty in the 51st. Wales attempted to expose him defensively in the second half, but the legendary centre was up to the task.
Gordon D'Arcy – 7
Got some poor delivery early on but managed to recycle possession well. Shepherded Faletau down the right-hand touchline intelligently after 30 minutes. Had one smart inside pass to Kearney in the 43rd minute and then shored up Ireland's defence efficiently in the second half. Would have preferred more ball in his hands, but his communication was key.
Dave Kearney – 8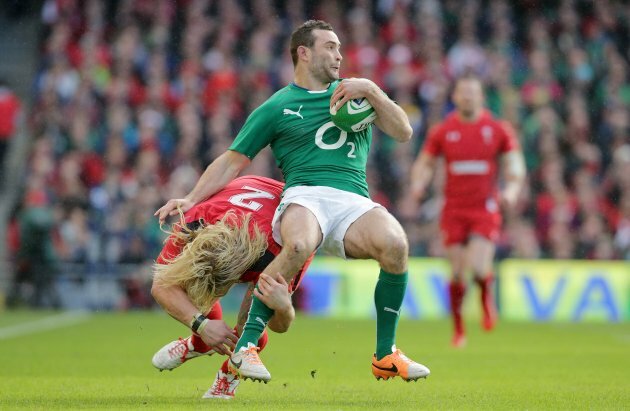 ©INPHO/Morgan Treacy
Made an energetic half-break in the fifth minute then did the same after 35 to kick start another Ireland attack. Has added aggression to his carrying and used his upper body more to fend off contact. Lost out to Cuthbert in the air in the 47th minute but otherwise chased willingly and tirelessly. Belongs in this arena.
Jonathan Sexton – 8
After a shaky start, his kicking from hand became a central factor in the game as the Racing Métro man efficiently carried out Ireland's game plan to put the ball behind Wales. His form off the tee was strong too, as he slotted five from six efforts. Defensively aggressive, hitting high around the ball and preventing any offloads in midfield.
Conor Murray – 8
Looked for sniping chances in the opening quarter, keeping Wales honest around fringes. Box kicking was largely as good as it has ever been bar one straight into Cuthbert's hands on a low trajectory and another into touch on 61. Forward pass in the 50th minute but overall his delivery was very crisp and snappy. Swept in behind the defence with composure.
Cian Healy – 8

Once again carried powerfully as well as chopping ball carriers at the ankle close in to rucks, slipping off just the one in the 65th minute. Didn't manage any of the spectacular runs that are becoming characteristic, but his efforts in keeping Ireland's maul tight at the front were excellent. Managed Jones superbly at the scrum.
Rory Best – 9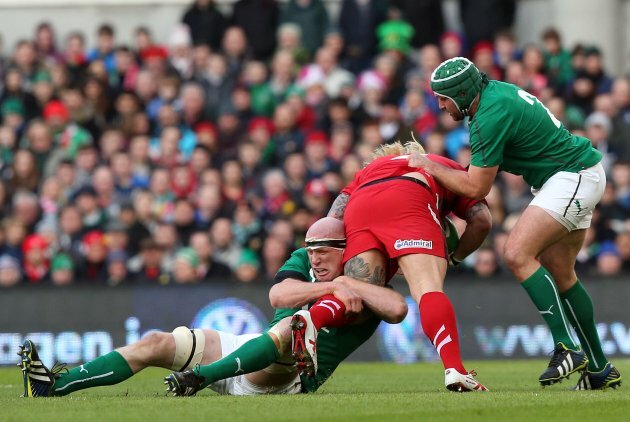 ©INPHO/Colm O'Neill
Busy at the breakdown, acting almost as a back row would in attack. Competed defensively too, while his throwing at the line-out was superb in the first half particularly. Worked very hard in phase play defence and even featured in wide channels, making tackles and slowing ball down. Clearly the best hooker in this game.
Mike Ross – 7
Collapsed the first scrum to concede a penalty, but then got his revenge on Jenkins in the 26th minute. One vital clear-out on Lydiate 25 metres from Ireland's line in 28th minutes, and his scrummaging improved as the half wore on. Also featured in the efficient Ireland maul and line-out.
Devin Toner – 9
Made lots of tackles in around fringes, even if some were understandably upright. His line-out skills are a genuine weapon for Ireland and it was the Leinster man who caught for the maul try. Stepped up his physicality in open play in the second half although missed one tackle in midfield in the 77th minute. Possibly the best line-out forward in the Six Nations.
Paul O'Connell – 9
Opened with a superb hit on Lydiate, allowing O'Mahony to steal. Robbed a Welsh line-out in the 15th minute and offered himself as a carrier repeatedly. His line-out contributions were immaculate while his effort to get to the breakdowns were prominent. Massive work-rate before being replaced by Tuohy. The 34-year-old hungrily made up for missing out last weekend.
Peter O'Mahony – 9
©INPHO/Colm O'Neill
Picked up where he left off against Scotland with an early turnover penalty and was a menace to the Welsh at the breakdown throughout. Could easily have worn the number seven on his back for the manner in which he played. Opened the second half with an intelligent kick and then his 48th minute steal was huge as Wales threatened. Conceded a penalty in the line-out on the 64th minute as his sheer aggression continued, but was the best player on the pitch for the second week in a row.
Chris Henry – 8
Worked well with O'Mahony in a defensive sense, making the tackles and close-in carries that are crucial to back row balance. Was the central part of the sublime maul try in the first half and then tackled Roberts well in midfield twice immediately after the break. Dominated Faletau in a 69th minute tackle at the back of the scrum too.
Jamie Heaslip – 8
His carrying appears stronger than in previous seasons and did his usual spoiling at the ruck area, even if O'Mahony overshadowed him in that sense. Played an important lifting role at the line-out and added lots of other little, thankless contributions. His tackle as Ireland defended their tryline in the 67th minute was vital.
Substitutes:
Sean Cronin – 7
Only on the pitch briefly but hit his man at the line-out and piled into the maul with vigour.
Jack McGrath – 7
Played a big role in the powerful maul in the 71st minute and made typically busy contributions in attack.
Martin Moore – 7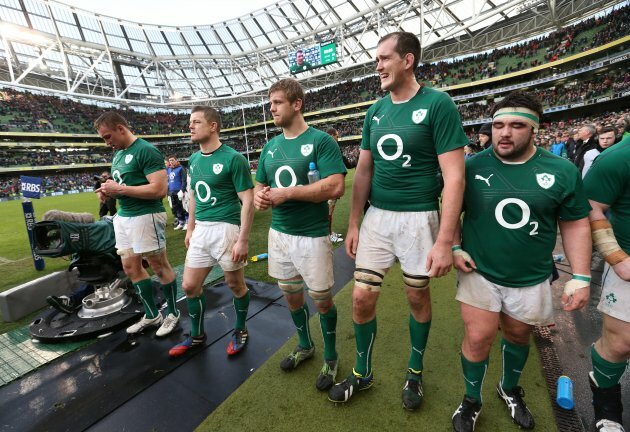 ©INPHO/Billy Stickland
Was pinged for a scrum penalty with his first involvement in the game, allowing Priestland to finally get Wales off the mark, but held up solidly the next time. One strong carry in the 76th minute and mauled well.
Dan Tuohy – didn't feature enough to rate

Came on for O'Connell in the second half but was forced off very soon afterwards.
Tommy O'Donnell – 7

Bounded on to add work rate late on, and added his grunt to some magnificent mauls in the last quarter.
Isaac Boss – 6
Was part of the last-minute breakout to rub the dominant victory in.
Paddy Jackson – 6
Wasn't hugely involved, but took his try with glee and converted it too.
Fergus McFadden – 6
Chased Murray and Sexton's kicks with his usual energy and determination, coming close to winning a turnover with a choke tackle in the 69th minute.
We're sure you disagree with some of the ratings, so let us know what scores you would have given the players and why…