WHATEVER WAS SAID at half time on Sunday afternoon at the Aviva Stadium, it worked.
From six first-half scrums, Ireland conceded three penalties, were potentially lucky not to have conceded another in the build up to Conor Murray's try, and were walked through as Wales scored a try from another.
Nathan White struggled big time in the opening 40. He just couldn't figure Rob Evans out. Sometimes he was collapsing, and if he got his footwork in order, he'd struggle with his bind next time.
Locking the scrum down in the second half was crucial to Ireland avoiding defeat against Wales. Their try was a direct result of scrum dominance, while Dan Biggar missed a penalty from an earlier scrum which could have swung the momentum in favour of Wales much sooner.
In the six second half scrums, Ireland conceded just one free kick for Jack McGrath driving early.
It was the first 40 minutes we're going to focus on, the first scrum of the day setting the tone for what was going to be a messy first half. Both White and Evans went down, and it was just as much one's fault as it was another.
We can see below how they both set up; straight backs, 90 degree angles at the hips and around 120 degrees at the knees. Nothing wrong there.
However, with both players trying to set down a marker, they both push too hard and slowly, the scrum begins to lower on their side.
As it lowers, neither adjusts their footwork, meaning that both begin to point downwards towards the ground. Eventually it collapses on their side, but with both players contributing to the collapse, and the ball safely at the back of the Irish scrum, Jerome Garces lets the game play on.
Again, the second scrum was messy, but it was clear who infringed this time.
Once again, we'll watch how they set up, with both sets of front rows lining up straight and square to one another.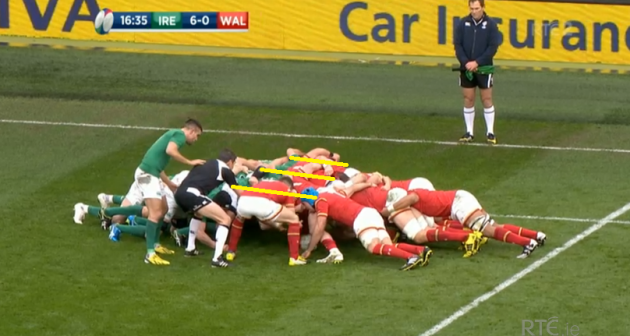 But this time, just as the ball is fed, White attempts to angle in across Evans and disrupt Welsh hooker Scott Baldwin. We can see below how he's pointing upwards, with his legs locked out, and appears to have shortened his bind, attempting to pull Evans in.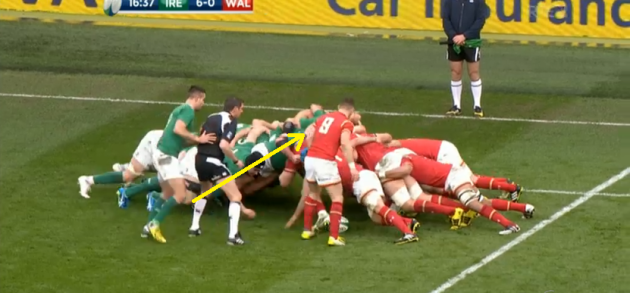 It doesn't work. Evans actually does very well not to take the bait and follow White, instead keeping his head on the outside of the scrum rather than turning inside and making things messier.
Evans pushes out to the left, trying to move the scrum forward, rather than sideways, and it causes White to fold inside into the scrum. Evans is now pushing unchallenged, with the Irish prop trapped inside.
After the game, Joe Schmidt said that Ireland struggled to deal with Wales "shearing in off the right", which would involve Samson Lee driving in on Rory Best at an angle.
However, when the scrum wheels around somewhat, we can just about catch a glimpse of Lee's position.
From what we can see here, Lee appears to be more occupied with Jack McGrath than Best, and while the scrum has turned, he does appear to be pretty square in relation to his opponent.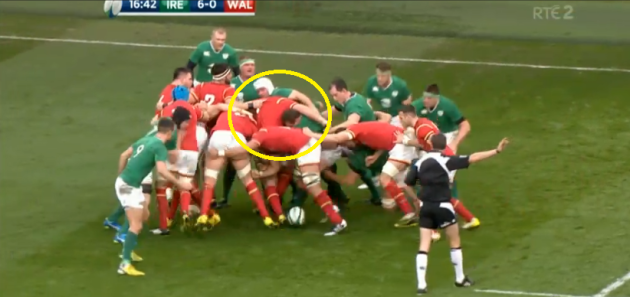 After CJ Stander was held up over the line, Ireland had to survive a scrum for Conor Murray to score the game's first try, but on another day, they could easily have been penalised.
Both Nathan White and Jack McGrath could have been pinged by Jerome Garces, but the French referee is often inclined to ignore scrum offences if the ball gets in and out quickly.
First, we'll look at White.
After attacking Rob Evans too hard in the previous one, White takes a more cautious approach with Ireland close to the try line.
As we can see below, he locks out his legs straight, hoping to hold his position long enough for Ireland to get the ball in and out.
In contrast, we can see how Evans has the regular scrummaging stance, with a 90 degree bend at the hips and around 120 at the knees.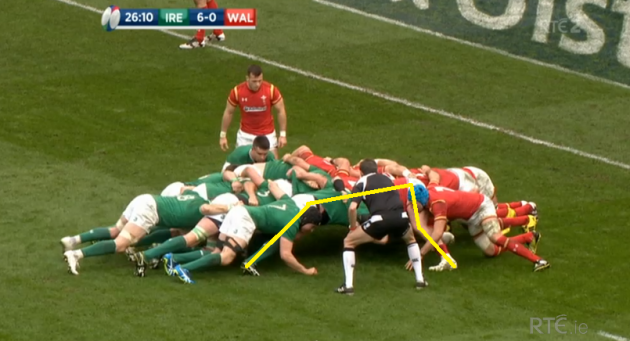 The problem with locking out your legs, is that you have very little wiggle room.
With your feet so far behind your body, it becomes difficult to remain stable if the scrum starts to move forward.
This is what happens with Ireland. They get a slight nudge forward, but with White's feet so far behind his body, he inevitably collapses under Evans.
It's also worth noting the angle of Jack McGrath here. While we can't see it clearly, most of the pressure is coming in off the left of the Irish scrum.
And this shot of McGrath's position indicates that he was angling across Samson Lee.
Despite starting out engaging with Lee's right shoulder on the outside of the scrum McGrath seems to be now positioned between Lee and hooker Scott Baldwin, having angled so far across that he's now almost operating as another tighthead.
When we watch the scrum through on the video below, you can get a clear picture of McGrath's positioning as he cuts across Lee at an angle.
RBS 6 Nations / YouTube
This was only the start of Ireland's woes however.
A series of three Welsh scrums close to the Irish line eventually yielded Taulupe Faletau's try.
In the first of the scrums, Nathan White's bind is called into question, as he yanks Rob Evans downwards once the Welshman gets the nudge.
As usual, we'll show how they line up before hand, for perspective. All looks in order, with the two players almost symmetrical to one another.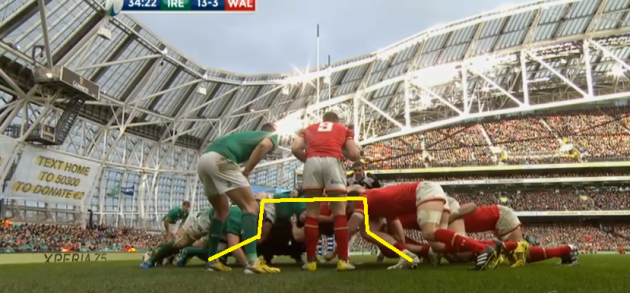 However, Evans begins to get a slight nudge on White, who then drops his right shoulder, trying to force Evans to collapse.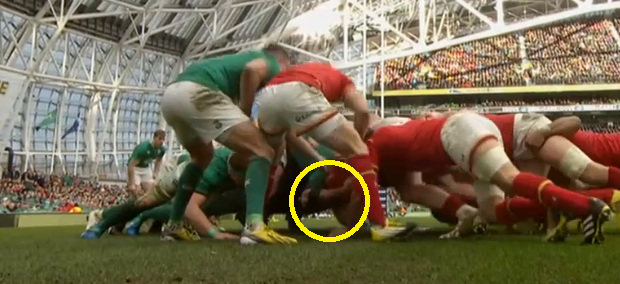 Evans does well to stay upright, however, and continues to move forward. With White's body now pointing into the ground, Evans is able to walk straight through him.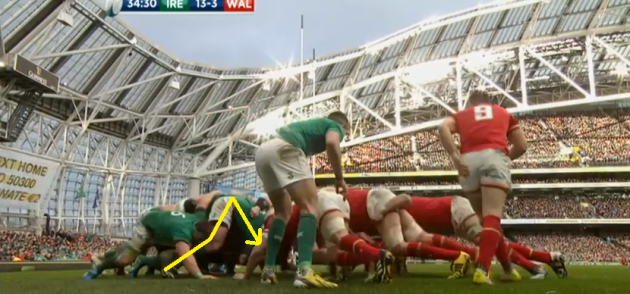 Crucially, Wales are given an advantage and play out a number of phases which come to nothing, but because of a further Irish infraction ten yards further infield, the penalty is marked there.
It leaves them with better attacking options; Plenty of open space on the right, but just enough room on the blind side, to make Ireland wary.
White is penalised a second time in a row on the resulting penalty, and smelling a penalty try, the Welsh decide to pack down again.
While Wales had been scrummaging pretty legally until this point, it would appear that this is the scrum that Schmidt was referring to when he mentioned how they were "shearing in off the right".
The scrum sets up just to the right of the 15m marking, five metres out from the goal line.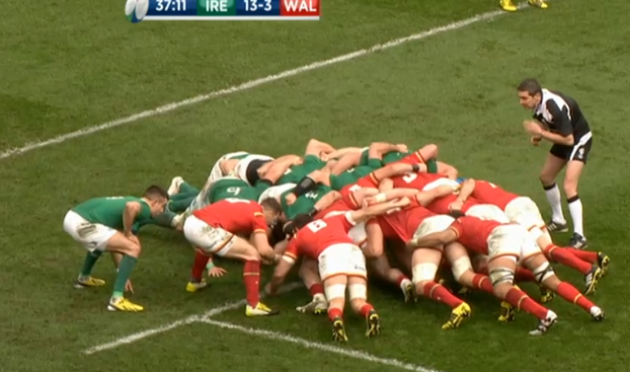 As soon as the ball is fed, the Welsh pack all drive diagonally to the left. As we can see below, it causes the scrum to shift considerably; most of the scrum has now crossed over the 15m marking, while it hasn't moved that far forward.
What it does do, it create an extra space to attack. With the Irish backrow all moving towards the touchline, they have to break from the scrum against the grain of the attack in order to stop Faletau when he takes the ball.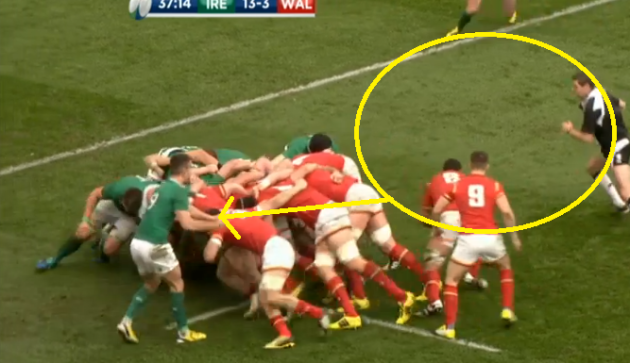 On top of this, the Welsh get a bit of pot luck.
With the scum moving across to the left, the ball actually pops out on the right hand side of the scrum.
Luckily for Wales though, Faletau's reactions are lightning quick.
By the time he's collecting the loose ball, there are several yards between he and Tommy O'Donnell, who's having enough problems trying to prevent a penalty try.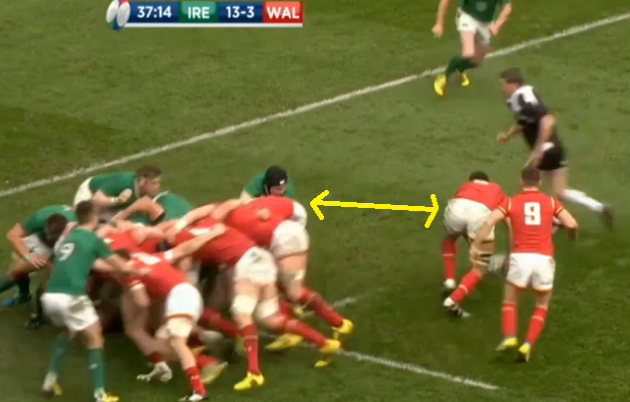 If we watch the play back in full, we can see just how far the scrum moves in off the right, and the amount of space it opens up.
RBS 6 Nations / YouTube
While that was the only real instance of Wales "shearing", it's something that Schmidt and scrum coach Greg Feek will have to be very wary of this Saturday in Paris.
At 5ft 10 inches, Rabah Slimani isn't the tallest tighthead in the world, and he uses that low centre of gravity to get in under the chest of the hooker and attack.
It was something he did on more than one occasion in France's win against Italy, and the Stade Francais tighthead will likely be back in the number 3 shirt once again this weekend in Paris.
In this early scrum, we can't get a clear view of it, but it does appear that Slimani drives up and to the left, causing Italian hooker Ornel Gega to pop up.
If we look at the initial setup, Gega's position is marked by the yellow line. Currently, he's straight and square to his opponent.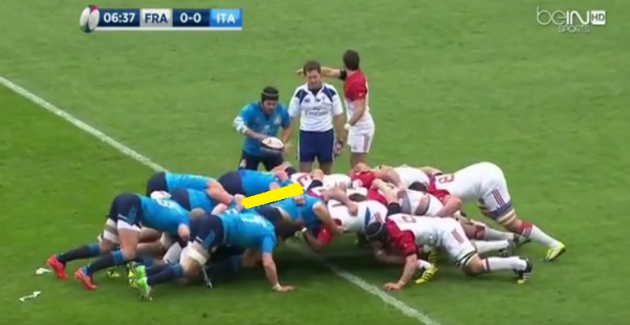 However once the ball is fed, we can see how Gega's starts to rise considerably. This would appear to be from so much diagonal pressure Slimani is putting, driving up and to the left.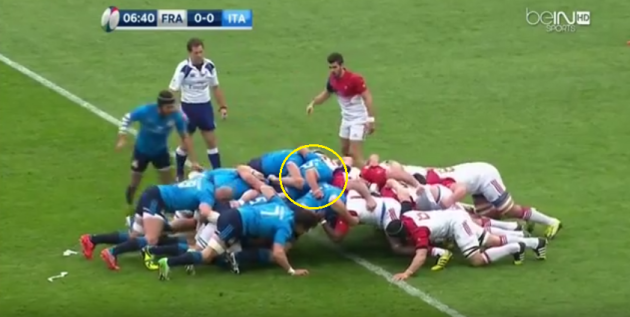 Eventually, we can see the tip of Slimani's head as he breaks through the bind of Gega to his loosehead Lovotti.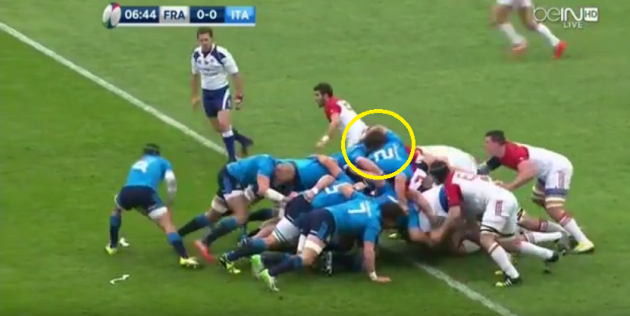 This second-half example gives a much greater example, with France eventually penalised for an illegal wheel.
With the TV match director allowing us an aerial shot of the scrum, we can see just how clear the angle is from Slimani, who is getting ready to target the chest of the hooker.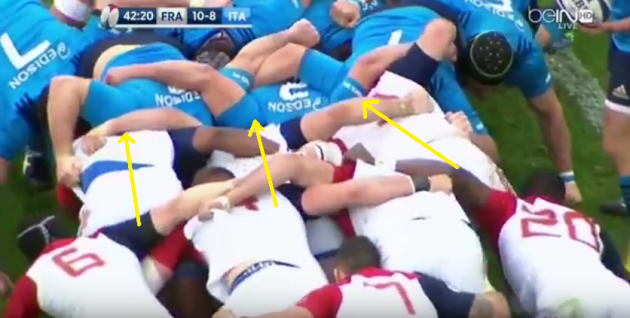 Again, he attacks the hooker as the ball is fed.
In turn, the second and back rows will attempt to whip the scrum around in a clockwise formation.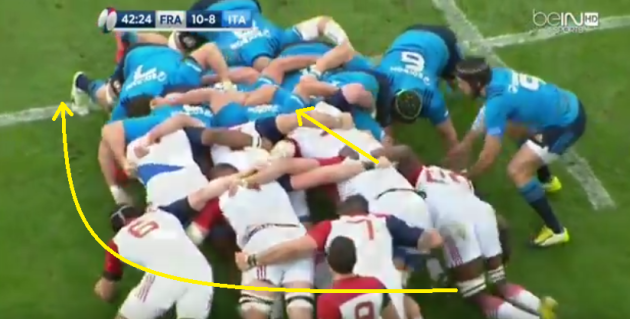 We can see just how exaggerated the whip wheel really is, with each of the second and back row players driving almost perpendicular to France's loosehead Eddy Ben Arous and hooker Guilhem Guirado.
JP Doyle spots it this time however, and Italy get the penalty.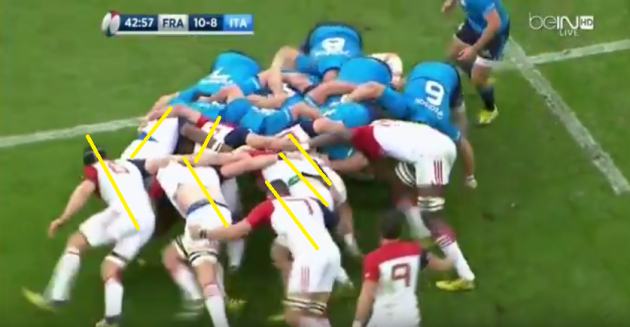 While Ireland found enough to stabilise the scrum in the second half last week, they'll have to work even harder to keep the set piece secure in Paris.
In last year's Six Nations, the Ireland scrum had arguably its toughest day in all of 2015, and the trio of Eddy Ben Arous, Guilhem Guirado and Rabah Slimani who faced them that evening will presumably be in place again this weekend.
While Nathan White seriously struggled in the opening half, he looked more stable after the break, while Tadhg Furlong looked assured in his 17-minute cameo.
James Cronin didn't see any game time last weekend, but with so many tricks up Slimani's sleeve, it's unlikely he'll warm the bench for a full 80 again in Paris.
The turnaround between games is only six days this week. Hopefully it's enough time to correct the mistakes of Sunday's opening 40.