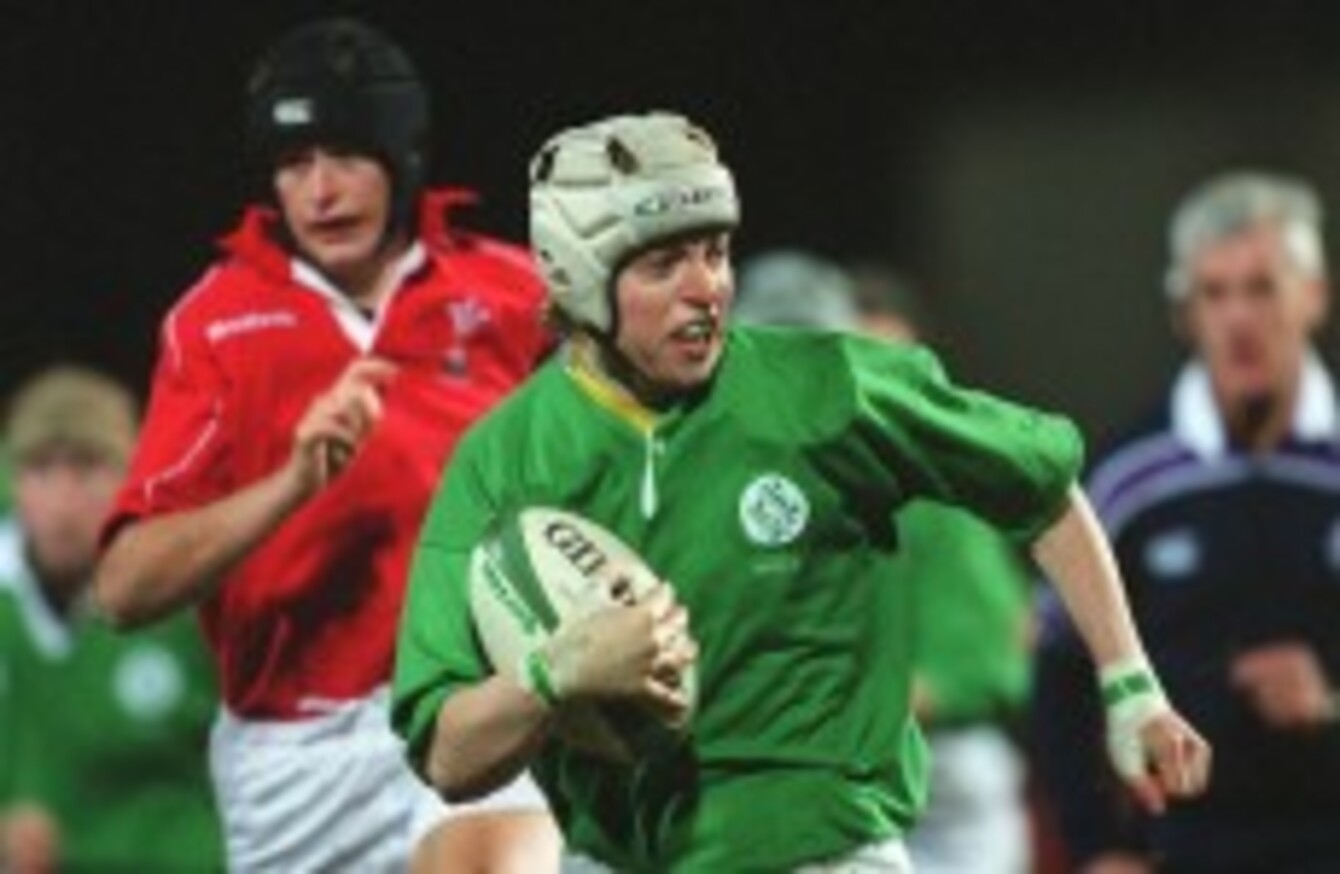 Steed in action against Wales in 2002.
Image: INPHO
Steed in action against Wales in 2002.
Image: INPHO
IF A WEEK is a long time in rugby, just imagine the kind of sea-change that can occur in a decade.
On March 6, 2004, Eddie O'Sullivan took his Ireland team to meet England in London.
Twickenham awaited, Twickenham expected their World Cup-winning heroes to mow down the green shirts.
But before most native supporters had even arrived to be disappointed, England's Women had already steamrolled their Irish equivalent.
From an Irish point of view, there's not much worth remembering about the 51- 10 defeat, but the cornerstone of that team delved into her memory banks this week anyway.
"It was in the bad old days," Fiona Steed agreed with TheScore.ie, "we got well and truly hammered.
"I remember it being really, really tough – my two back row colleagues Joy Neville and Rachel Boyd both managed to score a try; both tries were off rolling mauls and we were delighted with ourselves at that stage [just] to have scored two tries."
Those two profitable mauls were pretty much the only pleasant memory within the 80 minutes. This was an Irish women's rugby setup that was unrecognisable if compared to the facilities and methods that brought Grand Slam success 11 months ago. The white tide would not be turned.
Scars, proof
On the day of her 60th cap, Steed's direct opponent a young Maggie Alphonsi (who would go on to become "Maggie the Machine" by the time she had two World Cup runners-up medals around her neck).
"I just remember being up against her and having a right good tussle with her at the time. I felt I worked really, really hard during the game and had the scars to prove it."
As the teams took leave of the most famous field in English rugby in plenty of time for the day's top-billed event; Steed's husband-to-be, John Hayes, was making his way out.
Steed bore a black eye, 'practically closed', and she remembers the briefest of on-field exchanges before their paths diverged again:
Hayes:  'Well, howya?  That didn't go to well…'Steed:  '… best of luck, so.'
While speaking with Steed, we made the stupid assumption that she was at least able to take up a comfortable seat or perhaps even avail of the famous Twickenham hospitality while icing one eye with the other watching The Bull go to work.
"This is the thing. We weren't allowed watch the men's game, we didn't have tickets."
Be part
of the team
Access exclusive podcasts, interviews and analysis with a monthly or annual membership.
Become a Member
It's not an axe she has to grind with the union. For Steed, it's just a pity.
"We changed in the changing rooms and we were brought across the road to Rugby House and given our post-match dinner. We didn't get to see the game.
"We watched a bit of it on the tele there, but while the match was on, we were walking back through the Twickenham grounds to get to our bus to get to the airport.
"I remember myself, Rosie Foley and Sarah-Jane Belton ran up the back steps of the west stand in Twickenham and had a look in so that we could actually say that we had witnessed what was going on – the men were in full flight at that stage.
"As we were on the bus on the way to the airport, myself and Rosie were listening to the radio down the back of the bus and as Ireland scored and ended up winning… I remember that hugely."
She added: "All the girls there wanted to know what was happening and I remember the cheers on the bus when we heard that [Girvan Dempsey try] and then that they had won it – it certainly lifted our own mood as we went back to the airport to fly home."
A downtrodden mood lifted, perhaps, but not erased.
"My own disappointment in my own game; that would last a week, that lasts until you get out onto the pitch again to try and make amends. Then there was the frustration that – Rosie had Anthony playing, I had John playing – you couldn't actually see what turned out to be a historic occasion.
Systems
"That was just the logistics of the time and the way things were. All round, it was a good day for the men, but it wasn't a good day for us on either level."
Just before 18.20 this evening, Joanne Cantwell and Fiona Coghlan will step onto the Twickenham turf again, the only two survivors of the team that chased shadows a decade ago.
"It was a steep learning curve for everybody," says Steed, who retired from international duty later that month.
"We didn't have the systems in place that we have now, we didn't have the back-up and the training and the strength and conditioning and video analysis and all that that the girls have at the moment."
And they didn't have the word 'Champions' against their team name, and they didn't have the intangible power of self-belief that victory could just a well-executed plan away.
A full 518 weeks later, things have changed in Irish women's rugby, but they won't be paying much attention to the men's match this time around either – for the right reasons, they have their own Triple Crown to target.
England

: E Scarratt; K Merchant, A Reed, R Burford, K Wilson; K McLean, N Hunt; R Clark, E Croker, S Hemming; R Essex, J McGilchrist; H Gallagher, M Alphonsi, S Hunter.Replacements: V Fleetwood, L Keates, S Acheson, T Taylor, M Packer, L Mason, C Large, L Thompson.

Ireland

: N Briggs,; A Baxter, L Cantwell, J Murphy, A Miller; N Stapleton, L Mulddon; F Coghlan, G Bourke, A Egan; A Spence, ML Reilly; S Fleming, C Molloy, H O'Brien.

Replacements: SL Kennedy, F Hayes, KA Craddock, L Guest, A Davis, H Casey, G Davitt, J Shiels.