France Women 19
Ireland Women 15
IRELAND'S GRAND SLAM defence came to a dramatic but unsuccessful end this evening as France took over the mantle of champions from the 2013 winners.
The hosts held on for a victory which secures the Championship and the Grand Slam, the first of both accolades for the French Women since their back-to-back successes in 2004 and 2005.
They were made to work for every last second of the 80 minutes. Despite leading 19 – 3 with the second half in full swing, two tries from Ireland hooker Gillian Bourke claimed two ensured the reigning champs would not let go of their crown without a fight.
With three wins from their four games before today, Philip Doyle's side went into the finale in Pau knowing that only a win by over 19 points would be enough wrestle top spot from Les Bleus.
That target margin was made a touch more unlikely after just five minutes. The French physicality paid dividends with the pack making ground over the gainline inside the Ireland 22 to create an overlap.
Fullback Christelle Le Duff took on the last tackler and with her pass the overlap was duly converted by Marion Lievre, who cantered over from the right wing.
A missed Niamh Briggs penalty meant the early try would be the only score of the first half, but the pattern of French dominance continued; the visiting defence forced to work overtime to keep touch with the competition's form team.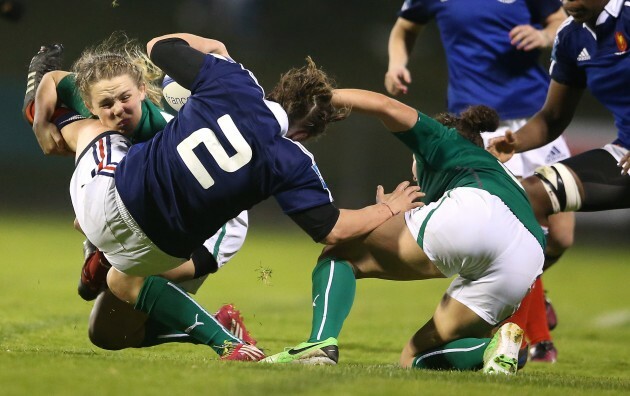 James Crombie / INPHO James Crombie / INPHO / INPHO
Just 5 – 0 down at the beginning of the second half, Fiona Coghlan will have had plenty of positives to inspire her team with. However, the second half began just as the first did, with another hammer blow. Elodie Portaries barrelled over the line and Sandrine Agricole converting to put Les Bleus 12 – 0 to the good.
Briggs would soon reply with a penalty to get Ireland on the board, but the game was opening up and centre Shannon Izar took full advantage of a slight gap to race under the posts.
19 – 3 and no way back? Nobody seemed to t the defending champions.
As the leaders began to summon the cavalry from the bench, scrum-half Larissa Muldoon was able to find consistent quick ball at the base of the ruck. And after strong carries Lynne Cantwell (in her final appearance) and Sophie Spence, Bourke forced her way over the line to get her side back in the game at 19 – 8 with over 20 minutes remaining.
Belief
That score, the first try France have conceded in this tournament, shook the hosts. Number 10 Nora Stapleton began to impose her will on the game, mixing up Ireland's game plan with  picking clever passes and probing kicks that turned the defensive line.
Ireland grew in confidence. And the glimmer of hope was turned to real belief when Bourke was in possession again after a powerful green maul sent the blue pack back over their own line again.
A 16-point deficit turned to four in no time at all, but the hosts managed to summon cool heads for the final stage and played the majority of the remaining time in Ireland territory, turning Alison Miller on her heels when the flying winger would have been craving just one more run in open field.
It was not to be, France held on to secure the Grand Slam, but they had to beat worthy champions to get there.
Scorers
France:

Tries: M Lievre, E Portaries, S Izar.Conversion: S Agricole (2)

Ireland: 

Tries: G Bourke (2).

Penalty:  N Briggs.

Conversion: N Briggs.
FRANCE WOMEN: Christelle Le Duff (USAP); Marion Lievre (Bobigny), Shannon Izar (Lille), Marjorie Mayans (Saint Orens), Camille Grassineau (Bordeaux); Sandrine Agricole (Rennes), Jennifer Troncy (Montpellier); Helene Ezanno (Lille), Gaelle Mignot (Montpellier) (capt), Elodie Portaries (Montpellier), Marine De Nadaï (Montpellier), Assa Koita (Bobigny), Koumiba Djossouvi (Montpellier), Coumba Diallo (Bobigny), Safi N'Diaye (Montpellier).
Replacements: Laetitia Salles (La Valette), Julie Duval (Ovalie Caennaise), Lise Arricastre (Lons), Sandra Rabier (Ovalie Caennaise), Laetitia Grand (Lons), Elodie Poublan (Montpellier), Jessy Tremouliere (Romagnat), Yanna Rivoalen (Lille).
IRELAND WOMEN: Niamh Briggs (UL Bohemians/Munster); Ashleigh Baxter (Belfast Harlequins/Ulster), Lynne Cantwell (Richmond/Exile), Jenny Murphy (Old Belvedere/Leinster), Alison Miller (Portlaoise/UCC/Connacht); Nora Stapleton (Old Belvedere/Leinster), Larissa Muldoon (Bristol/Exile); Fiona Coghlan (UL Bohemians/Leinster) (capt), Gillian Bourke (UL Bohemians/Munster), Ailis Egan (Old Belvedere/Leinster), Sophie Spence (Old Belvedere/Leinster), Marie Louise Reilly (Old Belvedere/Leinster), Siobhan Fleming (Tralee/Munster), Claire Molloy (Bristol/Connacht) 30, Heather O'Brien (Highfield/Munster).
Replacements: Stacey-Lea Kennedy (Cooke/Ulster), Fiona Hayes (UL Bohemians/Munster), Kerrie-Ann Craddock (Saracens/Exile), Paula Fitzpatrick (St. Mary's/Leinster), Amy Davis (Blackrock/Ulster), Hannah Casey (Saracens/Exile), Grace Davitt (Cooke/Ulster), Jackie Shiels (Richmond/Exile).
Referee: Leah Berard (USA)