IRELAND MEN'S SEVENS side will take on Georgia in tomorrow morning's Dubai 7s invitational tournament quarter-final.
Anthony Eddy's squad go into the knock-out stage with a record of a win, a loss and a bye following today's group stage.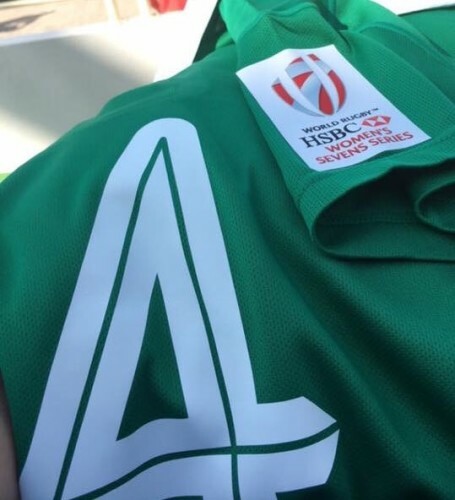 IRFU IRFU
The win came in their opening encouter against Belgium, where tries from Dan Goggin, Barry Daly and Aaron Cairns helped them to a 19 – 0 half-time lead.
With captain Tom Daly kicking the conversions, Ireland used the advantage to good effect in the second period, bringing their tally to 36 – 0 thanks to a second impressive break from midfield from Daly before Nick Timoney and Gearoid Lyons rounded off the win in style.
Throughout the short existence of this outfit, 'comfortable' hasn't been a word that is applicable to Ireland's meetings with travelling Sevens side Apache. The circuit specialists manages to pick holes in the inexperienced Irish defence three times to ring up a 19 – 0 victory.
The quarter-final pairing against Georgia was decided by a draw this evening. That fixture will kick off at 6am Irish time.
Meanwhile, Ireland Women's Sevens completed their first World Series Event today, but finished last of the 12 nations involved.
After opening with an impressive win over the USA in yesterday's pool stage, Ireland lost a dramatic rematch in today's 11th place play-off.
Louise Galvin's first minute try got Eddy's women off to the perfect start, but by the time Amee-Leigh Murphy-Crowe touched down Ireland's second, Dubai had witnessed three quick-fire converted tries from America.
Entering the second half 12 – 21 down, Alison Miller reduced the deficit with a clinical finish, cutting in off her wing from Lucy Mulhall's pass. Captain Mulhall added her second conversion to make the contest a tight one at 19 – 21.
Valuable experience
So tight, in fact, that Alev Keller opted to kick a penalty to edge her side five points clear and the decision paid off as Kristen Thomas soon completed her hat-trick to make it 19 – 31.
Mulhall touched down a late try, but it was to be a day of two defeats for Ireland after falling 29 – 7 to Brazil in the earlier Bowl semi-final.
"It's not the finish we would have hoped for," said Sevens director Eddy, "but the time here in Dubai has been a valuable experience for the girls.
There's lots of positives to take from the games. The only way for us to improve as a team is to pit ourselves against the best in the world and that's what being on the World Series is all about.
"We've learnt a lot from the past two days and we know what areas we need to work on when we get back training."
Elsewhere in Dubai, Australia's women took number one ranking after the opening week after they beat New Zealand in the quarter-final en route to wins over France and Russia in the semi-final and final.
New Zealand women rallied to lift the plate with subsequent wins over Fiji and a 24 – 19 final plate victory over Canada. Sonny Bill Williams was there to help his sister Niall celebrate fifth place.
SBW wasn't available to play, but his team-mates could have done with him on the field as they slipped to a shock defeat to USA in their pool. However, the Kiwis will lick their wounds tonight and are sure to come out firing in tomorrow morning's quarter-final against Samoa.
The USA, who won last season's series-ender in London, will take on South Africa in their last eight clash while England face Argentina and Australia attempt to stop Fiji.