IRELAND WOMEN HEAD coach Tom Tierney has labelled criticism of the IRFU's women's rugby programme "ridiculous" and stressed that the union is doing excellent work in the women's game.
The IRFU faced criticism last week after Director of Women's and Sevens rugby Anthony Eddy withdrew three players from Ireland's Six Nations clash against France in order to travel to Las Vegas to play in the Sevens World Series.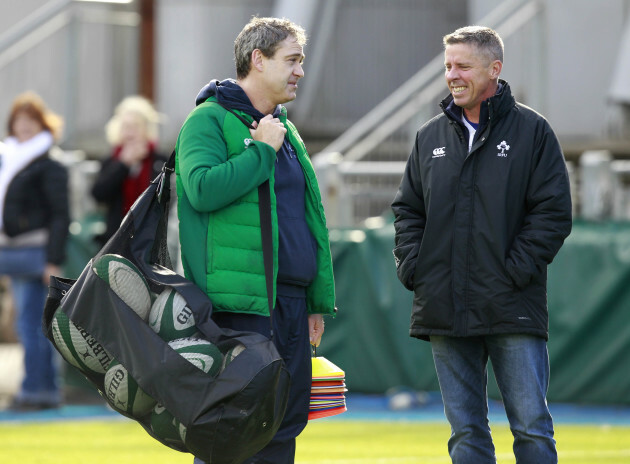 Colm O'Neill / INPHO Tierney with Anthony Eddy at Donnybrook yesterday. Colm O'Neill / INPHO / INPHO
Tierney's 15s team earned a 13-10 win in the absence of Sene Naoupu, Alison Miller and Hannah Tyrrell to keep their Grand Slam bid on track, but many will continue to question whether the 15-a-side team is being prioritised enough in a year when they host the Rugby World Cup.
"Some of the chat that's going on is just ridiculous and you can't argue with it," said Tierney, "you just leave it go. The key for me is we're more than happy, delighted, with how the plan is going.
"This talk outside, it doesn't bother me in the slightest. It affects the players and that's what you don't want. People that are trying to do that, saying whatever, it doesn't really matter."
A visibly disgruntled Tierney was abrupt with several of his answers following Ireland's success against the French, a win that was built on a superb lineout and maul performance.
He said he was made aware that Naoupu, Miller and Tyrrell would be missing against France when he sat down with Eddy, but said, "I can't remember" after being asked when that meeting took place.
"It's not them being taken away," stressed Tierney, "it's a squad and we've got two forms of the game. They're all key players."
As for whether the backline trio will be available to Ireland for the remaining two Six Nations fixtures against Wales and England, Tierney said: "Everyone is available for selection."
Tierney insisted that the departure of those three players – who were impressively replaced by Claire McLaughlin, Kim Flood and Eimear Considine – had not caused any disruption for Ireland.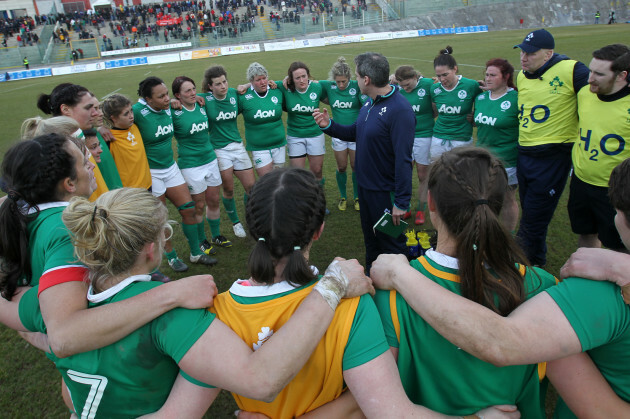 Giuseppe Fama / INPHO Tierney speaks to Ireland after their win in Italy in round two. Giuseppe Fama / INPHO / INPHO
"Absolutely not," said Tierney, "we're a women's programme. Obviously, today was absolutely outstanding. It's about winning matches but it's also about driving the women's game as well.
"We've a plan in place and we're going nicely with it, and thankfully the win today just proves that [we have] an extended squad and everyone was up to speed on everything. If anything happens anyone, we can slot players in and that's the key.
"One, being competitive in the Six Nations, which we are, and two, also looking after the build-up to the World Cup."
In that regard, Tierney has faced criticism for the number of personnel changes he has made to the Ireland team from game to game in the 2016 November Tests and the current Six Nations.
Many have argued that Ireland must begin to focus on building cohesion in their first-choice team for the home World Cup, which takes place in August, but Tierney says there is plenty of time.
"The thing is, what is it, February? The World Cup isn't until August, so that's our thinking – that we're giving everyone absolutely every opportunity to be as good as they can be.
"That's from a squad point of view, giving everyone the chance to be as good as they can be, but also to be in contention for a World Cup spot.
"A 28-player World Cup squad and we've got about 45 players in the extended squad. It's hugely important from our point of view that we don't disrespect any player and we give them every opportunity to show their wares. That's what we're trying to do.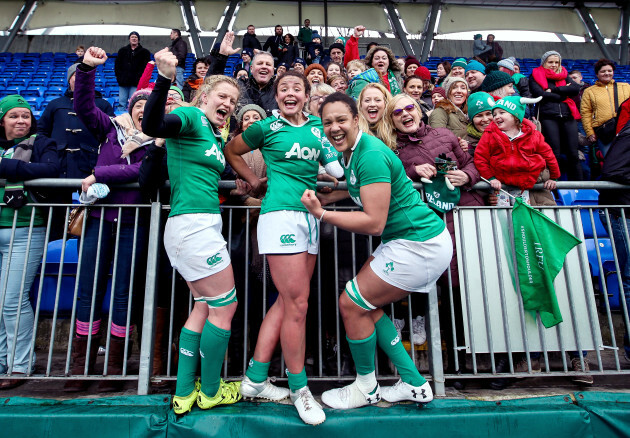 Tommy Dickson / INPHO Claire Molloy, Larissa Muldoon and Sophie Spence with fans after the game. Tommy Dickson / INPHO / INPHO
"We're very, very sure of ourselves, thankfully. When we're competitive here and on the Sevens World Series, it justifies everything because it's about driving the women's game."
Tierney confirmed that Ireland will have four warm-up fixtures before the World Cup, none of which will be Tests, but did not divulge who those games will be against.
A run of four games would clearly give Tierney and his assistant coaches time to build the combinations that will be important in pool clashes against Australia, France and Japan.
It will be interesting to note which of the currently inexperienced players in Ireland's squad push into important World Cup roles having been given the chance, with the likes of hooker Leah Lyons, Considine and others having shown great promise.
Asked for examples of how the broad focus of Ireland's team selection in recent times has benefited the depth of the squad, Tierney said, "Ah, there's too many, we'd be here all day."