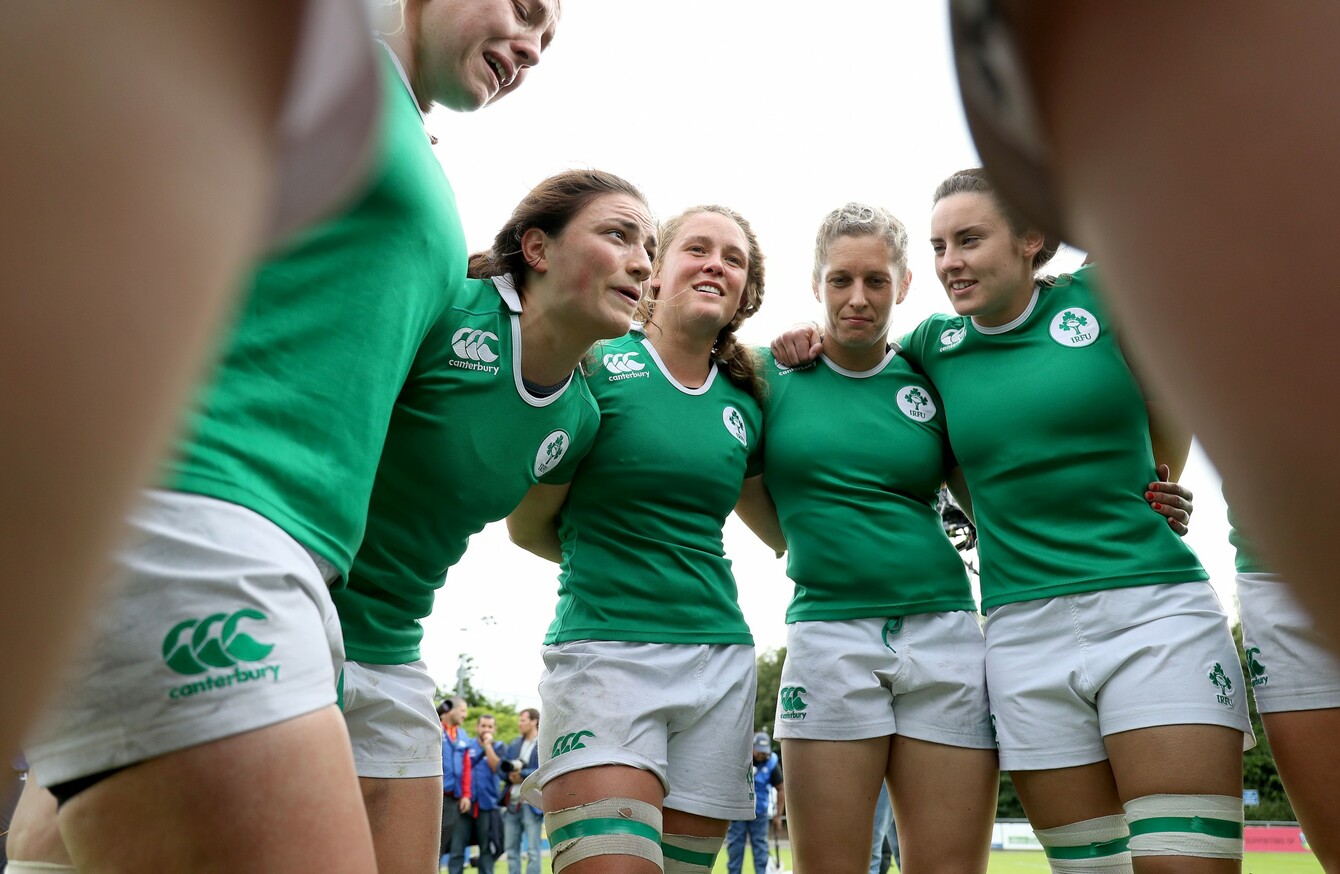 The Ireland Women's Sevens team are competing on in the World Series again this year.
Image: Dan Sheridan/INPHO
The Ireland Women's Sevens team are competing on in the World Series again this year.
Image: Dan Sheridan/INPHO
TUCKED UNDER THE shadow of the Aviva Stadium, 62 Lansdowne Road doesn't appear to be any different to the other Victorian redbricks on the leafy thoroughfare.
The vast semi-detached period property directly neighbours the stadium and formerly housed the IRFU's offices before the association moved operations down the road.
These days, it acts as the nerve centre for the Sevens programme and can best be described as three floors of organised mayhem. Storage space, team rooms, offices, changing areas and a kitchen means every inch of space is utilised.
"There's always people coming and going," Ireland Women's Sevens captain Lucy Mulhall remarks.
Upstairs, the walls of one of the meeting rooms is plastered with tactic sheets and meticulous data on upcoming opponents; strengths, weaknesses and a breakdown of where they score their tries, who scores them and in what minute.
The squad — who convene four days a week — avail of the Aviva Stadium's gym next door and split their pitch sessions between Lansdowne's 4G surface and similar facilities at Donnybrook.
It's an impressive set-up, yet these foundations have been laid in such a short period of time and it leads you to wonder why it took the IRFU so long to buy into the Sevens format.
Both the Men's and Women's teams have made excellent progress on the circuit in the last two seasons and the latter re-qualified for the World Series after a debut year in 2016.
Anthony Eddy's side began the 2017 campaign by lifting the Challenge Trophy in Dubai before Christmas and followed that up with an eighth-place in Sydney last week — the best finish the squad have achieved in a World Series event. The graph is going in the right direction.
There are six events in total throughout the course of the year with the next stopover coming in March when the World Series circus rolls into Las Vegas, with visits to Japan, Canada and France completing the itinerary.
"It was an exciting year for the girls but now we're hoping to progress and evolve again as a team," Eddy tells The42. "They learned a lot last year and we're constantly improving and the group showed a lot of character to qualify for the World Series again."
Eddy's role extends beyond a head coach's remit with the Australian also holding overall responsibility for the Women's Sevens programme as well as managing the player-pathway structures.
He has brought a wealth of experience to the job having been general manager of the Sevens programme in Australia while previously holding assistant coach positions at the ACT Brumbies and Queensland Reds and the top job at Worcester Warriors.
"I think Sevens is a great introduction to the game of rugby whether it's for a man or woman, boy or girl because it's exciting and a player gets more involvement in the game," he continues.
"That's the way we should look at it through our recruitment strategy and while the girls have made pleasing progress so far, the whole group is looking to challenge ourselves and deepen the stocks of talent we have.
"We're in a luxurious position where many of our girls have come through the Gaelic football route and the skill level is good and that certainly prepares them for the game of Sevens.
"We're certainly by no means a finished product. We have a small playing base so have to look after the players we've got but at the same time continue to look at other ways of recruiting players and then retaining them in the game and enthusing them around the game of Sevens."
Indeed, there are so many opportunities within the game and qualifying for the Olympics remains the ultimate one. It's the reason why the IRFU and Irish Sports Council have invested €1 million per year in this programme.
Ireland's Women fell agonisingly short of booking their place for Rio in 2016 as they suffered heartbreak at the final qualifying hurdle in Dublin. After concentrating their efforts on making it for so long, not doing so was a bitter pill to swallow.
"The squad are young and extremely ambitious," Eddy adds. "They were hugely disappointed not to make Rio as they've given so much and worked so hard to try and do that.
"When the Games were on we were training and I think it was important for us to be active during that period. It was an extreme disappointment for everyone as we all would have loved to be there but it wasn't to be on this occasion.
"Hopefully it's made them a little bit more hungrier and I'm sure they're motivated even more now because I believe come 2020, this team will be still in their mid-20s and will be very competitive."
There may have been an element of soul searching in the camp as the Sevens tournament exploded into life in Rio and Ireland had to watch from afar but, if anything, it has focused minds. There is a renewed determination to bridge that gap over the next four years and be part of it all in Tokyo.
But first there are other markers to hit. The World Series is where Ireland want to be and they'll hope a strong showing this year will lead to automatic qualification for the 2018 World Cup. It's all a work in progress, but Eddy is pleased with how things are developing.
"Our skill set is much better and I think the girls are much fitter," he explains. "They understand the demands of the game more, we still have areas we have to work on around our game management but that only comes with playing some of the elite teams in the world and the more we're involved at this level of competition the better we're going to become.
"A lot of our work is purely around the physical part of it and other times we're more conscious around tactics or game management before a tournament. The biggest focus for the group is still around our core skill. We have to continue to be better passers and catchers and decision makers because it's a little bit alien to some of these girls who have come through the Gaelic route but the contact part is something that we try and work on."
Many of the squad, including captain Mulhall and scrum-half Stacey Flood, come from a GAA background having progressed through the Sevens development system.
The skills they honed whilst playing with the round ball are largely transferable – handling, kicking and fielding high balls — and it has helped Ireland gain a quick footing in the sport despite the roots only recently being planted.
On the flip side, however, the crossover of sports means more work is required when it comes to the intricacies of rugby. It's a continual learning process for the players, but this was an opportunity too good to turn down.
"I still have a massive passion for Gaelic football and would love to return some day but rugby is my priority now," Mulhall, who played for Wicklow and won an All-Ireland Ladies Junior football title in 2011, says.
"I get to go around the world playing rugby so why not do it? With this I'm getting opportunities I've never had in my life; getting the opportunity to be the best player you can be with all the facilities we have, getting to travel the world and represent your country.
"Ladies football doesn't get that a lot of the time, so we're very lucky to get top-notch facilities from the IRFU."
Flood's journey to this point has taken a similar path after the talented Gaelic footballer was spotted by coaches during a visit to her school, St Louis High School in Rathmines.
"I've been playing Gaelic since I was like 7 and that was my main sport but when I was in fifth year in school I was asked to go into the Development squad," the 21-year-old explains.
Exclusive NZ - IRE
Rugby Analysis
Get Murray Kinsella's match analysis and Garry Doyle's updates from New Zealand exclusive to members
Become a Member
"It's crazy because when you're looking at Gaelic, the main goal is getting to Croke Park but with rugby there are so many more places you can go to. The skills transfer over so well and you can go so much further with the rugby sevens. It was a no-brainer.
"It's so special, just to put on the jersey. In Gaelic you can never represent your country so to pull on the jersey is just amazing. I am one of the girls who represents Ireland and not many people can say that and we're all extremely lucky. Obviously we've all worked hard but we're travelling the world with our best friends. We're just such a close-knit family now."
The majority of the squad are in their early 20s and combine their Sevens career with academic studies, although a couple of the older players juggle part-time jobs too.
"We're very lucky that the coaches are very understanding," Mulhall adds. "We have some great facilities and it's brilliant that this place [Sevens base] is so central as a lot of girls come straight from college or work. We'll come in early afternoon and not leave until seven or eight in the evening."
Flood, who is studying in the National College of Ireland, says: "It's hectic but everyone is so understanding. If you can't gym at 1pm, you go at 6.30am before college and then come in for the pitch session. You just work around it. Others have part time jobs, this is like my part-time job."
Dubai, Sydney, Las Vegas, Japan, Canada and France? It's not a bad part-time job.
When you're on the road most weeks of the year, the window of opportunity for preparation is limited so time can be very much of the essence for Eddy and his players. Having just returned from Sydney, the focus has already turned to Las Vegas.
"They're a committed group and they work extremely hard for what they do," Eddy says. "We're hoping to build on what we did last year and have a bit of success in 2017.
"They're a very good team and my vision is that we keep a core group of players and we continue to build on the talent that we've got. I think we have a great style of play — very competitive and very determined — and we can definitely develop that.
"The ambition would be that we continue to improve and challenge some of the best teams in the world to a point where at some stage over the next two or three years we'll become one of those teams and we get to Tokyo and teams actually realise the Irish Sevens team are a team to be reckoned with and are very competitive and on their day they can beat any country in the world."
Mulhall continues: "The IRFU believe our team is going to do bright things and we're thankful for the backing.
"I take huge honour in captaining this team but the girls on the panel, it's just such an honour to represent them and I really believe this programme is going places and I believe the next four years are going to be so big for Sevens rugby and it's incredible to be involved in something that is going to change Women's rugby in Ireland.
"We're gaining respect on the World Series and I hope teams would always go into a game knowing that they're going to get a tough game off Ireland. We still have a lot more to do and a lot of results still to get but I'm proud of everything we've done and what we're doing on a daily basis."
Subscribe to The42 Rugby Show podcast here: