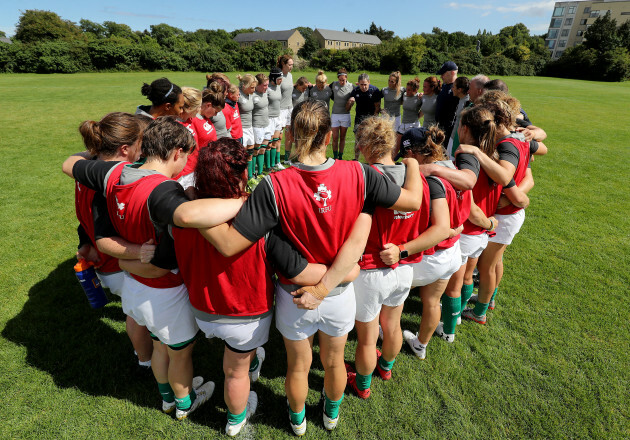 Dan Sheridan / INPHO The Ireland team at today's captain's run. Dan Sheridan / INPHO / INPHO
YOU KNOW THE countdown to the Women's Rugby World Cup is well and truly on when you scroll through your Twitter feed and it's lit with articles and heroic images of women in the Irish rugby jersey. With a day to go before the competition kicks off, and as I sit at my desk across the road from UCD, hosts to the group stages of the tournament, I can't help but feel excited.
Ireland will play their opening game against Australia in front of a sold out UCD Bowl tomorrow night at 7pm. All eyes will be on the game, which will be aired live on RTÉ and eir Sport with Irish fans showing support for the girls in green as they begin their quest for Rugby World Cup glory.
A home tournament is a major coup for us as a country, particularly as we bid to host the 2023 World Cup. But what does it mean for Ireland to host and compete in the tournament, and how will it benefit the future of the sport or female participation in sport in Ireland in general?
With games being hosted in Dublin and Belfast, the Irish public, and specifically the younger female generation, will be in prime position to witness, whether in the flesh or through TV, radio, print or online coverage, world class female athletes playing right on their door step.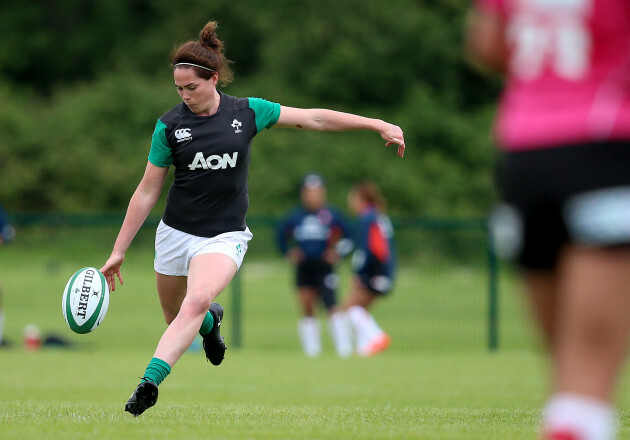 Tommy Dickson / INPHO Nora Stapleton. Tommy Dickson / INPHO / INPHO
When you're young, you're extremely impressionable, and without realising it, make a lot of decisions that impact your life right through to adulthood. When I was a kid, I didn't have a female sporting role model, it was more a Junior B footballer Dad who I idolised! I loved going to his games every Sunday, and it was through my admiration for him that I decided that sport was something I wanted to be a part of.
This pathway is not solely unique to me, and in theory this Women's Rugby World Cup is the perfect place for young girls to adopt new role models, who have the power to leave a strong enough impression to encourage them to take up rugby, or sport in general.
Being involved in sport has so many benefits. Lidl announced just last week that girls who played sport were healthier, happier and much more equipped to deal with 'real-life situations,' and in a time where there is unnecessary stress put on the younger generation, whether it be through social media and the pressure of looking like a Kardashian, or the expectation of getting 550 points in your Leaving Cert, this is something very important to note.
From my own experience, sport has equipped me with many tools, such as; how to work as part of a team, how do be a leader, how to communicate effectively, how to work hard and not give up when things are tough, how to make decisions in times of high pressure, and many other elements that help with everyday life.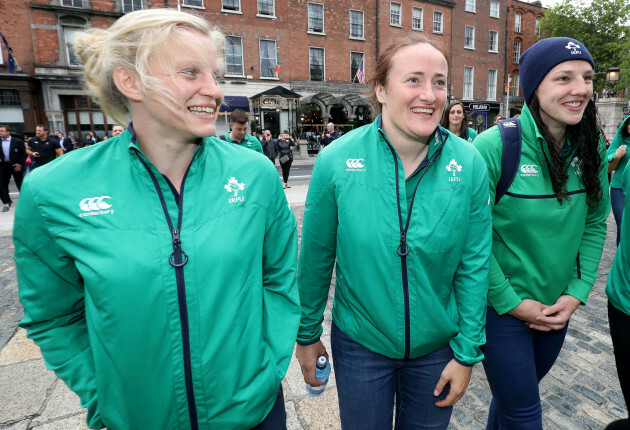 Dan Sheridan / INPHO Claire Molloy, Ailis Egan and Paula Fitzpatrick. Dan Sheridan / INPHO / INPHO
In addition to the positives, the survey also indicated that one in every two girls drop out of sport at the age of 13 for the most part because their friends are not involved. It is a statistic I found hard to comprehend, because if those girls only knew that the friends they can make through playing sport would be their friends for life, they might think twice about throwing in the towel. Friendships you create from being involved in a team are like no other traditional friendships, and I am very lucky to have become very good friends with some unbelievably inspiring women through my involvement in sport.
It is clear that the relationships forged amongst the current Irish Women's Rugby Team are incredibly strong. Follow them on social media and you will get an insight into just how tight a bond they have as a team firstly, but as friends more importantly.
It's clear that being involved in sports has lots of positive outcomes and yes, Ireland hosting and competing in the tournament will promote the sport and female sport in general organically, which will in turn promote a healthier and happier future for kids in Ireland. However, there is also work to be done by others too.
When it comes to leading the charge for women in sport, the Irish women's rugby team have been setting the standards. In terms of media coverage and sponsorship deals, these ladies are ahead of the game compared to other sports and it's important that the trend to support women in sport persists. The more the team continue to grow in popularity amongst brands and the media, the more attractive being involved in sport will become for others.
Tommy Dickson / INPHO Ireland stand for the National Anthem. Tommy Dickson / INPHO / INPHO
The IRFU have also identified that the legacy of hosting the tournament is paramount, with improvements to coaching structures at grassroots level already in train. They have shown their commitment to this with their 'Give it a Try,' campaign, which is designed to ensure there are proper coaching structures in place in clubs to allow for girls aged between nine and 15 to be coached adequately. At present, there are 4,500 females playing rugby in Ireland, and post Rugby World Cup, within the next year or so the IRFU are aiming to increase that figure by 2,000.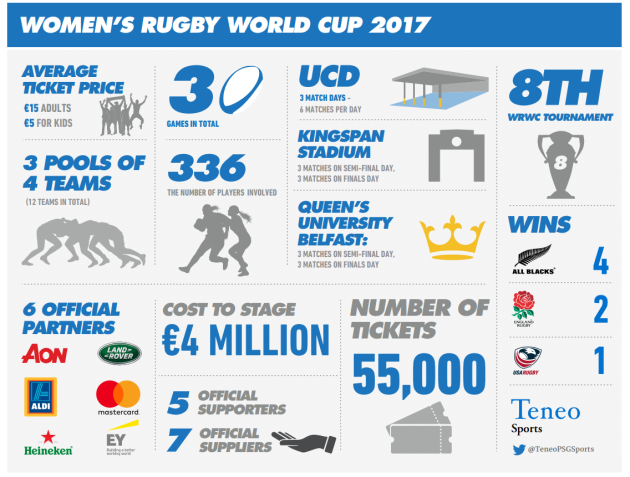 There is no doubt about it, hosting the Women's Rugby World Cup can only add value; both for the growth of the sport and female participation in sport overall. It also undoubtedly puts us in a nice position when bidding for the Rugby World Cup in 2023.
For me, being involved in sport has had nothing but positive effects on my life, well, bar the one or two tragic All-Ireland defeats! I would wholeheartedly encourage Ireland, and especially parents of young girls, to get out and show their support to this fabulous bunch of athletes over the course of the tournament.
COYGIG!
Written by Sinead Finnegan, who plays with the Dublin Ladies footballers and works for Teneo PSG.
The42 is on Instagram! Tap the button below on your phone to follow us!