THE 20TH ANNIVERSARY of the 1997 World Youth Championships is this summer.
It was an exciting time for Irish football. Brian Kerr guided a team of youngsters to a bronze medal at the tournament in Malaysia — an unprecedented success in Irish underage football.
Kerr would soon achieve similarly incredible feats, with successes at the U16 and U18 European Championships.
Many expected the players from that Malayisa adventure to thrive subsequently. And while a number of those involved went on to enjoy excellent careers in the League of Ireland and in the lower leagues of England, only one player — Damien Duff — would become a star in the Premier League.
It was a sign of the times and a measure of how tough it was and still is to breakthrough at the elite level in Britain. Even in this relative golden age for Irish football, opportunities were few and far between. It was 1997 after all, when the Premier League money really started to flow and it graduated from a British and Irish competition to an international one.
In another era, a greater number of Kerr's kids would surely have had an opportunity to play at the highest level in England, when they would have largely been competing for places purely against players from England, Scotland, Northern Ireland and Wales.
Yet notwithstanding the greater challenges posed by the '00s, players such as Duff, Robbie Keane, Shay Given, Richard Dunne, John O'Shea, Steve Finnan and Stephen Carr went on to star in England's top tier.
By contrast, today seems like a relatively fallow period for Irish football by comparison. In the Premier League's final day, of the 10 matches yesterday, seven Irish players started, while only five completed 90 minutes.
The individuals in question were Robbie Brady (Burnley), Jeff Hendrick (Burnley), Kevin Long (Burnley), Stephen Ward (Burnley), Marc Wilson (West Brom), John O'Shea (Sunderland) and Glenn Whelan (Stoke).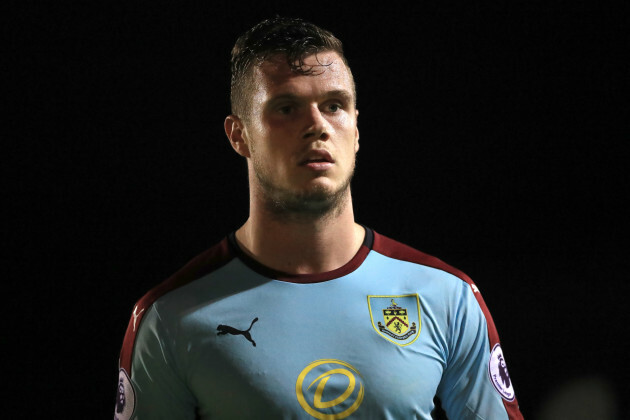 Tim Goode Burnley's Kevin Long was among a handful of Irish players who started in the Premier League yesterday. Tim Goode
In addition, four Irish players — James McClean (West Brom), Darron Gibson (Sunderland), Jon Walters (Stoke) and Declan Rice (West Ham) — made late cameos from the bench.
More worryingly, of the players who started, only Hendrick, Ward, O'Shea and Whelan can have been considered first-team regulars at their clubs this season. Three of these footballers are the wrong side of 30 and at least one won't be playing in the Premier League next season.
There are, of course, some mitigating factors — the likes of Harry Arter and Seamus Coleman are guaranteed starters when fit. But still, the figures make for grim reading, particularly for older fans who remember the days when Irish players competing for teams such as Man United, Arsenal and Liverpool was considered the norm.
Probably of greatest concern is the lack of young players being developed and in particular, the dearth of strikers coming through. There is also a clear over-reliance on players developed in England and elsewhere — in a recent U21 squad, just five of the 19 players named were born and raised in the Republic of Ireland.
The situation is not entirely hopeless, however. In the lower divisions, younger players such as Shane Duffy, Matt Doherty, Ryan Manning, Liam Kelly, Josh Cullen and John Egan have all shown the kind of promise that suggests they are capable of performing at a higher level. Further afield, Cillian Sheridan, Adam Rooney and Sean Maguire have each done enough to suggest Ireland's problems up front may not be as severe as some suspect.
And while Martin O'Neill will be somewhat concerned ahead of next month's crucial World Cup qualifier at home to Austria given the number of Irish players either injured or out of form, that issue has not hindered the Boys in Green unduly in the past.
Despite Irish players' presence in the English top flight being as peripheral as it ever has been in recent memory, the team's results have not worsened dramatically. Indeed, if anything, they are as healthy as ever.
There are arguably two reasons for this outcome. Firstly, other countries also have to contend with the problem of their players' lack of game time. It can be just as difficult for, say, a Serbian footballer to get regular football in the Premier League as it is for an Irish star.
In addition, while the Irish teams of the late '80s and early '90s undoubtedly were more talented than their modern-day equivalents, the difference between present and past tends to be exaggerated. If those Irish players were produced in the current environment, it seems unlikely that all of them would be good enough to play for Man United, Arsenal and Liverpool. Similarly, if a player of the calibre of Seamus Coleman or Robbie Brady were around in the '80s and '90s, they would likely have a much better chance of playing for a title-challenging English team.
So while it has unquestionably been a difficult few months at club level for a number of Irish stars, Martin O'Neill can still afford to look ahead with a degree of optimism. After all, the Boys in Green are joint-top of their World Cup qualifying group with Serbia, and look in pole position for a runners-up spot at least. Even if the number of regular Irish Premier League starters drops to zero, which is not entirely inconceivable in the near future, success on the international stage is and always will be what matters above all else.
The42 is on Instagram! Tap the button below on your phone to follow us!