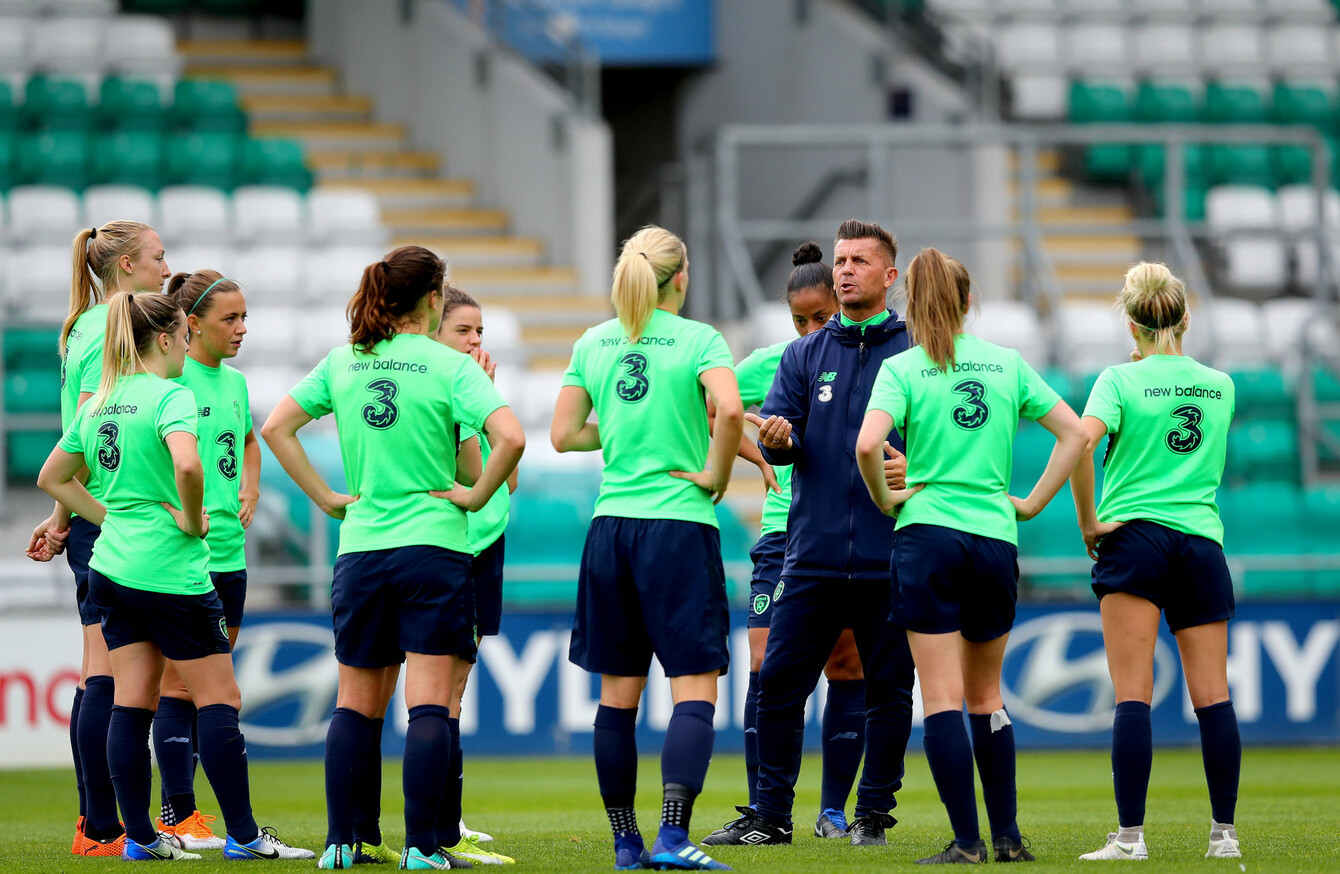 Manager Colin Bell and the Ireland squad pictured training at Tallaght on Thursday.
Manager Colin Bell and the Ireland squad pictured training at Tallaght on Thursday.
IT HAS BEEN an excellent few months for Irish sport, with several female athletes in particular making waves at international level.
Feats such as the Ireland women's relay team taking a silver medal at the World U20 Championships and the hockey side's improbable journey all the way to the World Cup final will live long in the memory of fans.
By contrast, the women's soccer team suffered disappointment this summer, with a defeat in Norway ending any hope of qualification for next year's World Cup.
Nevertheless, there is still plenty of optimism in the camp ahead of today's final qualifier against Northern Ireland (kick-off: 5.30pm). 
While they did not achieve their goal of making it to France, there is a sense of considerable progress made over the past 12 months, with the 0-0 draw away to reigning European champions Holland in particular a strong indicator of how far the team have come.
Yet there is still plenty of room for improvement, as they prepare for the European Championships qualifiers, and manager Colin Bell believes his team can "definitely" take inspiration from the hockey stars' incredible performance.
"I think the girls and the coaching staff on the hockey team have done a fantastic job and it's a remarkable achievement. We have to look at how that came about.
"And without me knowing any of the details, I'd love to sit down with the coaching staff at some stage just to get their input.
"But you can bet your life that that was a really tough, hard preparation. The girls didn't just turn up once a week and go play a World Cup and get to the final — that is really hard work, it's a long plan and that's what I'd like to find out about in more detail.
"It just proves and really underlines the things I've been saying since I've been here — preparation is everything. If you're not well prepared, then you're not going to achieve your goals."
And while disappointing back-to-back defeats against Norway ultimately ensured Ireland had to settle for third place in their group, Bell is adamant the team are not far off being good enough to qualify for major tournaments with fine margins the difference in the big games.
I honestly believe that if we made a few more correct decisions, and maybe just had a little bit of luck with the players that were missing, and we could have been at full strength every game, I am convinced that we could have put in a much tougher challenge to Norway and Holland for at least that second place.
"[But] it is development, so it's not just a one-game thing or one-campaign thing. We have a larger vision, so we're moving in the right direction." 
There have been some genuine milestones since Bell was appointed as manager in February 2017, most notably the famous protest that led to much-improved working conditions for the players. As a result, there is a palpable confidence and positivity around the squad that didn't always exist.
"All the organisation and the things going on around it I think we've dealt with very well and we're professionalising everything, things are getting better. The girls are really seeing now what high performance means.
"And it's not just a one-way street. If we want a high-performance culture, everybody has to adhere to that. That means the players, the standards I'm setting and they're setting, are very high. So it's up to the players to reach those standards. I'm not going to drop down to meet the players halfway."
One recurring theme of Bell's reign so far has been the manager's willingness to give young players a chance. Jessica Ziu is the latest case in point, with the 16-year-old receiving her first call-up ahead of this evening's match with the North.
The Shelbourne Ladies striker is one of five teenagers included in the 18-woman panel, though there is also a core of highly experience players that includes Arsenal defender Louise Quinn, fellow centre back Diane Caldwell (SC Sand), midfielders Niamh Fahey (Liverpool) and Denise O'Sullivan (NC Courage), in addition to team captain Katie McCabe (Arsenal), who has shown some eye-catching form at club level of late.
"We're still missing Megan Campbell, we're still missing Steph Roche, we missed Harriet [Scott] the last camp, then Diane through suspension," Bell says.
These kind of things happened and we weren't able to compensate for these players. That's why we want to try to bring our younger players up to the level we need. So if those kind of injuries occur, we are able to compensate much better. That definitely was one of the things we've seen in this camp — we don't have that strength in depth in every position. I wouldn't say in general, but certain positions — one of them is definitely full-back."
On the topic of young players, he adds: "I think it's important that on the personal side of it, they're getting contact with other players, learning from the older players. Obviously then, the things we're doing on the pitch, the way we want to set up, the way we want to play, the tactical discipline, the alternatives we have when on the ball, improving their match intelligence, because they're having to make more decisions in a shorter space of time against better players. And that physicality will come in as well — that you have that upper body strength to hold off Louise Quinn, for example. These kind of things.
"And when we're learning and studying our training sessions and studying our opponents, the way we learn, the activity-based learning, the enquiry-based learning, doing analysis.
"So there's a lot they can pick up on — it's just trying to help these young girls to grow a personality. We have that responsibility for all our players, that they are also learning good values for their football career and life in general."
The42 is on Instagram! Tap the button below on your phone to follow us!