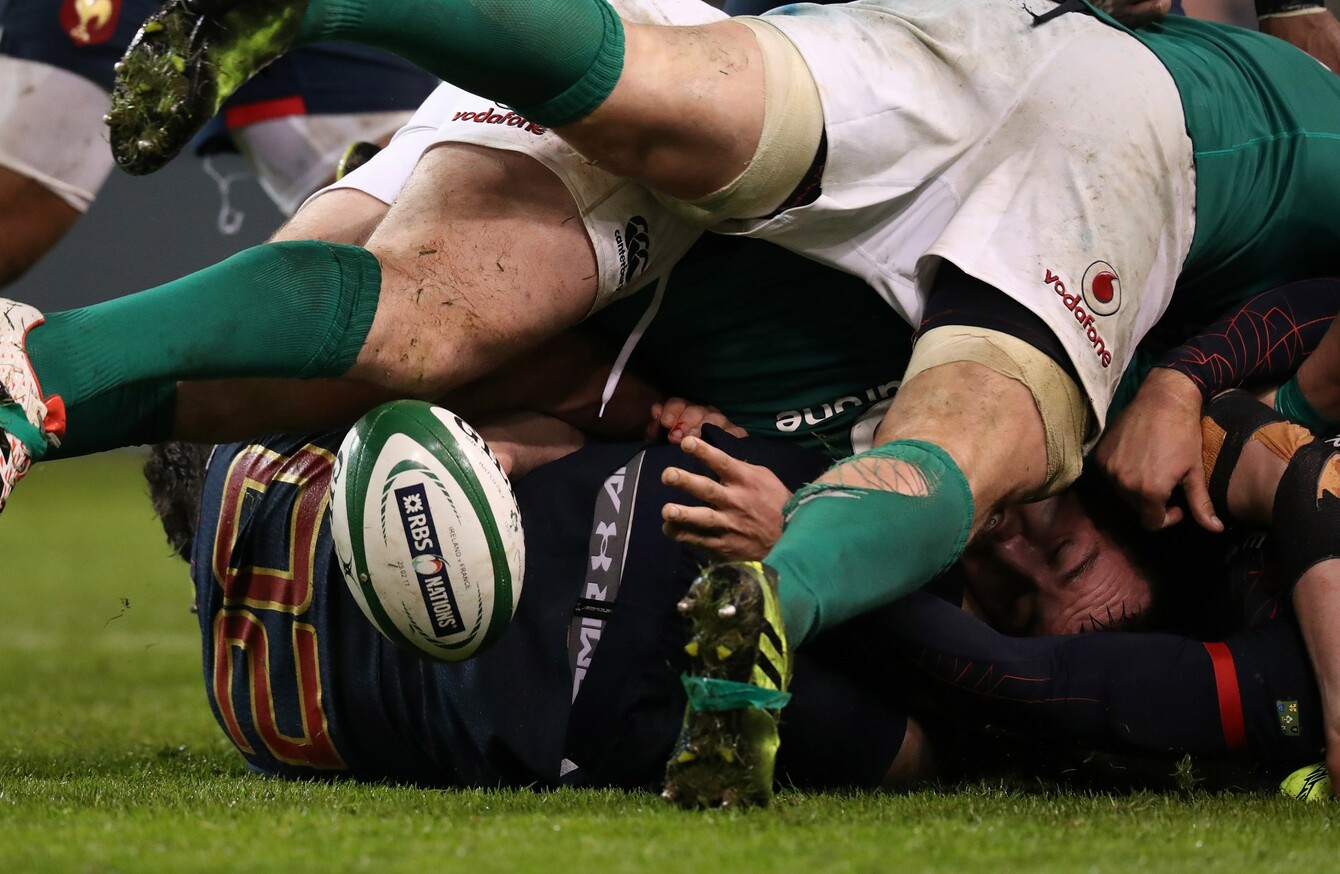 Image: Inpho/Billy Stickland
Image: Inpho/Billy Stickland
THE IRFU ARE struggling to countenance the Monday morning claims by French committee members that they were disrespected in Saturday's post-match function at the Aviva Stadium.
A report in Midi Olympique claimed that officials were 'relegated' post-match and left to their own devices in a 'packed room', with wronged delegate Christian Dullin (general secretary of the FFR) telling the publication:
"It's like us hosting other Unions at the snack bars under the stands at the Stade de France"
However, IRFU communications director Stephen McNamara was at a loss to explain how the offence was caused.
It is actually a really, really big room. So it might have been a case that, with probably 500 people in that room, they didn't see our guys. But everybody was in the one room."
McNamara explained that there is no smaller 'VIP' section set aside in the Aviva Stadium, but rather a "public bar" is used as a gathering point before the post-match dinner takes place in a function room. The public in this instance are made up of sponsor representatives, 10-year ticket holders and some club members on top of the players, coaches and their partners.
"Everybody went down for the game and came back up afterwards. The lunch room has to be re-set for dinner so that room when you come back up the stairs is closed, and everybody goes into what is in essence a public bar," explained McNamara.
"They all go in there and a free bar operates for committee members, and then when dinner starts they're all invited into the dinner room. The first people to actually go into that dinner room were the French team."
McNamara stresses that there was no procedural change made for the post-match hospitality. It has remained consistent over recent years and, as of today, it will continue unchanged for the visit of England.
"All of our committee guys are in the same room with them the whole time. There is a room just behind the seats that the Irish president, the French Federation president, our (IRFU) president and the junior vice-President go into.
It's a VIP room, so if we have royalty at a game they go in there for a cup of coffee, but everybody else, all of our committee, all of our sponsors go up to that drinks reception room."
In the French press, the perceived incident took place to the back-drop of a hosting rivalry for the 2023 Rugby World Cup. McNamara was asked to clarify whether any of the speeches at the function besmirched the good name of French rugby.
"No, nothing at all. Stephen Hilditch (IRFU president) used to referee, so Stephen has good French, and he spoke in French and actually made a joke about people not understanding his French – "and that was most probably the French themselves" — so actually it was all fine.
"It all seemed to go fine."
Source: The42 Rugby Show/SoundCloud