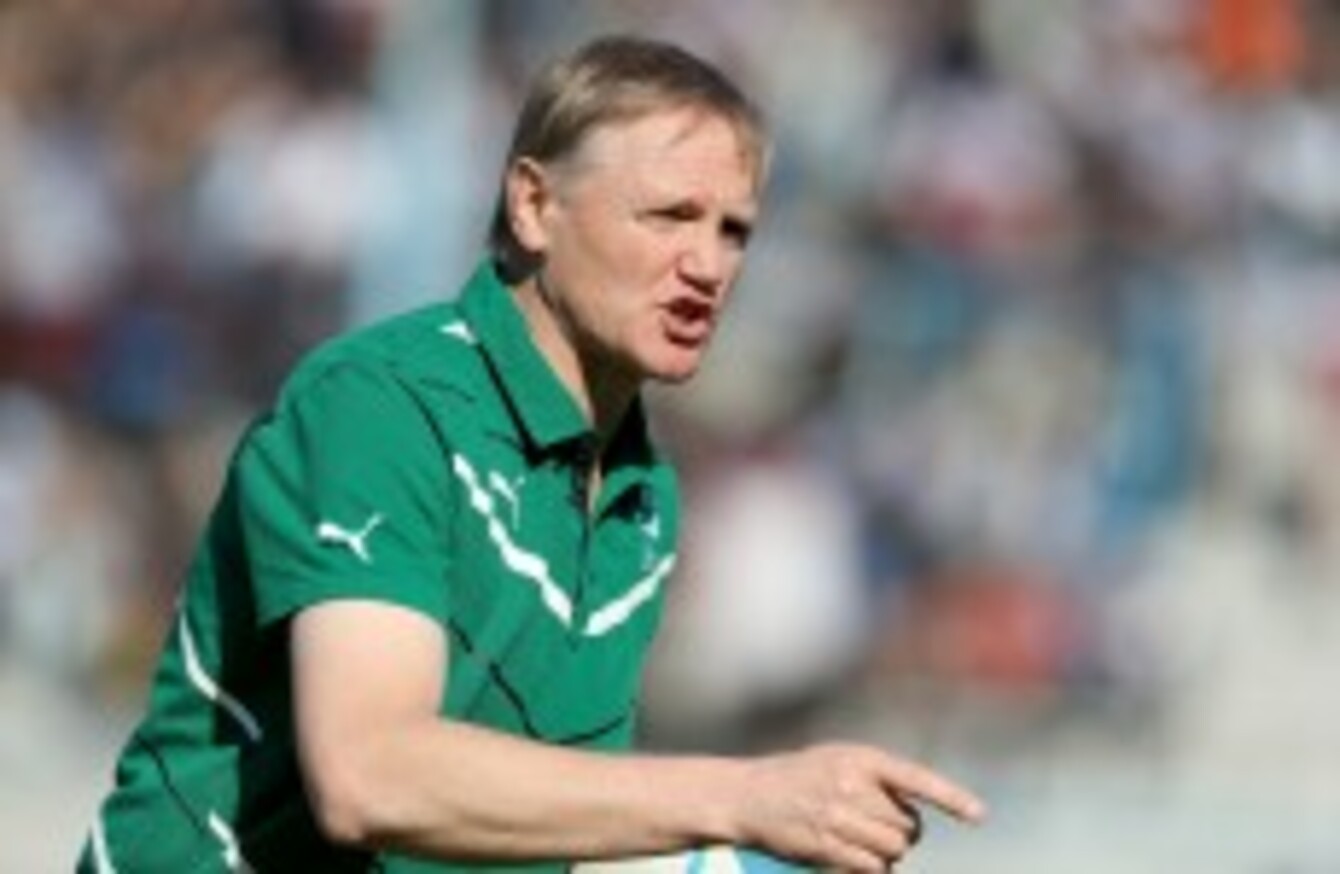 Ireland head coach Joe Schmidt is contracted until 2016.
Image: Dan Sheridan/INPHO
Ireland head coach Joe Schmidt is contracted until 2016.
Image: Dan Sheridan/INPHO
THE IRFU HAVE not opened talks with Joe Schmidt about extending his contract as Ireland head coach, despite the RFU handing England boss Stuart Lancaster a new six-year deal earlier this month.
However, Irish rugby's governing say they have undertaken promising discussions with international players who are out of contract at the end of the season, and hope to make announcements in the near future.
With Schmidt having won a Six Nations title in his first season with Ireland – adding to his ever-growing reputation as one of the leading coaches in world rugby – there have been some suggestions that the IRFU would look to extend his deal beyond 2016.
England have taken the step of tying down Lancaster until 2020, but the IRFU have not yet looked to follow suit.
"Ah look, at the moment we haven't started talking to Joe about contracts or extensions yet," says Performance Director, David Nucifora.
"We are letting the guy concentrate on his situation now, preparing for November. That's the only thing that is on his mind at the moment. He is able to, when he needs to, focus totally on what is in front of him."
Were Ireland to continue their impressive form under Schmidt this season and into the 2015 World Cup, there exists the possibility of other unions looking to recruit the Kiwi in 2016.
Does the thought of Schmidt as a future All Blacks coach, for example, worry Nucifora?
"I think you have to be aware of a lot of things, so you don't take your eye off the ball. But at the same time you deal with what you got to deal with at the time.
Obviously he and I are in dialogue all the time so I have a fairly good understanding of what he is thinking. We will deal with things when the time is right."
Be part
of the team
Access exclusive podcasts, interviews and analysis with a monthly or annual membership.
Become a Member
Nucifora claims the IRFU are in "no hurry" to find a replacement for Ireland defence coach Les Kiss, who will return to Ulster as Director of Rugby after the World Cup, insisting that "Joe will put those things right when we need to."
On the playing staff front, Nucifora says the IRFU have been active in terms of attempting to re-contract players.
Ireland internationals such as Rob Kearney and Peter O'Mahony's deals expire next summer, and despite the continuing competition from abroad, Nucifora outlines that discussions have been positive.
"You never actually know until they sign a bit of paper. It's competitive out there so you have got to have your wits about you. We have opened negotiations with all the players who are coming off national contracts at the moment.
"Some of them are close to being over the line. We are speaking to them all currently. That's positive. Hopefully we will have some good announcements soon."
Johnny Sexton recently agreed a four-year deal with the IRFU, perhaps setting something of a precedent. Nucifora believes that each players needs to be judged differently, but admits that some of the experiences of having secured Sexton's return will be useful moving forward.
"I think you have to judge each one of these cases independently. They're all different. Every one of them has their own idiosyncrasies about what's required or needed, so I wouldn't say there's any benchmarks or specific things that we're doing differently.
I always think that dealing face-to-face with people is always a far better way of doing things. So, the more we can possibly personalise the process, the better chance you'll have of a positive outcome.
"It won't always be the case but I do think that if you can try and manage to do that it probably takes a lot of the prickly things out of what is not always an easy process."