THE NEW IRFU U18 inter-provincial festival kicks off tomorrow in the University of Limerick, with eight representative teams set to compete across three match days on UL's 3G pitch.
The teams involved in the festival will stay on campus in UL as the IRFU looks to expose some of the most promising young Irish prospects to a professional-style rugby environment over the next 10 days.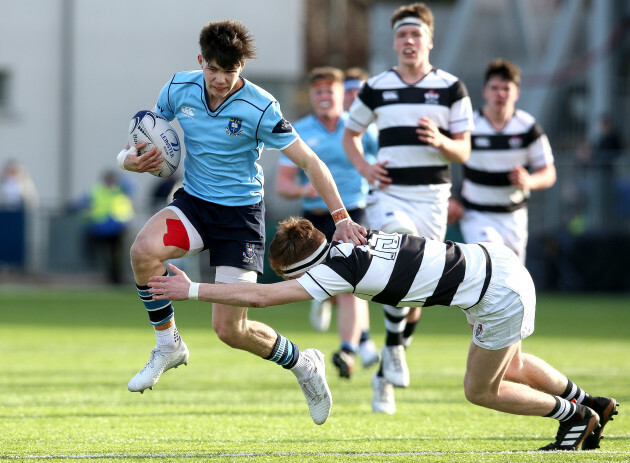 Gary Carr / INPHO Leinster U18 Schools' Chris Cosgrave is one to watch. Gary Carr / INPHO / INPHO
Previously, the U18 inter-provincial campaigns took place separately and not in this 'rugby camp' format, but the IRFU hopes to improve its development pathway by bringing the teams together and educating them off the pitch alongside their playing commitments.
The eight teams taking part are Munster, Leinster and Ulster U18 Clubs, Munster, Leinster and Ulster U18 Schools, a combined Connacht U18 Schools and Clubs side, and the U18 IQ [Irish-Qualified] Rugby team – which involves players who have come through the IRFU Exiles programme.
The players will have gym sessions and on-pitch training at UL in between game days, while the IRFU's nutrition and S&C staff will guide the youngsters through recovery strategies as they look to develop good habits.
Players from Ireland and Munster's senior professional squads will be involved in a Q and A session with the U18 players, while Ireland's skills and kicking coach, Richie Murphy, will lead a workshop for coaches.
"This is the first year of the new format and we are excited about bringing together all the teams and coaches," said the IRFU's age-grade manager, Eoin Hogan.
"It's an opportunity for everyone involved to develop both on and off the pitch. IRFU and provincial technical staff from the areas of coaching, athletic performance and nutrition have been heavily involved in designing the schedule for the festival.
"For some of the players involved, it is another step for them on the elite player pathway, and as they continue to develop they will hopefully go on to provincial academies and represent their country in the future, and this 'camp' format is a great way to help prepare them for that.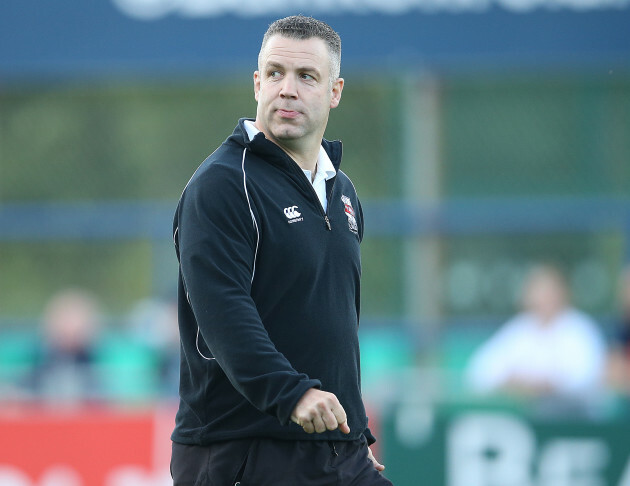 Dan Sheridan / INPHO Former Ireland centre Kevin Maggs is head coach of the IQ Rugby side. Dan Sheridan / INPHO / INPHO
"Equally many players may simply continue with their club or at third level and our aim is to ensure that they have the best advice on how to stay involved in the game and play to best of their ability."
Check out The42 tomorrow evening for a report on the first game day at the festival.
IRFU U18 inter-provincial festival fixtures:
[All games on University of Limerick Pavilion 3G Pitch]
Game day 1 – Saturday 18 August:
11am – Leinster Clubs v Connacht U18
1pm – Ulster Schools v Munster Schools
3pm – Ulster Clubs v Munster Clubs
5pm – Leinster Schools v IQ Rugby
Game day 2 – Wednesday 22 August:
11am – Ulster Schools v IQ Rugby
1pm – Leinster Clubs v Ulster Clubs
3pm – Munster Clubs v Connacht U18
5pm – Munster Schools v Leinster Schools
Game day 3 – Sunday 26 August:
11am – Munster Schools v IQ Rugby
1pm – Connacht U18 v Ulster Clubs
3pm – Ulster Schools v Leinster Schools
5pm – Munster Clubs v Leinster Clubs
Squads:
Connacht U18 Schools and Clubs:
Alan Duffy (Ballina/Jesus and Mary Enniscrone)
Caolan Hopkins (Ballina/St. Josephs, Foxford)
Cathal Fleming (Monivea/ Holy Rosary College, Mountbellew)
Cian Scanlon (Corinthians/ Colaiste Cholmcille)
Conal O'Grioffa (Corinthians/ Scoil Chuimsitheach)
Daragh Murray (Buccaneers/ Colaiste Chiaran)
Diarmuid McCormack (Corinthians/ Colaiste Iognaid)
Donnacha Byrne (Sligo/ Colaiste Mhuire)
Eoin DeBuitlear (Corinthians Scoil Chuimsitheach)
Hubert Costello (Corinthians/ Calasanctius College)
Kacper Palamarczuk (Westport/ Rice College)
Martin Fallon (Buccaneers/ Marist College)
Matthew Earley (Carrick on Shannon/ Sligo Grammar)
Oisin McCormack (Ballinasloe/ Garbally)
Aodha Hession (Creggs/CBS Roscommon)
Cathal Forde (Corinthians/ Colaiste Iognaid)
Conor O'Shaughnessy (Galweigans/ St Jarleths)
Daragh Hanrahan (Corinthians/ Colaiste Iognaid)
Harry Ballsiger (West Offaly Lions/ Gallen CS)
Hubert Gilvarry (Sligo/Sligo Grammar)
Jack Power (Galweigans/ Colaiste Iognaid)
Leo McFarlane (Buccaneers/ Marist College)
Luke Hogge (Sligo/ Colaiste Mhuire)
Rory McCleane (Oughterard/ Colaiste Einde)
Sam O'Sullivan (Creggs/ Marist College)
Dylan Keane (Ballinrobe/ Roscrea)
Head Coach – Colm Tucker
Leinster U18 Clubs:
Ben Jones (MU Barnhall)
Cormac Fenton (Wicklow)
David Manning (Mullingar)
Fionn O'Hara (Mullingar)
Jamie Osbourne (Naas)
Josh O'Connor (Wexford)
Karl Martin (Boyne)
Niall Hiiliard (MU Barnhall)
Ryan Foley (Athy)
Tim Corkery (Kilkenny)
Will Reilly (Portlaoise)
Cathal Purcell (Dundalk)
David Murphy (Blackrock)
Diarmuid Brannock (Cill Dara)
Finn Tierney (Newpark)
Jack Hanley (MU Barnhall)
Jordan Finney (Navan)
Mark Boyle (Gorey)
Michael Hand (Birr)
Patrick Kiernan (Greystones)
Phillip Byrne (Tullow)
Rob Murphy (Gorey)
Ryan Doyle (Barnhall)
Sean Kelly-Komolafe (Wexford)
Temilolhwa Adewunmi-Lasisi (Enniscorthy)
James Reilly (Ardee)
Head Coach – Joe Carbery
Leinster U18 Schools:
Rob Gilsenan (St Michael's College)
Ben Murphy (Presentation Brothers Bray)
David Wilkinson (Clongowes Wood College)
Niall Carroll (St Michael's College)
Justin Leonard (Belvedere College)
Chris Cosgrave (St Michael's College)
Arthur Henry (Gonzaga College)
Simon O'Kelly (St Michael's College)
Ed Kelly (St Michael's College)
Tim O'Brien (Clongowes Wood College)
Matthew Grogan (Belvedere College)
Josh Pyper (Presentation Brothers Bray)
Levi Vaughan (Terenure College)
Sam Illo (Wesley College)
Hugo O'Malley (Blackrock College)
Barry Dooley (Clongowes Wood College)
Lee Barron (St Michael's College)
Calum Dowling (Clongowes Wood College)
Jonathan Fish (St Michael's College)
Alex Soroka (Belvedere College)
Jack Guinane (St Michael's College)
Aaron Coleman (Belvedere College)
Jack Barry (Gonzaga College)
Will Hickey (St Michael's College)
Tom Gilheany (Clongowes Wood College)
Gavin Meagher (Cistercian College Roscrea)
Head Coach – Andy Skehan
IQ Rugby Under 18:
George Addington (Epsom College)
Liam Bishop (Doncaster Knights Academy)
Shane Cawley (Munster Rugby)
Owen Chaplin (Durham Johnston)
David Coleman (Blue Coat School Reading, Berkshire)
Tomas Donnellan (Hills Road Sixth Form College)
Albert Dwan (Wellington College)
Darragh Gleeson (City of London Freemens School)
Caleb Douglas (Ellesmere College)
Joe Keohane (Burnham Grammer School)
Alastair Merrill (St Ambrose College)
Raef Murphy (St Johns School, Leatherhead)
Ollie Newey (Christ College, Brecon)
Oliver Norris (Whitgift School)
Monty Royston (Hartpury College)
Dan Aldwinckle (RGS Guildford)
Shane Buckley (Munster Rugby)
Sean Bundy (St Joseph's College, Ipswich)
Michael Cooke (Sedbergh School)
Tom Durkan (Newhall School)
Hayden Hyde (Cranleigh School)
Zach Kavanagh (SGS Filton)
James Langston (Harrow School)
Niall McGann (Whitgift School)
Matthew Ward (Park View School)
Jacob Whelan (Wimbledon College)
Benedict Quinn (St Peter's School York)
Head Coach – Kevin Maggs
Munster U18 Clubs:
Ciaran Bohane (Ballincollig)
Conor McMahon (Nenagh)
Craig Hannon (Galbally)
Darragh McCarthy (Cobh Pirates)
Dylan Brosnan (Young Munster)
Dylan Murphy (Nenagh)
Eddie McIntosh (Clonmel)
Ethan Coughlan (Ennis)
Fearghail O'Donoghue (Cashel)
Gavin Foley (Skibbereen)
Ihechi Oji (Douglas)
Jack Barrett (Bruff)
Jack Cosgrave (Young Munster)
Jack O'Keeffe (Nenagh Ormond)
Jamie Shanahan (Skibbereen)
Jay Traynor (Waterpark)
Kian Regan (Tralee)
Liam Murphy (Young Munster)
Matt McCarthy (Clonakilty)
Richard Wallace (Killarney)
Tadhg Galvin (Bandon)
Tim Hegarty (Old Christian's)
Tony Butler (Ennis)
Head Coach – Noel O'Meara
Munster U18 Schools:
Donagh Hyland (Glenstal Abbey School)
Corey Hanlon (CBC)
Billy Kingston (PBC)
Mark Donnelly (CBC)
Craig Finn (St. Munchin's College)
Luke Obersby (Midleton College)
John Forde (PBC)
Jack Kelleher (PBC)
Jack Ward Murphy (Ardscoil Ris)
Daniel Okeke (Ardscoil Ris)
Niall Queally (Glenstal Abbey School)
Mark O'Connor (CBC)
Cian Whooley (CBC)
Jake Connolly (Crescent College Comprehensive)
Jack Delaney (Crescent College Comprehensive)
Killian Dineen (Ardscoil Ris)
Harry O'Riordan (Christian Brothers College)
Aaron Leahy (CBC)
Michael Hand (PBC)
Conor Sheahan (CBC)
Daniel Hurley (PBC)
Ronan O'Sullivan (CBC)
Will Twomey (Glenstal Abbey School)
Will O'Callaghan (Ardscoil Ris)
Head Coach – Brendan O'Connor
Ulster U18 Clubs:
Michael McKeon Boyle (Virginia)
Sam Rainey (Armagh)
Evan Charters (Virginia)
Keenan Barrett (Letterkenny)
James McMaster (Grosvenor)
Philip Nicholl (Armagh)
Stephen Kelly (Letterkenny)
Cein McColgan (City Of Derry)
John Glasgow (Armagh)
Ashely Tweed (Ballymoney)
Jack Milton (Ballyclare)
James Crummie (Armagh)
Sam Murray (Armagh)
Kyle Gill (Ballynahinch)
Rory Maginty (Letterkenny)
Rhys Cobain (Belfast Met)
Luke McMullan (Dungannon)
Thomas McDevitt (Instonians)
Matthew Hamilton (Malone)
James Campbell (Armagh)
Thomas Wilson (Carrickfergus)
Alan Thompson (Coleraine)
Stuart Patterson (FS Lisburn)
Stuart Wightman (Belfast Met)
Oran O'Neill (Malone)
Curtis Henry (Cambridge House)
Head Coach – Jonny Gillespie
Ulster U18 Schools:
Jonathan Agnew (RS Armagh)
Ben Carson (Wallace HS)
Reuban Crothers (Wallace HS)
Nathan Doak (Wallace HS)
Joel Dundas (Wallace HS)
Oscar Egan (Coleraine GS)
Jack Gamble (Ballyclare HS)
Luke Graham (Methodist College)
Adam Hanna (Banbridge Academy)
Jack Harte (Friends' School)
Brandon Hassan (BRA)
Will Hopes (Regent House)
Greg Hutley (Down HS)
Patrick McApline (Campbell College)
Robin McIlveen (RBAI)
Conor McKee (Sullivan Upper)
Ben Moxham (Larne HS)
Luke Pollock (Dalriada)
Jude Postlethwaite (RBAI)
Conor Rankin (Campbell College)
Jude Roberts (RS Armagh)
Matthew Sands (St Colmans College)
George Saunderson (Sullivan Upper)
Tom Stewart (BRA)
Gareth Wells (Bangor GS)
Riley Westwood (Bangor GS)
Head Coach – Kieran Campbell
The42 is on Instagram! Tap the button below on your phone to follow us!