LAST YEAR, WE brought you the story of Willoughby Hamilton, the first Irishman to win the Wimbledon men's singles title.
Hamilton, from Monasterevin in Co. Kildare, took home the title in 1890 after three failed attempts.
However, his was just part of the Irish success that year as Tipperary woman Lena Rice and the Dublin/Wicklow duo of Joshua Pim and Frank Stoker took the ladies' singles title and men's doubles crown respectively.
Ladies Champion – Lena Rice
Rice's story is one of the most interesting in Irish sport.
She remains the only Irishwoman to win the Wimbledon singles title and achieved the feat despite playing just five tournaments in two seasons of tennis.
The seventh of eight children of Spring and Anna Rice, Lena was born in the village of New Inn, six miles south of Cashel in Tipperary.
She was introduced to tennis at a young age, playing mostly on the grass courts of Cahir Tennis Club and took part in her first tournament — the Irish Championships — at the age of 22 when she won the mixed doubles alongside Hamilton but lost in the semi-finals of the singles event.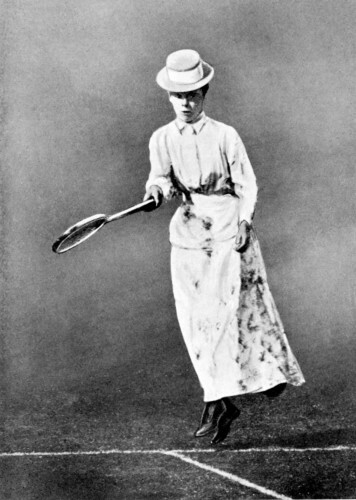 EMPICS Sport Lena Rice on her way to winning Wimbledon. EMPICS Sport
Rice competed in just two more tournaments that year, including Wimbledon where she not only reached the final — losing to Blanche Bingley Hillyard – but also became the first woman to officiate at the tournament.
In 1890, Rice lost the Irish Championships final before, with Hillyard withdrawing as she was expecting her first child, becoming one of just four entries for that year's Wimbledon singles tournament.
In the opening round, Rice beat Mary Steedman in straight sets before dominating May Jacks 6-4, 6-1 to claim the Challenge Trophy.
There is no evidence Rice ever played competitive tennis again and she died of tuberculosis on her 41st birthday.
Men's Doubles Champions – Frank Stoker and Joshua Pim

EMPICS Sport Joshua Pim after his Wimbledon triumph in 1894. EMPICS Sport
Stoker, as you might suspect from his surname, was a cousin of Dracula creator Bram.
Born in May 1867, Frank was one of five sons of Dr. Edward Alexander Stoker, all of whom were involved in the medical profession.
Frank trained as a dental surgeon, qualifying from the Royal College of Surgeons of Ireland, and also found time to win five caps for his country between 1886 & 1891, remaining the only rugby international to win a Wimbledon title.
Pim, born two years after Stoker in Bray, Co Wicklow, was one of four children of Joshua and Susan.
Despite going on to be Ireland's most successful player at Wimbledon with two doubles and two singles titles to his name, tennis was little more than a hobby for Pim who also studied medicine in the Royal College of Surgeons in Ireland.
In 1890, he reached the semi-finals of the singles where he lost to Hamilton but had more success alongside Stoker as they made relatively light work of the competition after receiving a bye to the semi-final stage.
Once there, they beat the English pair of Herbert and Wilfred Baddeley in four sets, before a clean sweep of George Hillyard — husband of the aforementioned Blanche — and Ernest Lewis gave them the doubles title.
Pim would go on to win the singles crown in 1893 and 1894 as well as winning a second doubles title in 1893.
He was also recognised as the world number one before retiring in 1902.
Stoker died in 1939, with Pim following three years later aged 71 and 72 respectively.
If you want to read about Hamilton's success in 1890 and subsequent disappearance, you can find it here.
The42 is on Instagram! Tap the button below on your phone to follow us!