Updated 20.35
– Niall Kelly reports from Rio de Janeiro
IRELAND'S OLYMPIC TEAM has been thrown into turmoil on the eve of the Rio Games after it emerged that a boxer has failed a doping test.
Medal hopeful Michael O'Reilly and Irish boxing officials were notified of the alleged violation this morning — two days before the Olympic tournaments get underway.
Neither the Irish Amateur Boxing Association nor the Olympic Council of Ireland have officially named O'Reilly but, in a statement this afternoon, confirmed that a member of the Irish squad has been provisionally suspended pending further investigation.
The alleged violation took place before the team flew out to Rio.
In accordance with Irish anti-doping rules, the boxer can request to have a 'B' sample tested but will not be allowed to compete until any investigation is concluded.
Portlaoise's O'Reilly, who is coached by IABA President Pat Ryan, was set to begin boxing next Friday evening, 12 August.
At 7.21pm this evening — more than three hours after the news first broke — he indicated that he expects to compete as planned.
The 23-year-old, who won gold at the inaugural European Games in Baku last year and bronze at the world championships, was seeded third in the middleweight division and has been touted as one of Ireland's top medal prospects.
News of the controversy broke as head coach Zaur Antia and members of his backroom team attended the Olympic draw in Rio's Barra de Tijuca neighbourhood.
Antia and coaches Eddie Bolger and John Conlan declined to speak to the media before leaving the venue.
In a statement issued this afternoon, the IABA said that they were only made aware of the alleged violation this morning by Sport Ireland.
The statement reads: "The Irish Athletic Boxing Association (IABA) has been notified by Sport Ireland today of an alleged violation of the Irish Anti-doping Rules committed by one of the boxers in our High Performance Unit.
"In following the strict procedures applying to an adverse analytical finding, the athlete in question has been informed and is provisionally suspended. The boxer can request to have  a "B" sample tested but cannot participate in any competition or activity prior to the completion of an investigation under Article 8 of the Irish Anti-doping Rules.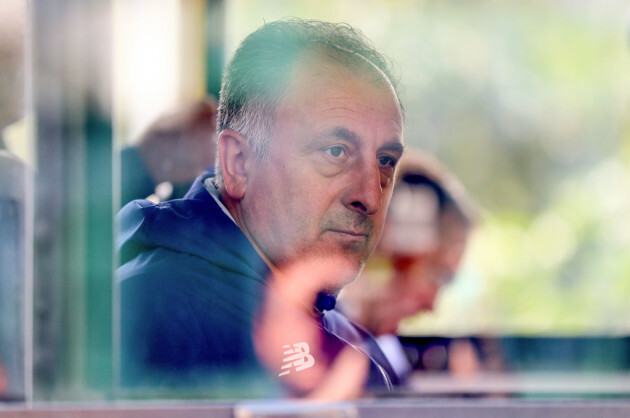 James Crombie / INPHO Irish head coach Zaur Antia left following the Olympic boxing draw as news of the anti-doping controversy broke. James Crombie / INPHO / INPHO
"The Irish Athletic Boxing Association has always maintained a zero tolerance approach to doping and Irish Boxing has been one of the most widely tested sports by the National Anti-Doping Programme over the last number of years.
"IABA's policy is that doping is contrary to the spirit of sport and every member of the association has a duty to ensure that the sport is free of doping. We ensure our boxers are available for testing in and out of competition.
"The Irish Athletic Boxing Association will not be in a position to comment further until all elements of due process associated with the anti-doping programme are completed in this case."
A three-time national senior champion, O'Reilly booked his Olympic qualification at the third attempt after missing out in controversial circumstances.
He fell foul of some dubious judging in an Olympic box-off at the World Championships in Doha last year and then suffered a shock defeat in his opening fight at the final European qualifier in Samsun, Turkey — and was then fined and sent home for a breach of team discipline rules.
But he made no mistake at the final World qualifier where he clinched gold and marked himself out as a force to be reckoned with in Rio.
Speaking to The42, a spokesperson for Sport Ireland described the matter as "an ongoing legal process which needs to be respected.
"We will not be making any further comment until that process is completed."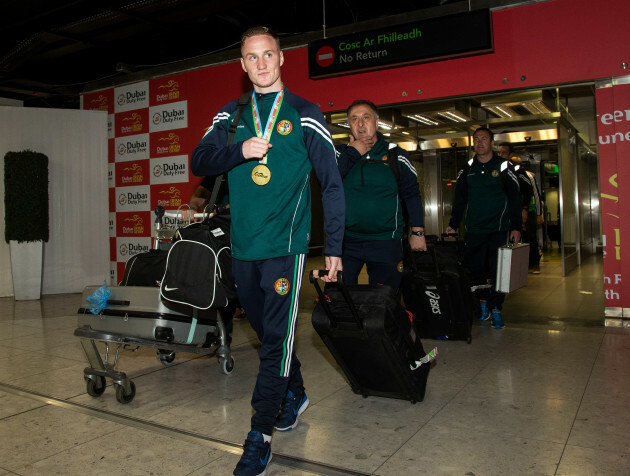 Tommy Dickson / INPHO O'Reilly clinched Rio place at the final World qualifier in Baku. Tommy Dickson / INPHO / INPHO
A statement from the OCI read: "The Olympic Council of Ireland can confirm that the Sport Ireland Anti-Doping Agency has returned an adverse analytical finding in an A-sample provided to anti-doping officers.
"The finding relates to a test not conducted at the Rio 2016 Olympic Games. The athlete has been provisionally suspended from competition and can take part in no sports activity, including training, in accordance with the WADA Code.
"The athlete will now decide whether to accept a sanction for a doping violation, to request that a B-sample be tested, or to appeal the provisional suspension.
"No further communication will be made on the matter and the athlete's identity will remain confidential unless the sanction is accepted or the B-sample is tested and also returns an adverse analytical finding."