Gavan Casey reports from the National Stadium, Dublin
A STUNNING NIGHT at the National Stadium saw 13 new champions crowned as the Liffey Crane Hire Irish Senior Elite finals produced fireworks aplenty on the tournament's return to RTÉ's screens.
The first televised bout came in the women's lightweight division, and one of the prospective fights of the night swung in the direction of the favourite, Dublin's Kellie Harrington, who picked up her eighth national title versus Dealgan BC's two-time underage champion Amy Broadhurst.
The 2015 World silver medalist was the sharper and more composed of the pair, and capitalised on a sharp start to condemn an emotional Broadhurst to defeat in her first Senior final.
The 20-year-old Broadhurst, who holds a record 15 underage Irish titles, was visibly upset as she came up just short, but continued firing bombs to the bitter end in what was a hearty performance on her own behalf.
Harrington seems primed to make the Olympic weight her own in Katie Taylor's absence.
Bryan Keane / INPHO Amy Broadhurst (red) and Kellie Harrington (blue) exchange punches Bryan Keane / INPHO / INPHO
Prior to Harrington and Broadhurst's feverishly-anticipated clash, Mayo's Shannon Sweeney beat Carlow's Carol Coughlan at 48kg to become the first champion of the night.
Nell Fox was the second: the Rathkeale BC banger defeated Waterford's Lisa Browne in the women's 81kg-plus ranks as a capacity crowd began to settle in its seats.
Cavan woman Ceire Smith picked up her sixth Elite title with a unanimous-decision victory over Kildare's Niamh Earley at 51kg, while up at 54, Meath's Lauren Hogan – champion two weights below in 2015 and 2016, but a non-entrant last year due to injury – picked up where she left off, seeing off Dublin's Mandy Loughlin via unanimous decision to earn her third Elite gong.
2017 EU Championships gold medalist Michaela Walsh then out-gunned the big-punching Dervla Duffy of Mulhuddart BC to capture her seventh national title, cruising to victory in the women's 57kg division.
In a rematch of one of the most controversial fights of 2017, Dean Gardiner reinforced his credentials as the country's top male super-heavyweight with a unanimous-decision win over Martin Keenan.
Ennis big man Keenan won the Irish title last year with a smart win over Thomas Carty in the final, but because the experienced Gardiner was not competing and Keenan was a novice in international competition terms, a box-off to represent Ireland at the European Championships was called.
On that occasion it was Gardiner who eventually booked his flight to Kharkiv by way of a 4-1 split-decision victory, but he went one better tonight as he took a pulsating if often scrappy encounter 5-zip.
Bryan Keane / INPHO Martin Keenan (red) and Dean Gardiner (blue) Bryan Keane / INPHO / INPHO
Keenan started the stronger on Saturday night, firing off a couple of rapid combinations from the ropes to keep the stalking Gardiner at bay. Clonmel's Gardiner, though, found his range and began to assert his dominance, his straight right hand – though frequently missing – producing the more eye-catching action in front of a raucous crowd.
He did swallow a monstrous Keenan straight right in the second stanza as the bout ebbed and flowed, but delivered another belt of his own back-hand in the final verse, jarring Keenan's bonce backwards as the shorter man attempted to curtail his assault.
Keenan, his hands low – albeit a stylistic quirk of his even with a full tank – tired conspicuously in the last round, though did offer a crunching left hook as a retort to Gardiner's relentless pressure.
After a strong finish, it was the Tipp man who had his hand raised, with all five judges awarding him a third Elite title.
Bryan Keane / INPHO Bryan Keane / INPHO / INPHO
Kiril Afanasev became the first ever 'foreign' fighter to win an Irish Elite title after the Russian-born heavyweight bested Kevin Sheehy of Limerick at 91kg.
Afanasev, representing a Russian-heavy Smithfield BC contingent, outworked Sheehy in a rugged encounter to become Irish Senior Elite champion for the first time.
There were joyous scenes soon afterwards in the red corner, as the Oughterard BC coaching team went ape in celebration of Kieran Molloy's 69kg final victory over Holy Family Drogheda's Eugene McKeever, bouncing and embracing before unfurling an Oughterard flag as Molloy saluted the crowd from centre-ring.
The stylish welterweight had eliminated perennial finalist Dean Walsh, nephew of former Ireland head coach Billy Walsh, in last week's semi, and boxed superbly to take an exciting decider against the extremely magnanimous McKeever, who smilingly applauded his conqueror after a stellar effort on his own part.
Bryan Keane / INPHO Kieran Molloy celebrates with his trainer and father, Stephen Bryan Keane / INPHO / INPHO
In the women's 69kg outing, Gráinne Walsh crowned a special night not only with her second consecutive Elite title, but by being crowned Best Female Fighter after an entertaining if one-sided win over Geesala's Ciara Ginty.
The explosive Walsh, an EU Championship bronze medalist in 2017, became the first ever recipient of the Jimmy Magee Trophy – with the award's introduction announced by IABA president Dominic O'Rourke as a press conference earlier this week in honour of the legendary RTÉ broadcaster's contribution to Irish boxing.
The 22-year-old Walsh was presented with the trophy by members of the Magee family as well as O'Rourke.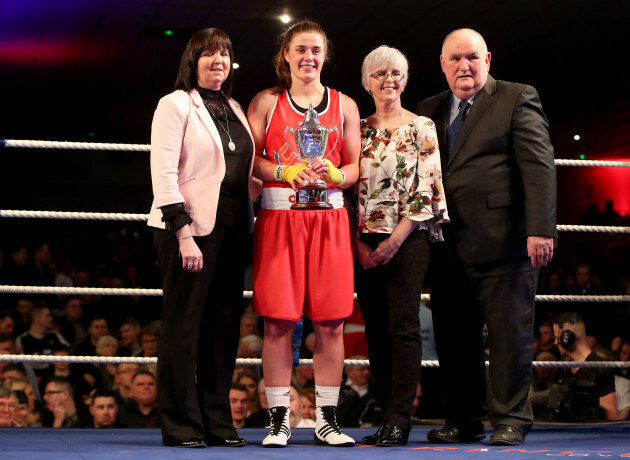 Bryan Keane / INPHO Bryan Keane / INPHO / INPHO
Portlaoise's Michael Nevin, whose 1/10 odds made him the most overwhelming favourite to rule the roost in any division, had to recover from a vicious first-round knockdown at the hands of Oakleaf's Brett McGinty en route to a contentious if scarcely scandalous 4-1 decision win.
Saved by the bell at the end of the first, Nevin showed no shortage of heart or skill in clawing his way back into the contest, and finished the stronger as McGinty's workrate slowed.
McGinty was left dismayed at the decision, but could hardly claim to have been robbed in what was ultimately a close contest.
There were only two entries at 49kg this year, and 19-year-old Conor Jordan of Wexford – edged out by the eventual champion Blaine Dobbins last year – turned on the style as he edged out Carrickmacross' Ricky Nesbitt by a split decision.
The fleet-footed Jordan lost an under-22 semi-final just weeks ago, but became senior champion in a pure boxing contest against Nesbitt, just three years' his senior.
The victorious St Aidan's man rightly shook his head as the words 'split decision' were read out by the MC, but almost departed the ring such was the celebratory leap which greeted 'in the BLUE CORNER'.
Next was a thrilling 56kg decider between Evan Metcalfe of the Hyland academy – a newly-founded club ran by Dublin's boxing brothers, the Hylands – and Cork's Tommy McCarthy of Setanta BC.
A clash of styles duly produced fireworks, with Metcalfe's relentless aggression dictating that the silkier McCarthy spent much of his time attempting to pick the lock from his backfoot.
Both men threw hell for leather in the final 10 seconds as their respective supporters roared them on from either side of the ring, but it was Dubliner Metcalfe who was awarded the contest on a 3-2 split-decision.
The Cork supporters' boos were greeted by a maniacal victor, who crossed to their side of the ring and attempted to rub salt in the wounds, but Metcalfe and a gutted McCarthy exchanged pleasantries seconds later.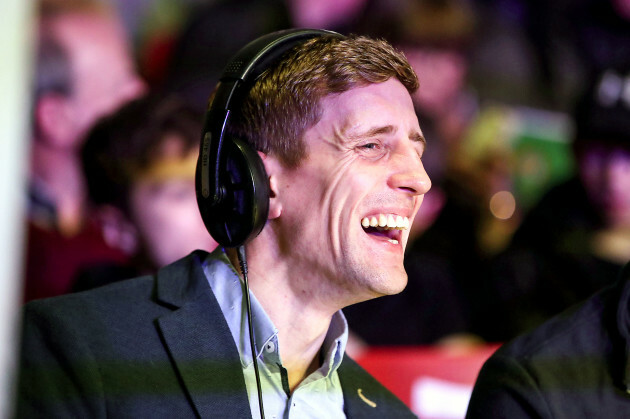 Bryan Keane / INPHO Five-time National Senior Elite champion Eric Donovan, now 7-0(4KOs) as a pro, was on co-commentary duty for RTE. Bryan Keane / INPHO / INPHO
Metcalfe-McCarthy was followed by another barnburner, as Portlaoise BC's Wayne Kelly edged Antrim man Caoimhín Ferguson at 64kg. Ferguson left absolutely nothing in the squared circle, but Kelly's cleaner work saw him get a deserved nod in what was the third-last bout of the evening.
The penultimate scrap came at 60, and might even have eclipsed the previous two for sheer excitement. Ultimately, it was George Bates of St Mary's Dublin who had his hand raised, but the westerner played his part in seven-or-so minutes of out-and-out savagery before the fight was ended prematurely due to a severe cut suffered by Bates.
Exclusive Six
Nations Analysis
Get Murray Kinsella's exclusive analysis of Ireland's Six Nations campaign this spring
Become a Member
And it was Bates who was awarded a unanimous decision in a high-octane, non-stop slugfest, but Cleary can head back west with tremendous pride, having survived some monstrous blows to give as good as he got in what was arguably fight of the night.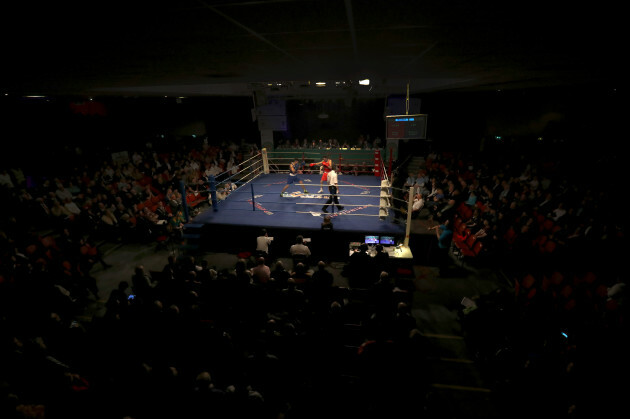 Bryan Keane / INPHO The atmosphere at the National Stadium was electric Bryan Keane / INPHO / INPHO
The curtain-caller was a more tentative but still fascinating contest: miracle man Caomhín Hynes of Belfast, who less than a year ago was left hospitalised and 'lucky to be alive' after being stabbed in his hometown, edged out Brian Kennedy of Offaly's St Mary's Daingean club.
Hynes, representing the Holy Trinity club, landed a couple of bombs in the final round of a close contest to take it on a 3-2 split decision, and become the 13th fighter to win his first Irish Senior Elite title on a memorable night.
National Senior Elite finals: Results
48kg: Shannon Sweeney (St Anne's) beat Carol Coughlan (Monkstown D)
49kg: Conor Jordan (St Aidan's) beat Ricky Nesbitt (Carrickmacross)
51kg: Ceire Smith (Virginia/DCU) beat Niamh Early (Ryston)
54kg: Lauren Hogan (St Brigid's, Edenderry) beat Amanda Loughlin (St Michael's, Dublin)
56kg: Evan Metcalfe (Hyland Academy) beat Thomas McCarthy (Setanta)
57kg: Michaela Walsh (Monkstown, Antrim) beat Dervla Duffy (Mulhuddart)
60kg: George Bates (St Mary's Dublin) beat Francis Cleary (Ballina)
60kg: Kellie Harrington (St Mary's, Dublin) beat Amy Broadhurst (Dealgan)
64kg: Wayne Kelly (Portlaoise) beat Caoimhín Ferguson (Clonard, Antrim)
69kg: Kieran Molloy (Oughterard) beat Eugene McKeever (Holy Family, Drogheda)
69kg: Gráinne Walsh (Sparticus) beat Ciara Ginty (Geesala)
75kg: Michael Nevin (Portlaoise) beat Brett McGinty (Oakleaf)
81kg: Caomhín Hynes (Holy Trinity) beat Brian Kennedy (St Mary's, Daingean)
81+kg: Nell Fox (Rathkeale) beat Lisa Browne (Aglish)
91kg: Kiril Afanasev (Smithfield) beat Kevin Sheehy (St Francis)
91+kg: Dean Gardiner (Clonmel) beat Martin Keenan (Rathkeale)
Walkovers
52kg: Conor Quinn (Clonard Antrim)
64kg: Joanne Lambe (Carrickmacross)
75kg: Aoife Burke (St Mary's, Dublin)
81kg: Aoife O'Rourke (Castlerea)