IF YOU WANT a measure of the Irish struggles at the Players Championship over the weekend: the guy who snapped a club in frustration on Thursday had the best week of the three.
Only Shane Lowry made it to the weekend at TPC Sawgrass, as Rory McIlroy and Seamus Power both missed the cut. All of this carries more resonance given the Masters is now officially On the Horizon, slated for 6 April.
Lowry showed gutsy resolve to make the weekend at the Players having shot an opening-round 77, replete with one broken club and a double bogey on the fifteenth hole.
Friday's 69 snuck Lowry across to the right side of the cut line, and a subsequent 68 and 70 earned him a tie for 35th place. This year's experience was nothing like last year's – a hole-in-one at the famous, island-green 17th – but it was the stuff of flinty tune-up for August after a difficult start to the year. 
"The last three days are as good of golf as I can play, and I need to find something on the greens over the next couple of weeks", said Lowry. "I hit the ball great."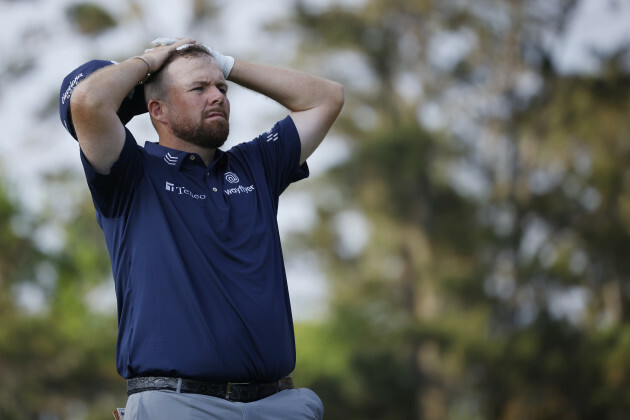 Joe Robbins Shane Lowry. Joe Robbins
There was nothing wrong with Lowry's ball-striking – he ranked seventh in strokes gained tee-to-green – but was way down in 71st of the 75 players to make the cut in the same stats for putting. 
Lowry has swapped to a shorter putter in recent weeks but isn't guaranteed to stick with it, admitting his issues may be mental rather than technical. 
"There's no drastic changes needed, just a bit of confidence. There's a lot of it between the ears, as well, and I just need to get that right. Maybe commit to it a little more. I don't know."  
Lowry finished in a tie for third at Augusta last year and spoke on Sunday of now replicating last year's schedule, and will compete at the WGC Matchplay in Austin next week. There is one significant change, however, with Darren Reynolds now his caddie after Lowry brought an end to his four-and-a-half year partnership with Bo Martin. 
"We started in the Middle East, and I had a bad couple of weeks. When I sit down and look at it things that weren't going as well as I probably thought. I've had two caddies my whole career, and I've been on tour 14 years. I'm not exactly a caddie firer or anything. This is my third caddie."  Reynolds has a little bit of experience of Augusta National, having carried for Paul McGinley. 
While Lowry needs to work on his putting, Rory McIlroy says he might benefit from a break. McIlroy's form since his fabulous final round at Augusta last year has largely been sensational, reclaiming the world number one spot – now surrendered to Scottie Scheffler – across a run of stunning consistency. In the 17 events McIlroy played after last year's Masters, he won four of them, missed the cut once, and otherwise didn't finish outside the top 20. 
That he did all of this while fronting the resistance to LIV made it all the more remarkable. 
That form has cooled, however. He has finished outside the top 20 in three of his last four events – missing the cut at the Players – while clawing his way to a tie for second at Bay Hill. Drawing grand conclusions from the caprices of Sawgrass is a foolish idea, but McIlroy admitted to a couple of issues. 
Debby Wong Rory McIlroy. Debby Wong
One is technical. His growing errant off the tee in recent weeks has becoming a trend, and he hit just 13 of 28 fairways in the 36 holes he completed at the Players'. He admitted he is struggling with a new driver, having been forced to retire his previous driver to remain consistent with technical regulations. The more a driver is used the springier its face becomes, which can bestow what is deemed an unfair advantage distance-wise. 
"I wish I didn't have to bed in a new driver", said McIlroy, "I wish I could just use the old one, but yeah, it is what it is."  It is imperative he solves this latest equipment issue before Augusta, as he did last year by changing his ball.  
Another problem may be fatigue, given McIlroy has spent much of the last year as an ersatz commissioner for the PGA Tour. First came the battle to limit the drain of talent/twilighters to LIV, and then the reconfiguration of the PGA Tour. "I'd love to get back to being a golfer", he said at Sawgrass. "It's been a busy couple of weeks. It's been a busy sort of six or eight months. But everything has sort of been announced now and the wheels have been put in motion. So it should quieten down from here."
Like Lowry, McIlroy will play in Austin before heading for Augusta, as he bids once again to complete golf's Grand Slam. 
Seamus Power, meanwhile, missed the cut at the Players' by two shots following rounds of 74 and 76, his putting quality deserting him. His stats on the green thus far this season are respectable – ranked 21st in strokes gained when it comes to putting on the PGA Tour this year – but he struggled on the Sawgrass greens. 
He and Lowry are in Augusta today for a practice round at Augusta National before the serious stuff starts next month. 
McIlroy, Lowry and Power all finished inside the top 30 at the Masters last year, but they all have work to do before they once again head down Magnolia Lane.