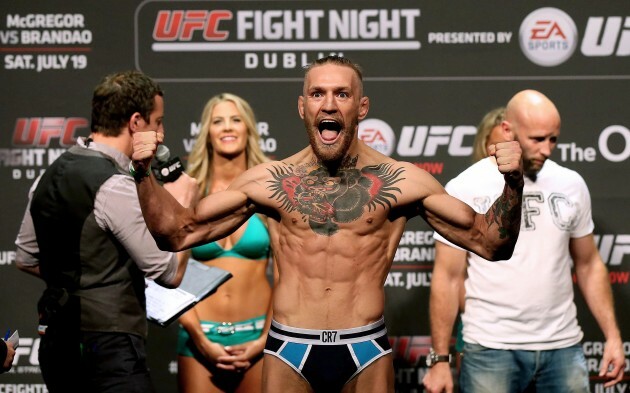 James Crombie / INPHO James Crombie / INPHO / INPHO
IN YEARS TO come, there is likely to be a consensus that mixed martial arts did not truly take root in Ireland until 2014.
And, for the vast majority of people, that particular account might well be applicable. But, in reality, it should be considered only partial at best.
Admittedly, UFC FN 46 at the 02 Arena on 19 July, meant the sport, temporarily at least, commanded the attention of the general public and mainstream media in a manner it had never before, but such global events have a tendency to do so.
For those who have followed the fortunes of Irish fighters over the years, that incredible night was not an introduction, but more a turning point or coming of age.
It was not just Conor McGregor and his cohorts who believed their success was inevitable, even when their visibility was limited to the scope of the handful of online outlets that have emerged in Ireland over the last five years.
In often unglamorous surroundings around Ireland and Europe, a select, but considerable group of supporters have witnessed their development into the world-class athletes as seen today.
Make no mistake, it was going to require the presence of Irish fighters in the UFC, for MMA to move beyond niche sport status, but there's always been a fan-base here.
In 2009, UFC 93 at the 02 Arena marked the promotion's first visit to the Irish capital — it would be their fastest sell-out on European soil to that point and, quite surprisingly, only Barbra Streisand sold out the venue quicker in that calendar year. Just one Irish fighter, Tom Egan, competed that night, while a teenage Conor McGregor was in the crowd meeting his idol, Chuck Liddell.
Before his UFC debut in April 2013, McGregor won Cage Warriors titles at featherweight and lightweight. A month previously, Cathal Pendred took the welterweight crown from Gael Grimaud and Neil Seery followed suit at flyweight the following June.
The promotion, owned by Corkonian Graham Boylan, has provided a platform for Irish fighters to flourish and has played a pivotal role in the sport's growth on the island. Without them and their three annual trips to the Helix in DCU, live events would be restricted to those at a local level.
So, to say MMA arrived in Ireland in 2014, would be doing a great disservice to so many people. Because, before appearances on the Late Late or Off the Ball, before Louis Copeland or terrestrial broadcasts on 3e, these modern-day gladiators and their coaches were working tirelessly with only the slightest prospect of success in sight. The last 12 months have simply been the culmination of all that endeavour.
With that in mind, and as one year gives way to another, it feels like as good a time as any to touch base with the trailblazing six who now ply their trade in the biggest promotion of the world's fastest-growing sport.
Neil Seery
Rodrigo Romos / INPHO Rodrigo Romos / INPHO / INPHO
What a year it's been for Neil Seery. If there's a Rocky story in this bunch, it's certainly his. Most fighters don't get that first call from the UFC at the ripe old age of 34, but that's precisely what happened to Seery last February. At that point, even with the Cage Warriors flyweight belt around his waist, the Dubliner believed that a shot at the big-time had passed him by. Then opportunity knocked.
Ian McCall was scheduled to face Brad Pickett on the main card of UFC FN 37 in London on 8 March, however, just over two weeks before the fight, he was forced to withdraw due to an injury.
Initially, a replacement was not forthcoming. But a concentrated social media campaign from European fans, urging Dana White and Sean Shelby to give Seery a chance, proved compelling.
Unlike most debutants, Seery was matched with a highly-ranked opponent in one of the featured bouts of the evening. Even in defeat, he gave the type of gutsy, game-performance that the brass always appreciate and was the first Irishman to enter the octagon in 2014.
Still working full-time as a warehouse operative, the following Tuesday, the father-of-three was back to the grind and posted a picture on Twitter to that effect.
In Dublin, he destroyed Phil Harris over three rounds and avenged a loss from almost four years previously. His momentum was temporarily derailed when a rib-injury meant he could not face Richie Vaculik at UFC FN Sydney in November.
Now fighting fit, he meets the undefeated Chris Beal at UFC Stockholm on 24 January.
Paddy Holohan
Bloodstream MMA / YouTube
Along with SBG teammate Cathal Pendred, Holohan made his UFC debut at the 02 on 19 July. Having impressed Dana White at the trials of TUF 18, the Tallaght man repaid his faith with a stunning-submission of Josh Sampo in the opening bout of the preliminary card, which set the tone for the entire evening.
In his sophomore outing, Holohan faced late-replacement Chris Kelades at UFC FN 54 in Nova Scotia. Kelades deservedly took a unanimous decision and handed Holohan his first-ever loss, in a contest that was awarded Fight of the Night honours.
Holohan can get back to winning ways when he takes on Chris Howell in Boston on 18 January.
Cathal Pendred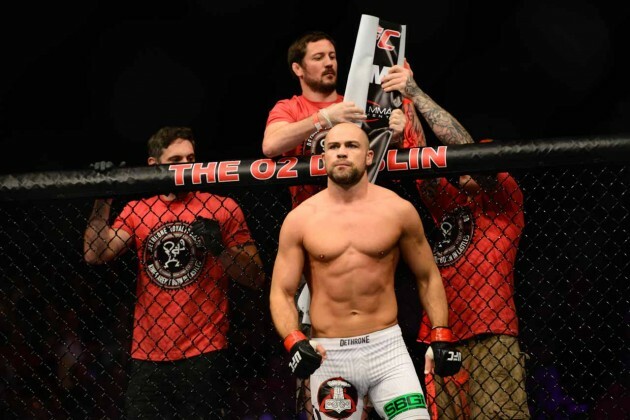 Rodrigo Romos / INPHO Rodrigo Romos / INPHO / INPHO
Long regarded as Europe's best welterweight, Pendred's arrival in the UFC felt overdue. However, given the size of the UFC's 170 lbs ranks, an offer had not been forthcoming. So, he took matters into his own hands and joined the cast of TUF 19 as a middleweight. Despite a disappointing semi-final exit, 'The Punisher' was finally rewarded that much-coveted contract.
Going into his bout with Mike King, Pendred was nigh-on penniless but harnessed that adversity by recording one of the great comeback victories in recent memory. The Fight of the Night bonus cheque could hardly have come at a better time.
Upon his return to welterweight, Pendred beat Gasan Umalatov via split-decision, in a decidedly less pulsating affair. Undefeated in the UFC, he will go into his match-up with Sean Spencer in his hometown of Boston, brimming with confidence.
Norman Parke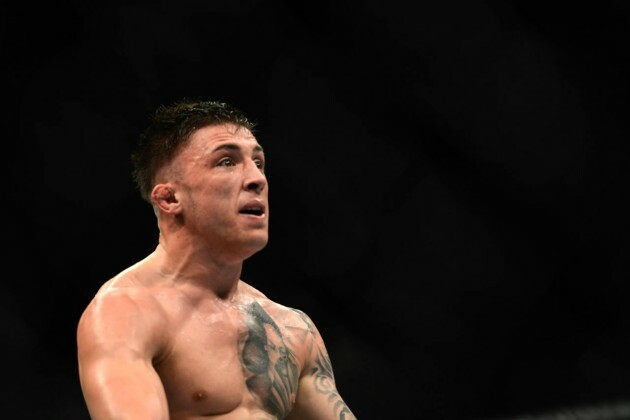 Rodrigo Romos / INPHO Rodrigo Romos / INPHO / INPHO
The Antrim lightweight had a mixed bag in 2014. In March, at UFC FN 38, the judges somehow discerned his fight with Leonardo Santos to be a draw, with a decision that was tantamount to robbery.
He bounced back with an impressive second round TKO of Naoyuki Kotani in Dublin, but was then forced to pull out of his UFC 180 bout with Diego Sanchez due to injury.
In Boston, he will take on Gleison Tibau, the joint-record holder for most-ever wins in the UFC lightweight division.
Aisling Daly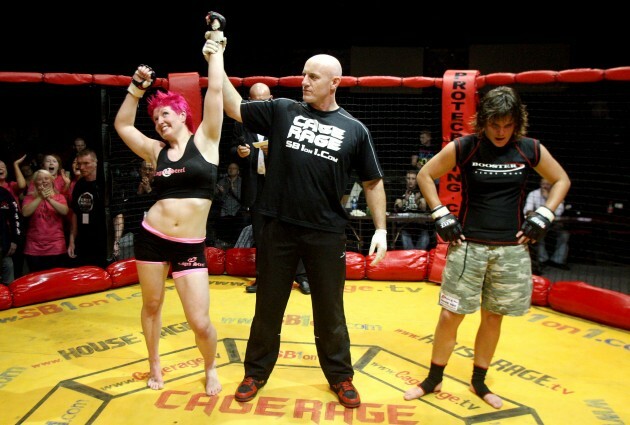 Morgan Treacy / INPHO Morgan Treacy / INPHO / INPHO
The lone lady in the pack. As a cast-member of the ground-breaking TUF 20, Daly was given the opportunity to fight for the inaugural strawweight title. While she only reached the quarter-final stage, Daly was impressive in both her bouts.
Watching her friends and teammates steal the show at the 02 from the TUF house, the following day Daly responded by beating Angela Magana via TKO in their first-round encounter. She lost a unanimous decision to Jessica Penne in an incredibly entertaining last-16 fight.
At the weigh-ins for the season finale in Las Vegas earlier this month, Daly came in 3 lbs over for her official debut against Alex Chambers — the infraction cost her 20% of her fight purse. Yet she still managed to finish Chambers via armbar in the first round.
Conor McGregor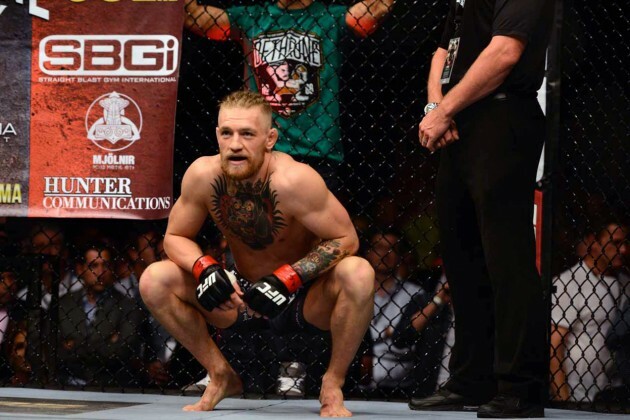 Rodrigo Romos / INPHO Rodrigo Romos / INPHO / INPHO
For a guy who was sidelined through injury for the better part of a year, Conor McGregor was never too far from the spotlight. Whether it be his documentary on RTÉ, Twitter spats with fellow fighters, or shots of his latest tailored suit on Instagram, he ensured that nobody was forgetting him in a hurry.
His conduct in the build-up to the UFC's return to Dublin demonstrated that he was like no other Irish athlete to come before him.
Brash, outspoken and unapologetic regarding his desire for success and all its trappings, McGregor broke the mould in 2014. He not only accepted, but welcomed the fact that the ultimate success of the event hinged on him. That week, it was his world and we were all just living in it.
But he delivered — fulfilling his prediction of a first-round victory. Diego Brandao never stood a chance and the spectacle of McGregor smashing him to pieces was one few in attendance will ever forget.
Next up was Dustin Poirier at UFC 178. The man who would derail the McGregor-hype train. But once again, McGregor stayed true to his word and dismantled the American in less than a round.
There may have been a world title on the line that night, but it was plain to see who the main attraction was. No fighter has been the source of more discussion in 2014 than McGregor.
Now four-from-four inside the octagon, he will headline his first American event against Dennis Siver in Boston. UFC FN 59 has a distinctly Irish feel and, once more, McGregor is the figurehead.
The only downside is that it is not against a higher calibre of opponent. But the majority of featherweight division's top 10 fought in the latter stages on the year. If McGregor does prevail, a number one contender elimination match with Frankie Edgar in Dublin might be the next logical step.