EUROPEAN RYDER CUP captain Paul McGinley is keen to give golf fans greater access to the behind the scenes action and highlights of the 2014 Ryder Cup.
The Dubliner will lead a European team, which will likely feature the likes of Justin Rose, Rory McIlroy and Graeme McDowell, at Gleneagles in Scotland next year. He supports the tournament's latest promotion of a 'golden ticket' for fans entering a ticket ballot. The golden ticket gives lucky fans increased access to the clubhouse and their very own Team Europe gear.
McGinley is open to the idea of a documentary similar to Living with Lions. The rugby video charted the dizzying highs and chundering lows of a ferocious, and ultimately successful, Lions tour to South Africa in 1997. Access to players was extremely open and unedited, and the documentary featured Scottish coach Jim Telfer's famous 'This is your Everest' speech.
McGinley commented, "We are all so interested in behind the scenes in any sporting event.  I watched it probably three or four times the behind the scenes of the '97 Lions tour, and that was amazing, I loved that.
I'm a real lover of sport and I particularly love programs that are behind the scenes and the access that you have there for that was incredible, and observing what went on.  This [golden ticket], though they won't have the same access to the players, it's a little behind the scenes for what goes on for some lucky people."
Justin Rose, world number three after his US Open win two weeks ago, should be one of McGinley's leading men at Gleneagles but the Ryder Cup captain feels Europe will have more Major winners by September 2014.
He said, "When somebody breaks through and wins, often their peers step up to the plate after that.  I think that's exactly what happened here in Europe with Pádraig.  He was the first of modern era of player to break through.  I know you had Paul Lawrie a bit before that, but when Pádraig won we then had a number of players come up behind him and winning."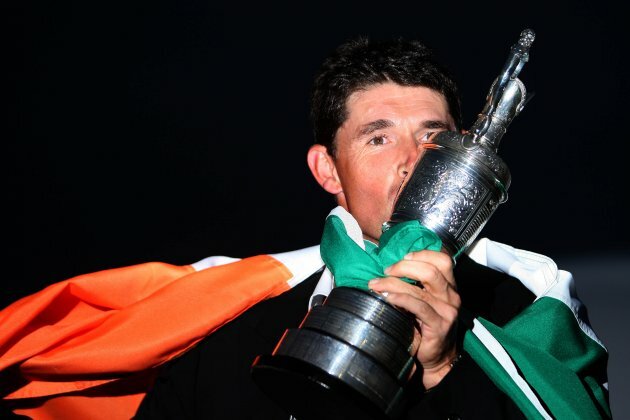 Open winner Pádraig Harrington kisses the Claret Jug in 2008. (©INPHO/Cathal Noonan)
McGinley added, "I don't think it's unusual the fact that Pádraig won and then we had Graeme and then we had Rory and then we had Darren, all Irish.  No question about the Irish players feeding off it, it's a very healthy thing."
McGinley is one of a host of high-profile Irish names taking part in the European Tour event, which doubles as a national championship, at Carton House this weekend. He feels the golfers and public are fortunate to have 'an Irish Open for a start'.
He said, "It's been a very tough year in Ireland, very tough times, we all know that, and I think to be honest, the success that the players have had internationally, Rory, Graeme, Darren [Clarke], Pádraig particularly, it's what kept The Irish Open going through the last number of years through the economic climate.
McGinley added, "They have never let the tournament down and they continue to play and there were no appearance fees.  Appearance fees are charged so many times around the world.  These guys, some of them can charge massive appearance fees around the world, yet that's not the case in The Irish Open."