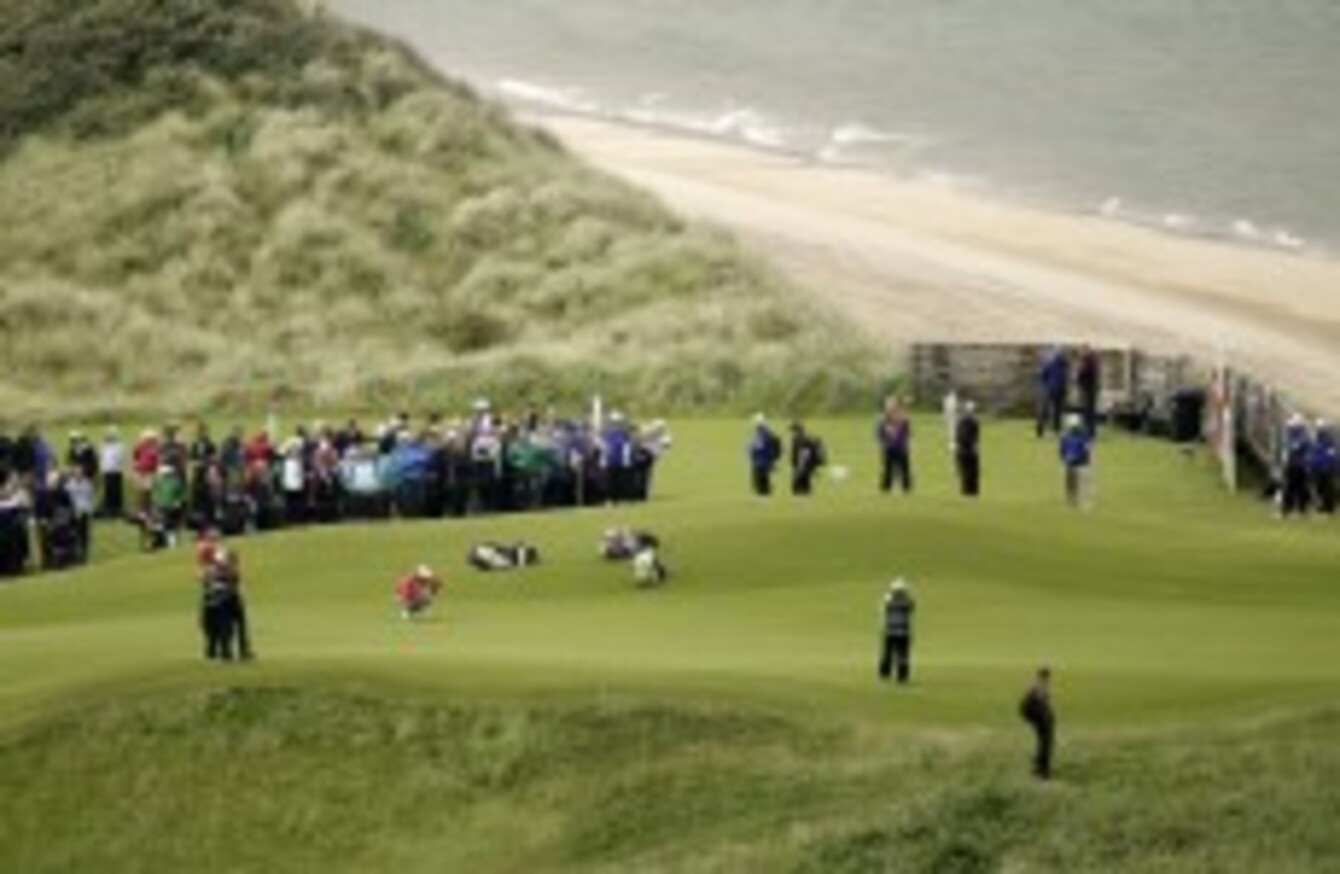 Rory McIlroy, center left, lines up a putt on the 5th green.
Image: Peter Morrison/AP/Press Association Images
Rory McIlroy, center left, lines up a putt on the 5th green.
Image: Peter Morrison/AP/Press Association Images
JEEV MILKA SINGH fired a 65 to storm into the first round lead in the Irish Open at Royal Portrush today and then revealed his goal of qualifying to represent India at the 2016 Olympic Games in Brazil.
Singh birdied six of his opening nine holes and made it three birdies in succession at the 10th before dropping a shot at the 14th.
But he ended his round with another birdie at the last in the rain and lightning affected event.
It is Singh's best opening score since a similar 65 to commence the Malaysian Open earlier this year, and en route to finishing 11th in Kuala Lumpur.
Singh ended his round minutes before lightning activity halted play in the late afternoon for around 90 minutes.
The Indian is visiting Northern Ireland for the first time and he spoke of his joy in competing on a links course after having made his link's debut as a then 16-year in the 1988 British Amateur championship at Royal Porthcawl in Wales.
"I've always loved playing on links courses as you get to play some remarkable shots where you pitch it 20-yards short of the green, and where you don't always have to go with the driver," he said.
"You can elect to play it short and then play these low bump-and-run shots into greens, so you need feel and imagination in playing links golf and I just love that.
"Growing up I never played links golf but then I went to British Amateur qualifying about 20 years ago and just enjoyed every bit of it."
While Singh is seeking to win only a fourth European Tour title, as well as ending a four-year winless drought, he also spoke of his quest of qualifying for the 2016 Rio de Janeiro Olympic Games, when golf returns to the Olympics for the first time since 1904.
"I would love to represent India in the 2016 Olympics and not only because of what my father did but because golf is returning to the Olympics," he said. So if I can qualify for the Rio Olympics that would be fantastic but I will have to be ranked inside the top-100 on the World Rankings."
Three players, the England pair of Mark Foster and Andrew Marshall, along with Australia's Matthew Zions share second place on six under par.
Triple major winning Pádraig Harrington quickly stamped his claim for a second Irish Open title with a five-under-par 67 on the opening day of the event. Harrington, winner of the event in 2007 at Adare Manor, recorded six birdies and just one bogey as he seeks to also end a four-year winless drought.
"I am very, very happy with the score and certainly would have taken that going out," said Harrington. "It keeps me well in position with the only disappointment, and taking some of the shine off my round, was the three-putt for bogey at the last."
England's James Morrison continued his good form with a hole-in-one at the par three, 14th hole.
It is the 26-year old Morrison's first ace on the European Tour and comes just three days after he finished the leading player in Monday's British Open 36-hole qualifier at Sunningdale.