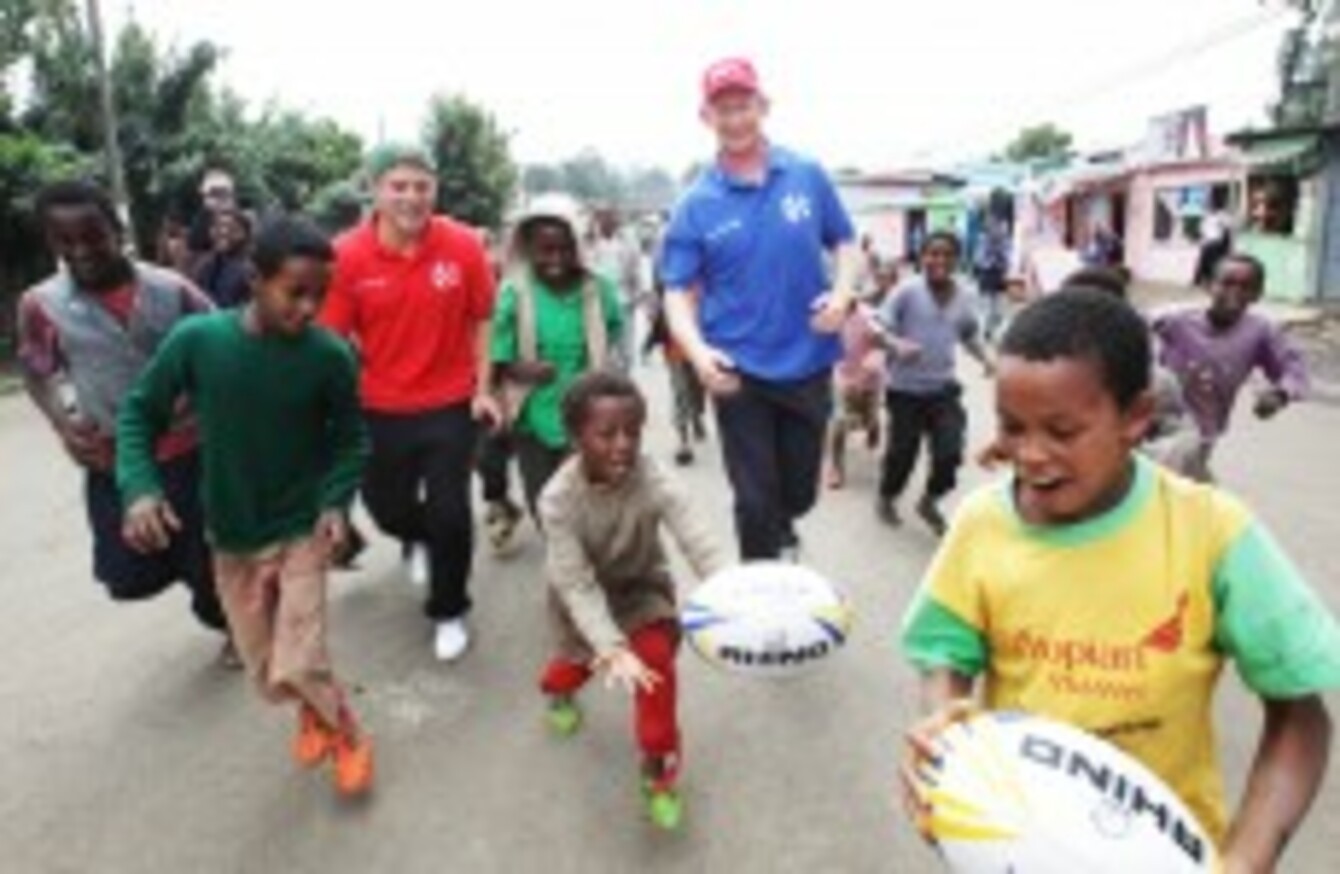 Ian Madigan and Leo Cullen with some Ethiopian children is Adiis Ababa.
Image: Leon Farrell/Photocall Ireland
Ian Madigan and Leo Cullen with some Ethiopian children is Adiis Ababa.
Image: Leon Farrell/Photocall Ireland
IAN MADIGAN AND Leo Cullen have been on the go for 24 hours straight when TheScore.ie catches up with them in Addis Ababa. The rugby stars sound spent but, with two full days of their trip to go, both men are eager to take in as much of their surroundings as possible.
Leinster captain Cullen and Madigan, who is expected to start as the province's first-choice outhalf next season, are in Ethiopia to learn about a range of programmes that charitable organisation GOAL runs across the country.
On the first day of their trip, which began at 6am when they stepped off a long-haul flight from London, the pair visited the children, staff and support workers at a GOAL-run drop-in and rehabilitation centre in Addis Ababa. The centre provides education, medical treatment, sport and recreation, clothes-washing facilities and other services to children who live and work on the streets of the country's capital city.
Cullen's association with the charity, he explains, began during his days at Blackrock College and selling GOAL badges as part of fundraising drives. He got to witness, first-hand, where some of that money goes. He said, "We were at a forum today that had over a 100 children between the ages of seven and 20. There was a 13-year-old who used to live on the streets. He was hosting the forum and we had a translator beside us.
It was very strong and moving stuff. There are children living rough and fending for themselves from as young as seven and eight. They are there for various reasons, from deaths in the family to physical and sexual abuse.
"These children have to become pretty resourceful, pretty quickly. The centre equips them with tools to help them survive without being totally reliant on the aid. It provides them with medical support but also focuses on education and support for these children that are struggling to deal with all different sorts of trauma."
The Ethiopians do battle for a Leinster ball on the streets of Addis Ababa. (Credit: Leon Farrell/Photocall Ireland)
While Cullen is a veteran of the rugby scene, Madigan is a relative newcomer who has just completed his second season as a fully-fledged Leinster regular. He admits to TheScore.ie that his goal upon arrival was initially 'to head off playing games with the kids and have a bit of craic'.
The more time he spends in the company of the children, however, is changing his outlook on the three-day. He said, "Before I set off, I had friends, who have been on similar trips, telling me to prepare myself as it's pretty damn tough to see. Still, it was a shock to the system and I had to fight off my initial reaction to slip my shoes off and give them to the first kid I saw.
You just think that if you give them 100 Birr, which is about €5, that it would sort them out for shelter for weeks  but you are strictly warned off doing that. By you doing that, you could cause bedlam with hundreds of children looking for the same or that causing that kid to be robbed for his money."
Madigan, who will travel to Dolo Ado today to see a programme run for Somali refugees, admits he was shocked by the scale of the problem. Indeed, there are some 60,000 street children in Addis Ababa alone.
Madigan said, "There are young mothers of 13 and 14, and kids completely out there on their own at seven and eight. I've younger cousins myself and to think of them out there with no-one to look after them is unsettling. One of the things the Child Safe Programme [at the drop-in centre] tries to do is locate aunts, uncles and grandparents of these children because their parents have often been wiped out by the AIDS epidemic. They are successful some of the time but they are mostly lucky cases."
Faced by the enormity of it all, Madigan opted to do what he said he would upon arrival — to spend time playing games and having fun with the children.
Madigan takes on an Ethiopian youth at table tennis. (Credit: PLeon Farrell/Photocall Ireland)
Madigan commented, "You've got to realise that you are not going to fix the problem yourself but if you can make a difference with the kids for one day, well, that's a start.
"What amazed me was that, for kids that have absolutely nothing, they were happy out, so polite and enjoyable to work with. When we arrived and handed out the rugby balls, I thought they'd be gone for the day but they would come back to me and say 'This is your ball' before offering it back to me. That's really saying something."
- For more information on the trip, and GOAL's work in Ethiopia, please visit www.goal.ie. Madigan and Cullen's awareness trip has been sponsored by Bank of Ireland.