WHAT IS YOUR most memorable Irish sporting moment from the past year?
In an annual survey, Shane Long's match-winning goal against world champions Germany at the Aviva Stadium has topped the poll with 27% of the votes.
Paul O'Connell's heartbreaking injury against France in the Rugby World Cup (22%) was second, ahead of Ireland's Six Nations win, Jon Walter's goal in the Euro 2016 play-off with Bosnia-Herzergovina (8%) and Billy Walsh's resignation as Ireland boxing team coach.
Results from the PSG Sport and Sponsorship Sentiment Index 2015, which is taken by 1,000 people nationwide, also rank Ireland's qualification for Euro 2016 (22%) slightly ahead of the men's Six Nations triumph (21%), the women's Six Nations success (6%) and Katie Taylor's gold medal at the European Games.
However, Paul O'Connell (22%) is voted the most admired Irish sports star, with Katie Taylor (20%) and Conor McGregor (8%) directly behind the Toulon man.
On the findings, chief executive of PSG Communications Mick O'Keeffe said:
"Once again it was a very good year for Irish sport. For a small nation, our sports teams and sports stars continue to have success on the fields of play, in the boxing ring, on the track and elsewhere.
Our passion for Gaelic Games remains strong while our international teams are competing with the best.
"The Sports and Sponsorship Sentiment Index gives us huge insight into the passion Irish people have for sport and their sporting allegiances and preferences and we feel it is a vital piece of thorough research and we are proud to detail the findings today."
See the results in the graphic below: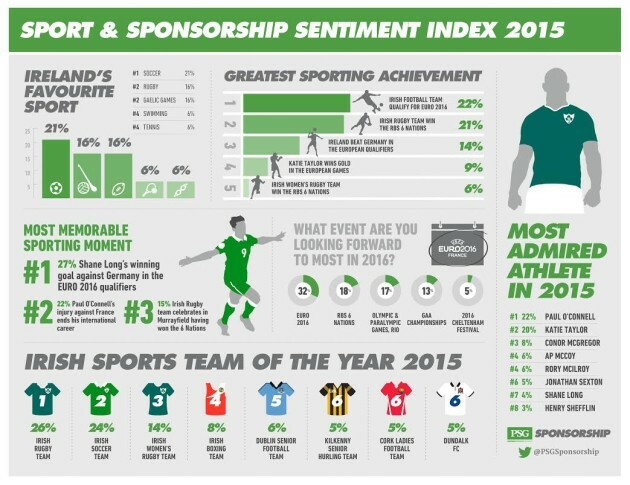 PSG Sponsorship PSG Sponsorship
To see larger image, click here
What would you have voted for?