IT'S EVERY SOCCER player's dream to win the World Cup, and this December, 14 Irish players will have the chance to achieve that goal.
The Irish 7s soccer team are set to travel to Brazil to take on the hosts, Argentina and Italy among others.
Yet with the organisation not receiving funding from either the Irish Sports Council or the FAI, they have turned to crowdfunding and a PledgeSports campaign to help them attain the €16,000 necessary to participate in the World Cup.
Moreover, in order to maximise their performance level, basic requirements such as travel expenses and water bottles for training are naturally needed.
"To do this, I need to train as regularly as I can with the squad," Mark O'Sullivan, the team's manager, tells TheScore.ie. "Many of the other countries won't be training as regularly. They play their leagues professionally.
"So for me, that's a big expense, to rent out the pitches and provide the small things that the national team should have such as fruit, water and yoghurts at every session, as well as kits provided and laid out for them, towels and different add-ons like that, so it's important we can get support behind this project. We'd like to provide players with the very best so they can come in and perform and do their very best for the country."
And while the facilities aren't quite top-notch currently, the same can't be said of the players. The squad features a number of former League of Ireland footballers and futsal internationals, including James Hussey, a goalkeeper who has spent time with Bohemians, Shelbourne and Sporting Fingal and Robbie Griffin, a League of Ireland veteran whose career encompassed stints at UCD, Waterford and St Pat's.
Yet the team's mixture of players with a background in 11-a-side and futsal is important, as there are subtle differences in the 7s game compared to its more well-known counterpart.
A smaller pitch size, throw-ins instead of corners, and the ball needing to be back in play five seconds after it goes dead are examples of the contrast in styles between 11 and seven-a-side.
Furthermore, as O'Sullivan outlines, a talented 11-a-side player won't necessarily be a great fit for 7s and vice-versa.
"It really will depend on the type of player. So if you're looking at the 11-a-side player that's very physical but maybe lacking mobility and technique, he may struggle, because it's a very technical and fast-paced game.
"So you've got to be extremely fit, extremely mobile, and technically as well, you have to be at a high level, because you'll be found out if you're not. And a seven-a-side player who does have those attributes might get out-muscled or wouldn't be up to the physical element in 11-a-side. So it's a fine balance between the two."
(The team pictured during a gym session)
O'Sullivan himself was a promising youngster, who spent time with Dublin City and St Patrick's Athletic, however his career was prematurely curtailed by injury, meaning he was finished in the sport by the age of 21.
He then travelled the world as he absorbed the various methods of coaching, venturing to areas as disparate as California, New Zealand and perhaps most notably, Barcelona. Was there any particularly useful information he learned from studying how the Catalan club operates?
"I walked into the academy over there thinking I'd find some great secrets about football, but for me, the eye opener was that it's such a simple game when played properly and beautifully. What needs to be done is to keep it simple — to work hard as a team.
"The other thing was they were all a class act in everything they did. They made the right decisions on and off the field. They conducted themselves very well and represented something more than just guys playing football. They represented themselves with great class and went on to have great careers in football, regardless of whether it was at Barcelona or not.
"I was expecting, not arrogance, but something different. At the end of it, they're people that very much love football and they're very good human beings as well. It's more than just going out and playing football. It's something better and bigger than that."
O'Sullivan aims to encourage similar good habits in his own team, and he certainly can't be accused of a lack of ambition, given that his goal is to win the World Cup this December.
"It's a highly ambitious aim," he admits. "The other countries have some great players playing for them. For example, Brazil have Cafu and Falcao, who's a Futsal superstar."
Exclusive Six
Nations Analysis
Get Murray Kinsella's exclusive analysis of Ireland's Six Nations campaign this spring
Become a Member
Yet à la South Korea ahead of the 2002 FIFA World Cup, the Irish squad are undergoing an extensive training regime that other countries will struggle to match, replete with management staff encompassing a head coach,  a head physio, a strength and conditioning coach and a nutritionist.
"I know the other teams' players, while they are playing for their clubs weekly or bi-weekly, they're not training as a national team on a regular basis. Whereas I have six months to train twice a week with these guys, who have been at a high level previously and have got accustomed to the 7s game very well. I think we can go out there to create a huge shock and win the trophy."
He adds: "Brazil certainly have the biggest names, however the Italian team is actually the strongest team, especially with the amount of futsal players they use who have previously won a World Cup. Portugal wouldn't be far behind, but once you look outside those three, there are a group of teams that are very closely linked and we'd be part of that group. So we think we're the strongest out of the second-tier group of national teams. We also think we can catch Italy, Brazil and Portugal with what we're doing in the coming months."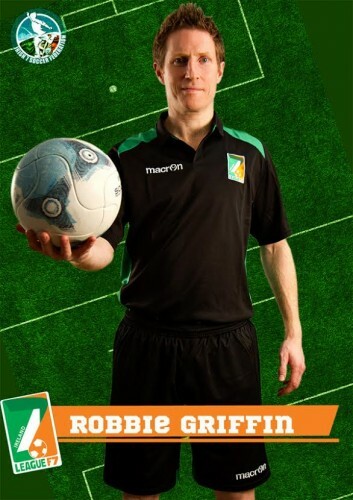 (Former UCD player Robbie Griffin is one of the many high-profile names on the Irish team)
And with the excitement of the upcoming competition, O'Sullivan is confident that 7s can grow considerably as a sport, from its current 400 active participants, in the coming months.
"It will take time but I do believe there will be support for this over the next six to 12 months, but the plan is to make it professional as it is in Brazil with weekly club teams, as is the case here, except we could actually pay the players. That would attract an even higher calibre of player and we're hoping it will grow over the next year, especially with the European Championships coming up.
"Football, and sport in general, is something very important in society. It should be something people can look up to — we can be the class acts and very much set an example for everybody around us. Hopefully, with the support, we can get the recognition of the players, the managers, the league and be successful as a result."
Marco Prudêncio / YouTube
For more information on how to donate and support the team, click here.