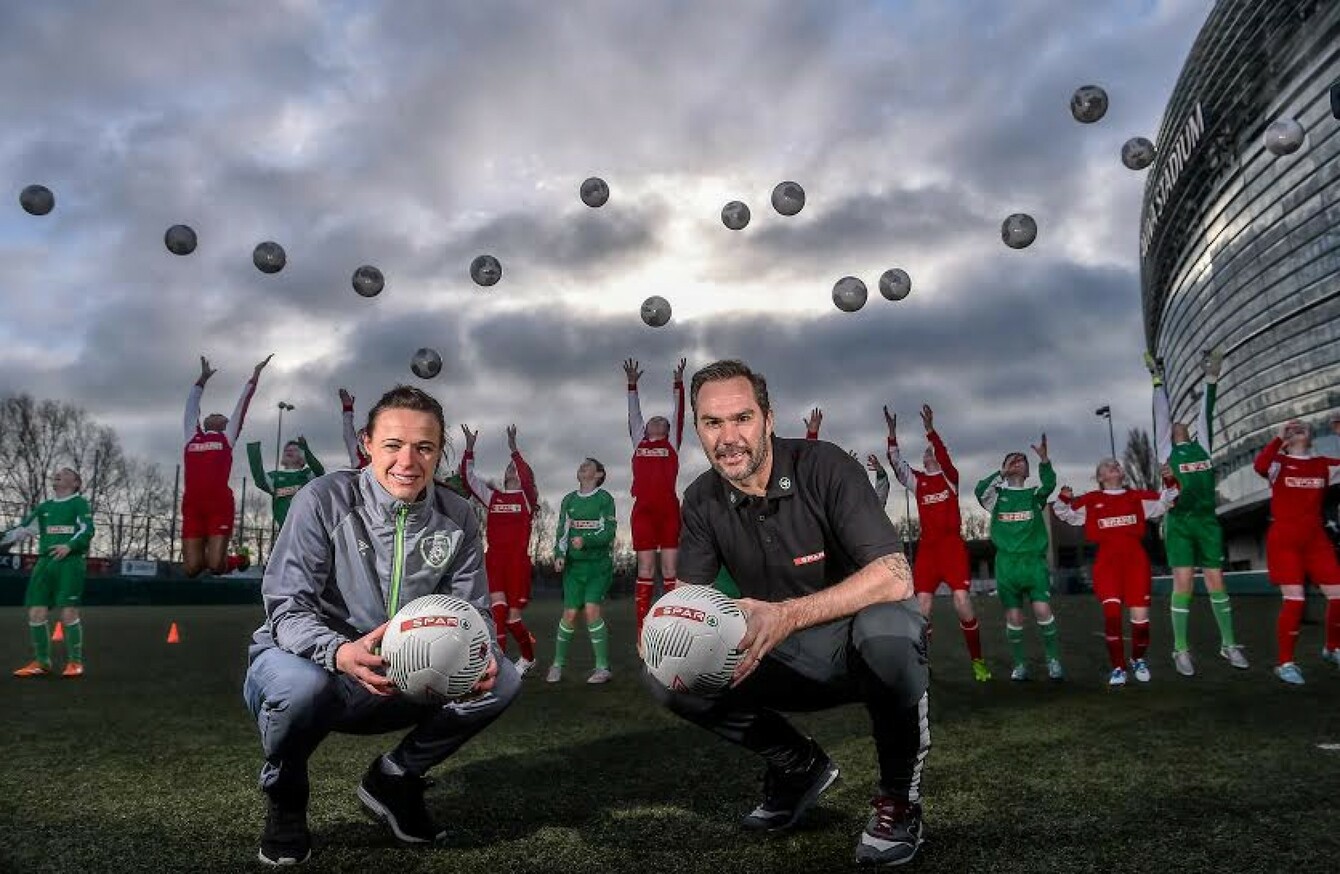 Former Liverpool player Jason McAteer pictured with Ireland Women's international Áine O'Gorman at an event to help launch the 2016 SPAR FAI Primary School 5s Programme.
Image: David Maher/SPORTSFILE
Former Liverpool player Jason McAteer pictured with Ireland Women's international Áine O'Gorman at an event to help launch the 2016 SPAR FAI Primary School 5s Programme.
Image: David Maher/SPORTSFILE
FORMER IRELAND INTERNATIONAL Jason McAteer says the current Irish team is "miles away" in terms of quality in comparison with the sides he played in that reached the 1994 and 2002 World Cups.
A Jon Walters brace against Bosnia last November ensured Ireland qualified for the Euros for just the third time in their history, but McAteer insists previous sides remain the standard bearers.
"I think what I like is what Roy and Martin have done bringing back that belief and team spirit," he says.
"You feel that is coming back. The Germany game and even after the Georgia game you felt it really, that there was a unity and a closeness about the lads. I think you need to bring that to an international team."
McAteer cites an absence of world-class players in the current side as one reason they cannot compare with his generation.
I was lucky enough with Robbie and Roy (Keane), going back to 94, you'd say Paul (McGrath) was in that bracket. World class. You look at this squad, and think there is no world-class players, none of that sprinkling anymore.
"There is team spirit, we have that togetherness and camaraderie.  And it's got us results, that's probably what's got us out of the group and into the Euros."
And while impressed with how O'Neill has moulded a team comparable with Charlton and McCarthy's sides in terms of attitude if not necessarily quality, McAteer believes Ireland face a "tough" task getting out of a group featuring Sweden, Belgium and Italy.
The best thing that's happened us is Sweden being the first game. The Italians have come through a bit of a transitional period and the Belgians are outside favourites, aren't they? I actually think they're going to have a good tournament the Belgians. The two centre halves are strong lads, Lukaku is in good form. Hazard hasn't but he seems to be rested at Chelsea, which might do him the world of good at the Euros.
"Sweden is our realistic opportunity to get points on the board. If we get a first win, it might give us the confidence to maybe get a draw and eventually get thorugh, I think that's a realistic aim. If we don't get that game, it will be critical. I think the manner that we got beat (at Euro 2012) last time was draining. It was really disappointing. Of course it's a possibility (this time).
I can't really say that we'll be prepared better than with Trapattoni, because I know he did prepare the team really really well. When you get to a major tournament, the big teams stand up.
"We've seen Germany here, it was as if they took the eye off the ball here for a second and we punished them. They don't do that at major tournaments. From the first whistle, they batter teams. The big players arrive in tournaments. You've got to bring your A game."
Source: PeteTop Carton/YouTube
And speaking of Germany, Shane Long's famous goal in the Aviva last November drew comparisons to Ireland's last famous victory over a top-tier country on home turf — the 2001 1-0 defeat of Holland when McAteer scored the only goal to substantially boost the Boys in Green's qualification hopes.
It put a smile on my face when people started talking about it, but I just think for as good as that result was, and obviously it gave us that belief to get through the group, I think collectively as the two games go, the Dutch game was by far the better game.
"We were down to 10 men, the Dutch were a fantastic outfit, as the Germans are, and they had proper world-class players littered right throughout the team. I think the fact that they came to score as many goals, they'd booked their hotel, their flights and the fact that we put it all to bed by winning 1-0 was brilliant.
It wasn't just the goal, it was that we hung on for about 20 minutes. That togetherness and unity that I spoke about came through that day… It was one of the greatest memories you'll ever have at Lansdowne. But yeah, (Long's goal) was a close second!"
"I just think collectively our game, not just the goal but our game, was miles better than the Germany game! Miles better.
"Going back to what you were saying there about the two squads, there's a big difference in quality. Our success spoke for itself. We always got to the play-offs in every competition — Turkey, Holland (and Belgium). If not, we were qualifying. It's good that we have qualified (this time). I just hope we give a good account of ourselves."
And finally, does he believe his old teammate Robbie Keane is still good enough to make an impact at international level?
"I think you'd probably get 20 minutes out of him, but he's invaluable. There is a lot of time off in between games. You are away together as a group for a month. His experience is invaluable. He's a great voice to have around the camp. He is one of those people now that people listen to. Martin and Roy will know that. I think it's important that he's there.
"But if you are chasing the game, he can still give you something, he can get on the end of something. He has showed in flashes of his quality at Galaxy.
"I was talking to Steven (Gerrard) in January and he said he is brilliant in training. What he does around some of the games is fantastic. We have seen that on the telly. Steven still speaks highly of him. He's bang on-form."
Former Republic of Ireland International Jason McAteer, current Republic of Ireland women's star Aine O'Gorman and SPAR National Sales Director, Colin Donnelly, were on hand to help launch the 2016 SPAR FAI Primary School 5s Programme. The fun five-a-side schools competition is open to boys and girls from 4th, 5th and 6th class. County blitzes will begin at the end of February and the winners will then progress to regional, provincial and the prestigious national finals which will be held in the Aviva Stadium on May 11th. For further information or to register your school please see www.spar.ie or www.faischools.ie.